Herbal Bliss sends five amazing herbal products each month. The products cover five categories – Aromatherapy, Blissful Body, Culinary, Well Being and a Spotlight item. Herbal Bliss seeks out small batch producers that focus on the quality products.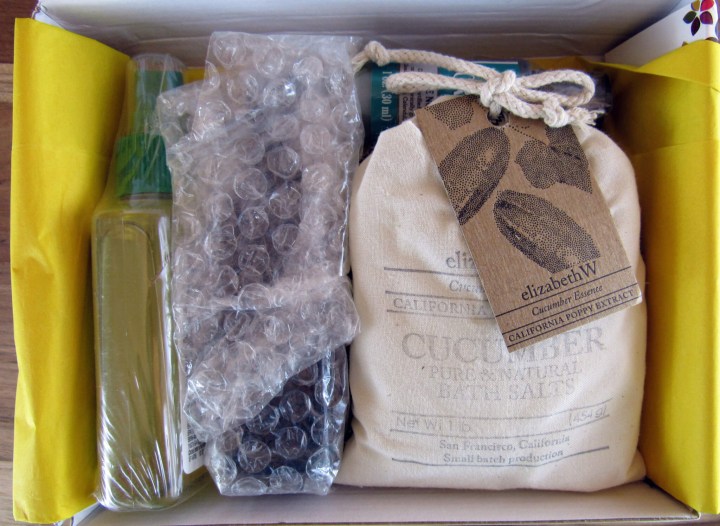 Herbal Bliss arrived in a USPS envelope containing the scrub and the Herbal Bliss Box. I'm glad that Herbal Bliss does not feel restricted to using only items that fit in their main box!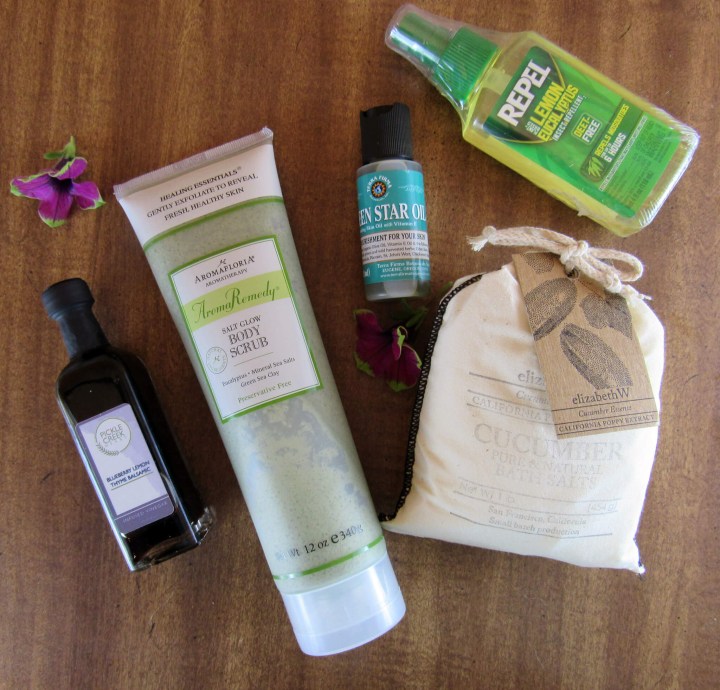 Here are the items in the July box! I can't wait to check out the Repel item.
This marks the first time I received a scrub in a bottle. The Aroma Remedies Salt Glow Body Scrub (12 oz, $14.00) is a gentle scrub. It has a wonderful eucalyptus scent that helps you breathe better. It is free of sulfates, parabens, preservatives and phthalates. It felt gentle on my skin and left my skin soft.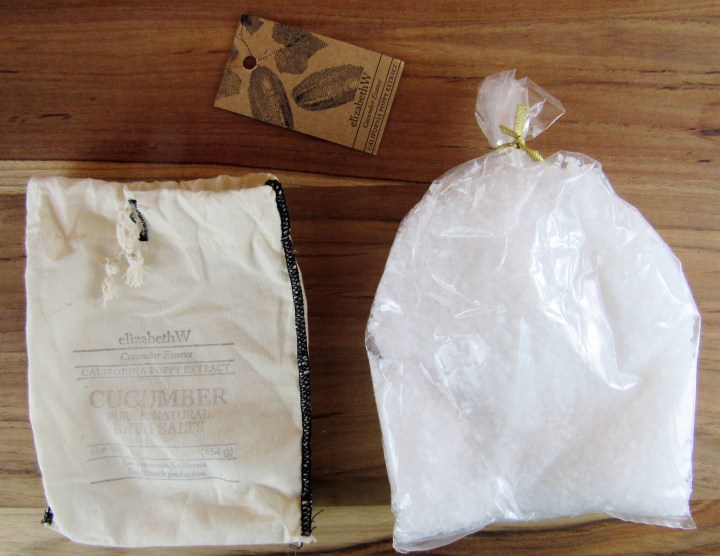 The Elizabeth W Cucumber Bag of Salts (16 oz, $14.00) gives your bath a spa experience. The cucumber scent is crisp and relaxing. It was enjoyable sitting in the bathtub, relaxing, while reading a book with the cucumber scent filling the air.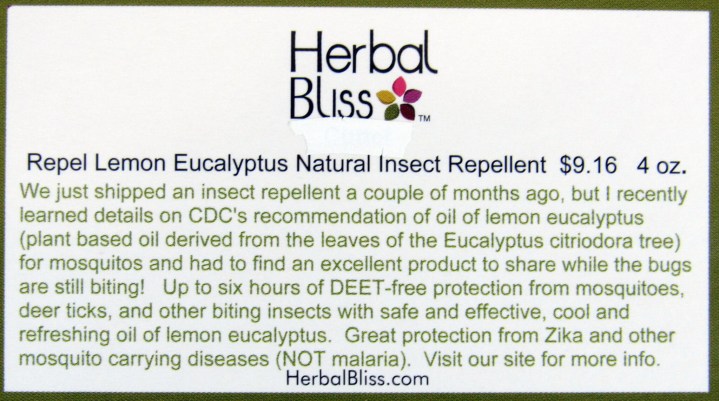 The boys and I agree that the  Repel Lemon Eucalyptus Natural Insect Repellent ( 4oz, $4.97) works. It provides up to six mosquito-free hours. It does have a strong scent and is DEET-free.
My taste buds were singing when I drizzled the Pickle Creek Blueberry Lemon Thyme Infused Balsamic Vinegar (2 oz, $4.00) over the September Farm 6 Year Old Extra Sharp Cheddar Cheese. Yummy! I will be trying out the chicken recipe as soon as my schedule slows down.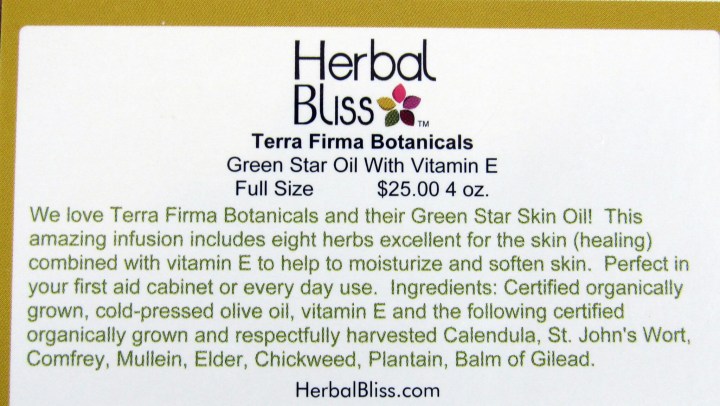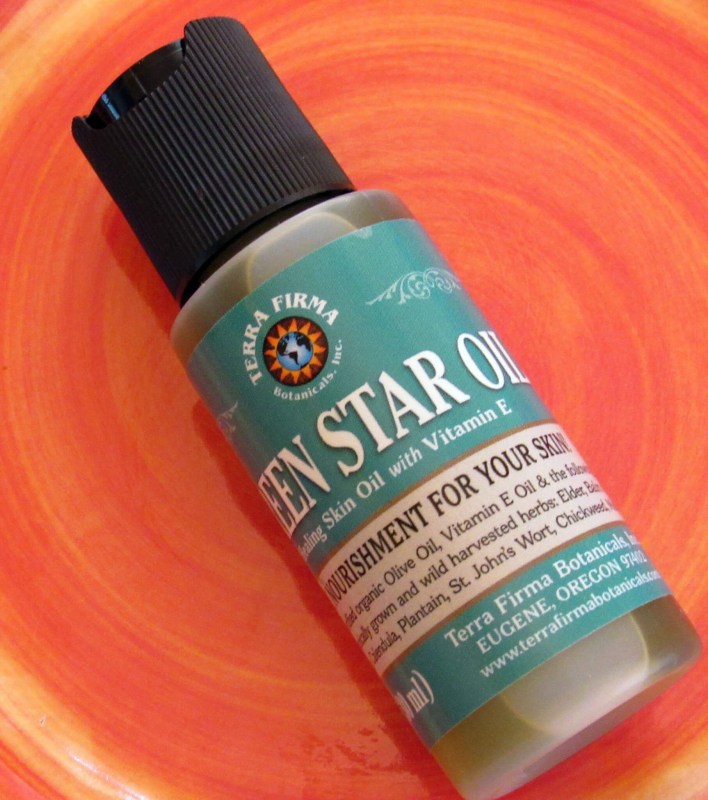 The Green Star Oil with Vitamin E (1 oz, $9.00) is a healing oil for the skin. It also has vitamin E which softens the skin. I still have one scar from my gallbladder surgery that irritates me once in awhile. I am going to try it on the scar. T, age 17, is also going to use it on his legs. He sometimes comes back from cross-country practice with rashes from running in the woods.
I love my July Herbal Bliss Box. I find that I used up most, if not all the items before my next box arrives. Herbal Bliss is a great way to be introduced to herbal delights or  discover new favorites. I will be using everything in the box. Each item is useful and delightful in its own way. The Pickle Creek Blueberry Lemon Thyme Balsamic is my favorite this month because it paired well with the cheese. I always look forward to my Herbal Bliss box and enjoy the quality products selected. It is an excellent box for someone wanting to add more herbal delights to their lives or is already an herbal enthusiast!
What do you think of the July Herbal Bliss box?  Let us know by sharing below!
Visit Herbal Bliss to subscribe or find out more!
The Subscription
:
Herbal Bliss
The Description
: Herbal Bliss exclusively curates assortment of high quality herbal delights. Each Herbal Bliss box includes five irresistible samples, including products to please your palate, improve your well-being, soothe your senses and bring bliss to your body.
The Price
: $25.00 per month