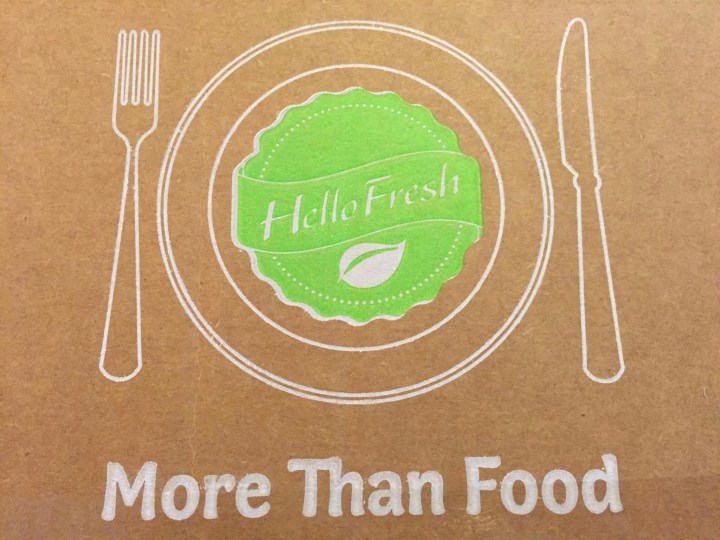 Hello Fresh is a meal kit subscription box with complete recipes and ingredients to make 3 meals every week, with each meal feeding either two or four people, depending on the plan you choose.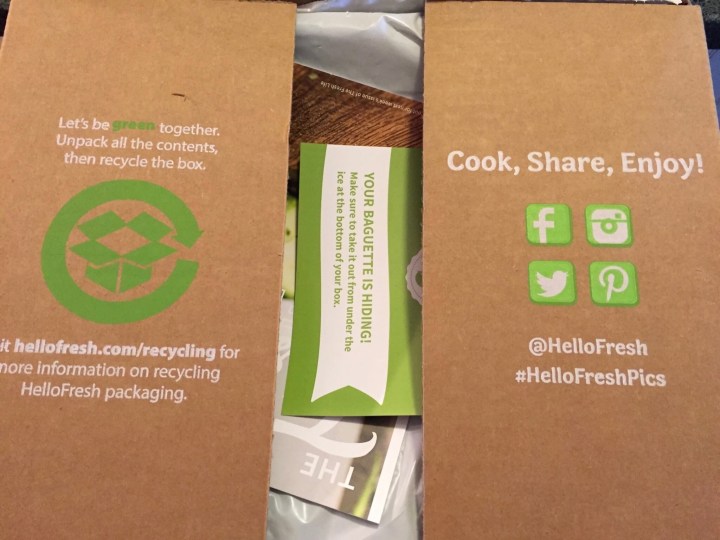 Though it is a subscription, you can pause your deliveries when needed — whether you are out of town, have other dinner plans, or just aren't in love with that week's selections.  The standard subscription provides high-quality meats (free-range chicken, antibiotic meats, etc.) to use in the recipes.  Though we do eat meat, we cook vegetarian three times a week.  Thankfully, Hello Fresh has a vegetarian subscription for both casual and dedicated vegetarians.  This review covers the vegetarian box, which featured a recipe by Jamie Oliver!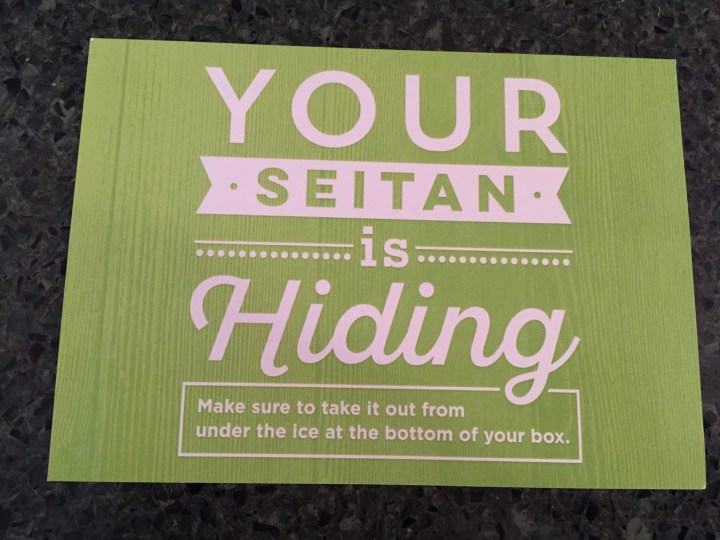 The boxes used by Hello Fresh keep all the ingredients for the recipes in order, and they stack nicely in the fridge.   Within each box, everything but the largest vegetables is separately packaged, and like it said in the card, the seitan (vegitarian wheat meat) is packed at the bottom. Condiments and canned goods are provided in high-end, commercial packaging.  Hello Fresh usually provides spices in their own, pre-measured branded packaging.
Hello Fresh has great instructions, and they are easy to follow even if you are an inexperienced cook. There are even some kitchen tips included in the information card.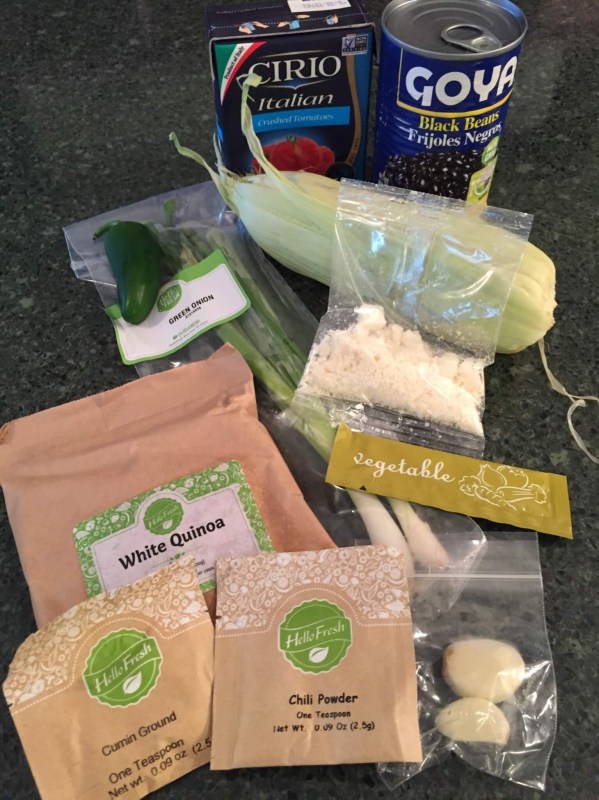 One-Pot Mexican Quinoa With Sweet Corn, Feta, and Jalapeño. 30-40 minutes, level 1, 680 calories per serving.
Oh Hello Fresh, how I've missed you!  We went on a two week vacation with 2 granddaughters up the East Coast to middle Pennsylvania and back home to Florida.  Eating basic foods with some restaurants along the way.  The 2 granddaughters aren't much into wonderful fresh produce (except strawberries) and starches such as quinoa, beans and the such. So cooking a dinner for us was boring.  I wasn't expecting Hello Fresh upon my return (couldn't remember what I set up) but it was here and waiting for me.  What a wonderful dinner.  Fresh produce and wonderful flavors for dinner. Colorful ingredients for dinner.  Textures galore for dinner.  What a dinner!
I have to admit my husband said he didn't miss Hello Fresh but this is a guy who will order 2 cheeseburgers off the value menu at fast food joints and think that's a great meal.  Some people…
He did admit that this dinner was very tasty.
I did consider all the condiments you could easily add to this meal to make it even better than it is, cilantro, squeeze of lime juice, sour cream and that's just for beginners.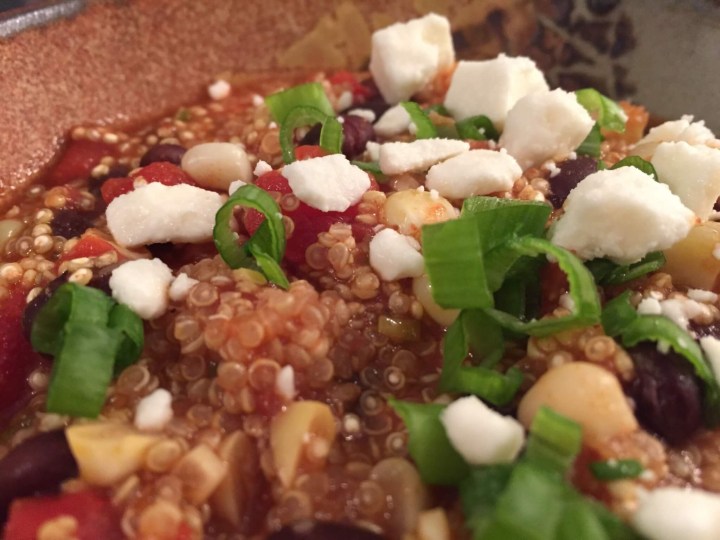 I give this a 10+.  There's no place like home and Hello Fresh!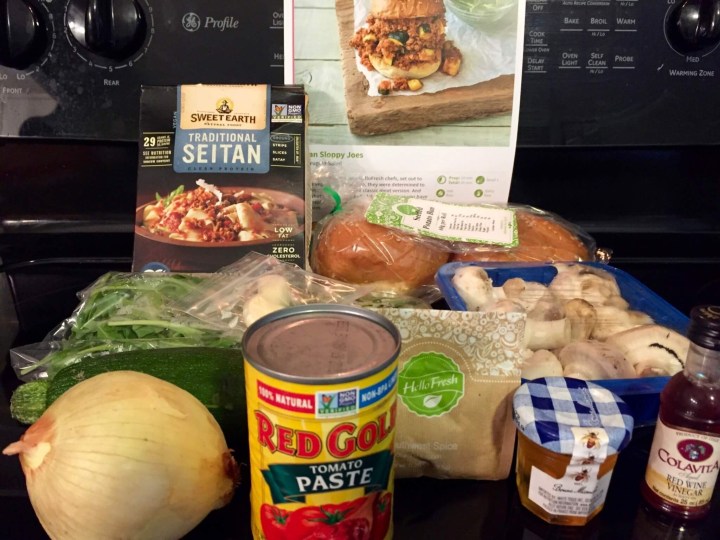 Seitan Sloppy Joes With Arugula Salad. 35-45 minutes, level 1, 642 calories per serving.
Well, as usual, Hello Fresh continues to teach me new and exciting things about food.  Today I learned about seitan. Seitan is derived from the protein portion of wheat.  You can use it in place of meat in many recipes.  The package of seitan in this Hello Fresh meal looked just like ground turkey meat.  This is a product that I've never seen or heard of but now I'll have to look for it in the grocery store.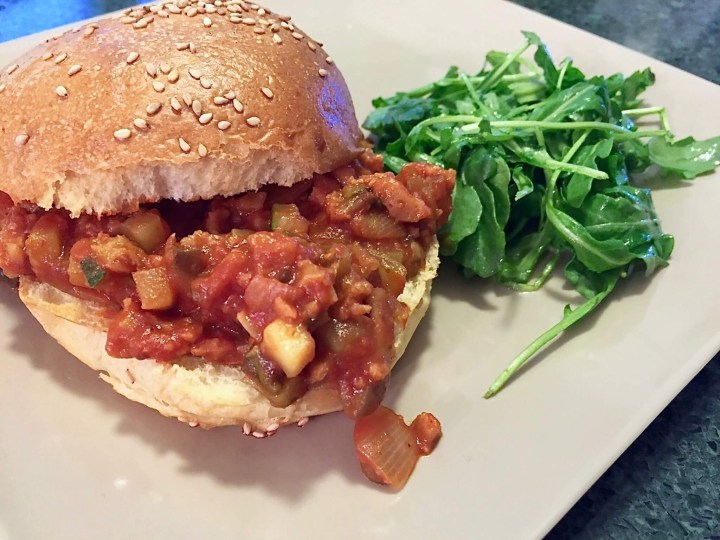 Anyhow, I had my braces adjusted this morning and my teeth/gums are tender so I knew that a sloppy joe would be a great dinner for me.  It was very easy to make, tons of taste and soft.  It tasted like a sloppy joe and if I had finely chopped the veggies more it would have looked more like a sloppy joe but I was in a hurry so I diced the veggies in a mushroom slicer.
I didn't eat the salad but only because of my teeth.  That's my story and I'm sticking to it ( I don't like arugula).
We both liked the sloppy joe, we rated it a 10.
Israeli Couscous Bowl With Feta, Herbed Veggies, and Crispy Chickpeas. 30-35 minutes, level 1, 552 calories per serving.
I saved this meal for last because on Saturday evenings we take a small gourmet buffet over to a friend's house.  She's 94 and pretty much home-bound.  Her daughter and a day time caregiver help her.  She's been my parents best friend for decades but my parents were celebrating their 61st wedding anniversary and went out to celebrate.  So anyhow, I put this together with roasted asparagus, Asiago cheese & crackers and Dutch apple pie.  Yum.  So there were 4 of us to share this dish with.
We all agreed the bowl was a good dish but it had very mild flavors.  We decided it either need more tomatoes to give it more of a punch or more Feta for zing.  I also thought perhaps a squeeze of lime would have brought the flavors out more.  Anyway, I used all the chickpeas because there were 4 of us and there was still a bowlful after eating.  So I packed enough for our friend to have for dinner tonight and brought the rest home.  These meals are very plentiful!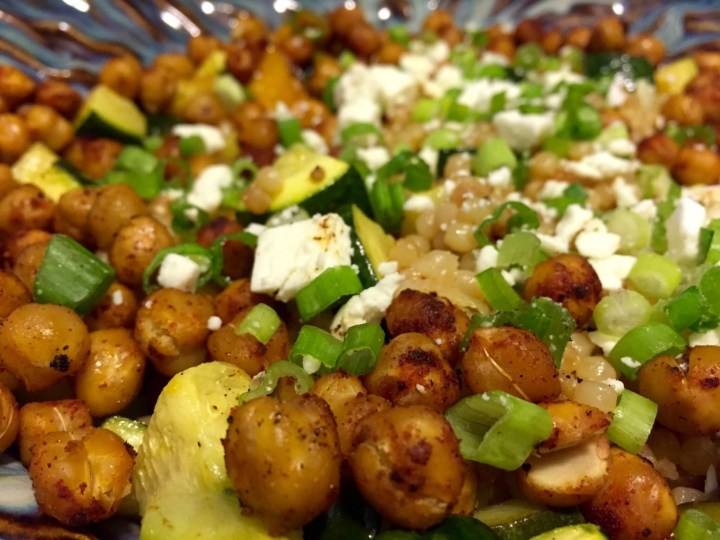 This dish gets an 8.
Have you tried Hello Fresh? Currently you can get a $50 Discount on your First two Boxes with coupon code HF50SUMMER.If you just want to try one box save $40 off your first box with coupon code 7UT7K8.
Visit Hello Fresh to select your box for next week!
The Subscription
: 
Hello Fresh
The Description
: Each week Hello Fresh delivers beautifully photographed step-by-step recipe cards, with the exact fresh ingredients needed to create a selection of new recipes.
The Price
: $69 per week for 3 meals (59 vegetarian)