Hello Fresh is a meal kit subscription box with complete recipes and ingredients to make 3 meals every week, with each meal feeding either two or four people, depending on the plan you choose.  
Though it is a subscription, you can pause your deliveries when needed — whether you are out of town, have other dinner plans, or just aren't in love with that week's selections.  The standard subscription provides high-quality meats (free-range chicken, antibiotic meats, etc.) to use in the recipes.  Though we do eat meat, we cook vegetarian three times a week.  Thankfully, Hello Fresh has a vegetarian subscription for both casual and dedicated vegetarians.  This review covers the vegetarian box, which featured a recipe by Jamie Oliver!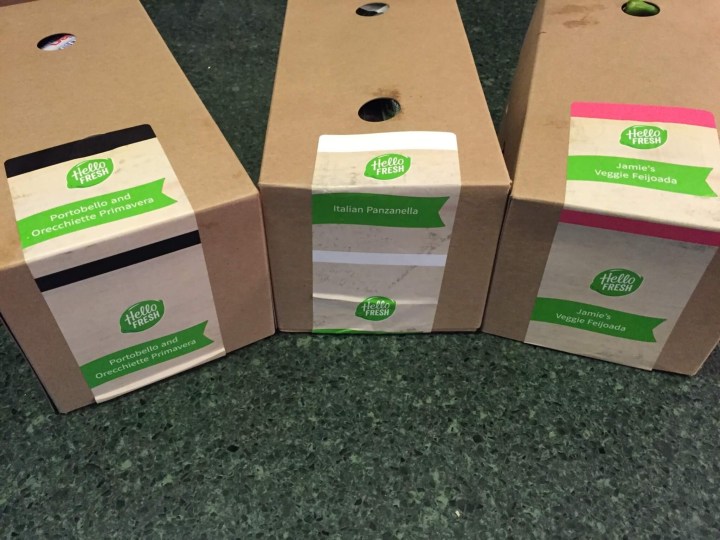 The boxes used by Hello Fresh keep all the ingredients for the recipes in order, and they stack nicely in the fridge.   Within each box, everything but the largest vegetables is separately packaged, and like it said in the card, the seitan (vegitarian wheat meat) is packed at the bottom. Condiments and canned goods are provided in high-end, commercial packaging.  Hello Fresh usually provides spices in their own, pre-measured branded packaging.
Hello Fresh has great instructions, and they are easy to follow even if you are an inexperienced cook. There are even some kitchen tips included in the information card.
Jamie's Veggie Feijoada With Sweet Potato & Black Beans. 35 minutes, level 2, 650 calories per serving.
Oh, Jamie, Jamie, Jamie…yum!  Were you reading my mind and knew that I needed something not hard to chew, soft and mushy with lots of flavor? [Braces!] Obviously, you were and you came through for me.
This dish has 3 parts:  rice, feijoada and salsa.  The feijoada is a Brazilian stew usually made with pork but Jamie made a wonderful meatless version with sweet potatoes, onions, bell pepper, and black beans.  The salsa was the easiest salsa I've ever made.  Once you put that on top of the rice and feijoada the flavors just come alive with the little bit of lime juice that was squeezed on top.  I have to admit I like my plain yogurt piled on top of most dishes but this one just didn't need a lot of yogurt.  Just a little dab will do you!  (That's also a personal joke as my husband's initials are dab.)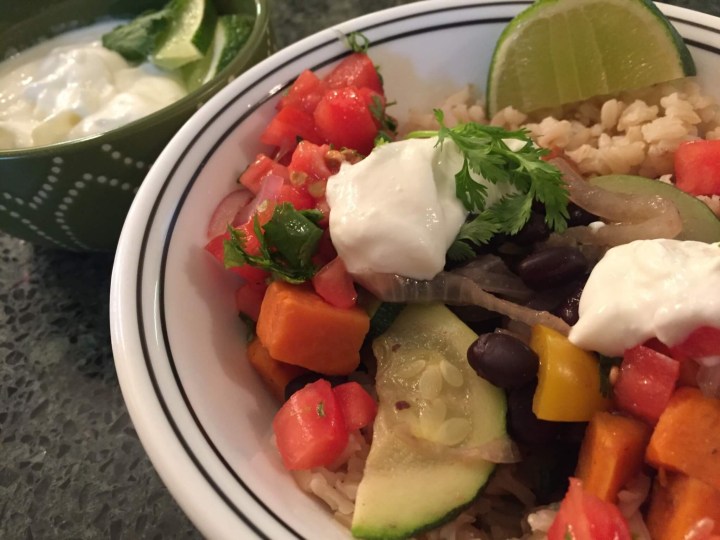 Hello Fresh's pictures are kind of dark almost like there's a dark gravy on the chunks of vegetables. When you look at my pictures, there are lots of colors coming through, yellows, reds, oranges, greens.  This dish was a rainbow for the senses, appealing to the eyes, nose and taste buds.
Thanks Jamie, this is a 10 thumbs up!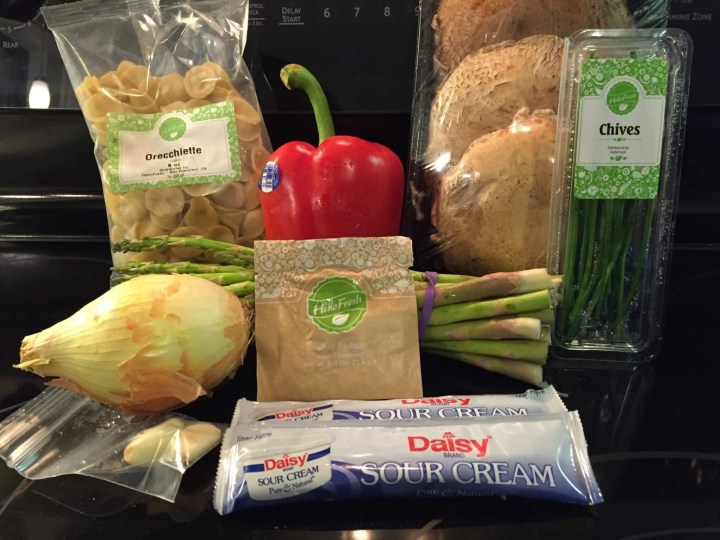 Portobello & Orecchiette Primavera With Spring Veggies. 35 minutes, level 2, 622 calories per serving.
I have a 9 year old granddaughter who loves to cook in the kitchen, she just won't eat hardly anything she makes!  So in my pictures, you'll find my asparagus isn't cut in 1 inch sections and the chives aren't finely chopped, they're more finely mushed because she didn't assert enough pressure to really cut them BUT these recipes are perfect to teach the up and coming cook/chef.
The skills needed are pretty simple:  washing, cutting and mostly stirring.  This gives me more quality time with her instead of her being on some machine (iphone, Wii, computer, etc).  We talk about a lot of things while cooking, what's good for you, plants (I took her outside to see my chives that are growing), food from around the world and so on.  You can teach so much with recipes: math, science, reading and reading comprehension.  Hello Fresh's recipes are great for this, simple clear directions and not too long.
Now onto this recipe.  The flavors were wonderful, color was pleasing to the eyes and the texture was just right.  I'm a big fan of cooked bell peppers, regardless of the color.  I loved that there were 3 vegetables in this recipe and that's not counting the mushrooms because technically they're a fungus not a vegetable.  You can't have too many vegetables/fungus in a dish, in my humble opinion.  Sounds kind of funny doesn't it, fungus in a dish?
We gave this a 10.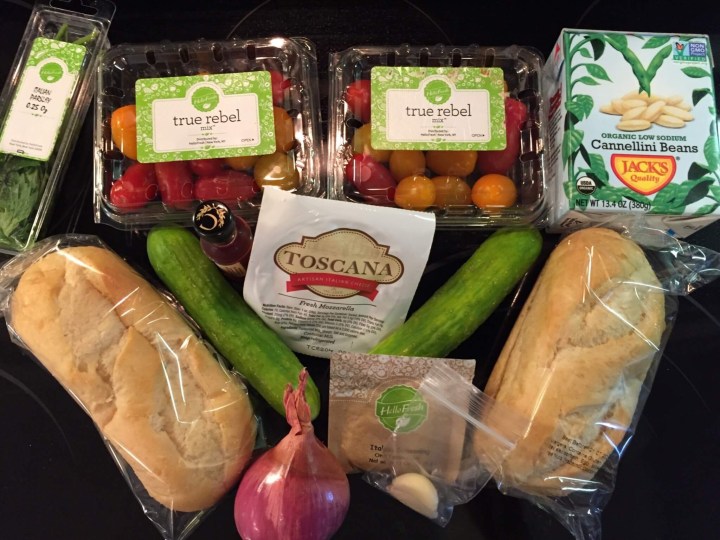 Italian Panzanella With Cannellini Beans, Fresh Mozzarella, and Summer Veggie. 35 minutes, level 1, 755 calories per serving.
This was a perfect salad for a hot humid day here in Florida.  It didn't take much at all to make but was filled with lots of taste and texture.
Panzanella is a Tuscan salad made with mostly bread and tomatoes.  Throw in the mozzarella and beans and this is a protein packed salad.  I only ate a small bowlful and was feeling satisfied and full.
Note:  the directions say to only pick the parsley leaves from the stems.  The picture provided by Hello Fresh shows the parsley to be chopped.  Next time I make this recipe, I'm going to roughly chop the parsley.  I also sauteed the shallot, personal choice.
This was a 10.
Have you tried Hello Fresh? Currently you can get a $50 Discount on your First two Boxes with coupon code HF50SUMMER.If you just want to try one box save $40 off your first box with coupon code 7UT7K8.
Visit Hello Fresh to select your box for next week!
The Subscription
: 
Hello Fresh
The Description
: Each week Hello Fresh delivers beautifully photographed step-by-step recipe cards, with the exact fresh ingredients needed to create a selection of new recipes.
The Price
: $69 per week for 3 meals (59 vegetarian)