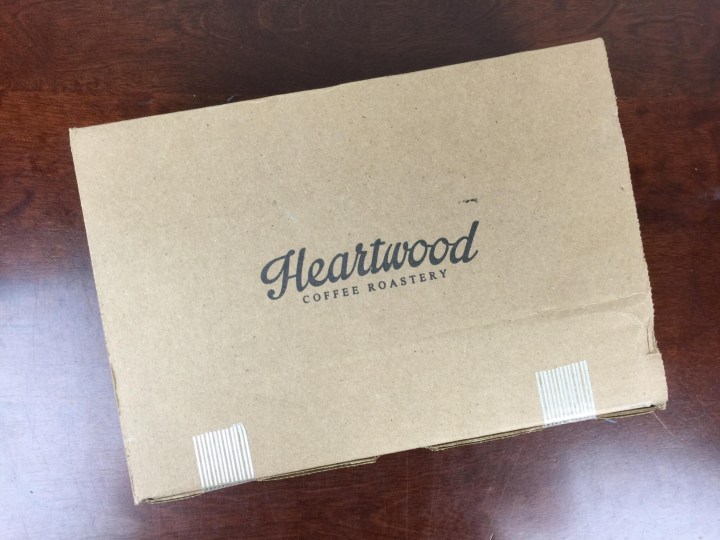 Heartwood Coffee Club is a bi-weekly subscription box for the serious coffee addict. For $28 per month, Heartwood Coffee Club will deliver freshly roasted coffee beans from around the world right to your door every two weeks.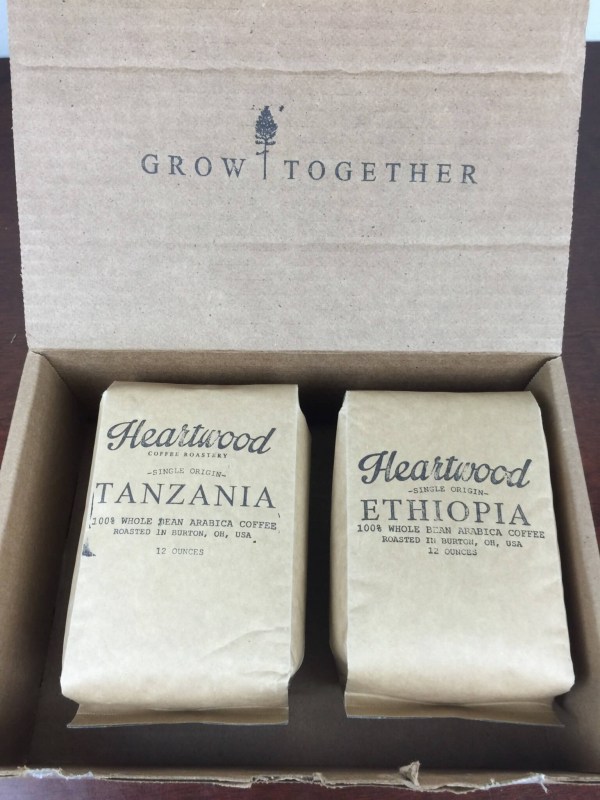 Everything in the box.  The packaging is simple and uncluttered, with the beans packed in respiration-controlled resealable (by bendy strip) bags.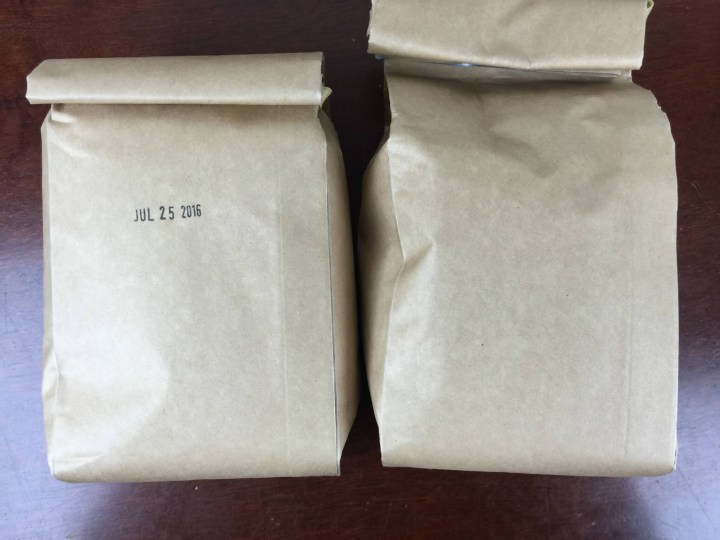 My Roaster's Pick!  There are a few options – you can pick one of 3 specific blends – Birdseye House Blend (Ethiopian & Colombian), Old River dark roast, Rosena Espresso blend, or Roaster's Pick.  I went with the Roaster's Pick, which promises the highest quality single origin coffee.  I chose to receive two bags in each shipment, and I was unsure whether I would get two bags of the same beans or two different selections.  This is my third two-bag Roaster's Pick — the first one had a Brazil and a Tanzania; the second one had two bags of Tanzania; this one had one bag of Tanzania and a bag of Ethiopia.  I have really enjoyed the Tanzania, so I don't mind being loaded up on it.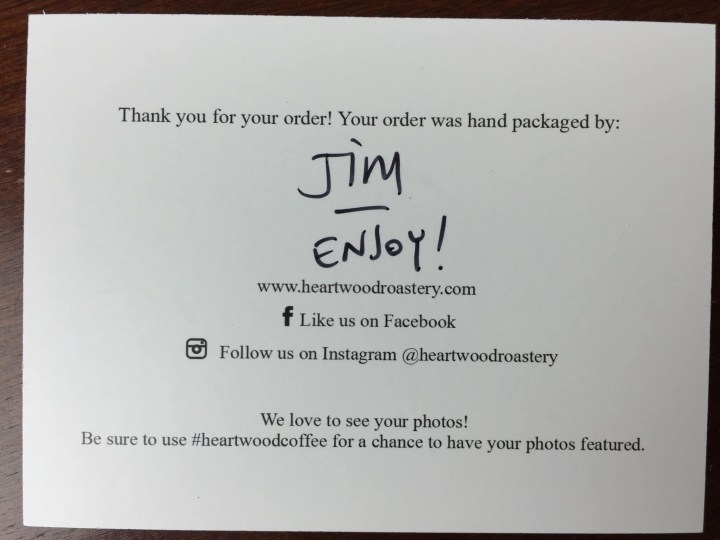 An information card is included in the box, letting us know Jim packed our beans, but it doesn't provide more details about the coffee that was sent.  The exact farmers, process, and varietals remain a mystery, but we know they are all Arabica beans (which is de rigueur, though Robusta are gaining a following in some circles).  The beans are "single origin," but I am not sure how big or small an origin we are talking about.  Usually the term implies that the beans are at least from within the same county/province/district, or the same geographic region if it crosses political boundaries.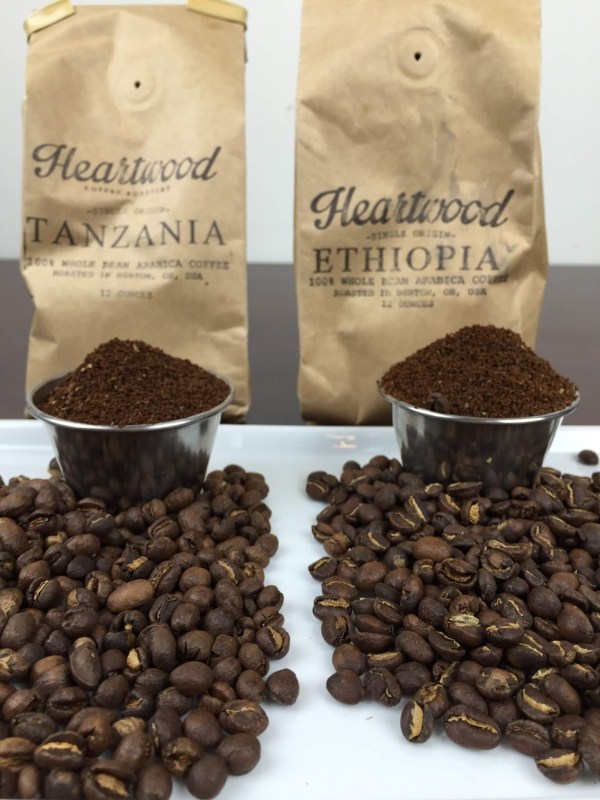 This batch of coffee beans are organically grown and fair trade acquired from Tanzania and Ethiopia– they were roasted in Burton, Ohio, and shipped the very next day.  I like the roast level on the beans.  It is slightly darker than the roast employed by many single-origin purveyors, resulting in a mellower brew.
Tanzania:  The aroma of the ground beans smells heavily of dark berries such as sweet cherries and currants.  Visually, some of the darker beans even have an almost purple tint.  The prepared coffee has a smooth and dry body resembling a mild black tea (reminds me of sun tea brewed with standard Lipton's with the yellow and orange tag, as it is dry ad brisk without any bitterness), exhibiting a slightly winey quality in its presentation of gentle hints of stone fruit, and finishing with a pleasant tannic dryness.  A very light and mellow brew with many elegant facets and lovely fruit notes.
Ethiopia:  The scent of the ground beans is bit dark, sweet, and grainy — a bit like teff.  This bean has an assertive tartness, reminiscent of meyer lemon.  The body has a nice full presence, much less whispy than many Ethiopian beans.  The flavor is not distinctly floral or fruity, and under the tart opening note is a very nicely balanced body.  The finish shows a bit of nougat or marshmallow, with a smooth sweetness and a hint of nuts and vanilla.
I liked the Ethiopia beans, but I prefer the Tanzania.  I like getting to try two different coffees with my two-bag subscription, so I hope at least every other installment has a mix of two origins.  Heartwood doesn't do much in the way of explaining their beans, they just let the coffee do the talking.  Their selections, though single origin, still have a wonderfully versatile and approachable flavor profile, and this quality has made Heartwood my go to for a great everyday cup of coffee.
Get 50% off your first box! Use coupon code TRYHEARTWOOD.
Visit Heartwood Coffee Club to subscribe or find out more!
The Subscription
:
Heartwood Coffee Club
The Description
: Heartwood Coffee Club is a coffee subscription for the serious coffee drinker. We deliver freshly roasted 100% arabica coffee directly to your doorstep. We cater to coffee addicts and let our subscribers control how much coffee they want to receive. Upgrade you plan, downgrade your plan, skip a shipment, or cancel at any time. No commitment, no fees, just great coffee!
The Price
: $28.00 per month