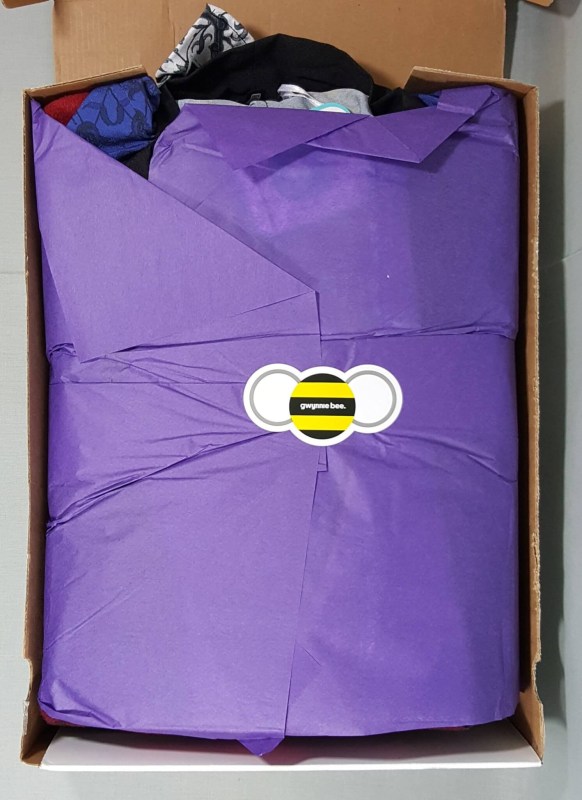 Gwynnie Bee is a clothing rental subscription service for sizes 10-32.   To start, browse through the numerous apparel pieces and add items to your closet.  After you've selected 25+ items, Gwynnie Bee will send you the first three that are available. There is also a feature that lets you prioritize items, so you can have some control over which items are more likely to arrive.  Wear for as long as you like, and then return the pieces to get more!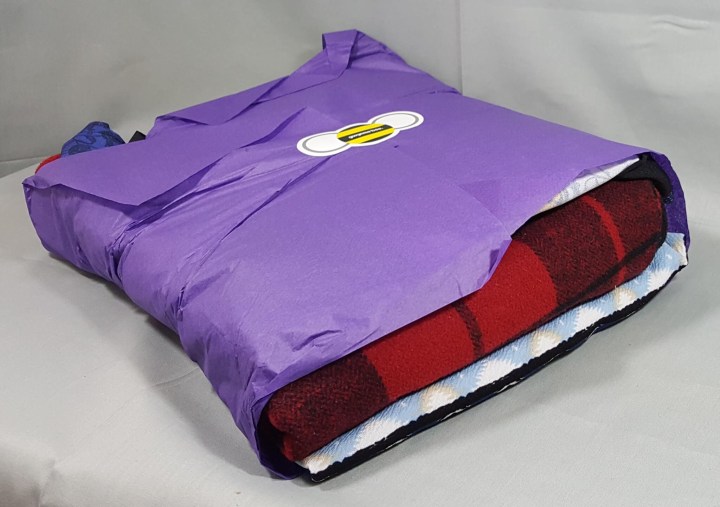 Neatly packed and wrapped in tissue.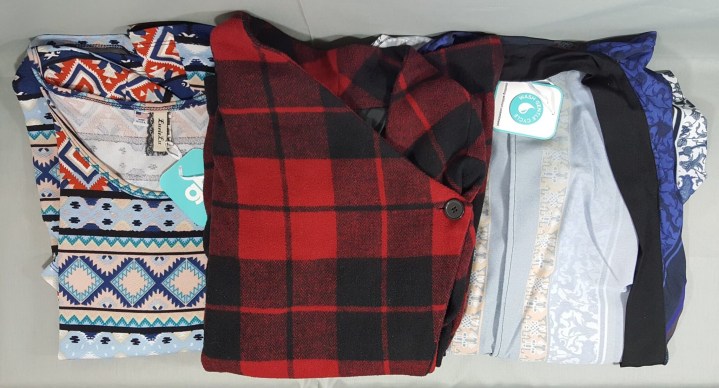 My Gwynnie Bee closet items.  Just looking at this makes think of Grease 2 – I'll be your girl for all seasons…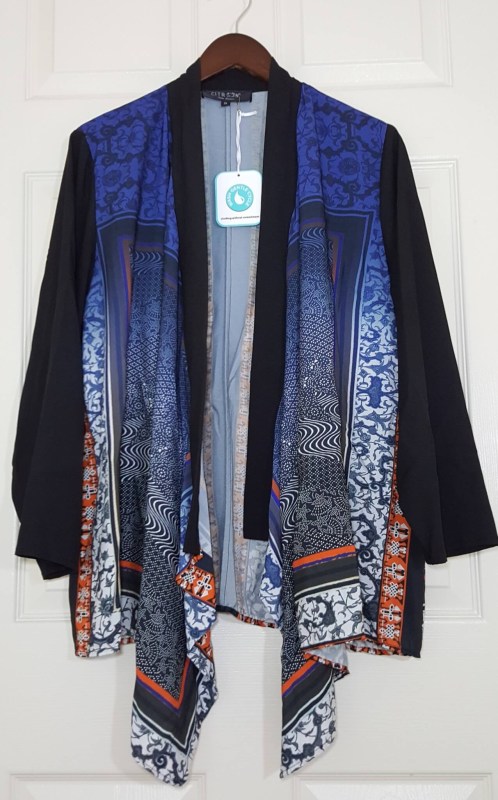 Citron Kimono in Mixed Print (cost to buy $43.00):  Crepe kimono jacket with drapey open-front design and long sleeves, no stretch, colorblock design with abstract print, unlined.  Featuring a brilliant array of oranges and blues, this lovely light layer floats over any monochrome outfit for instant style.
This is the second Citron kimono/jacket that I've received from my Gwynnie Bee closet.  It's not terrible, but it's not great either.  I don't know if it's me or the kimonos that are misshapen, but something is just not working.  I think would have liked this more with a dolman sleeve rather than the full sleeve.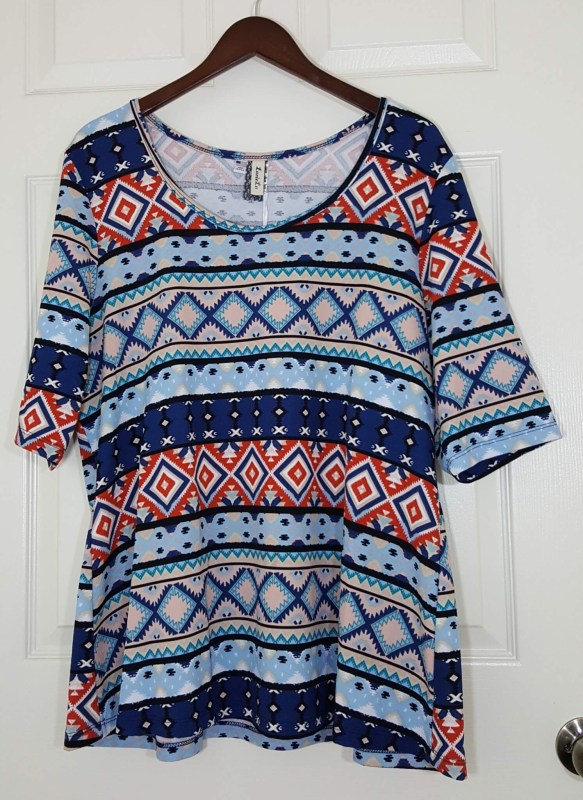 Lucie Lu Thea Tunic in Aztec (cost to buy $27.00):  Ponte-knit tunic top with scoop neck and elbow-length sleeves, stretchy shape with flowy fit, flared hem, allover Aztec print with embossed texture.  A desert-inspired multicolor print ensures ample pairing opportunities, from basic jeggings to dressy black pants.

This looked better when it was worn.  It is WAY out of my norm; I'm a simple patterns/solids type of girl.  I liked the fit, but the ponte knit was heavy.  With my current weather, I would have been stewing in this top.  Maybe I'll add it to my closet with a hold for fall.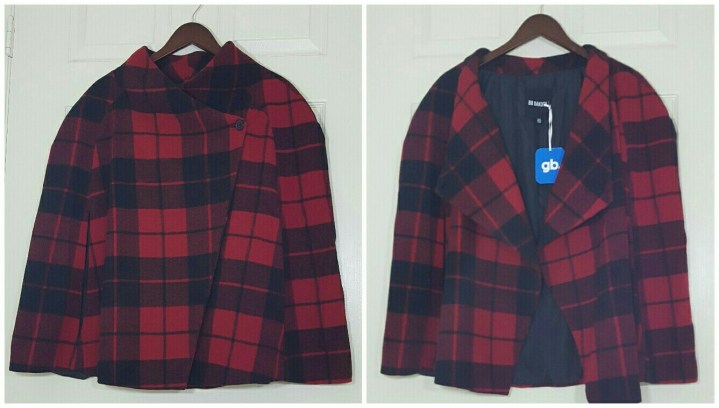 BB Dakota Margot Capelet (cost to buy $22.50):  Wool capelet with one-button closure and poncho sleeves, stretch-knit fabric, shawl-like collar, allover plaid print, fully lined.  Our latest obsession is part outerwear, part trend essential. Softly tailored in a wool blend, the BB Dakota Margot Capelet is a feminine take on menswear.  Layer over a monochrome outfit for instant allure.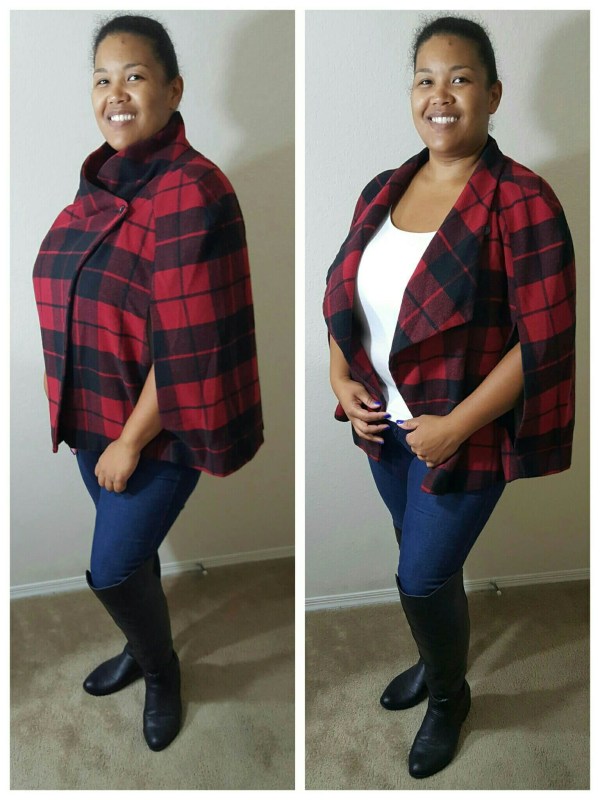 I really liked this capelet.  Several GB members commented that the ones they received showed a lot of pilling and looked well worn. This piece did not show a large amount of wear, but I could see some minor pilling.  I am going to add this back for fall/winter.
Gwynnie Bee is showing me that I don't know myself as well as I thought.  I've picked items that were out of my comfort zone and they've looked good, while pieces that I would try-on or buy look horrible on me.  It makes me happy that Gwynnie Bee is a clothing rental service because I would have been really upset if I puchased this group of clothing.  What did you think of my fashion choices?  Share your thoughts with a comment below.
Currently when you sign up for Gwynnie Bee you can get your first month for FREE, (no code needed, just use the link) which is an awesome way to just try it out and see if you love it.
Visit Gwynnie Bee to subscribe or find out more!
The Subscription
:
Gwynnie Bee
The Description
: Plus size clothing subscription rental service. Unlimited exchanges, free shipping & returns. Hot brands for curvy ladies sizes 10-32! Because this is a rental service, this is not quite a plus-size Stitch Fix. However, you can purchase the items you love, usually at a significant discount. We recommend trying it out for a month!
The Price
: $49.00 per month
The Coupon
: Currently when you
sign up for Gwynnie Bee you can get your first month for FREE
, (no coupon code needed!)
A couple things to remember (besides free laundry!):
you can mark your shipment as outgoing so your items ship out faster
you can purchase items that you love at huge discounts
use the community at Gwynnie Bee to help you select the best items for your body and the right size for that garment.
All the garments are inspected and I've never really had an issue with anything I've received in terms of condition.
 It's also worth a mention that the clothes are higher end clothes, so they all have better construction and fabric than what you might normally purchase for yourself.
The plans are as follows:

1 item/ $49 per month
2 items/ $69 per month
3 items/$95 per month
5 items/$139 per month
7 items/$179 per month
10 items/$199 per month