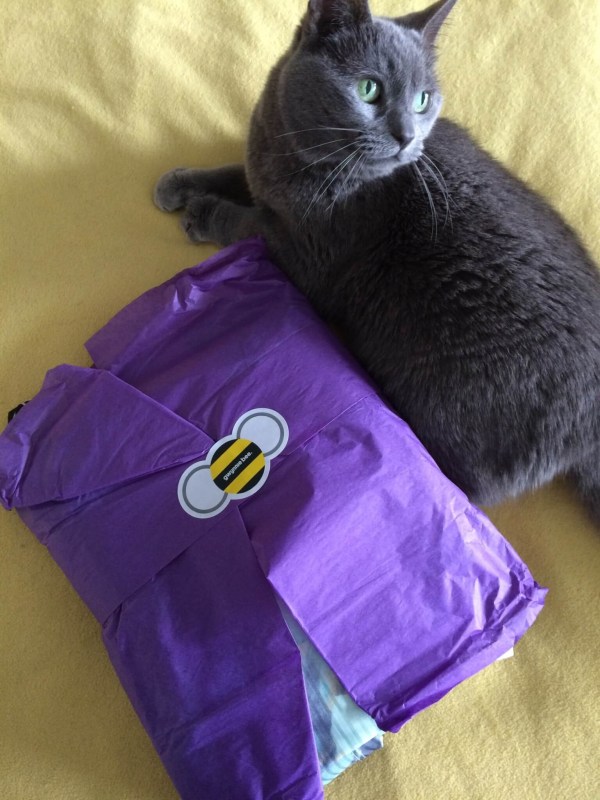 I am always excited to see my Gwynnie Bee box in the mail. It has been a great way for me to keep my work wardrobe interesting.  While I usually focus on dresses for travel, I have had a few months mostly at home, so I have been getting some more casual items.  This month was a mix of fun and work stuff.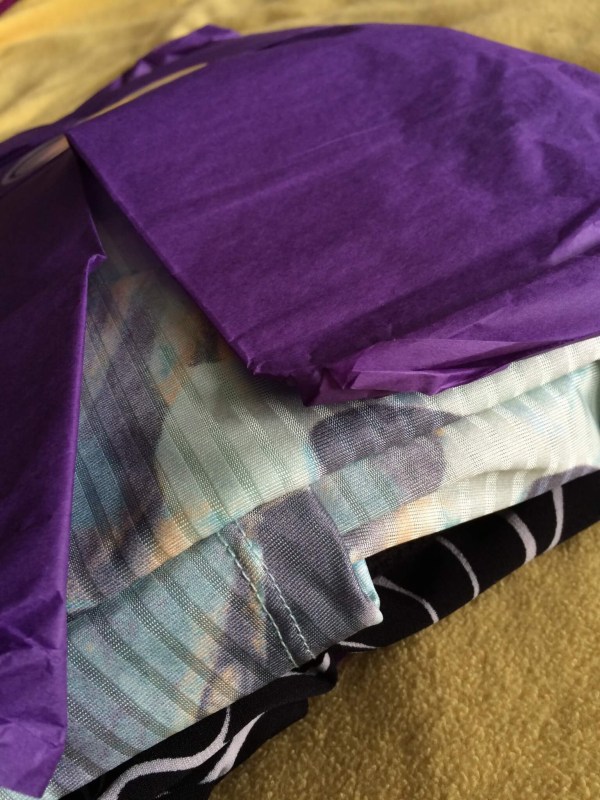 Gwynnie Bee is a clothing rental subscription service. My body shape makes me a perfect candidate, as they specialize in sizes 10-32, and I am a 14-16.  When I started I added about 25 items to my closet (it's a lot like creating a Netflix queue back when DVD subscriptions were their main business model, except there is no specific order) and they sent me the first three that were available. They now have a feature that lets you prioritize items, so I have some control over which items are more likely to show up. Then, when I return items, they send more!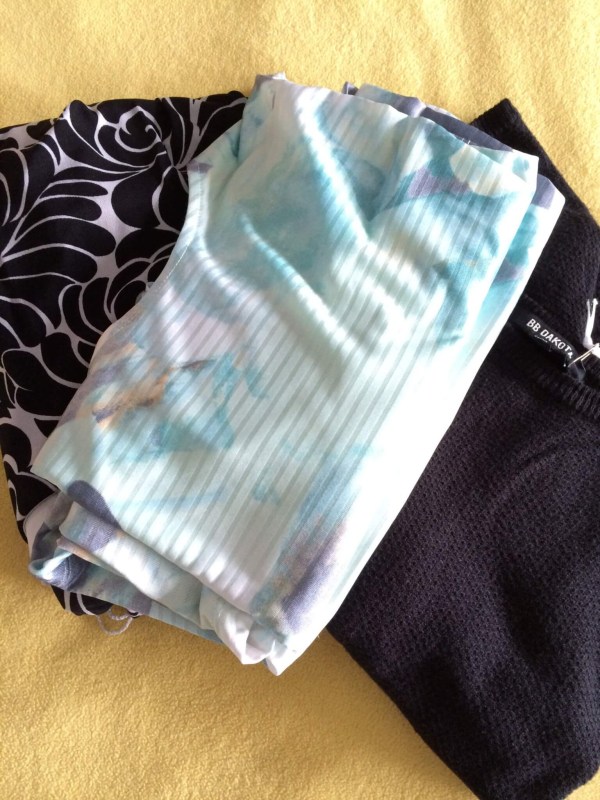 I really like that I have a lot of control – I pick the specific items that are in my closet.  I can go outside my comfort zone if I feel like it, or I can stay well within it. Overall, I put several items that would be a stretch for me in my closet, but also put plenty of items I think I will like so that any given shipment is likely to have something in it that I will wear.  
BB Dakota Mallen Sweater in Black 1X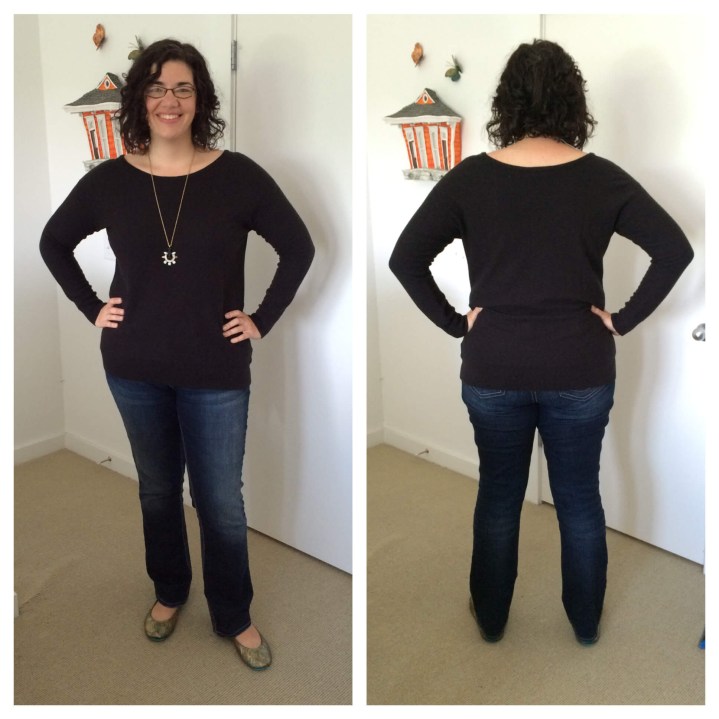 That's right, you just read the word sweater. In August. I live in the South. Let's just say I forgot to take advantage of the ability to put things on hold in my closet, which essentially means you set them aside and can pull them back to your closet queue when you want them. I did that with a bunch of sweaters, but I must have missed one.  gee, I wonder why it was available now?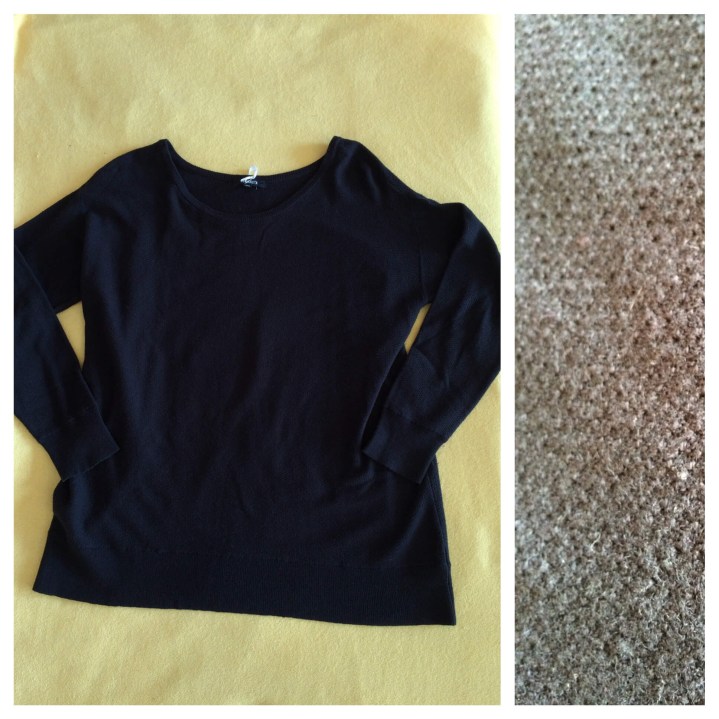 It's actually pretty cute – nice basic black, mid-weight. The knit had a waffle texture – see the right hand photo. The color is black, I just over-exposed it so you could see the texture.
XTWO Hill Top, Size 12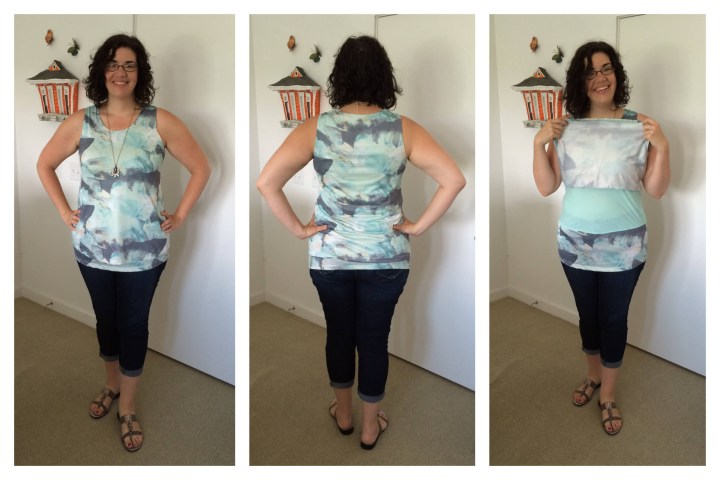 Thaaaat's more like it! Definitely a summer top. I am not sure how I ended up with a 12, typically I would expect to be a 14 or even a 16. Gwynnie Bee has a Size Advisor feature, so it is likely I put in some information that resulted in this advice. To be fair, the 12 did fit, but I was expecting this to be more tunic-like, so a 14 may have been better. Of course, I may have closeted the 12 because 14's weren't available and I was being optimistic….
This had a nice stretchy material – see the close-up to get a feel for the texture, which was smooth to the touch, but visually had alternating shiny and matte stripes.
London Times Fit-and-Flare dress in Black and Cream Print 16W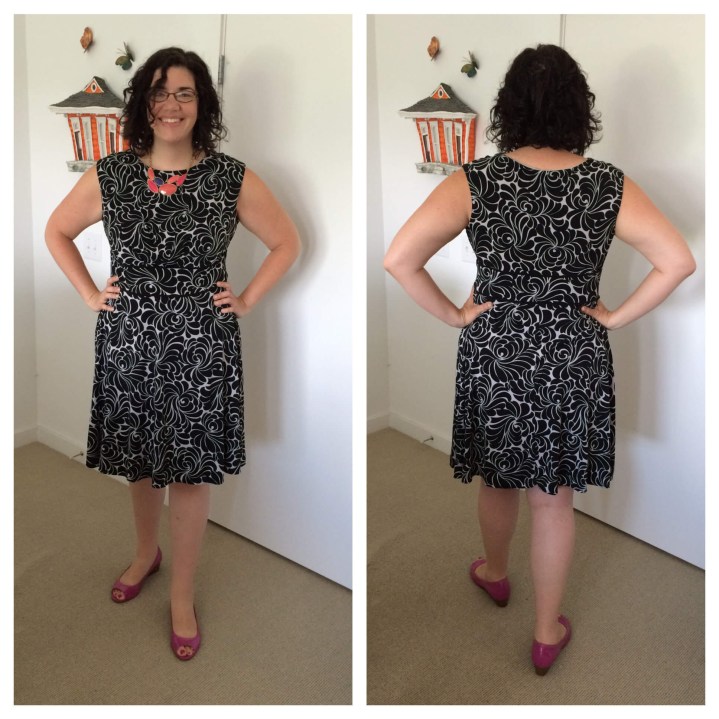 I know it is hard to believe, but here I am again in a black and white dress. I could make an entire wardrobe out of black and white print dresses and be happy. Alas, I am not Olivia Pope, and I do alternate my clothing a bit.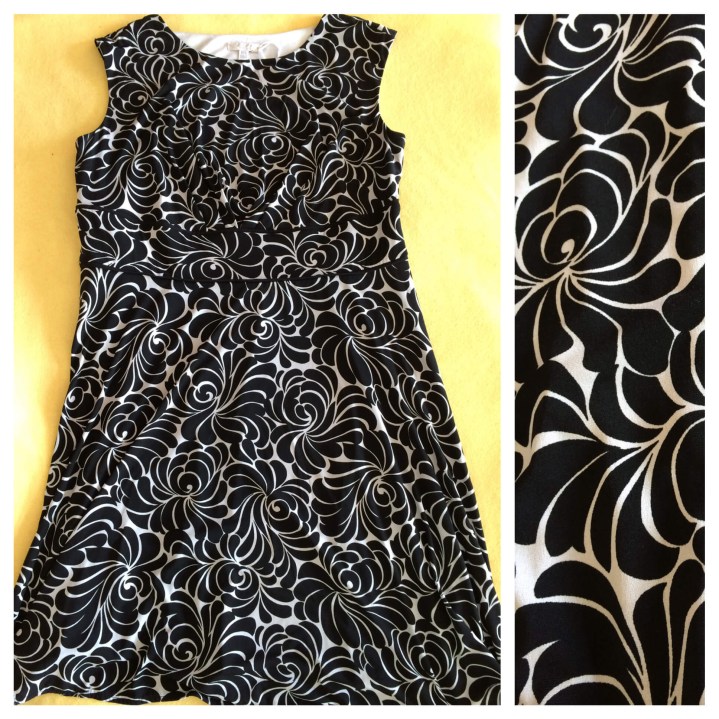 I usually wear a 14/16, sometimes a 14W. This dress was a 16W, which felt a little loose at the middle, but not embarrassingly large. I wouldn't buy a dress that fit me this way, but wearing one a few times and sending it back for someone else to enjoy was perfect.
I am getting ready for work travel again, so it is probably time for me to adjust my closet to have more dresses. One of the awesome things about Gwynnie Bee is you can change your priorities and take items in and out of your closet easily.
Currently when you sign up for Gwynnie Bee you can get your first month for FREE, (no code needed, just use the link) which is an awesome way to just try it out and see if you love it.
Visit Gwynnie Bee to subscribe or find out more!
The Subscription
:
Gwynnie Bee
The Description
: Plus size clothing subscription rental service. Unlimited exchanges, free shipping & returns. Hot brands for curvy ladies sizes 10-32!Because this is a rental service, this is not quite a plus-size Stitch Fix. However, you can purchase the items you love, usually at a significant discount. We recommend trying it out for a month!
The Price
: $49.00 per month
A couple things to remember (besides free laundry!):
you can mark your shipment as outgoing so your items ship out faster
you can purchase items that you love at huge discounts
use the community at Gwynnie Bee to help you select the best items for your body and the right size for that garment.
All the garments are inspected and I've never really had an issue with anything I've received in terms of condition.
 It's also worth a mention that the clothes are higher end clothes, so they all have better construction and fabric than what you might normally purchase for yourself.
Gwynnie Bee Cost:

1 item/ $49 per month
2 items/ $69 per month
3 items/$95 per month
5 items/$139 per month
7 items/$179 per month
10 items/$199 per month