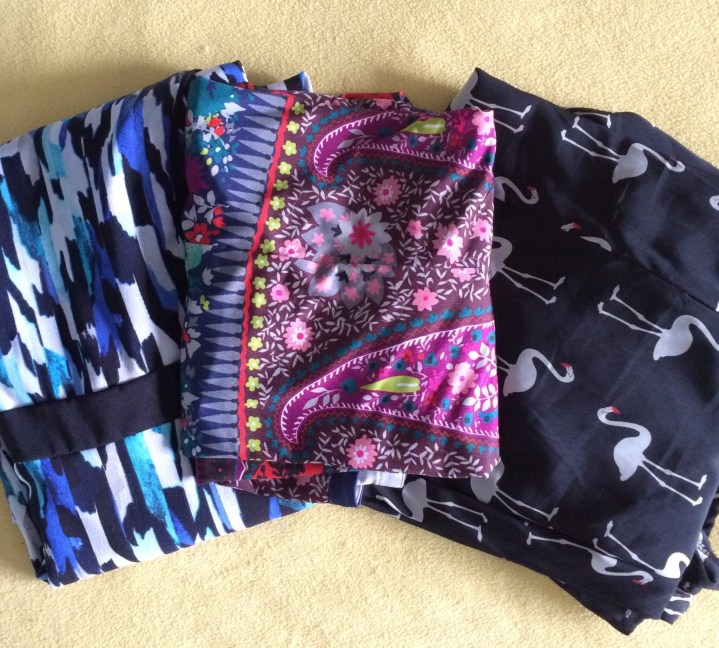 I am always excited to see my Gwynnie Bee box in the mail. It has been a great way for me to keep my work wardrobe interesting.  After a few months of less travel, I am about to get on the road again, so I am adding more dresses to my closet. This month was a mix of fun and work stuff.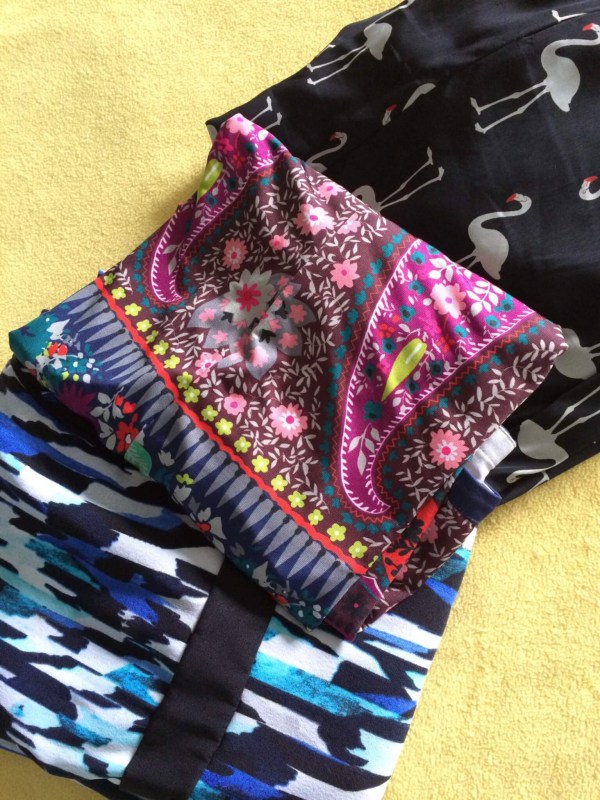 Gwynnie Bee is a clothing rental subscription service. My body shape makes me a perfect candidate, as they specialize in sizes 10-32, and I am a 14-16.  When I started I added about 25 items to my closet (it's a lot like creating a Netflix queue back when DVD subscriptions were their main business model, except there is no specific order) and they sent me the first three that were available. They now have a feature that lets you prioritize items, so I have some control over which items are more likely to show up. Then, when I return items, they send more!
I really like that I have a lot of control – I pick the specific items that are in my closet.  I can go outside my comfort zone if I feel like it, or I can stay well within it. Overall, I put several items that would be a stretch for me in my closet, but also put plenty of items I think I will like so that any given shipment is likely to have something in it that I will wear.  
London Times Fit and Flare dress in Abstract Ikat 16W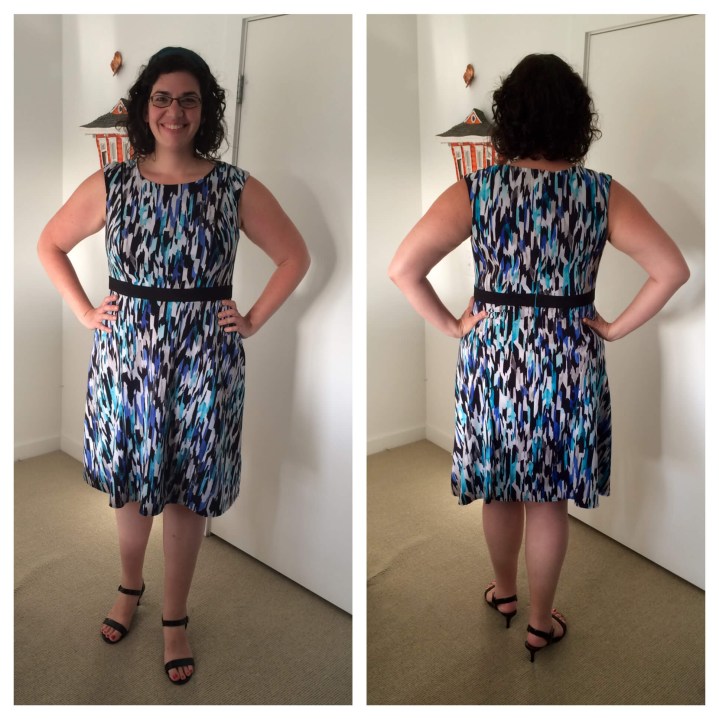 This is a great work dress for me. The fabric is a medium weight, good for summer heading into fall.  I like that it is a reasonable length (I am 5'10", so a lot of dresses are just too short). It is a 16W – I usually prefer a 16, as my top tends to be a 14/16, and my bottom a 16/18. It is a little roomy, which makes sense given its size.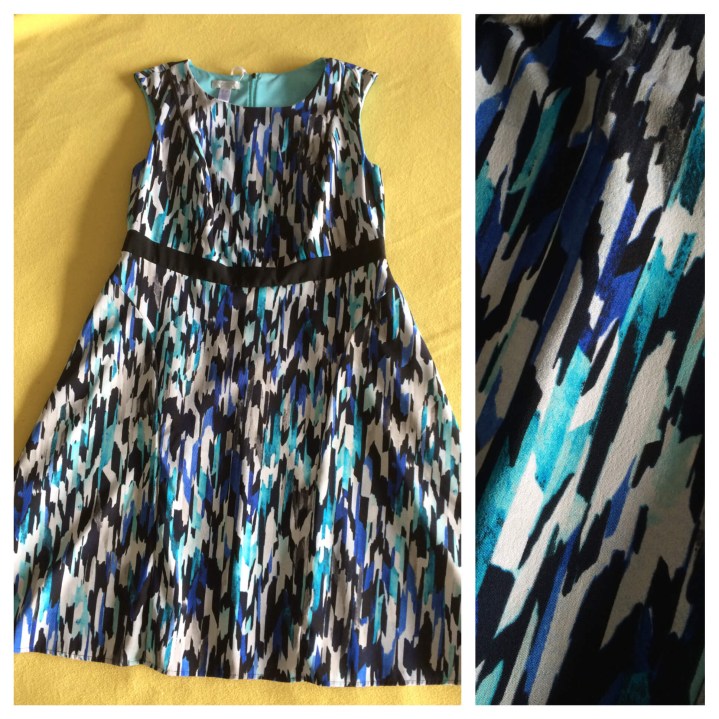 Isabel and Alice Mixed Print Notched Tunic 1X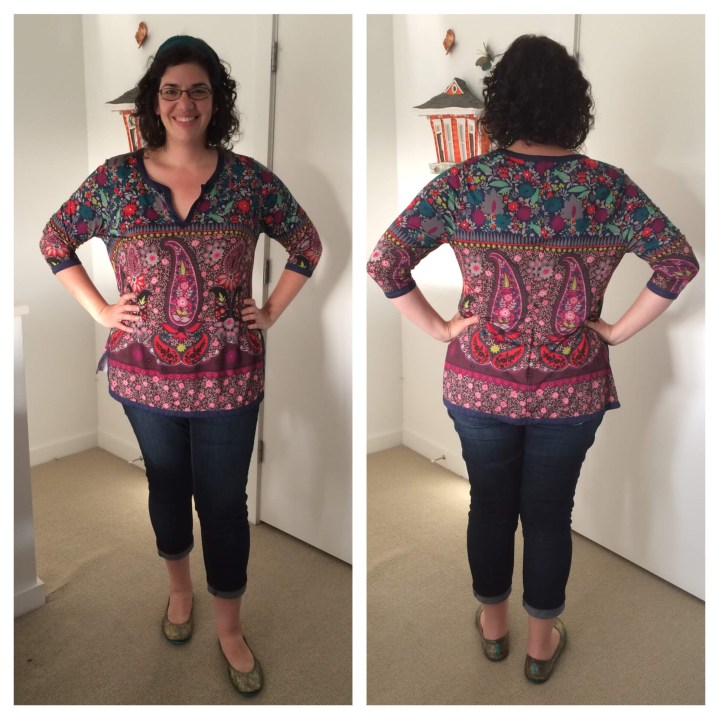 This short is a great example of why I like Gwynnie Bee – I tend to think I will like a printed shirt, but then, when it comes down to it, I always reach for my more plain shirts when getting dressed. I can have this at home, wear it a few times, and then when I acknowledge it is a bit much for me, send it back for the next item in my closet. Also, I can't help but think it looks like I have an eggplant emoji on my stomach. Bad paisley placement can't be unseen.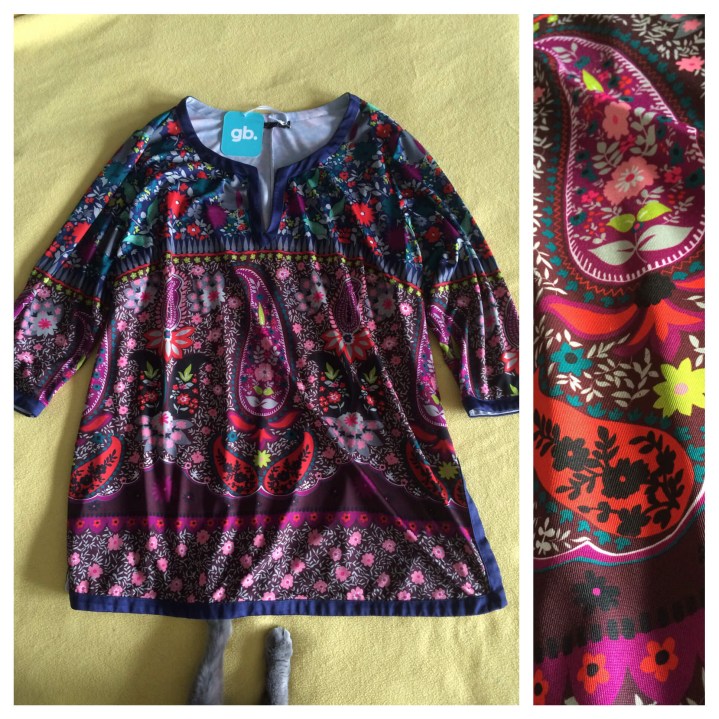 Kitty interlude! She wouldn't stop getting in the way when I was photographing everything. I can't ignore that face!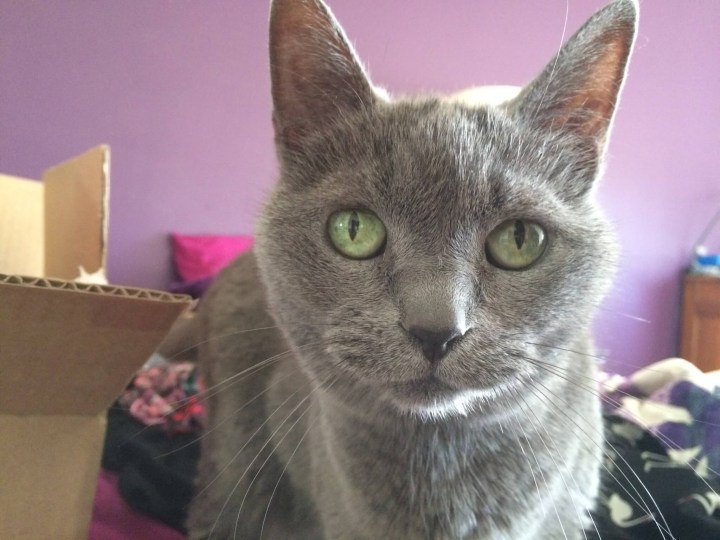 Cherry Velvet Chrissy Dress in Flamingo Print XL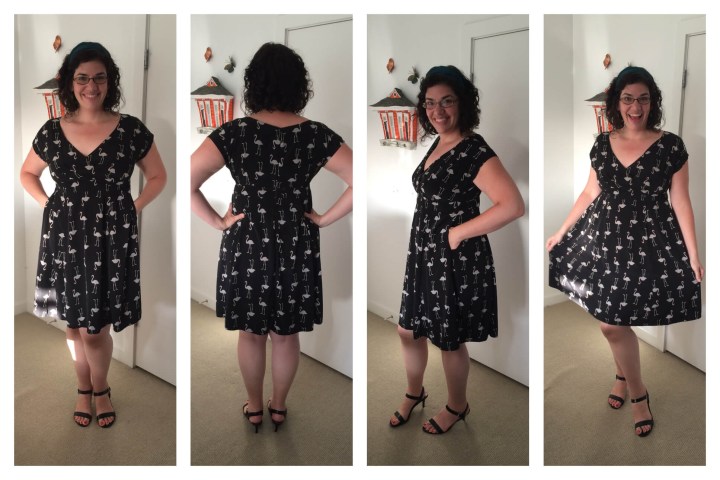 One thing about Gwynnie Bee – you can't always control when you get things. I put this in my closet a year ago. It has been so popular that it took until now for it to finally get to me. But that's fine – it is a summer dress, and it is summer here! The fabric is light and breezy – great for a hot night out. I wore this a few days ago and got several compliments from strangers. Plus… POCKETS.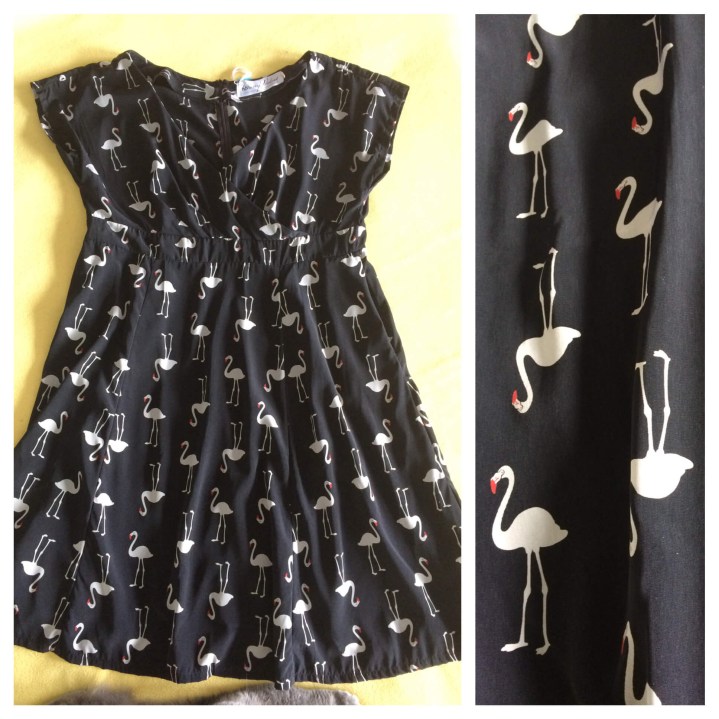 I like this one so much I am considering taking advantage of Gwynnie Bee's policy that lets you buy items at a discount. I love the flamingos so much! Has anyone else been listening to the West Wing Weekly? I am a huge West Wing fan, and I just got to see the episode where CJ learns that her Secret Service code name is "Flamingo." Love that show!
FYI – we couldn't find this dress available anywhere online! Add it to your GB closet here!
Currently when you sign up for Gwynnie Bee you can get your first month for FREE, (no code needed, just use the link) which is an awesome way to just try it out and see if you love it.
Visit Gwynnie Bee to subscribe or find out more!
The Subscription
:
Gwynnie Bee
The Description
: Plus size clothing subscription rental service. Unlimited exchanges, free shipping & returns. Hot brands for curvy ladies sizes 10-32!Because this is a rental service, this is not quite a plus-size Stitch Fix. However, you can purchase the items you love, usually at a significant discount. We recommend trying it out for a month!
The Price
: $49.00 per month
A couple things to remember (besides free laundry!):
you can mark your shipment as outgoing so your items ship out faster
you can purchase items that you love at huge discounts
use the community at Gwynnie Bee to help you select the best items for your body and the right size for that garment.
All the garments are inspected and I've never really had an issue with anything I've received in terms of condition.
 It's also worth a mention that the clothes are higher end clothes, so they all have better construction and fabric than what you might normally purchase for yourself.
Gwynnie Bee Cost:

1 item/ $49 per month
2 items/ $69 per month
3 items/$95 per month
5 items/$139 per month
7 items/$179 per month
10 items/$199 per month