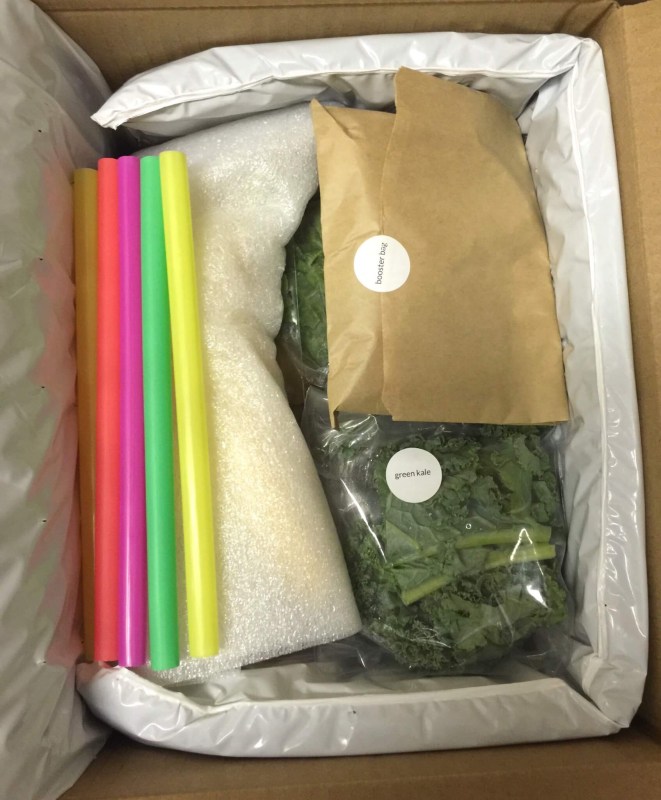 Green Blender is a home delivery service for smoothie ingredients. Each week, subscribers receive a box containing 5 smoothie recipes and pre-portioned ingredients to make smoothies at home. Ingredients include fruit, vegetables, and boosters like nuts, spices, raw oats and flaxseed. All Green Blender recipes are 100% vegan.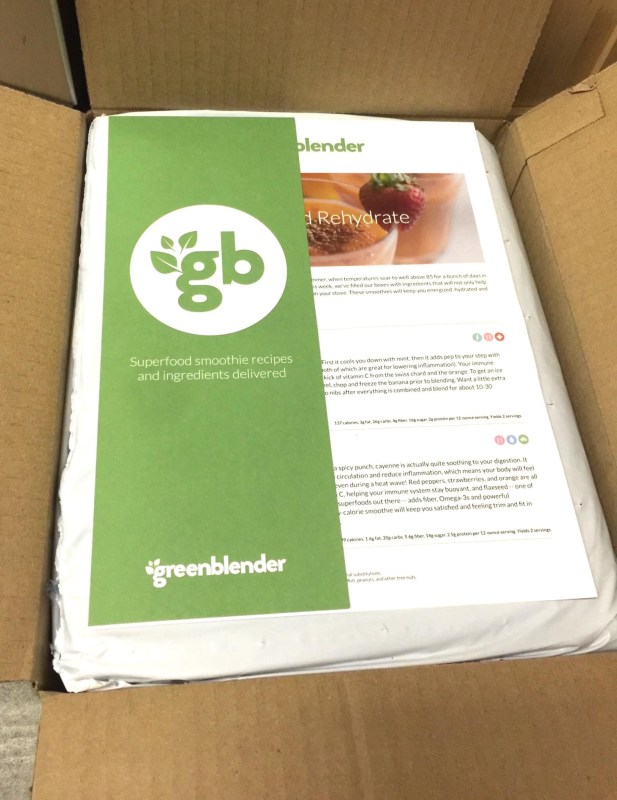 A weekly Green Blender box includes the fresh ingredients packaged with gel ice packs, a recipe sheet, and information explaining the basics of Green Blender and how to layer ingredients.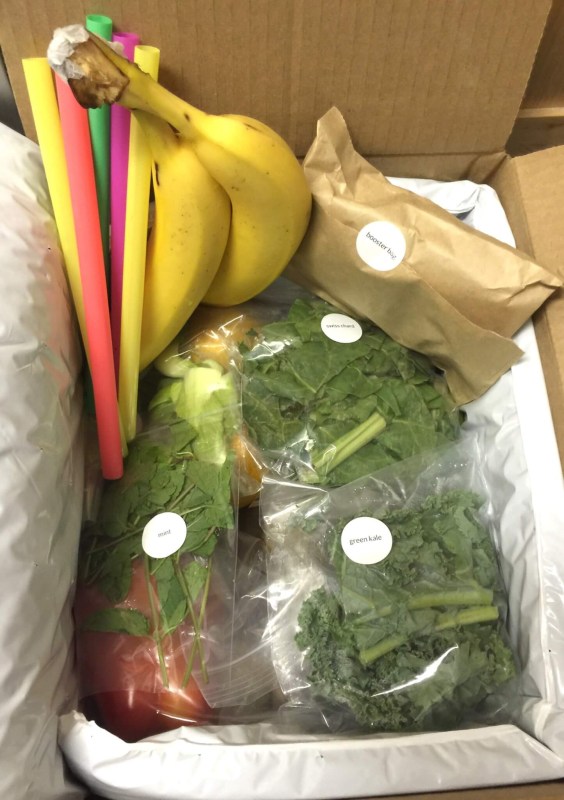 Most ingredients are packaged in individual plastic bags or containers except for whole fruits. The boosters are contained in tiny individual plastic bags. Most of the ingredients are organic but if one is not this will be indicated with an asterisk on the recipe sheet. Each box contains ingredients portioned to provide two, 12 ounce servings of each smoothie, for a total of 10 smoothies per weekly box. At $49 per week, that is $4.90 per smoothie.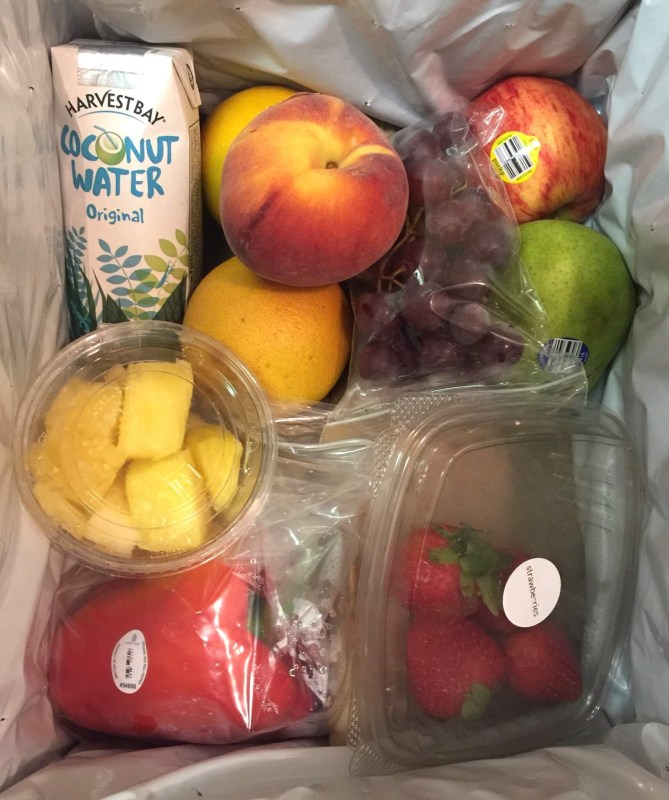 In NYC, a freshly made smoothie can cost anywhere from about $6 on the very low end, to $10+ on the high end. At first Green Blender seems like a cost savings, as it works out to about $4.90 per 12 ounce smoothie.  Smoothies purchased in NYC shops are usually around twice that size. Therefore, I think it is more accurate to compare two servings of a Green Blender smoothie with one purchased smoothie. Under that analysis, a 24 ounce Green Blender smoothie is $9.80, which doesn't offer much, if any, savings. Further, smoothie shops offer additional ingredients that make their smoothies more substantial than those I tried, such as different types of milk and protein powder, making them a true meal replacement.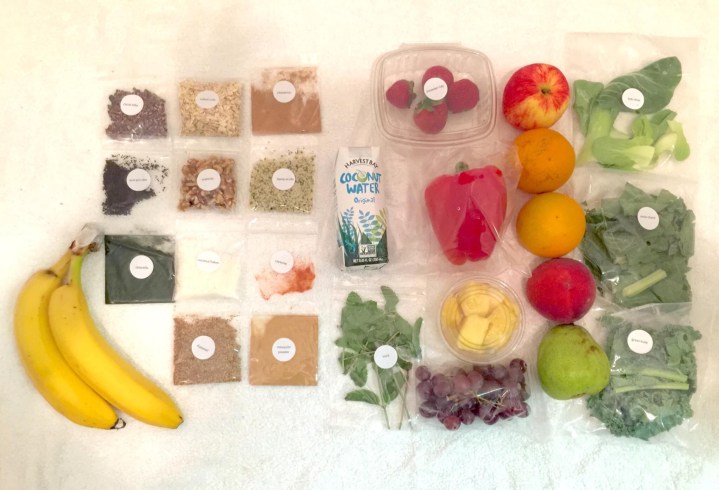 I received my Green Blender box one evening after work and placed the ingredients in the fridge without reading the recipes. The next morning I woke up early planning to prepare a smoothie before work. After reading through the recipes, however, I realized that I probably should freeze the ingredients beforehand. The instructions were a bit confusing because they contained conflicting information about whether the ingredients should be used fresh, as they had arrived in the box, or frozen first before blending.
That evening I decided to prepare all of the 5 types of smoothies at once and freeze them in individual cups. Preparing the smoothies beforehand took more time than I was expecting. It requires more than simply emptying containers of pre-portioned ingredients into your blender and adding ice. Each smoothie contained vegetables and fruit that needed to be washed, chopped, then frozen before use. I prepared all of the ingredients and froze them by recipe before blending. Once the ingredients were somewhat frozen, I blended each smoothie batch and froze individual servings. The smoothies froze well. Notes about each recipe follow below.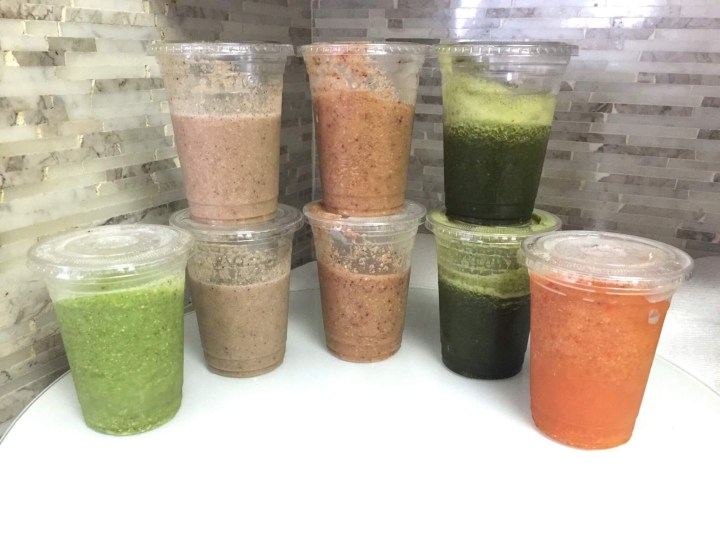 Green Colada (green kale, apple, pineapple, coconut flakes, hemp seeds, coconut water, ice)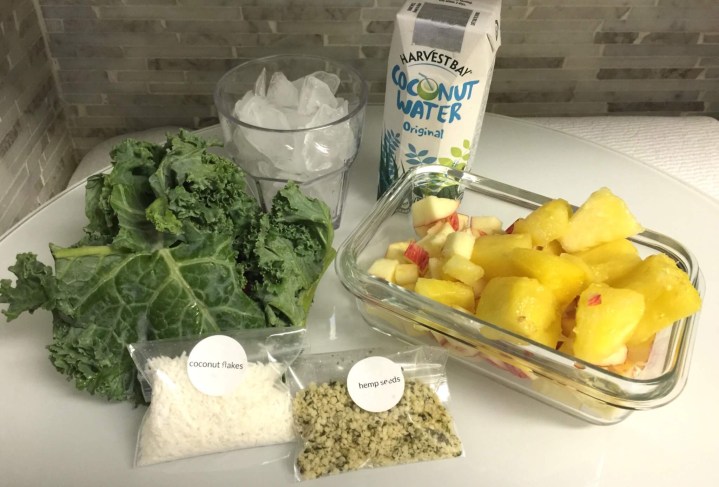 The Green Colada was very refreshing, with a subtle taste of coconut from the coconut flakes and coconut water. Fresh pineapple added to the tropical feel, but this was nothing like an artificial tasting Pina colada. This smoothie was a great way to sneak a huge serving of kale into your diet, as it didn't taste like kale at all. The hemp sees thickened the smoothie. The pineapple chunks were not organic, as noted on the recipe sheet.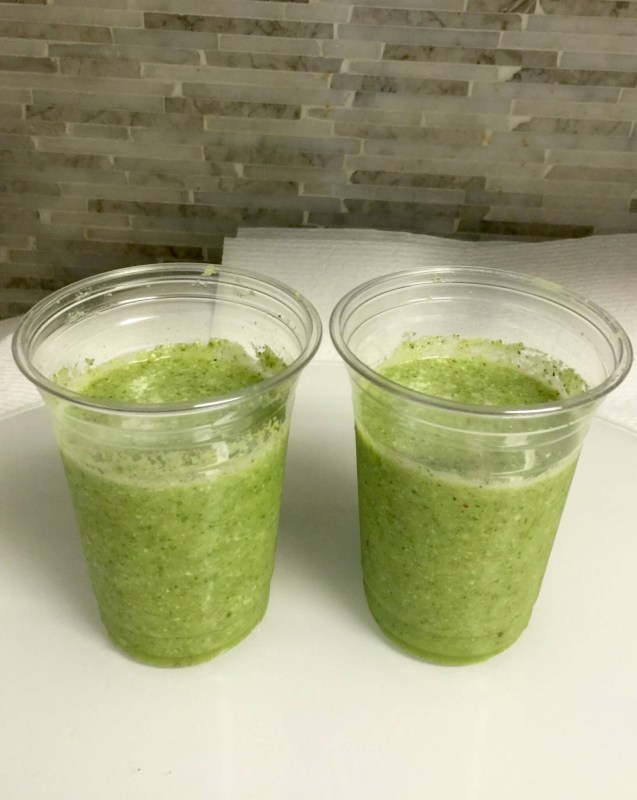 Spicy Strawberry (red pepper, strawberries, orange, flaxseed, cayenne pepper, water, ice)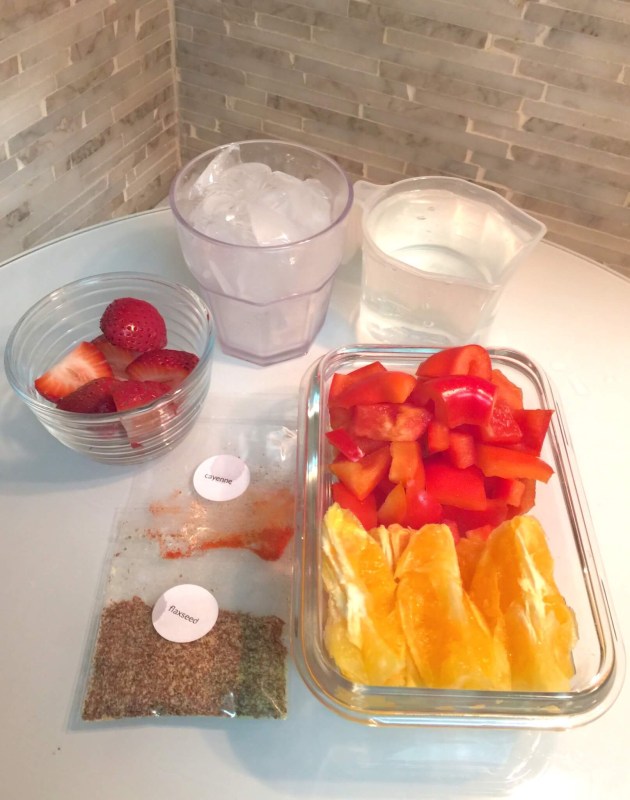 Initially I had thought that the Spicy Strawberry recipe would be my favorite, but it tasted less like strawberry and more like a red pepper and ice smoothie. Next time I would double or triple the amount of strawberries. The cayenne pepper added a fun surprise flavor and was not overwhelming.
Chocolate Mint Chip (swiss chard, banana, orange, mint, cacao nibs, chlorella, ice, water)
The Chocolate Mint Chip recipe is another great way to drink large servings of greens. The Swiss chard took special care to clean, as it had a lot of soil caked on it. Most of the produce looks spotless when it arrives, but pay special attention to ingredients like leafy greens to avoid a dirt-accented smoothie. Like the Green Colada, I couldn't specifically taste the greens in this smoothie, they just gave a fresh, bright taste. Fresh mint tasted great and the box included a generous portion, although it was not organic. No other recipes called for mint, I thought was a bit of a missed opportunity. The "chocolate chips" in this recipe were cacao nibs added at the end of blending.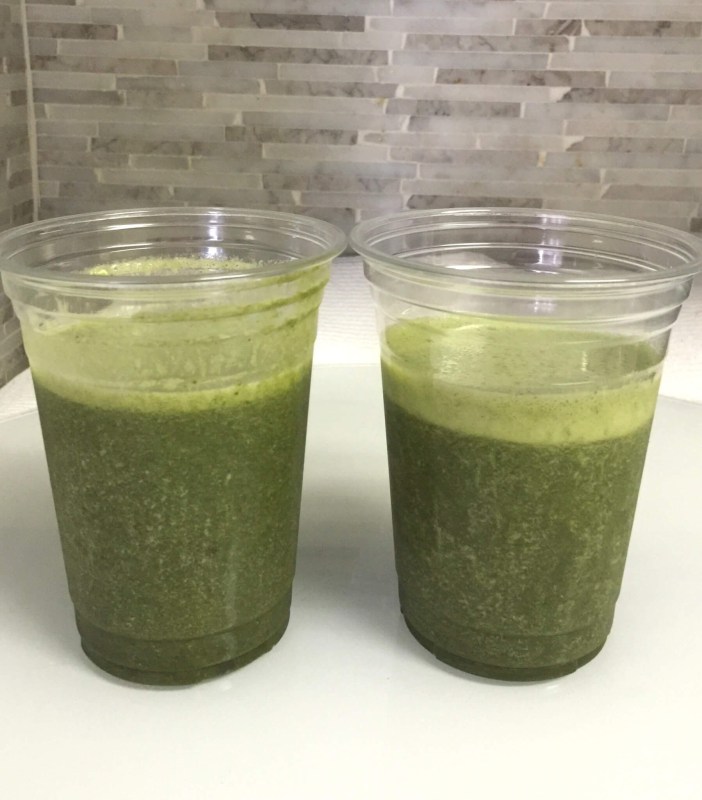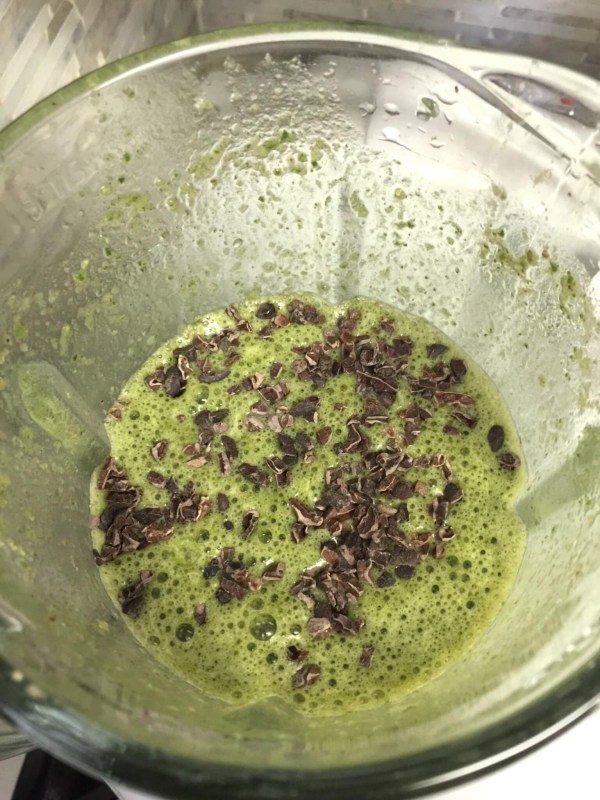 Cinnamon Pear Tart (pear, banana, cinnamon, acai berry powder, walnuts, water, ice)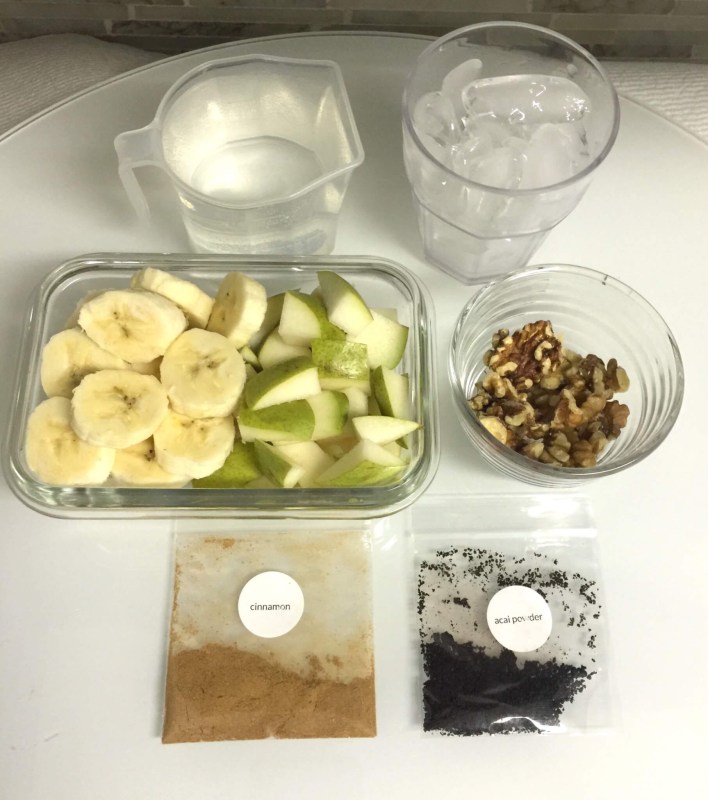 This recipe initially seemed to be the most boring out of the group, but surprisingly, it was one of my favorites. It is great for breakfast, as the walnuts add some thickness and substance to the smoothie. The pear was not organic.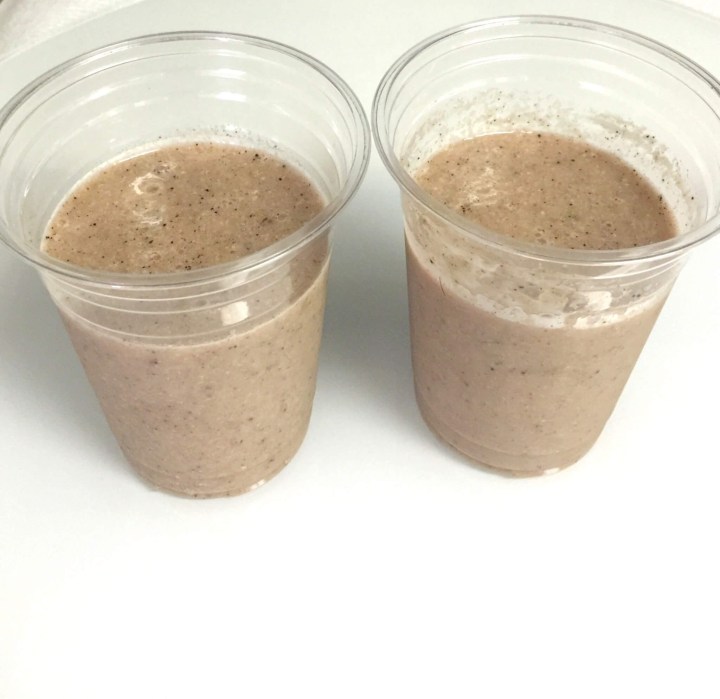 Bok Choy & Peach Energy (bok choy, peach, grapes, oats, mesquite powder, water, ice)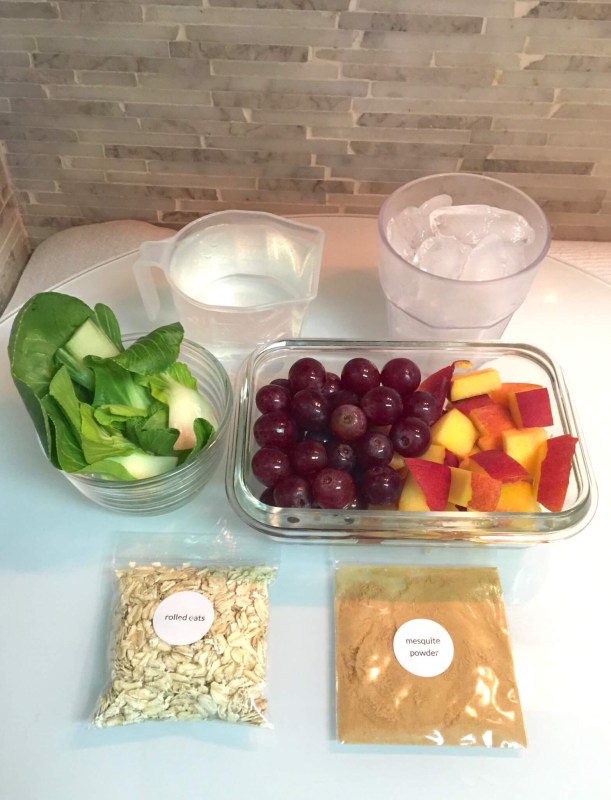 This recipe called for mesquite powder, which instead of resulting in a smoothie tasting of barbeque sauce, gave it a hint of added sweetness. I had never used mesquite before and liked the opportunity to learn about it. The oats were a great addition to this recipe to give the smoothie some thickness.
While I have enjoyed having smoothies to take to work in the mornings, I found that most of the recipes did not contain enough substance to last me until lunchtime. Each of the smoothies in my box contained from 99-160 calories per serving, which is not sufficient for a breakfast in most cases. Eating a couple of eggs or a bowl of cereal along with a smoothie would provide enough of a meal for breakfast, but I had hoped that Green Blender would be a complete breakfast solution. I did not try this, but the smoothies may be satisfying enough for breakfast if you added a couple of scoops of protein powder. Because the recipes called for fruit, vegetables, water, ice, and a small amount of "boosts" like spices and nuts, the smoothies have a watery, slushy type texture, rather than the thick, creamy style I was envisioning.
The true value that Green Blender offers is in its individually portioned ingredients that allow you to make two servings of each of the 5 included smoothie recipes, without waste. Except for having extra mint sprigs, I did not have any leftover ingredients after making the smoothies.
Five unique recipes are offered each week, so you don't get bored of any one flavor. To try and compare prices to if I were to purchase the ingredients myself, I shopped for the ingredients on the Fresh Direct grocery delivery website.   To purchase all of the ingredients required to make the smoothies in my Green Blender box, I would have had to spend close to $100, and a few of the ingredients were not available from Fresh Direct.  Ultimately I would have had more food if I had purchased the ingredients myself, however.
Overall, I love the idea of Green Blender. While healthy, the smoothies don't contain enough substance or calories to serve as a breakfast on their own, unless you are on a diet. For someone who is dieting, Green Blender could be a great option because the smoothies are low calorie and no food is leftover.
What do you think of Green Blender? Save 20% on your first order with coupon code HELLOSUBSCRIPTION.
Visit Green Blender to subscribe or find out more!
The Subscription
:
Green Blender
The Description
: Each week, you'll get 5 new smoothie recipes and all the pre-portioned ingredients you'll need to make 10 smoothies. Green Blender recipes are hand crafted by leading nutritionists to ensure they're packed with flavor and nutrients.
The Price
: $49.00 every week