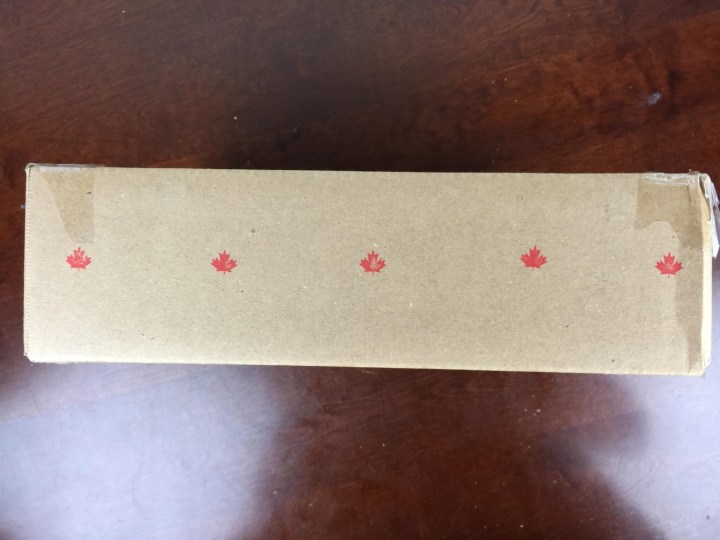 Get Canucked is a subscription box that brings you the best Canadian snacks every month right to your door. The subscription costs $25 per month to the US or Canada, $35 to the UK, and each box typically includes 5 bags of chips, 5 chocolate items, and a monthly bonus surprise!
The box is stamped with Maple leaves.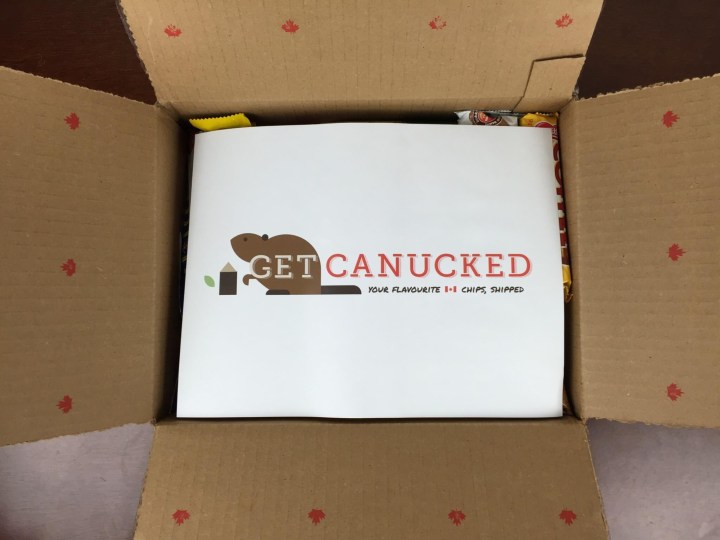 The beaver themed insert won our favor immediately.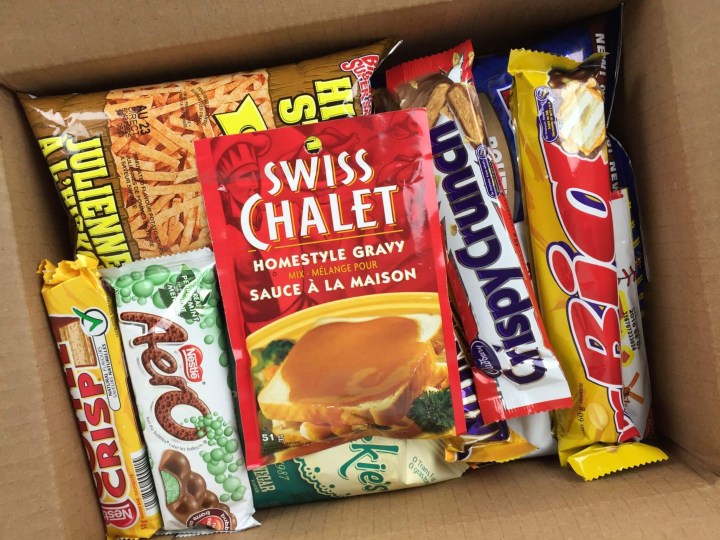 The box contains an impressive pile of snacks.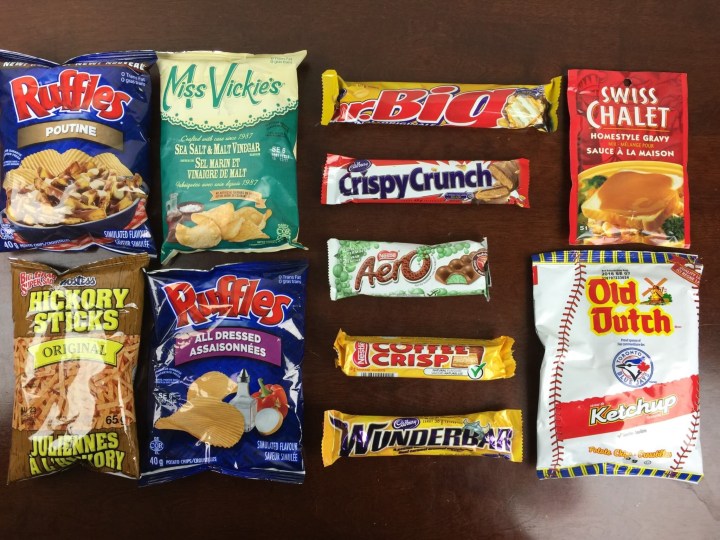 Everything in my July 2016 box!  The contents are evenly split between chips and candy bars. This box is designed for Canadian expats. To make it hilarious, we tried out the snacks here in the US, and Valerie has provided "colour commentary."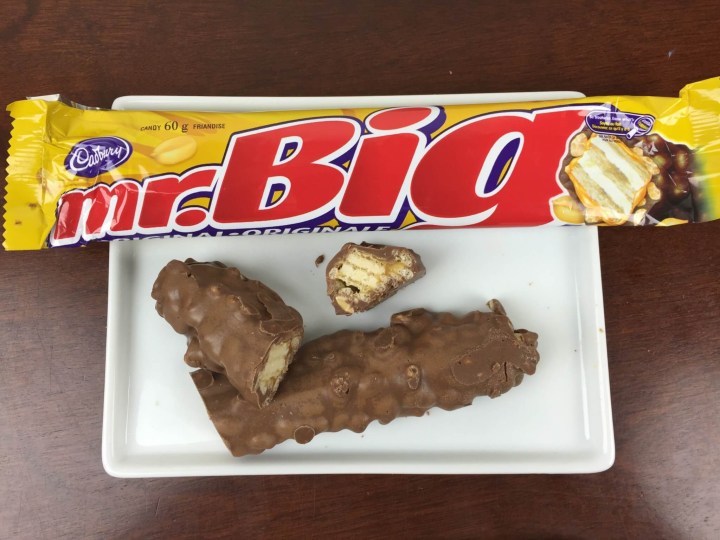 Cadbury Mr. Big:  This bar is indeed big, but it has a fairly light texture.  The center is a vanilla creme wafer cookie surrounded by caramel.  The outside is milk chocolate and crisped rice.  The combination of the creme wafer and the caramel made for a very sweet and mild bar.
Valerie says: Okay, so if you managed to score a full-size Mr Big on Halloween, that was considered a big deal. I think they've gotten smaller in size in the last decade. Mr Bigs aren't my favourite of the Cadbury chocolate bars.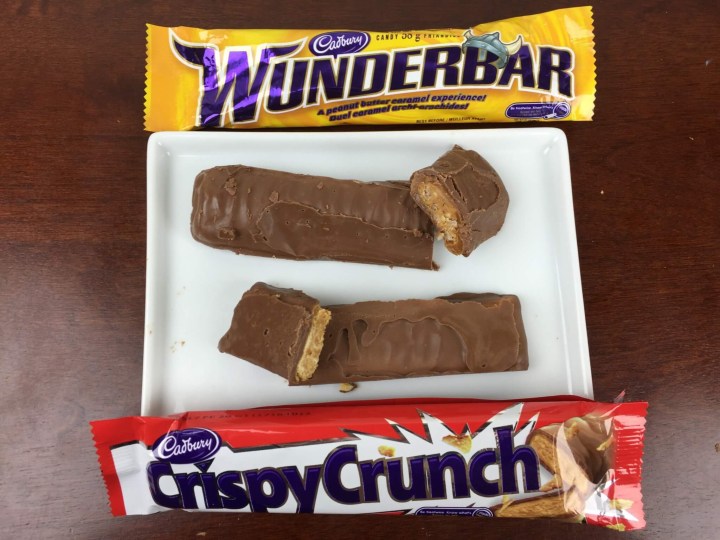 Cadbury Wunderbar:  The interior is creamy peanut butter with crispy rice flakes.  It is enrobed in caramel and encased in chocolate.  This combination works very well, with the crisps adding just enough texture to complement the creamy inside.
Valerie says: Anything with peanut butter gets points in my book; Wunderbars are kind of like Mr Big bars with peanut butter added, and by default are 100% more delicious.
Cadbury CrispyCrunch:  This bar is in the spirit of a Butterfinger, with a flaky peanut confection coated in chocolate.  It seems a little less greasy sweet than its rival, a bit like an airy toffee.
Valerie says: See above. Crispy Crunch is crispy and chewy and kinda gets stuck to your teeth. When my boss brings in the mini versions of these leftover from Halloween there is usually an increase of staff members finding reasons to go into her office.
We say: Valerie seems obsessed with Halloween. Are all Canadians like this?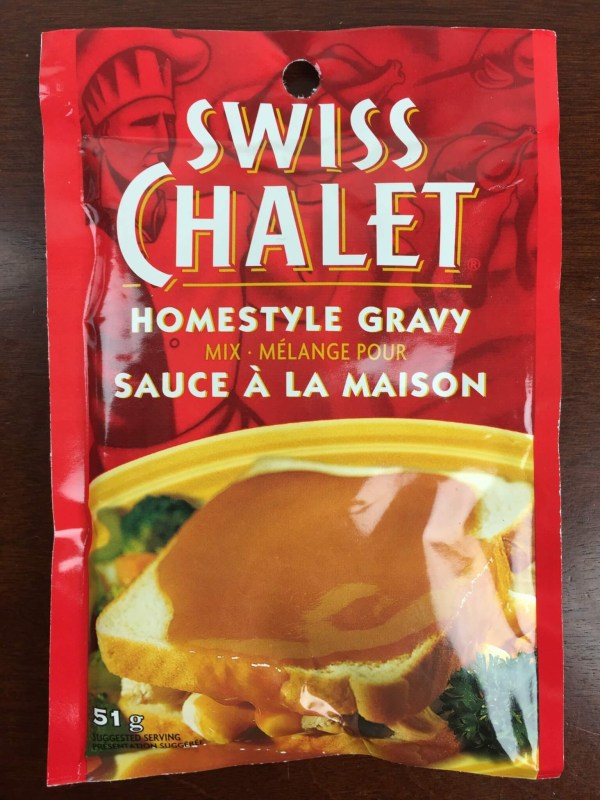 Swiss Chalet Homestyle Gravy Sauce:  Our bonus item was a packet of brown gravy mix!
Valerie says: I've actually never tried this before? I don't think I've ever been to Swiss Chalet? Nothing beats homemade gravy!
All of us say: GRAVY!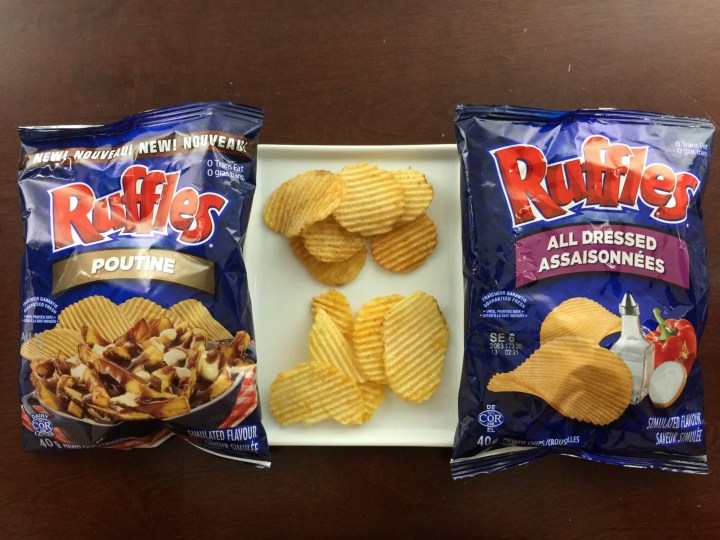 Ruffles Poutine Chips:  Poutine is one of my favorite all-time indulgent foods, and it's hard to argue with french fries, turkey gravy, and fresh, melty cheese curd.  I didn't enjoy the chips as much as I had hoped I would.  The texture was the expected Ruffles chip, but the gravy flavor was very dark (perhaps this is more authentic, but I've always had it with a lighter, turkey or chicken gravy) and didn't really capture the cheesiness of the real thing.
Valerie says: Traditionally poutine is made with a lighter gravy, like chicken or turkey, since it's meant to complement the mildness of the cheese and the salt of the fries. The chips have a very strong flavour, but then again I find most potato chips usually amp up the flavouring to pack in the most taste. But you pretty much just taste gravy with this newer Ruffles flavour. I don't care, because poutine.
Brandy: Tom is basically a Canadian because he's from Vermont.
Ruffles All Dressed Chips:  These were much like salt and vinegar chips, but they are not overly salty.  Apparently onion powder and mild paprika are part of the all dressed trinity, but they were very mild.  This flavor works really for chips!
Valerie says: Honestly, I'm surprised All Dressed is just a Canadian thing since the flavouring is really pretty universally appealing. It's not too spicy or sour or offensive. I think All Dressed might be a Ruffles exclusive flavour since I can't think of any time I've ever had it with another brand.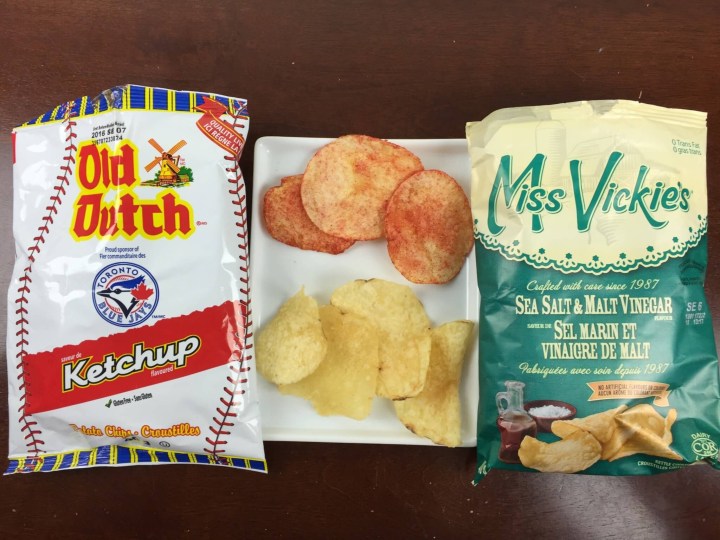 Old Dutch Ketchup Chips:  These really captured the flavor of ketchup, and they also weren't overly sweet.  These were decent, even though ketchup chips aren't my jam.
Valerie says: I have no idea why ketchup chips were invented. I blame the people who would put potato chips in their hot dogs. I'm not a huge fan of ketchup (though I love tomatoes) so I'm not as crazy about them as some other people are. I do love how they stain your hands red for hours after eating an entire bag.
Brandy: Shut up, these were so good.
Miss Vickie's Sea Salt & Malt Vinegar Chips:  My favorite bag of the bunch.  Perfectly salted, these are a great version of salt and vinegar chips.  The sea salt has a nice bright salt flavor, but it doesn't sting like most S&V chips.  The malt vinegar also provided a more interesting flavor than white vinegar.
Valerie says: Ms Vickies are probably the only brand of kettle chips I will eat. I have (on more than  one occasion) eaten a bag of the original (salted) flavour for breakfast, insisting they are 'the same as eating hashbrowns.' Really, though, with minimal grease and a light dusting of salt, they taste deceptively clean and healthy. I'm not a fan of malt vinegar, so I actually really hate their version of salt and vinegar. Their sweet chili and onion flavour is awesome, though!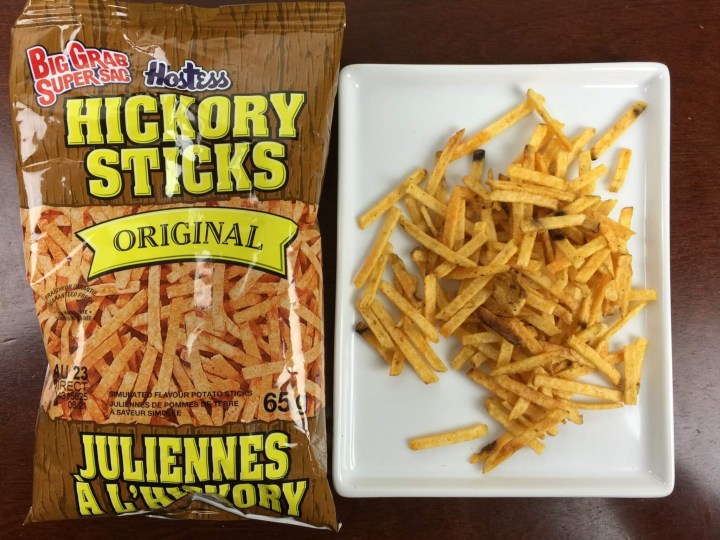 Hostess Original Hickory Sticks:  I expected traditional matchstick potatoes, but these are a unique variant.  They are thinner (rectangular rather than square) and drier than matchsticks, and they actually taste much more like wood chips than potato.  The hickory flavor is very pronounced, giving the sticks a pleasant, but very unusual woody taste.
Valerie says: Hickory-flavoured crack. Seriously, these stupid tiny french fries are seasoned with smoked hickory salt and are addicting.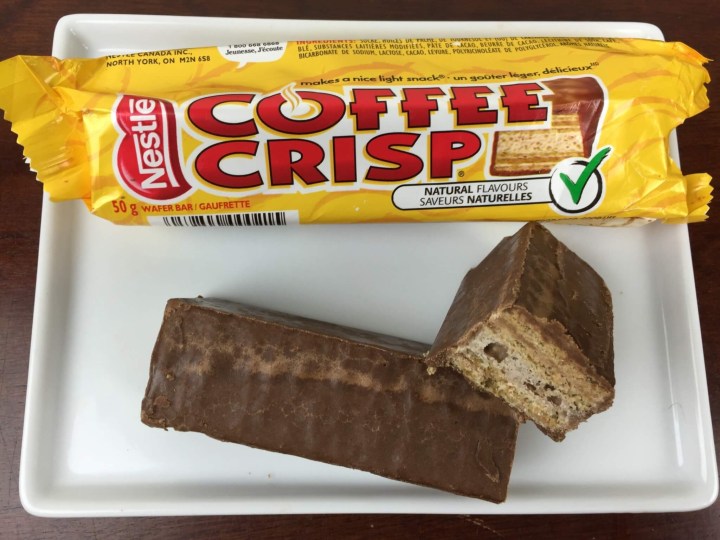 Nestle Coffee Crisp:  This light wafer bar has a very enjoyable coffee flavor and a balance of crispy and creamy textures.
Valerie says: I hate coffee… unless it's coffee crisp. There are layers and layers of wafers with coffee cream and then wrapped up in milk chocolate. It looks more dense than it actually is. Love them.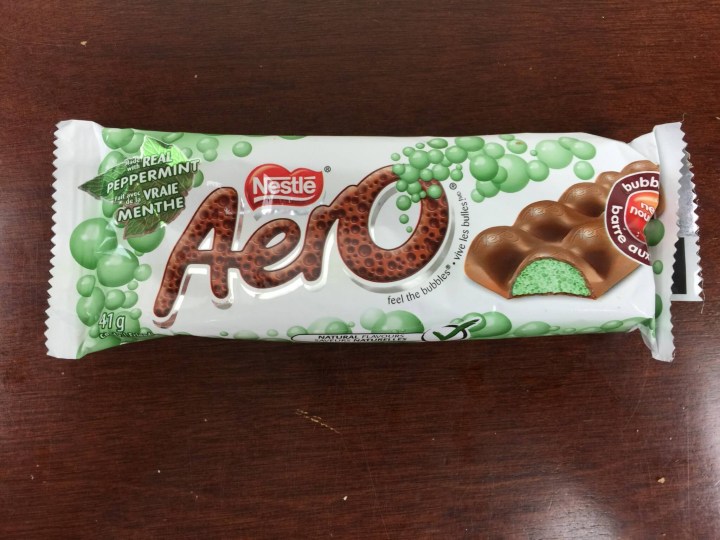 Nestle Aero:  We had very warm weather the days this box was in transit, and the Aero bar took the heat the hardest.  It had a strong mint flavor with a light chocolate coating.  The many small bubbles in the filling create a very light texture, making a whole square of the bar seem less imposing than a "wafer thin" Andes mint.
Valerie says: Aero chocolate is amazing. The bars have been redesigned from how they used to look; they didn't always have the weird bubble shape on them. Still, the taste hasn't changed — the lightest, fluffiest chocolate there is. This mint flavour is a nice peppermint, but I will always reach for the original. I think there's also been dark chocolate and orange chocolate versions of these as well, though I might have dreamed that.
Brandy: Our daughter was so delighted by this – it was definitely her fave!
We really liked this box — I had never had any of the particular chip flavors before, and the bars were also novelties, as only the Aero is common in the states as an import bar.  Even though Canada is a neighbor, the candy selections were every bit as novel as the offerings we've seen in round the world type boxes.  The even split between chips and bars also makes for really nice snacking! This box is great for Canadians wanting a taste of home, or for everyone else wanting to see what's up north!
Visit Get Canucked to subscribe or find out more! Save 15% on your first box! Use coupon code  HELLO15.
The Subscription
:
Get Canucked
The Description
: Get Canucked is a subscription box delivering Canada's favourite snacks to subscribers worldwide every month, eh. The Canuck Box typically includes: 5 bags of chips (40-65 g.), 5 chocolate items (40-60 g.), and a monthly bonus surprise! Price to UK: $35.
The Price
: $25.00 per month