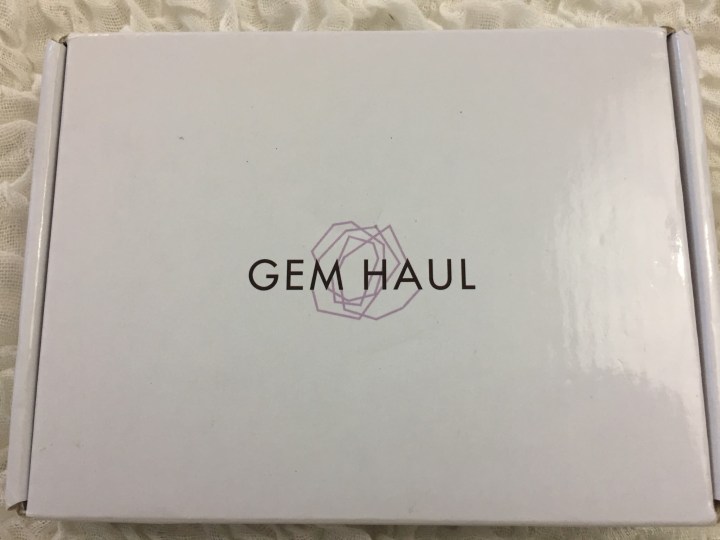 Gem Haul is Canada's answer to the jewelry rental subs out there like RocksBox. I have severe bling envy from reading Brandy's RocksBox reviews, so when I read about Gem Haul, I took advantage of a free month offer and signed up.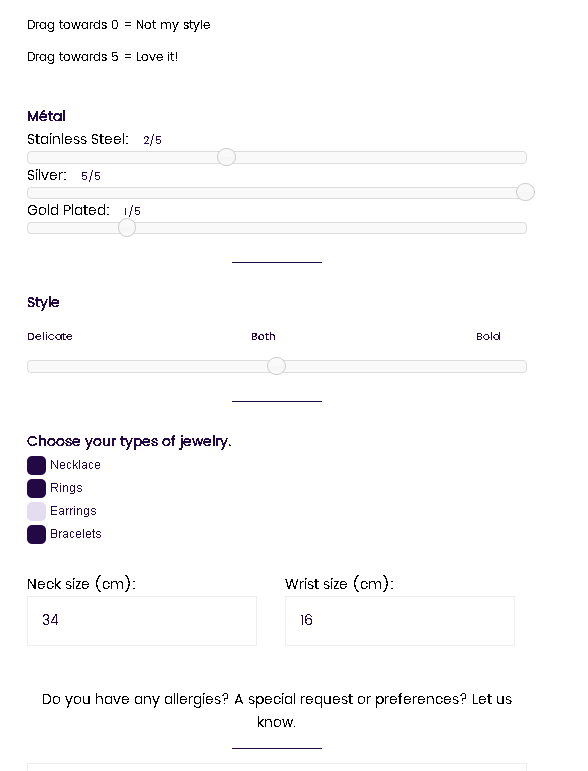 The questionnaire is pretty easy to fill out — there's also a spot to put your ring size (I'm a 5.5/6, it depends on the ring since I have huge knuckles) but it was quite a ways down the page. I appreciate the area to give any metal allergies if you had them, as people can sometimes be sensitive to nickel etc.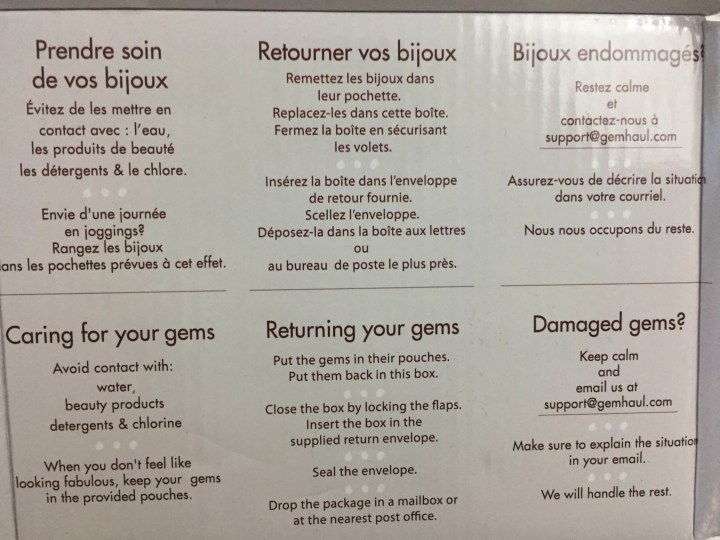 The underside of the box is printed with the basic instructions of how the subscription works — you'll be sent an email reminder seven days before your jewelry is due back. (Yes, everything in Canada is written in English and French — and since Gem Haul is from Montreal, français comes first!)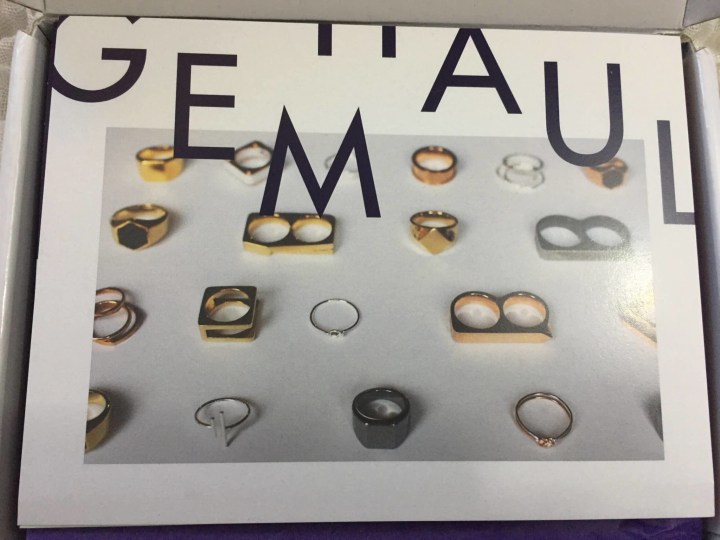 Here's the first look — love the arrangement of rings!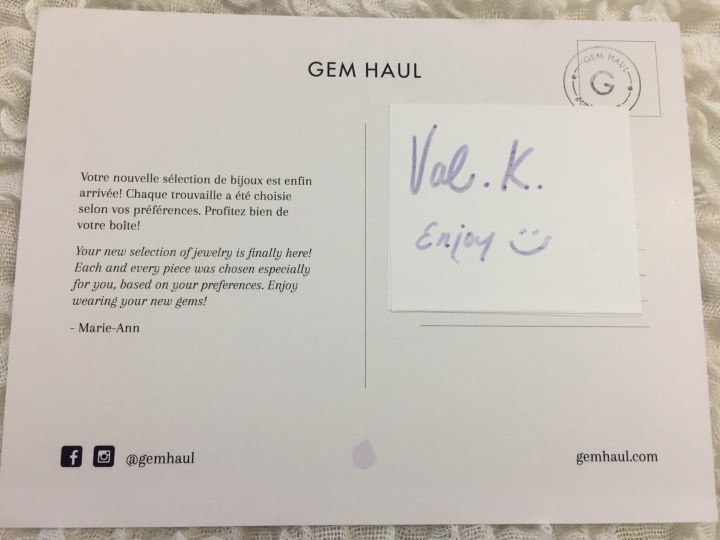 The reverse of the card has a handwritten note.
More instructions!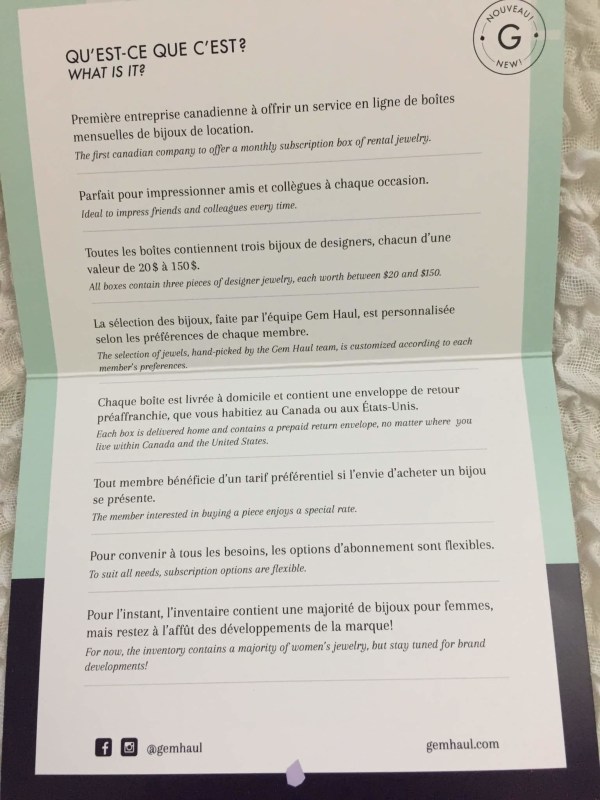 Items included range from $20-$150 (CAD) and you have the option of purchasing items you love for a discount. Prepaid envelopes are included for both Canadian AND American customers.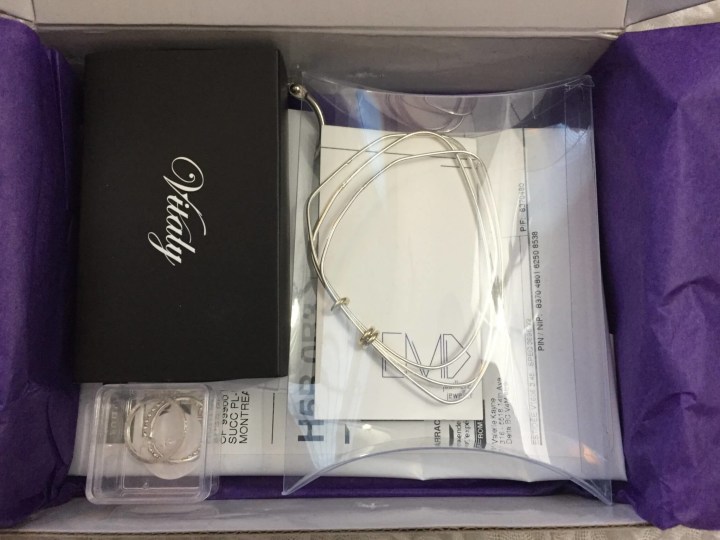 Underneath all the paperwork, we finally get to the goodies! Everything is individually packaged and you can see the prepaid bag underneath.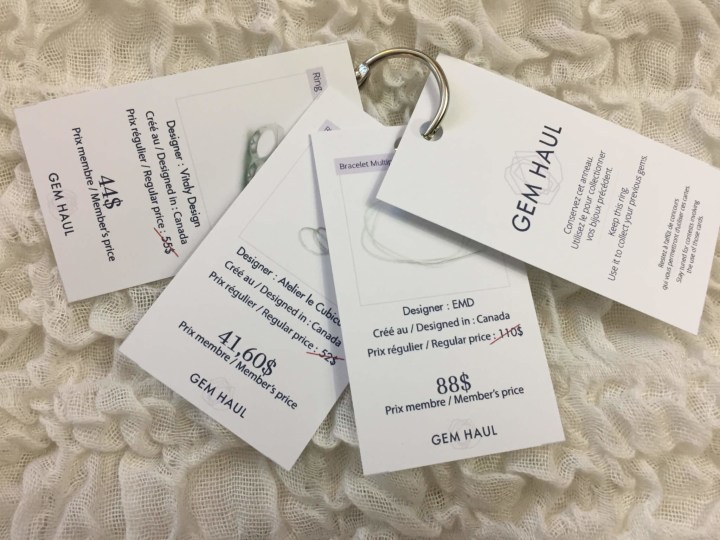 This key ring includes the items in your box — you actually get to keep this to keep track of pieces you've tried, and they're going to eventually be creating contests that use them. Interesting!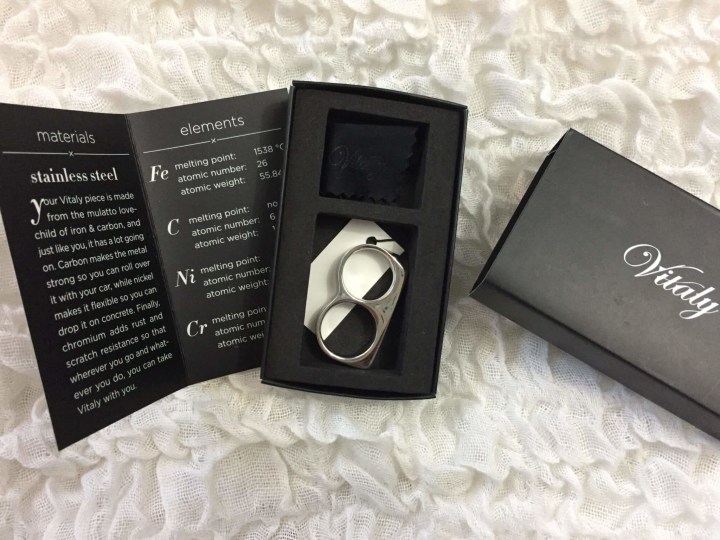 Vitaly "Treo" Ring ($55) Vitaly is a Toronto designer, and all of the pieces are inspired by clean lines and the actual manufacturing process of the pieces themselves. This ring is stainless steel and comes in the original packaging, right down to the pamphlet about the elements that make up stainless steel as well as the tiny cleaning cloth!
I don't think I like two-finger rings just because my fingers are all different sizes — I couldn't get one side over my index finger (you can see the red mark on my knuckle!) but it fit better on my middle/ring.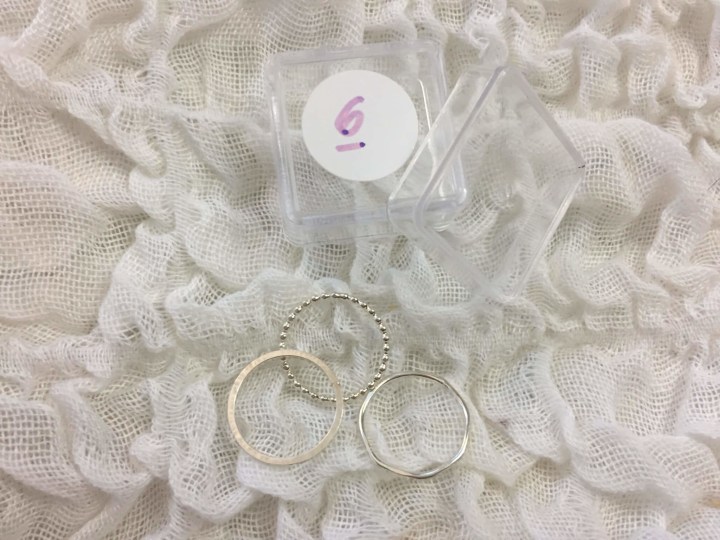 Atelier le Cubicle Stacking Rings Trio ($34.61) These rings are listed on Gem Haul as $52 but on Etsy they are $44 for the sterling silver.  I absolutely love these rings — but I would likely buy them new from Etsy directly for the same price as buying the used once from Gem Haul.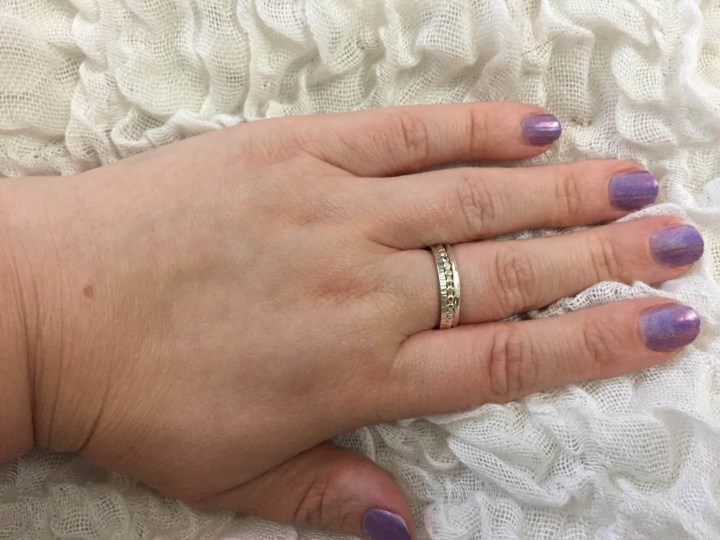 They can be worn stacked, or separately. I got a few compliments when I wore these out!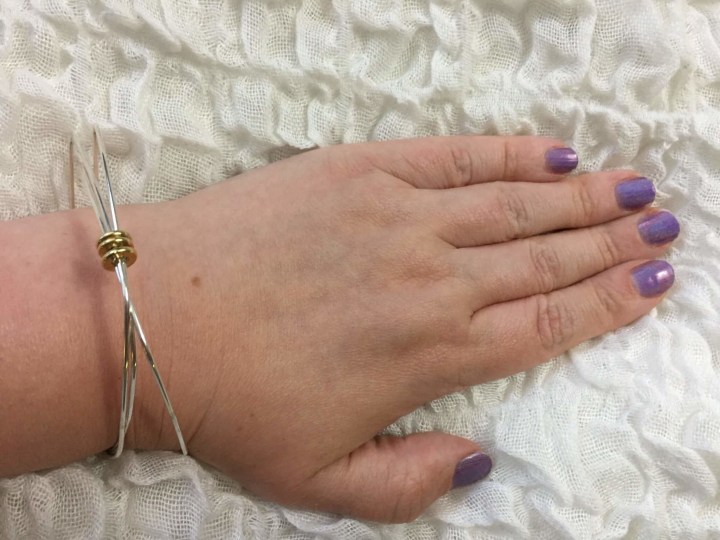 EMD Bracelet ($88 CAD, roughly $67.30) I wasn't able to find exact details on this bracelet. I wasn't a fan of it; the pieces are all artistically bent/warped so they don't sit nicely on my wrist, and the three gold details separate and don't stay together.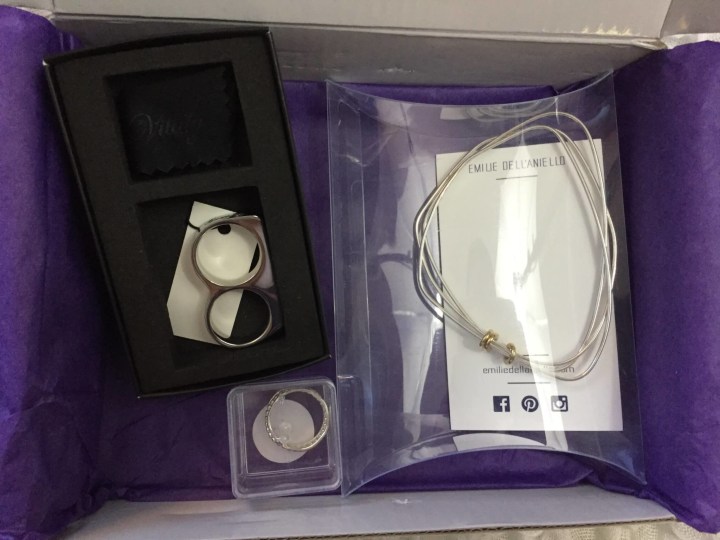 For my trial of Gem Haul I was sent three pieces of Canadian-made jewelry. I liked the stacked ring set the most. I do like that everything is Canadian (because I love supporting artists in my country!) and I like that I was exposed to some pieces I normally wouldn't pick out for myself. In the future I hope that Gem Haul establishes a review system so we can help our stylists learn what we like and don't like about what they chose for us. I'll be wearing the ring set up until I need to send them back, which is made easy by the prepaid envelope!
You can try your first month of Gem Haul free with coupon code FRIEND653VALERIE!
Visit Gem Haul to subscribe or find out more!
The Subscription
:
Gem Haul
The Description
: Your chance to try hand-picked designer jewelry without the pressure to buy. Each box contains 3 designer pieces, for a total value of approximately $200 CAD. Buy your favorites at the discounted price, return the rest and repeat. Only $19 CAD per month!
The Price
: $14.50 per month