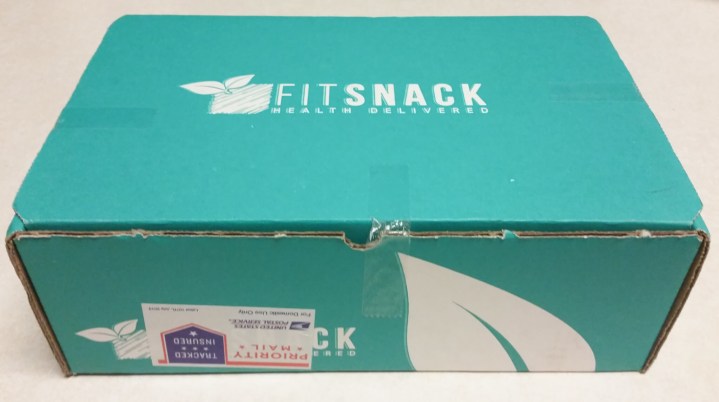 Fit Snack is a monthly subscription box delivering healthy nutritious snacks directly to your door. Every month expect 7-10 full size items plus samples of delicious and healthy snack foods.
Here's the Fit Snack curation criteria:
Each product always containing two or more of the following: GMO Free, high in protein, low in sugar, gluten free, organic, raw, vegan and all natural.
Plus, we add in bonus items such as energy boosters, nutritional supplements, or refreshing beverages.
Finally, we find a little space for exclusive workouts, workout gear or other active lifestyle inspiration.
Here's a look at everything in this month's box.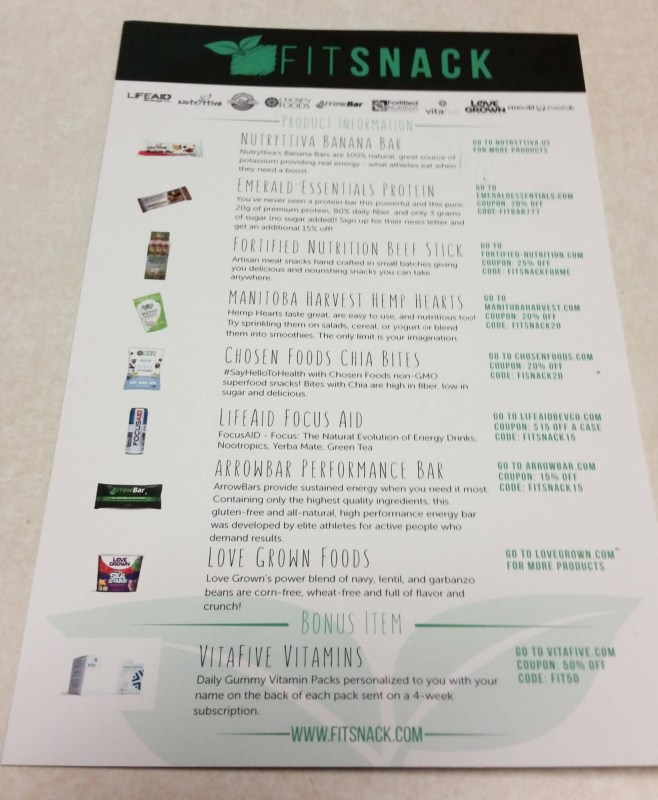 The front of the card tells you a little bit about each of the products in the box (and coupon codes for most…also, the box included a few paper coupons for some of the products).  
The back of the card features a workout (or in this case, two workouts!) — this month is "July 4 Week Fit Challenge!"  There were some tasty things in this box – let's see!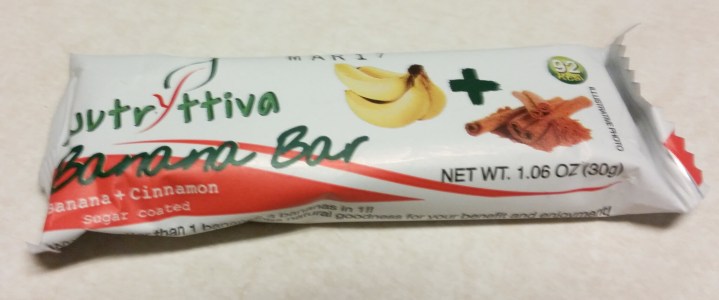 Nutryttiva Banana Bar: Yum.  I'm a big fan of bananas, so I was happy to learn about this product. I received the banana + cinnamon bar which had a really nice flavor and a good texture.  I definitely would buy these to keep in my desk or purse for a healthy snack.

Emerald Essentials Grass-Fed Whey Protein Bar:  I'm always on the lookout for tasty protein bars.  This bar wasn't my favorite – but it had a good peanut butter flavor.  I didn't really like the texture/chewiness of this particular bar, though.  However, the makers of this bar seem to have done a bunch of research on how to make exceptionally healthy protein bar, so the texture may be worth overlooking to get the benefits.
Fortified Nutrition Beef Stick:  This was a super tasty beef stick – I'm a big fan of beef sticks and jerky and this one is really good.  The apple adds a nice sweetness to the savory flavor of the beef/bacon and the texture was very good…not too hard or chewy.  Just what you'd want in a beef stick.  Plus it's free from all kinds of stuff you may want to avoid (hormones, soy, MSG, etc.).  Yum!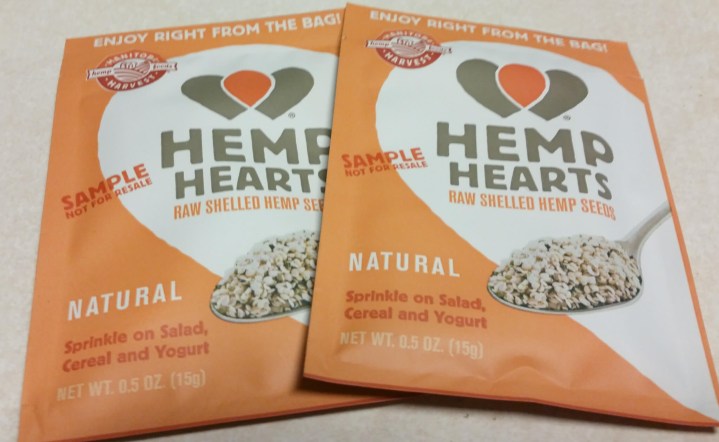 Manitoba Harvest Hemp Hearts:  I have only tried hemp hearts a couple times.  I tossed these into some yogurt where they provided some much needed (for me) texture.  (OK, I get it – I think I've said texture about ten times already…texture is super important for me and eating.)  I liked the little bit of "crunch" that these hemp hearts added.  I don't think that hemp hearts are something I'd really get into, but it was cool to get them in this box to try them out.  That's one of the points, right – trying new things!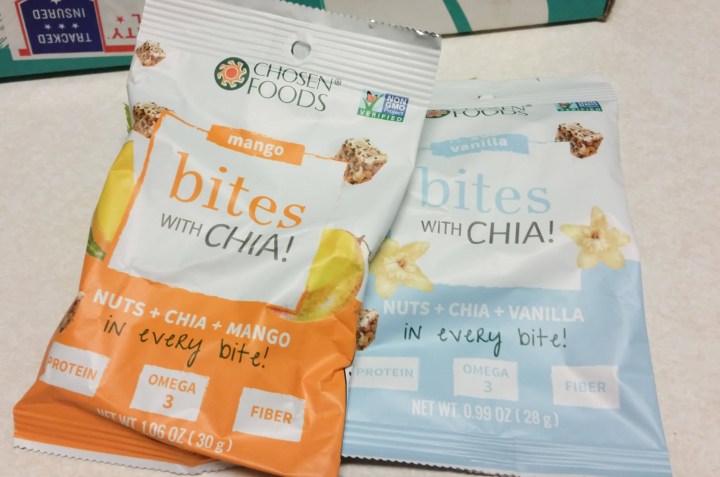 Chosen Foods Bites with Chia!:  These were a fun little snack – crunchy like a little cookie, but a lot healthier.  I thought I would love the vanilla flavor more, but I actually preferred the mango – the sweet, chewiness of the mango bits was actually a little tastier than the vanilla.  But in any case, both were good and would make a great snack in lieu of chips or cookies.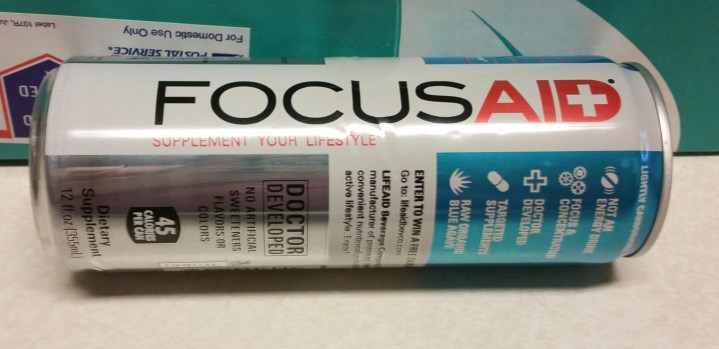 Focus Aid:  Focus Aid is not your typical energy drink – it is designed to boost focus, memory, and mental acuity.  As I've mentioned before, I'm not one for supplement or energy drinks, but this one looks different from many of the ones I'm familiar with.


ArrowBar Chocolate Chip Bar: This energy bar is made with all sorts of good stuff (oats, honey, almond butter, etc.) and tastes kind of like an oatmeal chocolate chip cookie.  It is a yummy, super portable snack bar.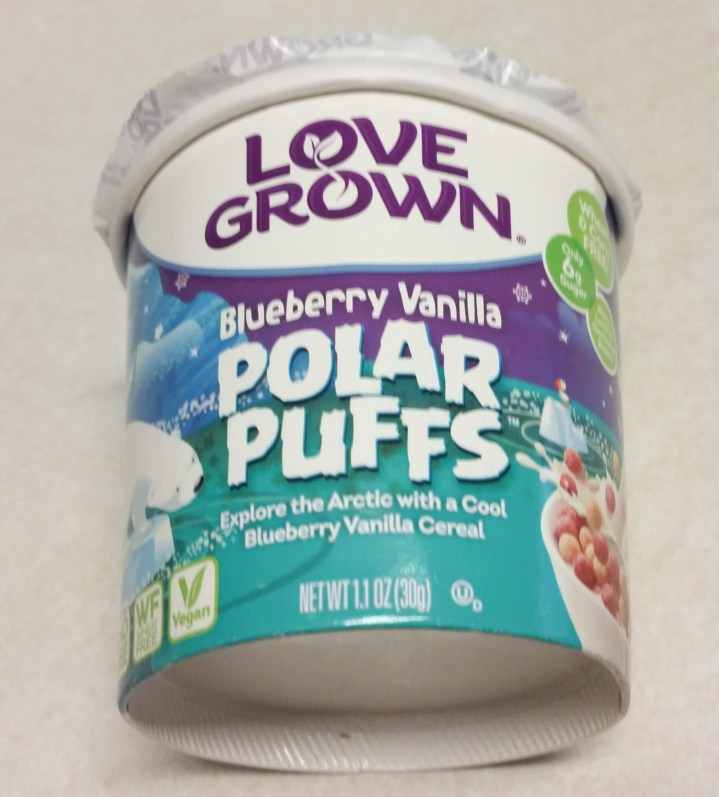 Love Grown Blueberry Vanilla Polar Puffs:  I've tried Love Grown cereal before…it's made with beans!  Yes, beans!  Love Grown may sell this labeled as kids cereal, but I'm a big fan.  I do prefer the chocolate flavor, but this flavor — blueberry vanilla — is tasty!  The flavor is lightly sweet, fruity, and very good.  I would totally eat this cereal!  (I eat cereal dry as a snack, so I'm not sure how it is in milk, but straight from the cup — super good!)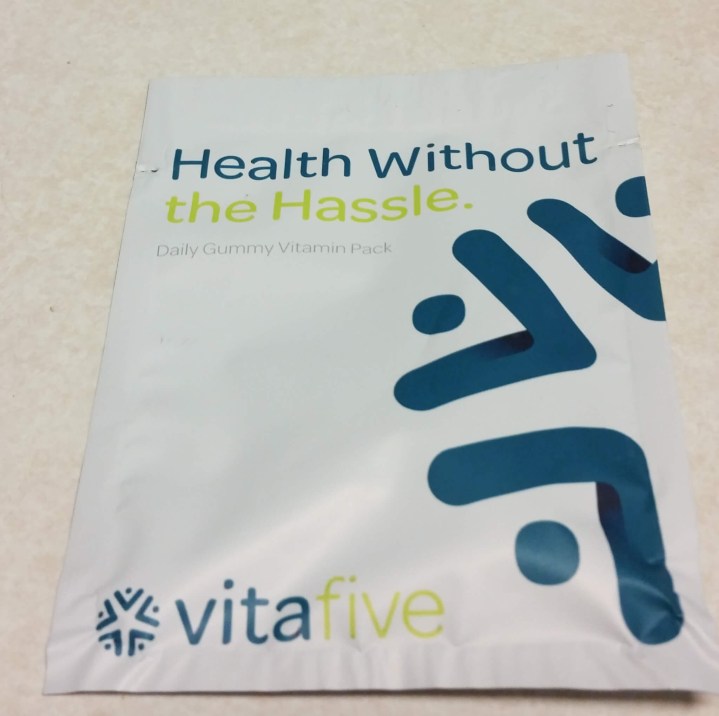 Bonus item – Vitafive Vitamins:  FitSnack has included these vitamins before as a bonus item – they are pleasantly flavored gummy vitamins that come packaged in daily packs for convenience.  They seem like a great idea if you take vitamins and want to make it as simple and fun as possible.
Lesser Evil Trail Mix Cookie:  A bonus item (see the little bonus sticker)!  I've had these cookies before – even those these are gluten-free and lower in sugar, these cookies are really quite good.  A definite substitution for other, less healthy cookie snacks!
RW Garcia Sweet Potato Crackers: Another bonus item!  You had me at sweet potato.  I love sweet potatoes…sweet potato fries…sweet potato chips…and sweet potato crackers.  I hadn't had these before, but they are very good.  Light, crunchy, and just the right amount of salty.  So good.
FitSnack boxes are a lot of fun for me.  Even if I don't love everything in the box, there are always a few that I really do like – plus I get to learn about new healthy lifestyle foods that I haven't tried yet, which is a lot of what I love about these boxes.  And those products that I don't love – they're still nice healthy snacks for someone with an athletic lifestyle – just not my taste!  I would recommend FitSnack boxes to anyone who wants to try out new, healthy snacks!
Visit FitSnack to subscribe or find out more! You'll save 45% on your first box (before shipping) with this link, no coupon code required!
The Subscription
:
FitSnack
The Description
: Each month Fit Snack sends you a delicious, healthy box of 7 – 10 amazing full-size and deluxe sample items that support your active lifestyle! Enjoy first hand the tastiest and healthiest snacks on the market.
The Price
: $24.00 per month