FaithBox is a Christian company that seeks to help strengthen your faith in God with their devotional and bring joy with their great products from companies that do good.    With the purchase of each box they provide 3 meals for hungry children through a partnership with Rice Bowls.  In 2015 they were able to provide over 100k meals for hungry children.  Plus, you get a box full of cool stuff in the process.
Feeding hungry children should transcend all political and religious ideologies.    I don't care who you are, feeding hungry babies is a good idea.
This inside of the top of the box invites you to visit them on social media and share your Faithbox experience.
You can subscribe to Faith Box with a month to month plan, a 3 month plan or a one year plan.  With the month to month plan you pay $20 plus $5 shipping each month.  The 3 month plan reduces the price per box to $19 plus $5 shipping when you pay for 3 months ahead of time.  For the best price per box you can pay for one year at a time and get each box for the price of $17 per box plus $5 shipping.
The Impact Guide in each box will give you a detailed description of each product in the box and tell you a little about how the companies that make each one are striving to impact the world for good.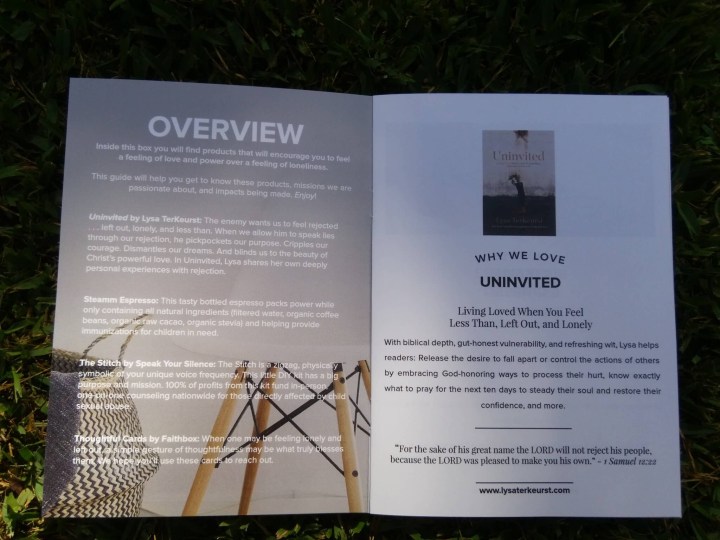 The Impact Guide really goes into detail with a glossy picture for each product, a description of the product and the company that makes it, and a verse that corresponds to the products.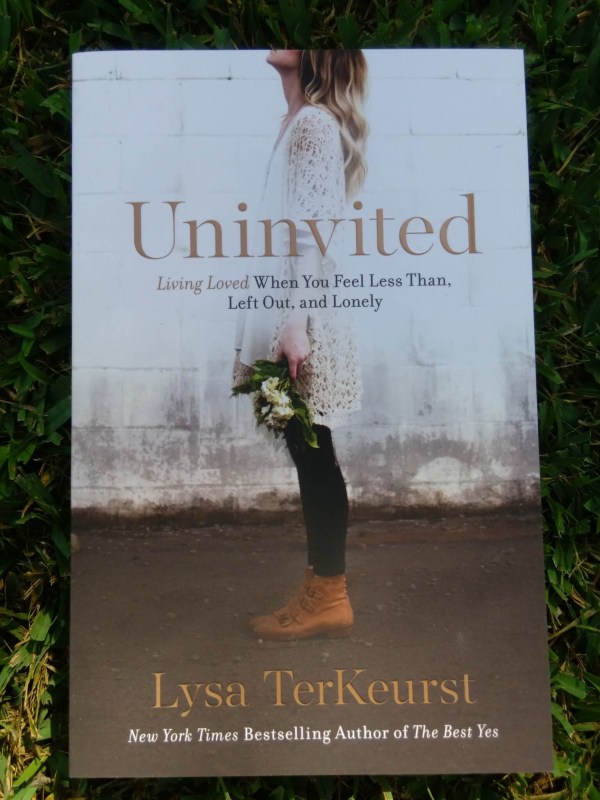 The first product is a book entitled, "Uninvited," by Lysa TerKeurst.  ($13.99) "With biblical depth, gut-honest vulnerability, and refreshing wit, Lysa helps readers:  Release the desire to fall apart or control the actions of others by embracing God-honoring ways to process their hurt, know exactly what to pray for the next ten days to steady their soul and restore their confidence, and more."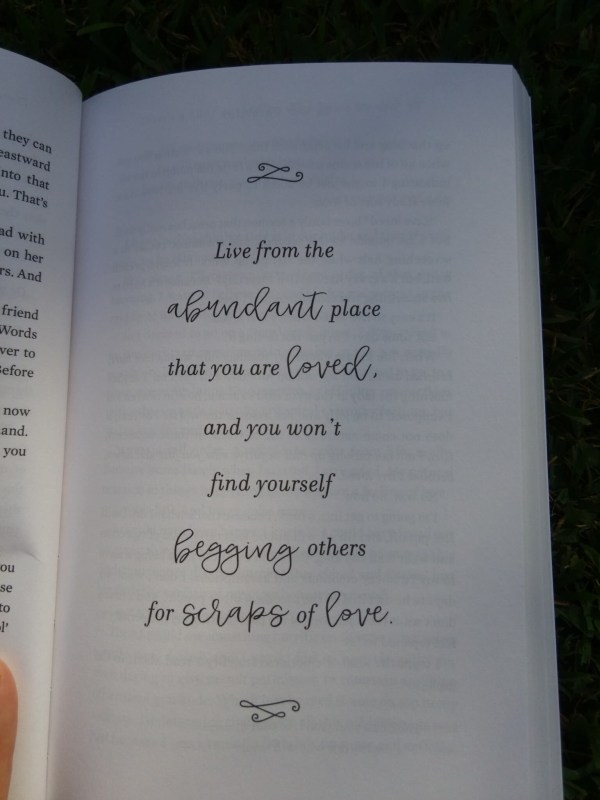 This pretty quote above struck me.  If you have to beg for it, it's not really love is it?
And then on the author's blog I found another quote I liked, this time from her adult daughter, "Whether it's your home, a restaurant down the street or in a slum halfway around the world, someone needs to experience the grace of God and a person who loves and believes in them. It changed my life."  Sometimes people need just a little encouragement to do better and be better.
All the profits from the sale of Uninvited go to support various Christian non-profits all over the world.
This Steamm's Raw Cacao Espresso was in the box.  "Steamm's Raw Cacao espresso is a simple twist on the classic favorite.  It is steeped in raw Peruvian cacao and lightly  sweetened with stevia, adding a subtle chocolate note and beneficial antioxidants.  Every shot of Steamm you purchase helps provide a polio immunization to a child in need overseas through the [email protected] campaign."
The bottle is a beautiful blue cobalt and was securely packed in a cute blue coordinating box.  Unfortunately, I discovered that espresso isn't my favorite.  It's reminds me of Starbucks coffee.  So you might like it (millions of people do), but just not my taste.  I am going to keep the bottle though.  I love cobalt blue glass.  And, if it does suit your tastes, they have a subscription box service.  You can get six of the cute little bottles for $18.00 per delivery.
The Stitch was in the box.  "After a traumatic childhood experience, Speak Your Silence's founder discovered help and personal change via counseling.  Therefore, they make in-person, one-on-one counseling accessible for those personally affected by child sexual abuse in the US.  The stitch is a zigzag, physically symbolic of your unique voice frequency.  By wearing it, you show support for people you love to share their stories."
So this little box has these little cards in it.  One asks you to share The Stitch using the hashtag #thestitch.  Another is a sticker for you.  And another is a wrapped in orange thread with a needle so that you can actually put The Stitch on an item of clothing.
These stylish greeting cards were in the box. "With all the things going on in our daily lives, sometimes it's nice to take a moment to remember to share thoughts, prayers, and love.  With this pack of cards from Faithbox, please take the time to reach out to a friend or family member this month!  Let them know you're thinking of them."
They feature elegant photography and a few words on the front with blank insides.  Perfect timing.  I need to send my aunt a thank-you card.  And, these are lovely.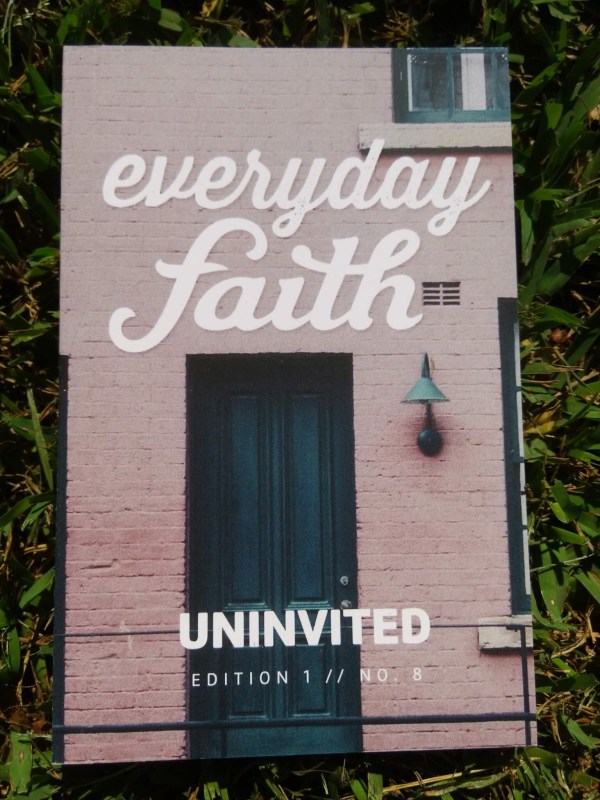 This is their monthly devotional book, Everyday Faith, that was in the box.  They are now offering a monthly subscription called Every Day Faith for just their devotionals.   If you pay month to month you can get the book for $4.99 a month, shipping included.  If you prepay for the year the price drops to $49.99 for the year, shipping included.  Your first month is free.  They also provide meals to children for each of these purchased.
Each day is numbered 1-30, but not dated so you can start whenever you want.  Most days begin with a verse from the Bible, a couple of sentences elaborating on the verse and encouraging you in the faith, and then end with a challenge to bring the verse to reality in your life (plus space to write down your own thoughts).  Other days just have challenges for you, like "Day 13" above.  Who's up for dinner at my house?
Faithbox is a monthly subscription box helps you live out the golden rule.  We should do good for others as a way of life, not just an every now and then thing.  And this box is a great place to start.  Save $5 on your first box with coupon code SAVENOW.
Visit Faithbox to subscribe or find out more!
The Subscription
:
Faithbox
The Description
: Faithbox inspires positive Christian living by helping people grow in their faith, impact their community, and discover meaningful products. Faithbox hand-picks the products from companies and organizations who share our vision of a triple bottom line: people, planet, purpose.
The Price
: $25.00 per month