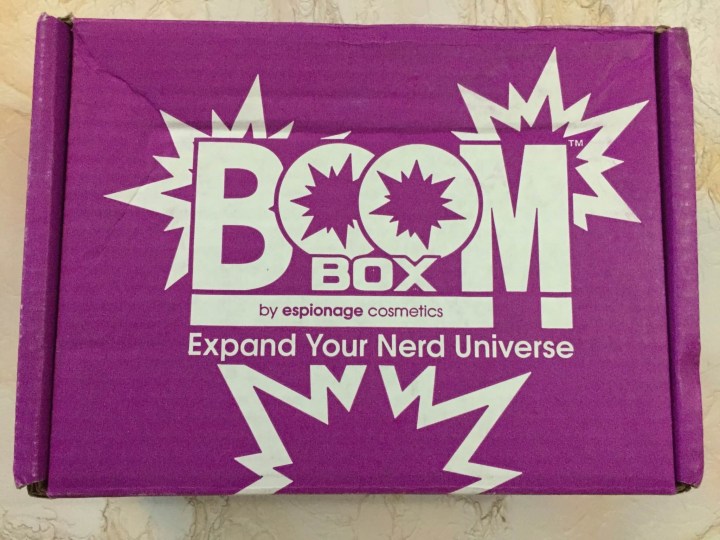 Espionage Cosmetics now has their own bi-monthly subscription box! If you've ever received nerdy, fandom-themed nail wraps in a LootCrate or any geeky box, chances are they're from Espionage. The BOOM!Box delivers a box of goodies for nerdy and geeky manicures, makeup, and other fun things every other month. They now also have a monthly subscription just for nail wraps.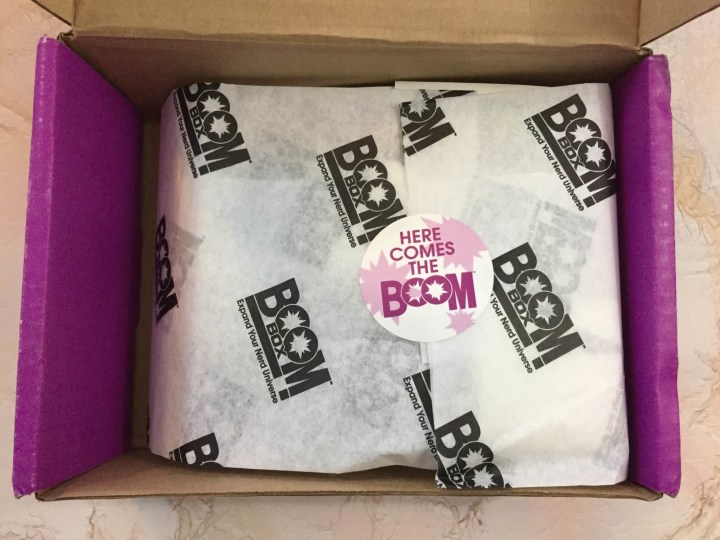 Everything is printed with the logo and looks great!
First look at this month's Power-Up theme!
The info card is a tri-fold breakdown of everything included, and the reverse also has a makeup tutorial and information about the subscription.
Gaming Stickers The Oregon Trail! Who else played that game endlessly back in elementary school? I always died of dysentery, so this sticker brings back painful memories.
Brandy says: OMG WE WON! Ask my cousin Tiffany – I think we have a photo somewhere.
Triforce Necklace ($12) Squeeeeee! This Triforce necklace is adorable! It's small (the base is1″ wide) and light and I love it.
Floppy Disk Notebook Oh man, who else remembers floppy disks? (They're old enough that there are probably some people who don't…) This notebook is actually made of floppy disks! What a cool idea. I might use this by my computer to scribble down game notes.
BOOM!Box always includes some geeky makeup, so let's see what we have this month!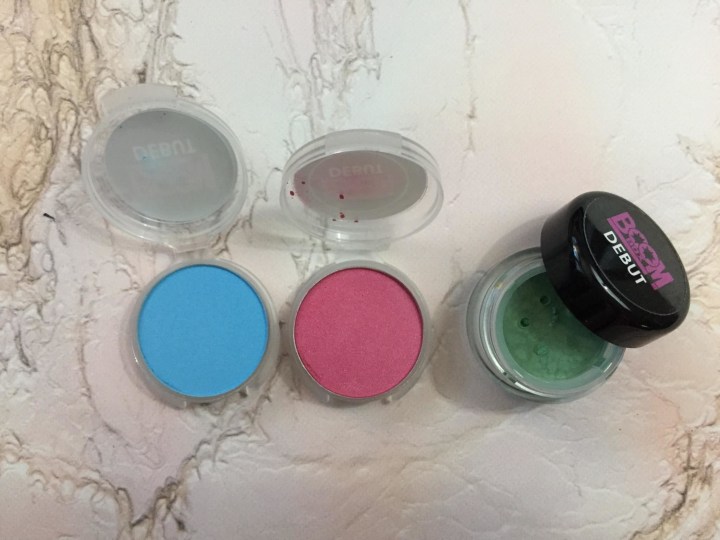 I've mentioned in precious reviews that I'm not a fan of loose pigments and find them hard to work with — and BOOM!Box has started releasing pressed powders! Console (left) and Pixel (middle) are actually housed in metal pans so you can pop them out of the plastic clamshell and into a magnetic palette (I think you would need a magnetic sticker on the bottom, though). 1UP is the green on the right and is the traditional loose pigment.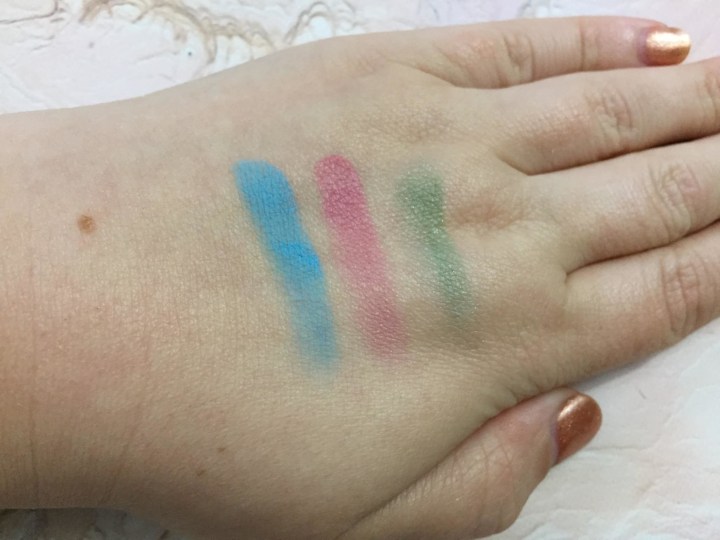 Swatches! Console is matte and is very pigmented. Pixel might have a bit of shimmer? But it's a bit more sheer. And 1UP is the most shimmery of the three.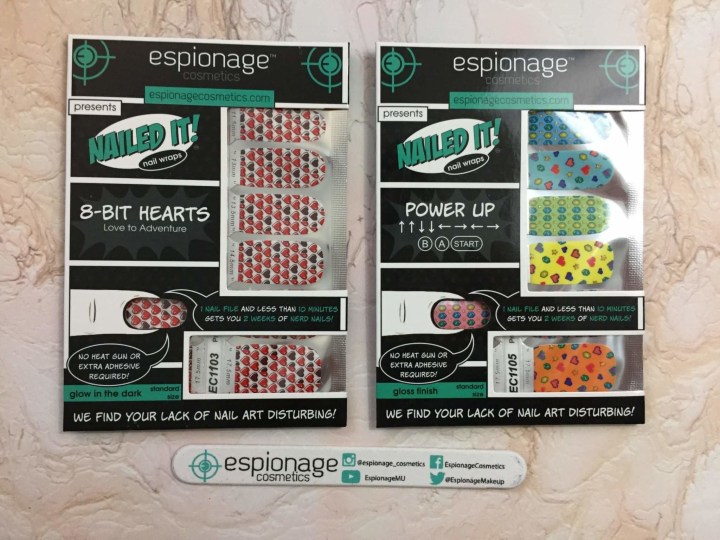 The nail wraps! They come with a branded nail file to help trim/shape the edges. They aren't listed for sale on the shop yet but they are usually $10-12 each.
8-Bit Hearts I love the pixel hearts which are the life meter in many 8-bit games such as Zelda. These glow in the dark.
Power Up It's the Konami code! These are my favourite of the designs. They feature hearts and rupees (from The Legend of Zelda) as well as other small symbols like stars.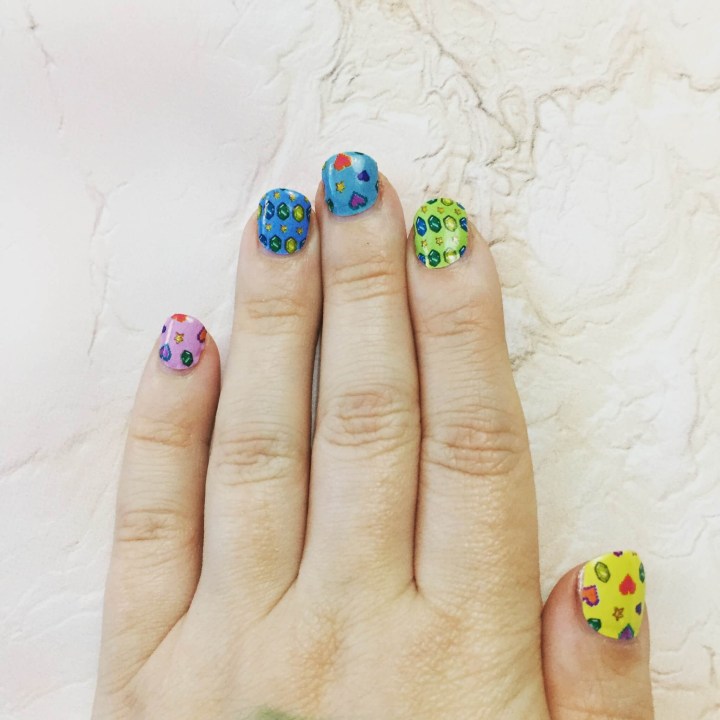 Instagram manicure shot! The only finger I can never fit properly is my index finger — I always have to cut down the side to make it fit. I have a three-week gel manicure on right now with some serious growth along the base, so these stickers cover it nicely.
Art Print This print is of a Japanese samurai style Mario! I think he's on Yoshi, and that's definitely a winged Koopa he's fighting. I love this art style!
This month's BOOM!Box was my favourite so far. I'm thrilled with all of the Zelda items and I'm glad to finally get some pressed versions of their eyeshadows! This is really a fun box for anyone who's nerdy or into pop culture or fandom. FYI – this box has sold out in advance each time.
Visit BOOM!Box by Espionage Cosmetics to subscribe or find out more! Save $5 on your first box! Use coupon code  HELLO5BOOM.
The Subscription
:
BOOM!Box by Espionage Cosmetics
The Description
: There will be one BRAND NEW "Nailed It!" nail wrap design in each EC BOOM!box. Beyond that, everything else is a magical mystery! Scarves, beanies, makeup, jewelry, games, books, who knows! We're here to expand your nerd universe one delivery at a time!
The Price
: $36.25 every other month