Darby Girl is a product of the DarbySmart DIY site (in conjunction with Girls' Life magazine).  Aimed at tweens and early teens (Girls' Life is directed to 10-15 year old girls), this subscription box provides "dazzling DIY materials, cinchy step-by-step instructions, awesome inspiration, and more."  Sent every other month (February, April, June, August, October, and December), Darby Girl sends craft projects "from fashion accessories to room decor and more" and is "carefully curated just for GL readers and inspired by our favorite new trends."  The cost is $19/box with discounts for paying for 6 months or 12 months at a time.
I reviewed this month's box with my daughters, aged 11 and 14 years.  Let's see what August brought to our house!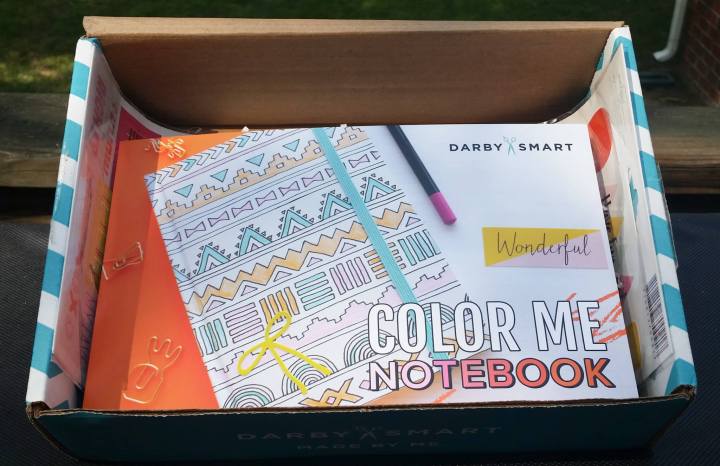 "Color Me Notebook" is this month's theme!  Yeah!  We all love coloring books in our house…a little obsessed with them, maybe, so this box is right down our alley!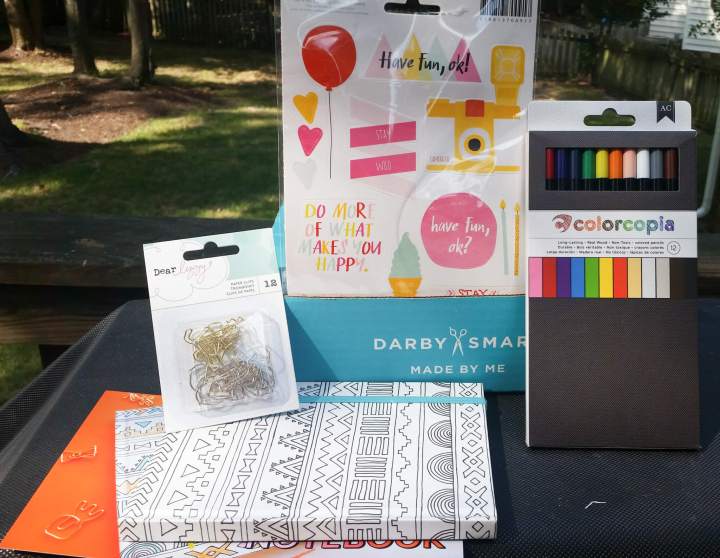 Here's a look at everything in this month's box.  Colorful and fun!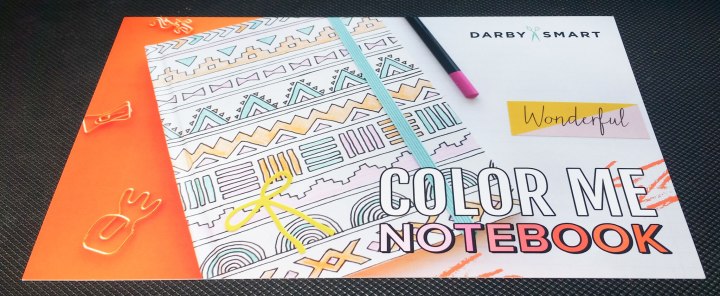 As usual, the instruction card in our box doesn't actually tell us how to make the project; instead we need to visit the Darby Smart website where it tells us everything we need to know.  The full-color card, though, provides some beautiful inspiration for the project.
Of course, this project in particular is pretty self-explanatory!  We're kind of experts at coloring here!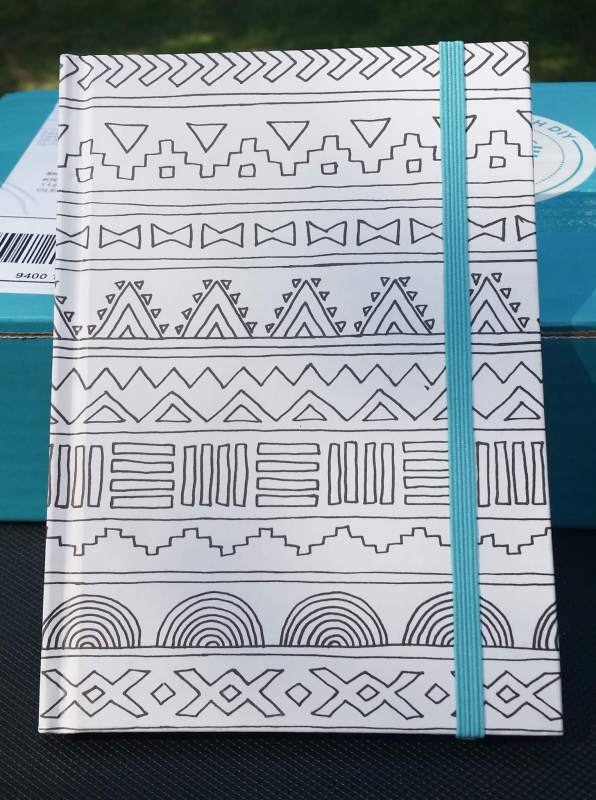 Journal:  The main component of this project is the journal notebook.  The hardcover of the journal is printed with a fun, geometric pattern and the paper is perfect for coloring.  Additionally, the journal has a bright turquoise elastic to keep it closed.
The inside of the journal is blank, lined paper — perfect for a diary or even for more art!

Colorcopia Colored Pencils:  To color, it helps to have a nice set of colored pencils.  This month's box included a package of 12-colored pencils in bright, pretty colors — perfect for doing this project.
Fun-Shaped Paper Clips:  What better way to mark your page in the journal than with fun-shaped paperclips.  This package of paper clips includes shapes like strawberries and cameras.  Super cute!

Stickers:  Last, but not least, are two large sheets of fun stickers — hearts, stars, cameras, and lots of fun statements ("Stay Awesome" and "Let's Party" for example).  So much fun to use either in the journal or elsewhere.  In fact, these would also be perfect for scrapbooking…another love in our house!
And here's a picture of the other sheet of stickers.
Bottom Line:  This box was completely appropriate and fun for the suggested ages of 10-15 years old – both my daughters were excited about it.  Although the project may have been simpler than some of the previous boxes, the end result (the journal) is something that will get some extended use, which is nice.  I also really like the variety of projects we've gotten over the months — some projects have been more intensive and required more "work," while others have been easier.  No matter what, though, my daughters have enjoyed them a lot!  Darby Girl is a good project box for crafty tweens and early teens!
Have you tried Darby Girl? Get 1 month free with an annual subscription! Deal applies automatically, just visit and subscribe.
Visit Darby Girl to subscribe or find out more!
The Subscription
:
Darby Girl
The Description
: From fashion accessories to room décor and more, every project is carefully curated just for Girls Life readers and inspired by favorite new trends. Each Craft Club box contains everything you need to make something amazing.
The Price
: $19.00 every other month