Craft Beer Club is a monthly subscription that delivers a twelve pack of select microbrews right to your home.  Each selection has received acclaim and is very popular within its distribution area — CBC lets you enjoy them wherever you may be.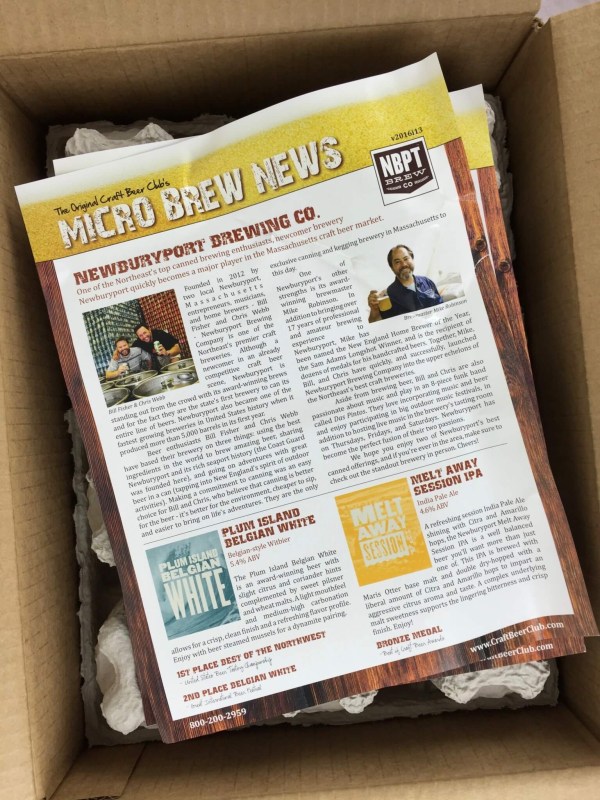 Every shipment includes relevant issues of the Micro Brew News.
When you subscribe or give a gift the subscription will come with bonus gifts – no coupon code required!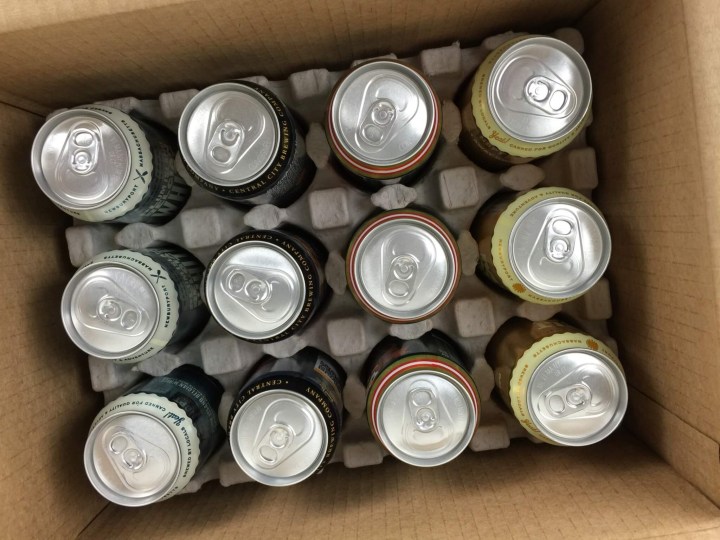 The Club delivers a mixed twelve pack each month which includes three cans or bottles of each of four varieties.  Most selections come in bottles, but this is the second time we've had canned beers.  So far, each box has had two offerings each from two featured micro breweries.  This month's brewers were Central City Brewers & Distillers of Surrey, British Columbia, Canada, and Newburyport Brewing Co. of Newburyport, Massachusetts.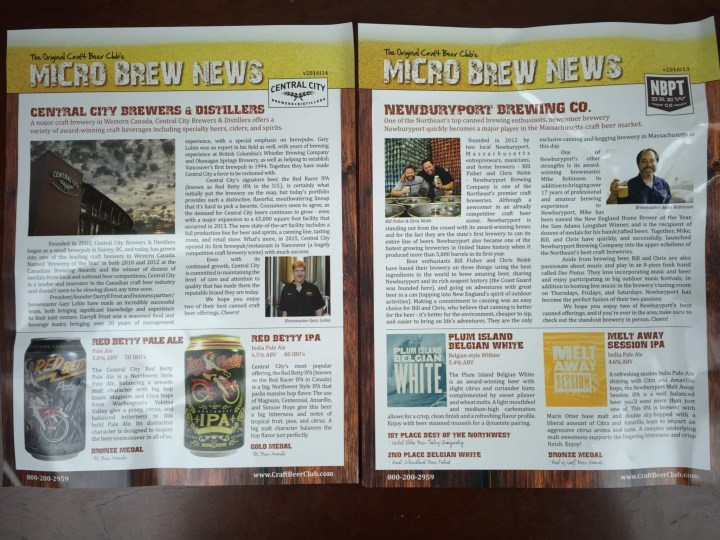 Two separate volumes of Micro Brew News were included, one for each Brewer.  They include information on the history and philosophy of the featured breweries, as well as details on the style, stats, and composition of each brew.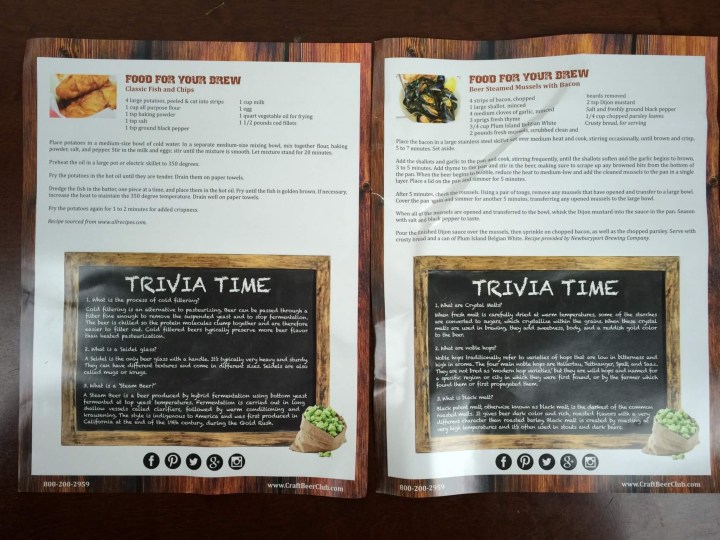 The back of each sheet had a recipe designed to pair well with the beer selections (or in some cases, actually use the beer in the recipe!), as well as some beer-related trivia.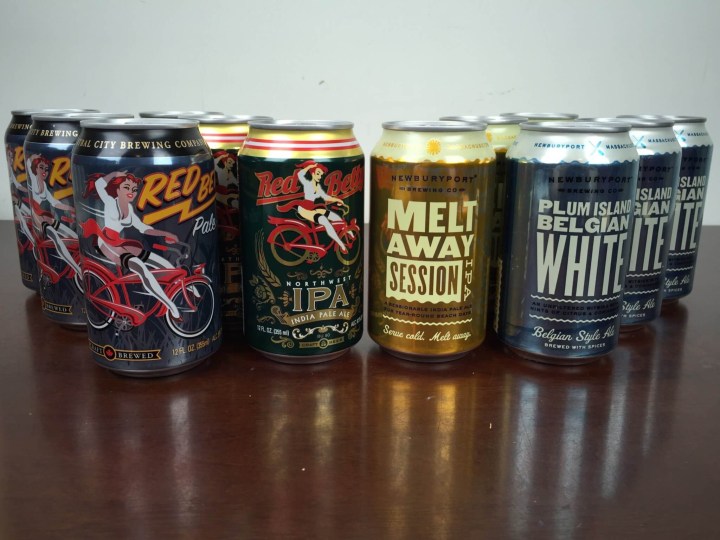 All the righteous cans we received in this month's box!
Central City's Red Betty Pale Ale:  Assertive hops with a firm bite and lasting presence.  Surprisingly, a much more bitter hopping than the IPA.  Though an ale from the far West of Canada, this struck me as a very "Canadian" beer, with a similar boldness and approach to bitterness I associate with the big name lagers of Toronto and Montreal.  I've always found Labatt's and Molson to be hopped in a way that changes the entire character of the beer (in a good way, making them more refreshing than their American counterparts) and not just the flavor balance — this had that same holistic quality of boldness.
Central City's Red Betty India Pale Ale:  Smooth with a slightly frothy mouthfeel.  The hops are shockingly mellow and well matched to the malt.  The finish is slightly sour.  This is a very refined and enjoyable IPA.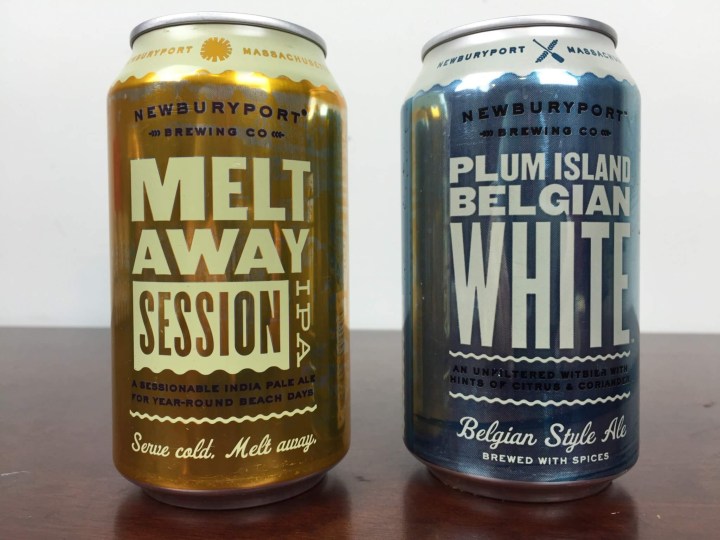 Newburyport Brewing Co. Melt Away Session IPA:  Silky and pleasant, the hops present with a vivid aroma and a tempered bitterness that commences immediately upon sipping, but grows no stronger as it passes the palate.   The hops are well-balanced and don't exhibit strong bitter or piney qualities — a very approachable IPA even for those timid on hops.  
Newburyport Brewing Co. Plum Island Belgian White:  A touch of coriander accents the slightly sour and yeasty profile of this unfiltered part-wheat beer.  The suspended sediment creates a pleasant textural element and provides a slight tingle and acidity.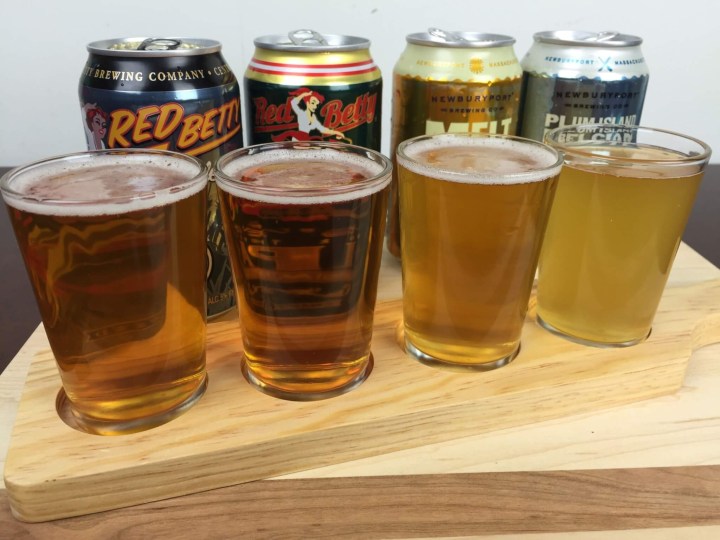 The Plum Island Belgian White (far right) had an expectedly cloudy appearance, but even the Newburyport IPA had some opacity.  The Central City beer's were clear by contrast.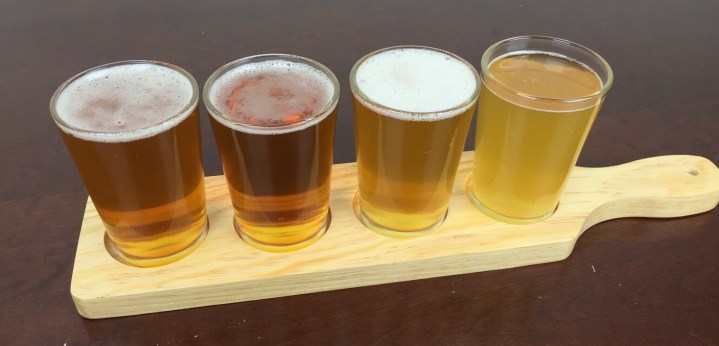 Giving my new beer flight paddle from my Bespoke Post "Pour" a spin.
I've enjoyed this subscription immensely, and I like that the selections include two beers from each featured brewery, as it allows you to appreciate their mastery of multiple styles.  They are all highly drinkable and appeal to a wide audience of beer lovers — quite a few IPAs and pale ales find their way into the box, but none have been hopped heavily enough to fall outside the realm of good taste.   This is a great subscription to split for boy's or girl's night, or just to have an ever-evolving selection of craft beers on hand for your own enjoyment.
Visit Craft Beer Club to subscribe or find out more!
The Subscription
:
Craft Beer Club
The Description
: 12 craft beers delivered each month! Exceptional craft brews from around the country produced by small-production, independent brewers who use only traditional brewing ingredients and time-honored brewing methods.
The Price
: $39.00 per month