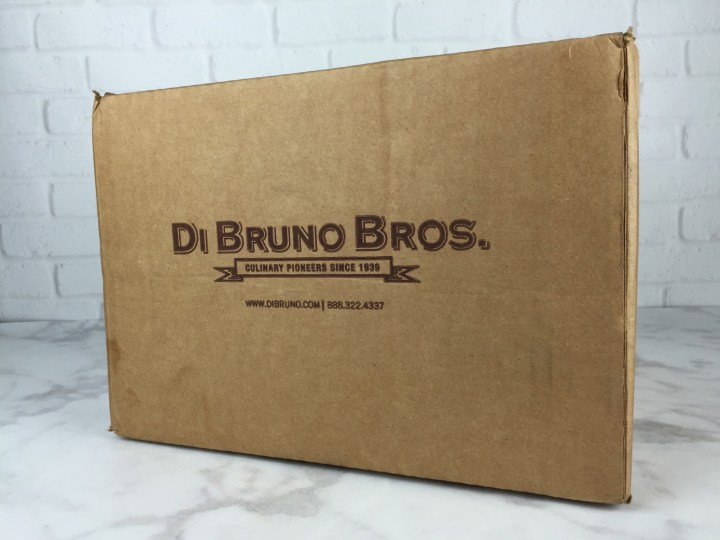 Di Bruno Bros. House of Cheese Pairing Club is a quarterly subscription box for all cheese lovers. For $149.99 per quarter, you'll get 3 boxes full of high quality cheese wedges, jellies, jams, nuts, crackers, and anything that goes with cheese!
Di Bruno also creates one-off bundles with distinct culinary experiences.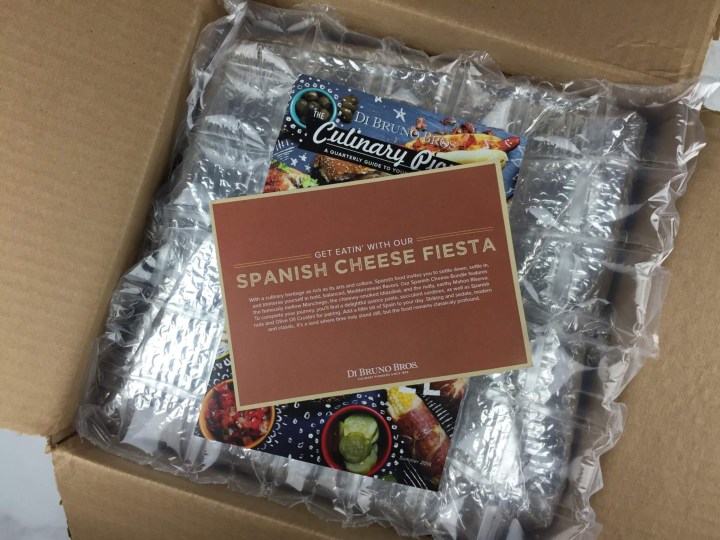 This box contained one of the DiBruno Bros. themed cheese bundles – the Spanish Cheese Fiesta! Note that we don't know how similar this might be to the monthly subscription at all. This box was $84.99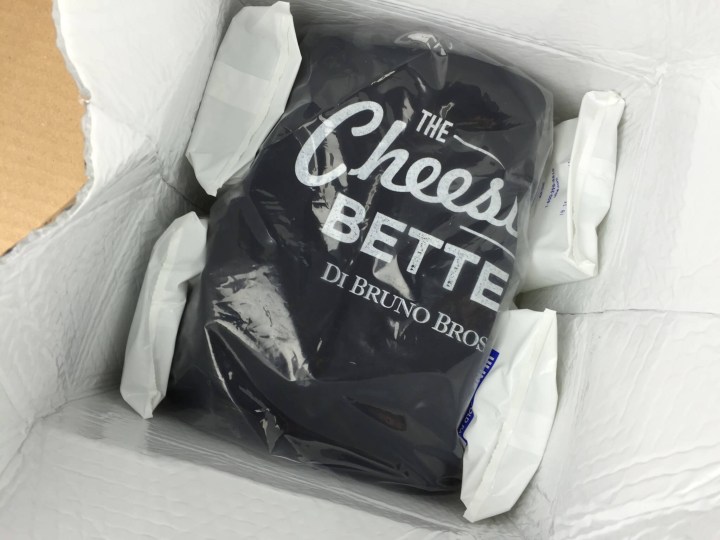 Within the outer carton is a reflective cooler.  The cheese and other items are surrounded by ice packs inside the box.  The collection arrived with a card explaining that the cheese, though sensitive to high heat, will actually remain safe and delicious even if the ice packs have thawed by the time it arrives.  Ours was still very cold, and the packaging protected everything splendidly.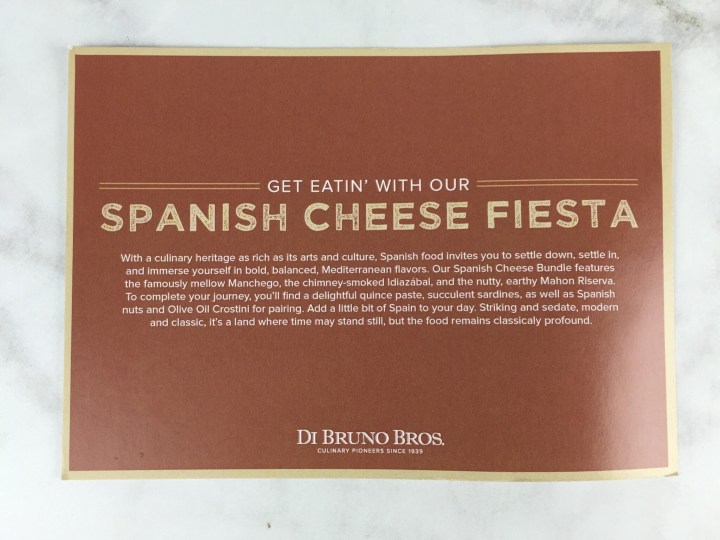 The theme for this box was Spanish Cheese Fiesta, and it featured three classically Spanish cheese selections, plus several delicious accompaniments.
The information card provides a list of all the items in the box, plus a short description.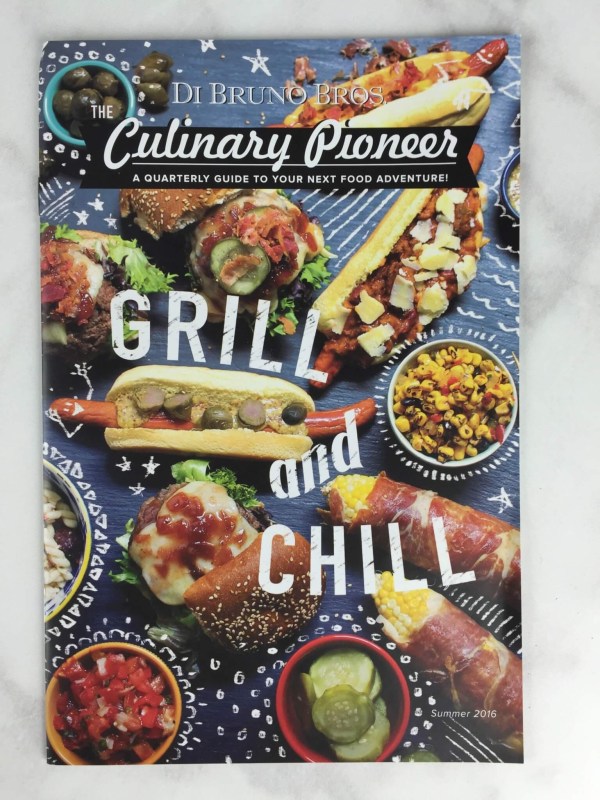 There's also a magazine that serves as a guide to your next food adventure!
 If you're not yet hungry for food before, then you will be after reading this magazine.  It touts many of the DiBruno Bros.'s product offerings and even has some cool food ideas and short features.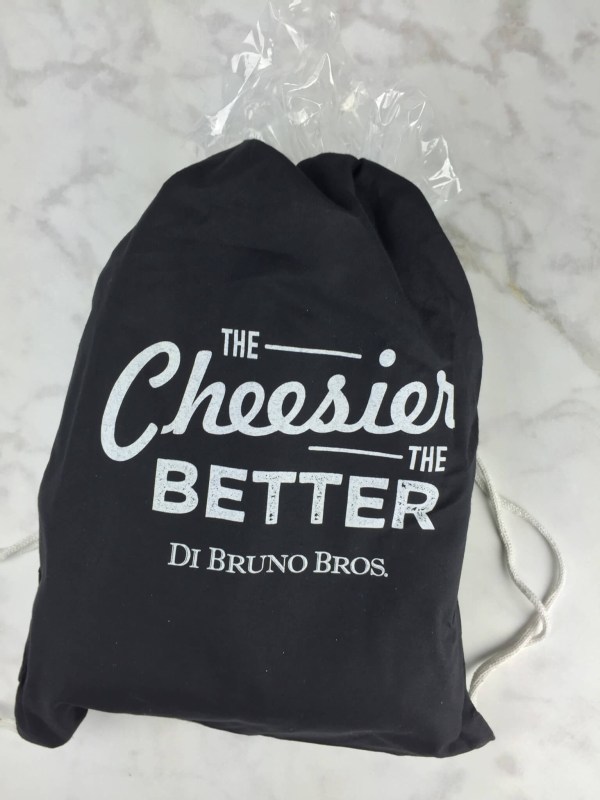 Everything arrived packed inside this sack drawstring cloth sack.  It prominently features the phrase, "The Cheesier the Better."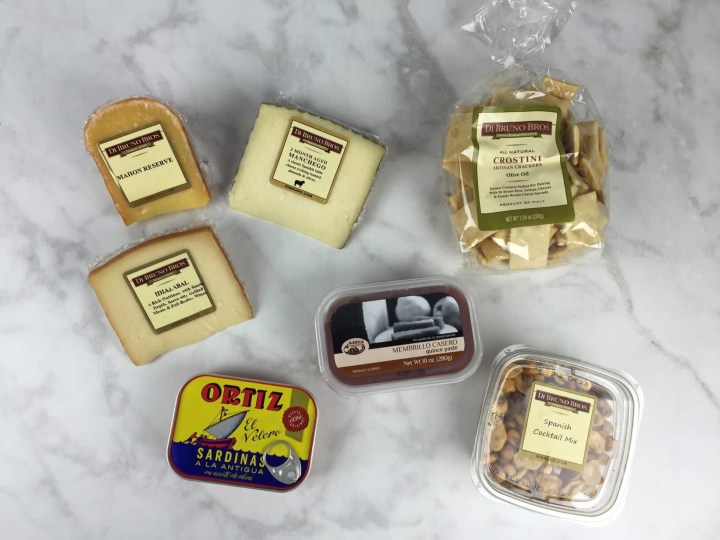 All the goodies in my box!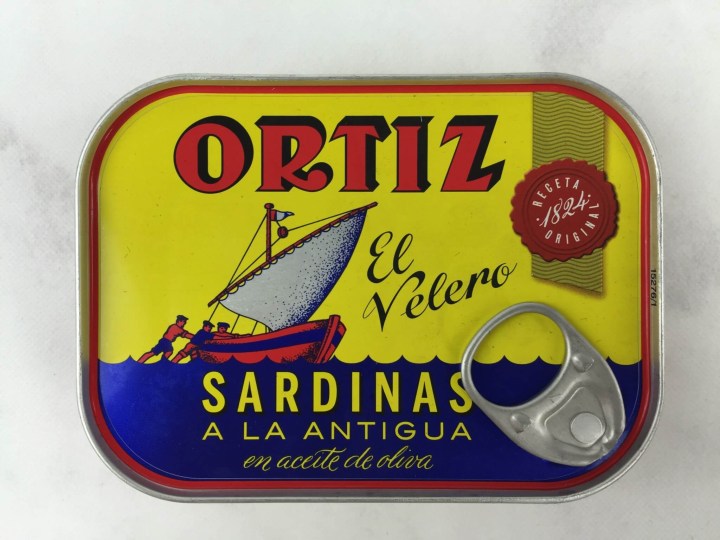 Ortiz Sardines in Olive Oil:  Outside of the U.S., small fish are a common drinking food, and Spain is no exception.  These Antiguan sardines are canned in olive oil.  The info card mentioned a traditional French canning process, but ours were canned in a rather ordinary sardine can, not jarred in the French fashion.
 The fish were very meaty and suitable for eating whole.  I like to take out the little spine (it's tender enough to eat, but I don't care for them).  The flavor was very mild, with the rich olive oil providing a luscious texture and softening the taste.  The fish were soft, but not mushy.
Mitica Membrillo Casero Quince Paste:  Quince paste has a texture very similar to guava paste, but it is not quite as sweet.  It is filled with fiber (but is not at all stringy), making it very thick.  The taste is much like a ripe, red apple — it is fairly sweet, but there is also a hint of tartness that is not at all sour, but a bit like a cranberry.  It pairs wonderfully with the cheeses, balancing cutting some of the creamy and sour notes.
Our three cheese selections, each with a distinctive rind.  From left:  Manchego, Mahon Reserve, and Idiazabal.
Idiazabal:  This cheese has a firm texture, with a slight springiness.  It cuts and chews like a Swiss/Cheddar hybrid cheese, and it likewise has a slight nuttiness to it.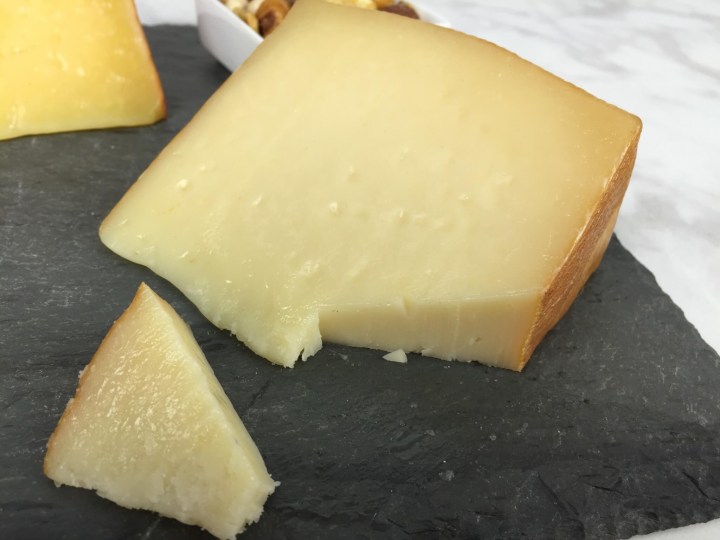 The sheep's milk lends a a slight grassy and creamy note under, and a gentle smokiness pervades the cheese.  It is very fatty and flavorful.
Manchego:  Perhaps the most famous of Spanish cheeses, Manchego has a slightly lighter texture than the Idiazabal, and the sheep's milk flavor really shines.
The Manchego has a really beautiful rind, and the flavor of the rosemary used to bath it permeates the cheese.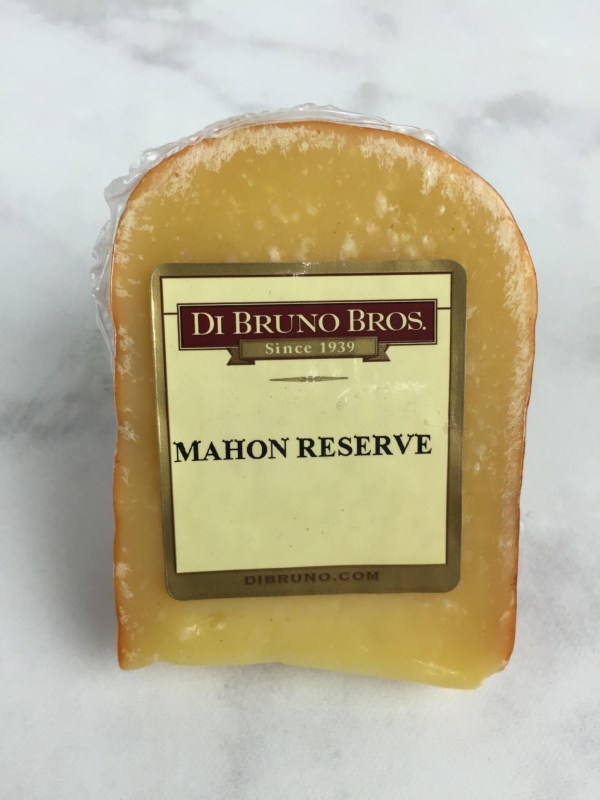 Mahon Riserva:  This cheese was actually quite similar to an aged gouda, as it had become very dense, slightly crackly, and many crystals had formed with it.  Buttery sweet and very Cheddary, this cheese has an intense flavor that calls for a zesty and tannic wine.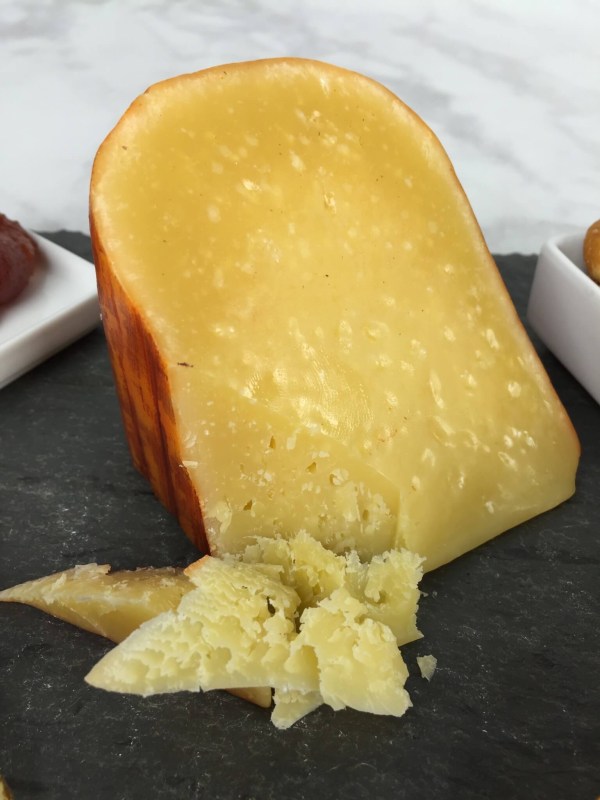 The crystalline Mahon crumbled as much as it cut.  The texture is magical, and the flavor mouthwatering.
Brandy: this one was my hands-down favorite. I really want to try their Aged Gouda box too.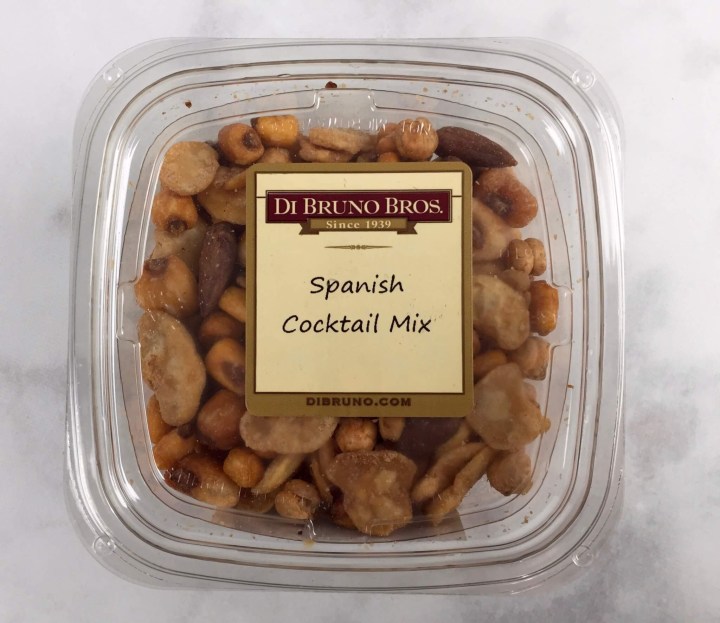 Spanish Cocktail Nut Mix:  This very crunchy mix had some some dried fava beans and almonds for variety, but the bulk of the mix was corn nuts, both small and jumbo.  Good for adding some texture to an otherwise very creamy cheese plate.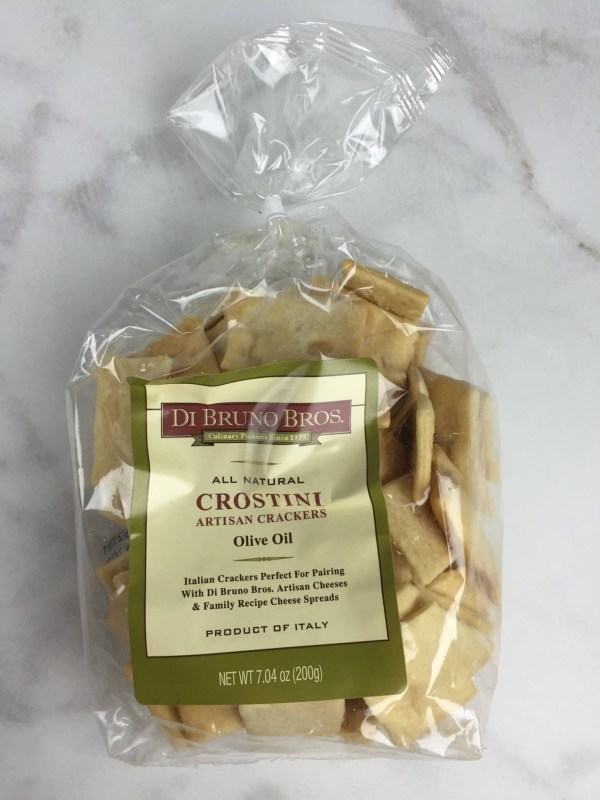 Olive Oil Crostini:  These mild, olive oil infused crackers packed a nice crunch.
The pieces were perfectly sized for holding a decent hunk of cheese.
Crostini with some Idiazabal and quince paste.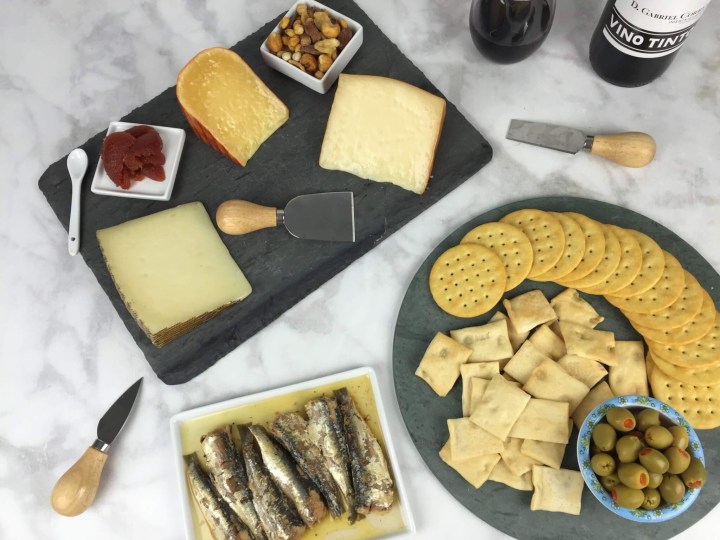 Our DiBruno Bros. Spanish cheese service, with some Spanish olives, crackers, and Spanish wine thrown in to complete the meal!
This bundle was very tasty — the cheeses were excellent, flavorful, and perfect for wine time!  This is wonderful box to send as a gift, as it arrives nicely packed and presentable within the "Cheesy" bag.
Visit Di Bruno Bros. Monthly Boxes to subscribe or find out more!
The Subscription
:
Di Bruno Bros. Monthly Boxes
The Description
: What could be better than Cheesemonger crafted pairings delivered right to your doorstep, every single month? Each pairing is dreamed up by our cheese pros for a flavor experience like none other. Cheeses, nuts, jellies, jams, crackers, the list goes on. Each month we will send a dreamy wedge of cheese paired up for a magnificent bite.
The Price
: $149.99 per quarter