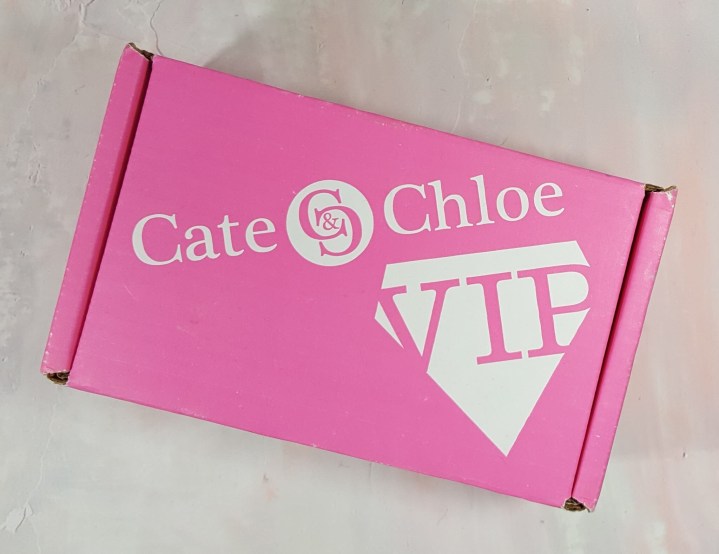 The Cate & Chloe VIP program is a jewelry subscription box delivered to your front door once a month. Each box contains on point and on trend Cate & Chloe pieces!  Boxes are customizable and always come with extra goodies to keep our VIPs extra happy.  To ensure that you get pieces tailored to your style, Cate & Chloe have a VIP Style Quiz  to gauge your tastes.  Choose between 3 subscription options starting at $19.99 – The Starter Package (1 item), Double the Fun (2 items), and Full VIP Status (3 items).  The cost per box drops with extended subscription terms, so the longer the subscription, the more you can save!
Quick look at the VIP Style Quiz.  You choose your favorite metals, colors, and looks to help stylists choose pieces that suit your personal style.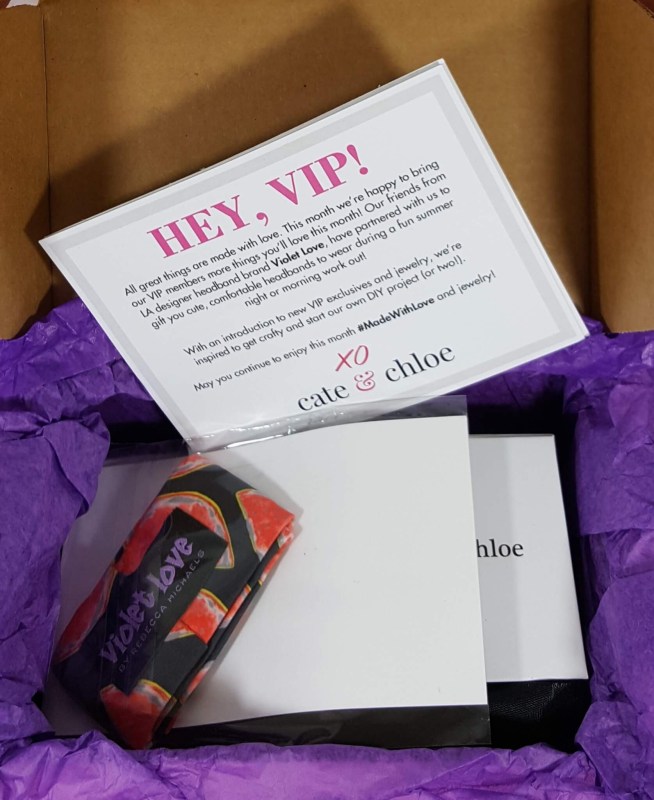 Ooh, something different this month…
This month, Cate & Chloe is "All About Violet Love".  For this month's box, they've partnered with LA designer headband brand Violet Love to gift each VIP member a headband.

The information card lists each item and provides a brief description or styling tip for the piece.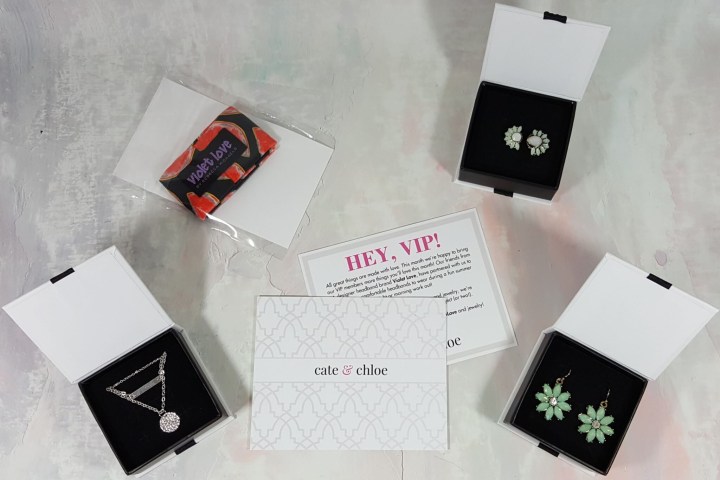 And here are my beautiful baubles!  As always, everything arrives in its own gift box – perfect for storing or gifting.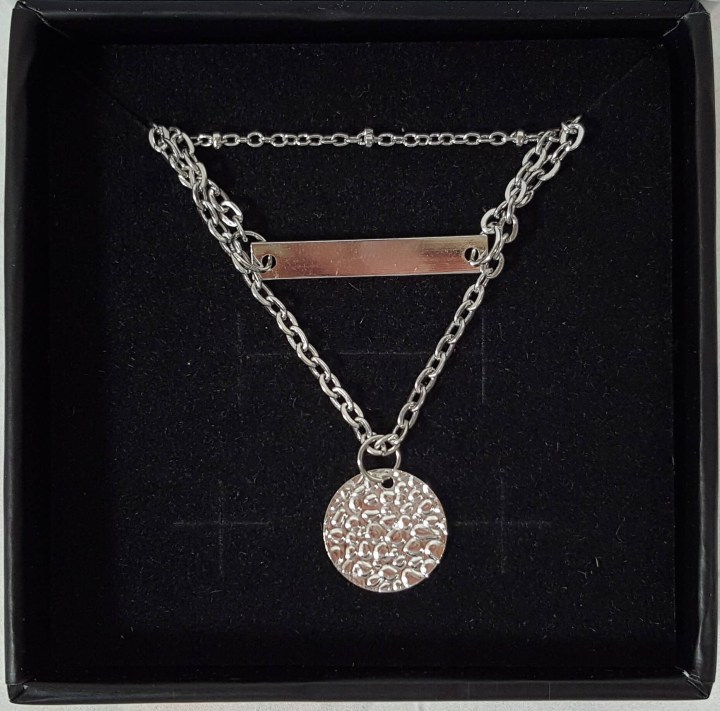 Margot "Definitive" 3 Piece Layered Necklace – Silver ($54):  Touches of trendy and simple combine to make a bold layered look perfect for framing your beautiful neck line. Margot paints a pretty canvas for playing up your Summer wardrobe and elegant evenings in the Fall.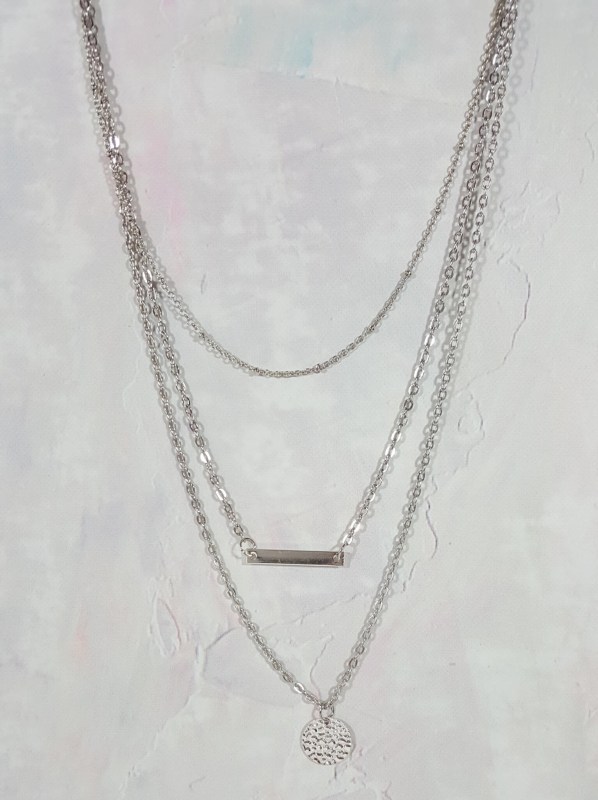 This piece is also available in gold.  It features three delicate chains with a textured circle and bar design.  This is perfect if you're like me and are not able to layer your jewelry without looking like Mr. T.  It gives the illusion of separate necklaces without the effort.  The chain is 12″ long and includes a 2″ extender.
Pia "Grateful" Daisy Earrings ($?):  Simply, classy, and playful.  These loveable daisy earrings add a fun twist to your wardrobe for any season!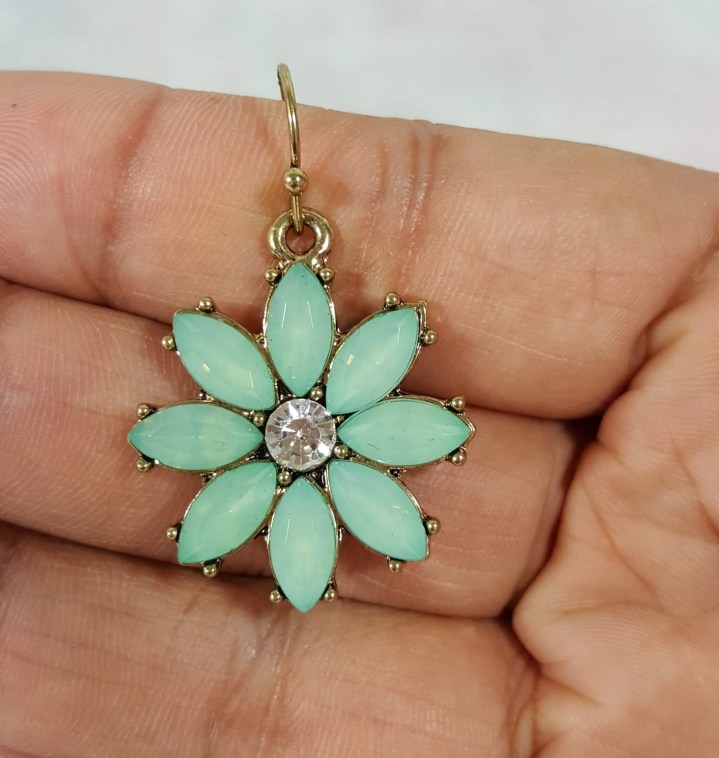 I couldn't find these on the Cate & Chloe site, and there wasn't a similar style earring to use for a price comparison. Anyway, I really like the mint green color of these earrings.  I was ecstatic when I received a similar colored necklace/earring set in another box, and this made me equally happy because 1) I got more jewelry in this shade and 2) the pieces can be mixed and matched, so more looks to play with.  The stones are set in an antique gold base, and the daisy design features beading and a clear crystal center.  The earrings have a French wire back.  I will get a lot of wear out of this pair.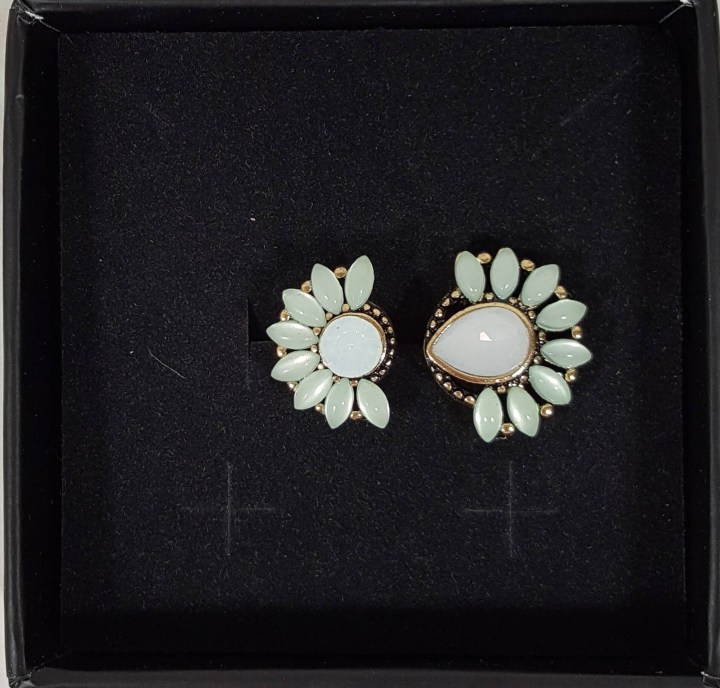 Avery " Wise" Ring ($?):  Beauty and bold merry in this jeweled ring.  You won't go a day without a compliment wearing a ring as unique as the Avery!
First off, please ignore the condition of my cuticles; I'm between manicures.  Now onto the ring.  This was such an interesting design.  The open ring is adjustable, which is good for my chubby fingers (I wear a size 9 for reference).  However, I didn't want to expand it to much for fear of ruining the design effect.  This also features my new favorite color, mint, and will look good with the Pia earrings.  However, these stones are not faceted but cabochon.  They fan around milky quartz stones, feature beading in between, and are also in an antique gold setting.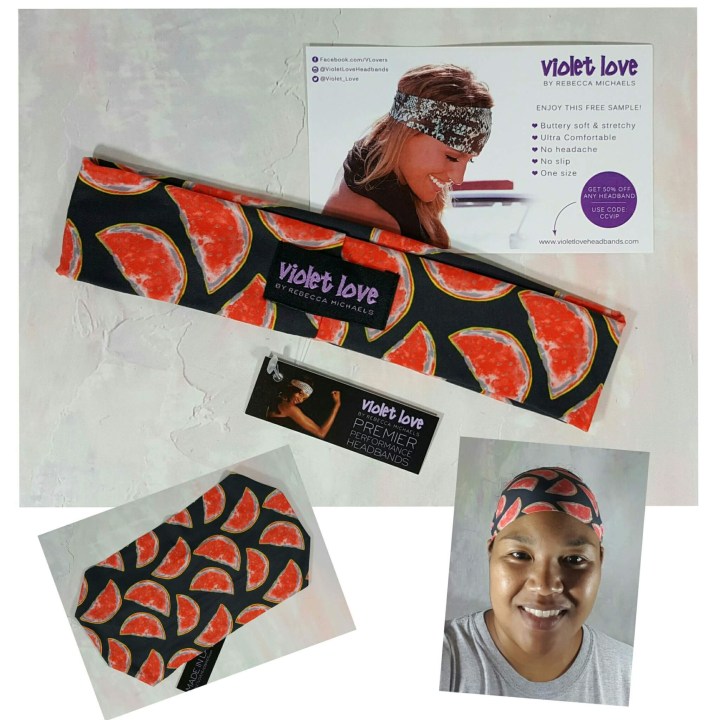 Perk of the Month:  Cate & Chloe want you to enjoy pieces that are #MadeWithLove this month.  With that in mind, they've partnered with Violet Love by Rebecca Michaels to give each VIP member a stylish headband.  A $19 value, these headbands are noted for their "No Headache – No Slip" features.  The fabrics are vegan and PETA approved and completely machine washable.  As you can see, these start out thin, but the fabric can be unfolded for a wider look.  My headband is the Diana (inspirational icon – Diana Ross) and features a slightly abstract watermelon design, great for the summer.
Unfortunately, I couldn't provide a total value for the August box.  However, the Margot necklace covered the cost of a single month's box by itself!  I am so happy with the pieces that I received in this month's box.  The Margot necklace's simplicity allows it to be worn with a variety of looks.  Mint seems to be the color of the season, and I get to showcase it with my Pia earrings and Avery ring.  I don't know how they'll top these looks next month.
Have you tried out Cate & Chloe VIP box? Let me know your thoughts!
Visit Cate & Chloe VIP to subscribe or find out more!
The Subscription
:
Cate & Chloe VIP
The Description
: Jewelry of the month club. Get 3 of Cate & Chloe's most popular pieces in the mail monthly (a $200 value!)
The Price
: $39.99 per month