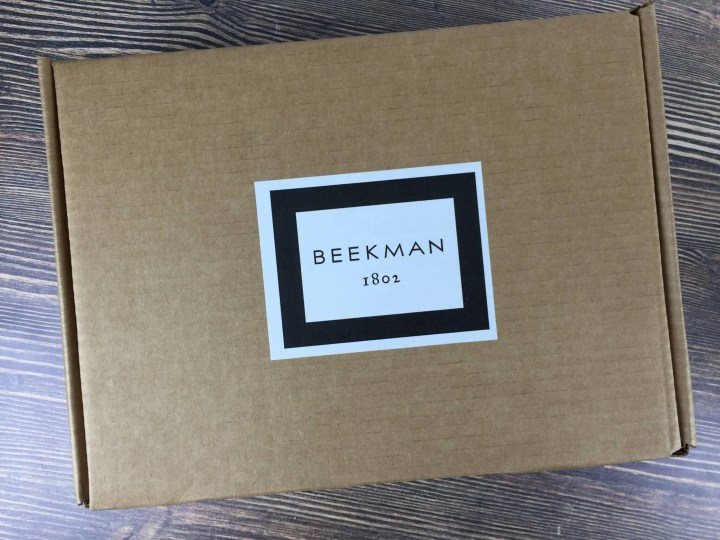 Beekman 1802 Specialty Food Club is a monthly food subscription for small-batch artisan food lovers from Beekman 1802.  You'll get a box of delicious artisan food items – often exclusive to this box –  for $50 each month.  Not only will you receive superb gourmet ingredients, but also recipes from the artisans themselves.
The elegant inner box is well-protected, padded inside an outer shipping box.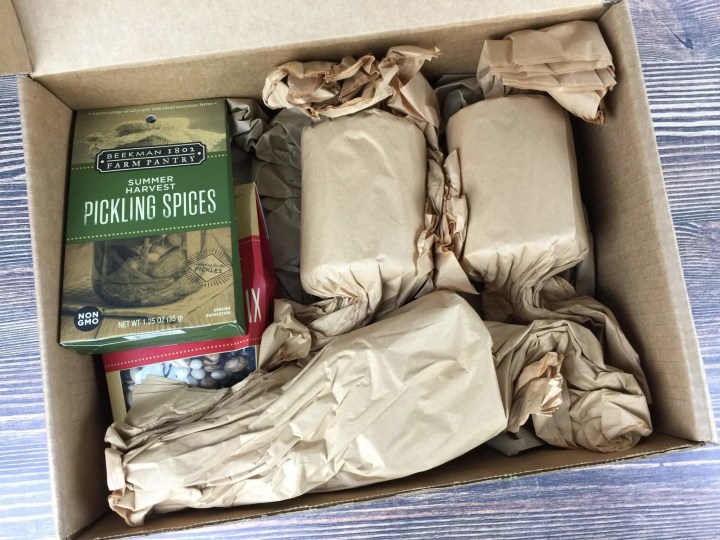 The items are properly wrapped and secured to avoid damage while in transit. This subscription is almost over-packaged (but it's easily recyclable), but really, none of these items have a chance of breaking!
The theme for this month's box is "Summer Outdoor Eating."  The selections are well-suited to a picnic, brunch on the veranda, or dining al fresca.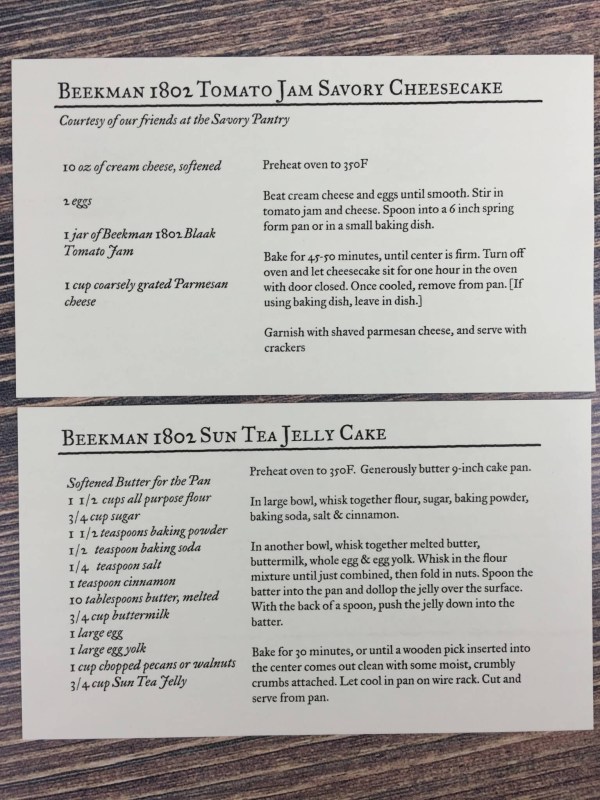 The Beakman Boys included a couple of recipe cards to help you get the most out of the items.  They are simple and clearly written.  Each showcases an item in this month's box and are pre-tested to ensure success.  This month's recipes used two of the more unusual items that might otherwise stump an uninspired cook.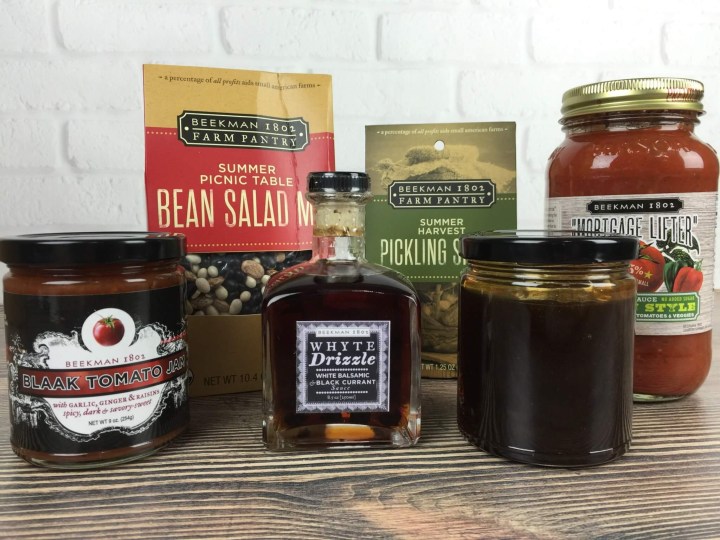 Everything in my August box!
Mortgage Lifter Garden Style Pasta Sauce ($7.99):  This not-overly thick sauce is full of chunks of ripe tomato and incorporates a variety of fresh veggies to achieve its "garden style" brightness and complexity.  It is named for its featured ingredient, a West Virginian tomato variety that was so wonderfully flavorful that the farmer first championing it paid off his mortgage by selling seedlings to other farms eager to grow the wildly popular variety.  Or at least that's how the story goes…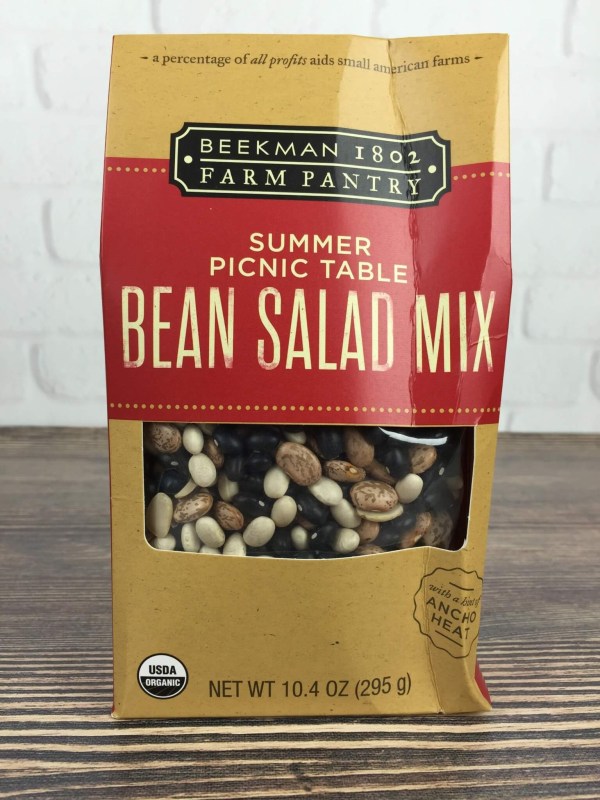 Picnic Table Bean Salad Mix ($3.99):  This blend incorporates three bean varieties and a seasoning packet.  Soak, simmer, and mix your way to a classic, hearty picnic staple.
Summer Harvest Pickling Spices ($3.99):  This well-rounded pickling blend creates a mural of flavor from coriander and mustard seeds, celery seed, ginger, allspice, cinnamon, and more.  Notably, this pack has no dill, which makes it more versatile in my book — the spices selected would go equally well with a sweet, hot, or sour pickle, and they would work for a variety of vegetables.  I would love to try this blend as seasoning for a corned beef!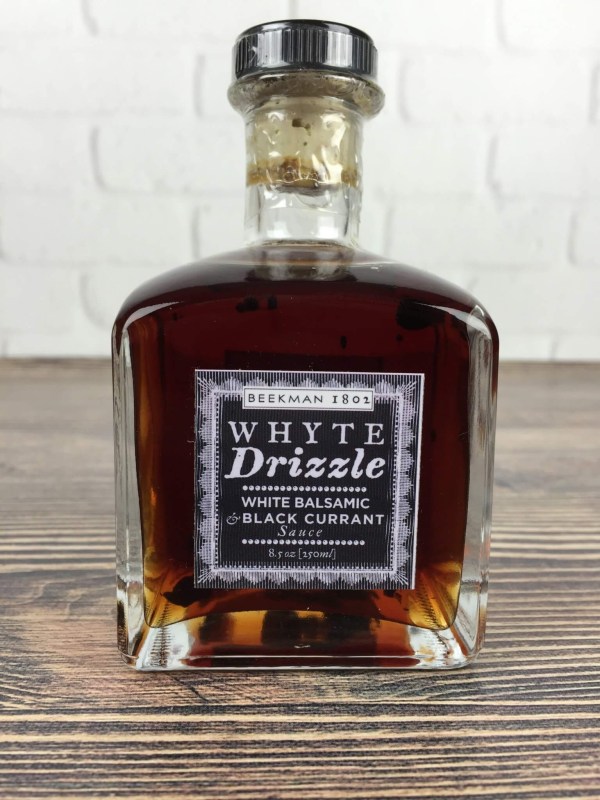 Whyte Currant Drizzle ($15):  This elegant sauce combines the light, almost golden character of white balsamic with the dark, sweet tones of real New York currants.  This drizzle is much lighter and less piney than traditional or reduced balsamic vinegar, and the liquid itself is just lovely — it has a beautiful amber-mahogany tone, making the bottle both a condiment and an adornment for the table.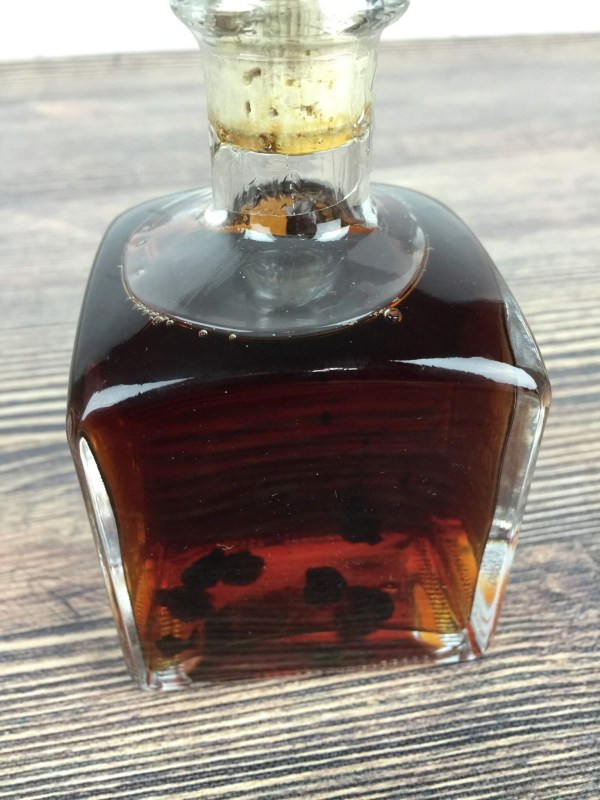 The currants are visible, submersed in the vinegar.   It's impressive how much flavor and color the few currants lend to the balsamic.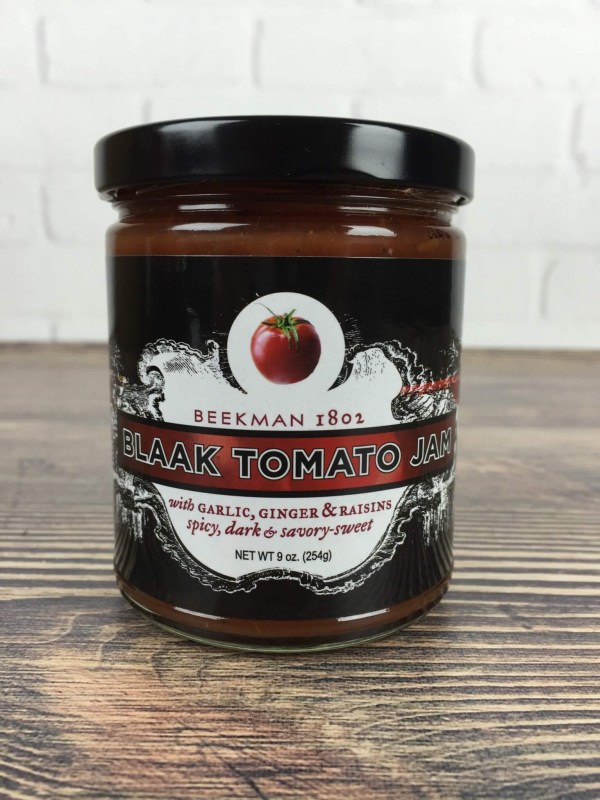 Blaak Tomato Jam ($10.50):  this jam has a very loose texture (for a jam), and the flavor is very reminiscent of a sweet chutney.  The raisin is very prominent, and the sauce has lots of spice without being hot.  Suitable as a condiment for just about anything, I think this jam was probably born to serve with meat pies or lamb kabobs.
Sun Tea Jelly (new product):  Beakman 1802 boxes often include just-launched items that are yet to have proper labelling — we have the honor of being beta testers for their new Sun Tea Jelly!  It captures the flavor of sun tea well, with its light tannin profile.
The Sun Tea Jelly is quite loose, with a bit of an uneven degree of thickening.  I can see this best served with custard or on toast with cream cheese.   The tomato jam is very chunky, with bits of raisin and spiced sweetness throughout.
This month the total value of this box was around $41 (no value assigned to the Sun Tea Jelly) – and it was a delight to open!  We are really enjoying the Beekman 1802 boxes — the products are really high, artisan quality, and they incorporate as many small farm and neighbor-grown ingredients as is seasonally practical.
We love the way the box is curated — though technically not a curation, since all the products are Beekman 1802, the Beekman boys have selected complementary items from their large catalogue of products, giving each month a theme.  It seems obvious, but it actually runs contrary to the scattershot approach of many artisan food subscriptions.
We continue to be thoroughly impressed with the sheer number of well-conceived and high quality products the Beekman 1802 Farm brings to market.
Visit Beekman 1802 Specialty Food Club to subscribe or find out more!
The Subscription
:
Beekman 1802 Specialty Food Club
The Description
: We discover new artisanal, small batch gourmet food items nearly every day. Join the Beekman Specialty Food Club and you'll receive a surprise box of delicious and totally exclusive new gourmet food items every month. Plus recipes straight from the artisans themselves!
The Price
: $50.00 per month