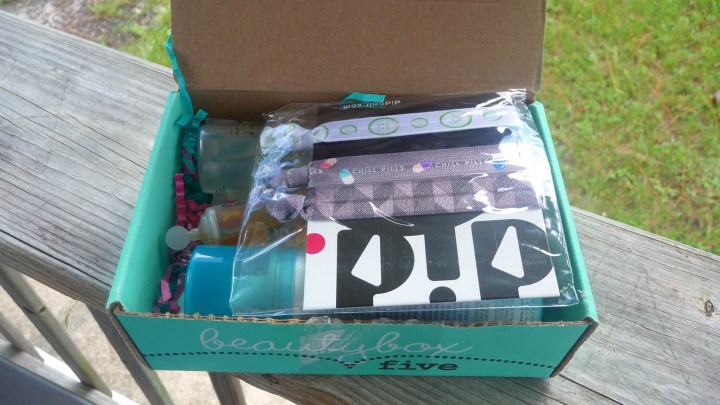 The summer is drawing to a close and it is time to relax again before school starts.  This month's box is called Pampering in Progress (Spa Day). Right now I could really use a  spa day.  I haven't feeling well the last couple of days. YUCKY!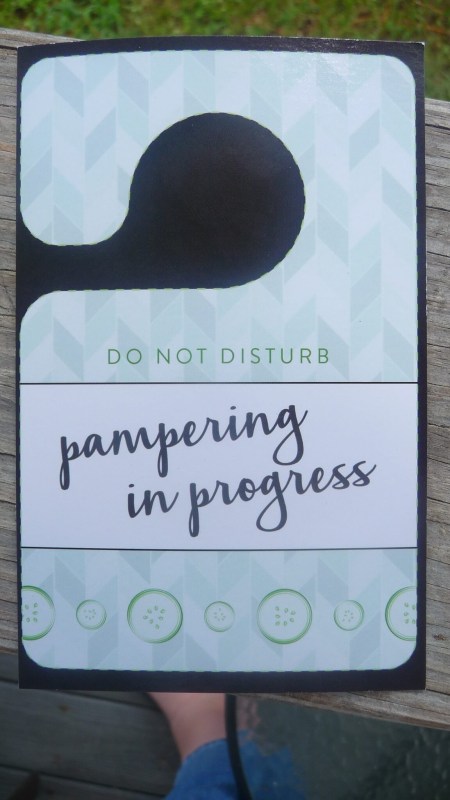 Beauty Box 5 is a monthly beauty box with 4-5 deluxe beauty samples (sometimes full size) in every box.  You'll get makeup, nail polish and accessories, haircare, skincare, and more.
The information card gives the details on each product, the retail value, and whether or not the item is full-size. 4 of the 5 items in this box were full size items. I received Retinol Spa Treatment Mask, Spa Day Hair ties, Olive Natural Beauty Elixir, VO5 Hot Oil Treatment, and Nika Facial Exfoliating Brush.
The first item in my box is the Retinol Spa Treatment Mask ($7.50). The mask treatment is to help the effects of aging.  We are all trying to turn back the hands of time. You leave the mask on for 20 minutes and VOILA! spa treatment for your face. I like Retinol products and the only suggestions I have for this product are that the mask needs to be easier to unfold and a little less liquid inside. This is a full size product.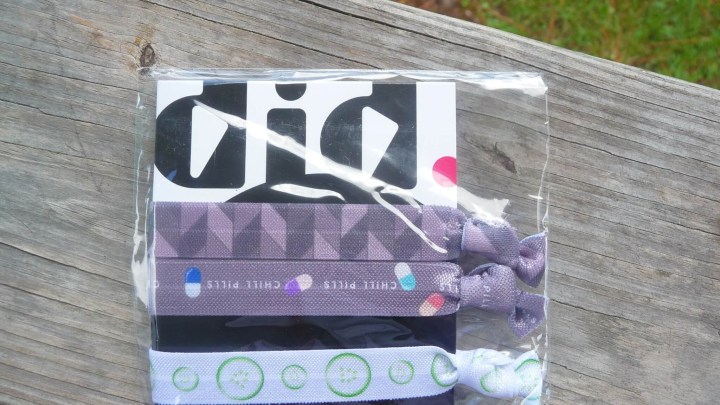 My next little item  are Did. Spa Day Hair Ties ($6.50). These are nice hair ties that do not leave a crease in your hair. HINT: great to use while wearing the spa mask. I have a ton of hair ties in my bathroom and these have become my favorite.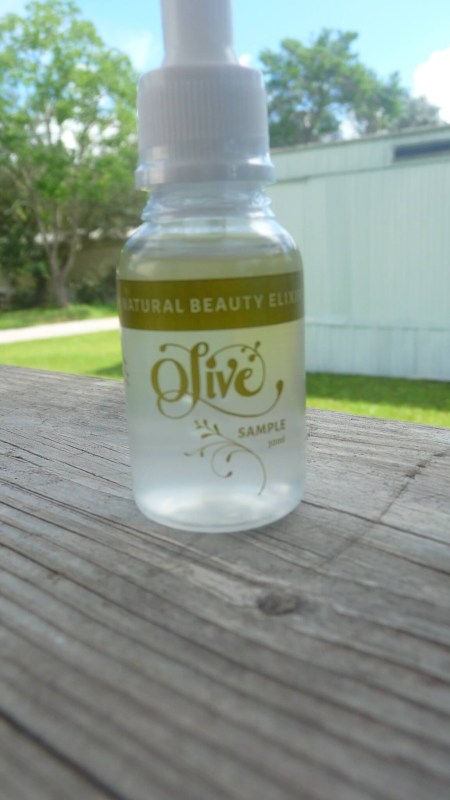 Next is the Olive Natural Beauty Elixir ($18 ) . I received half the normal bottle size of this all natural beauty elixir. It can be smoothed on your skin after cleansing or added to a moisturizer to help with firmness and to promote cell-turnover for a glowing complexion.  I tried this on my hand to test it. It is very light feeling, not greasy at all, and has a very soft pleasing scent.  here is a list of the ingredients as they are so tiny I could barely read them off the bottle.
100% Certified Organic Ingredients: Rosa Damascena (Rose) Flower Distillate, Lavandula Angustifolia (Lavender) Distillate, Chamomilla Recutita (Chamomile) Flower Distillate, Aloe Barbadensis Leaf Juice, Hamamelis Virginiana (Witch Hazel) Distillate, Distilled Water, Helianthus Annuus (Sunflower) Seed Oil, Olea Europaea (Olive) Fruit Oil, Prunus Dulcis (Almond) Oil, Rosa Mosqueta (Rosehip) Fruit Oil, Oenothera Biennis (Evening Primrose) Oil, Simmondsia Chinensis (Jojoba) Seed Oil, Proprietary Olive Natural Beauty Concentrate, Xantham Gum, Lonicera Caprifolium (Honeysuckle) Flower Extract, Lonicera Japonica (Honeysuckle) Flower Extract, Proprietary Organic Essential Oil Blend.
The website has a beauty regime kit that includes this product. What do you think of the ingredients?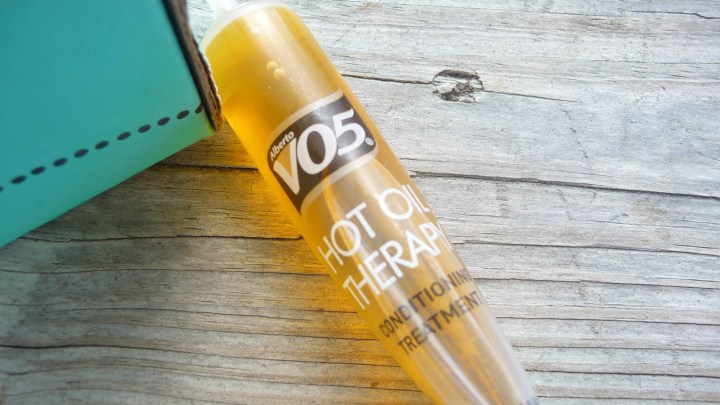 My next item is something I never tried before. It is VO5 Hot Oil Treatment( $2.59). I've been to scared to try this as people have told me once you do you have to continue to use it. Is this true? I don't use a lot of products on my hair if possible. If you have use this before let me know. It seems simple enough to use, I'm just worried about using it.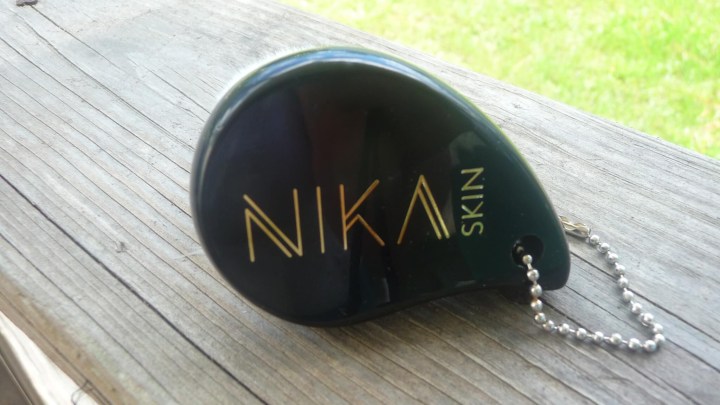 My last item is the Nika Facial Exfoliating Brush ($17). It is a small little brush you can use to help clean your face. You use with your favorite facial wash or soap. This little brush is soooo soft! This product debuted in this month's box!
BUT WAIT!!!! There's a surprise!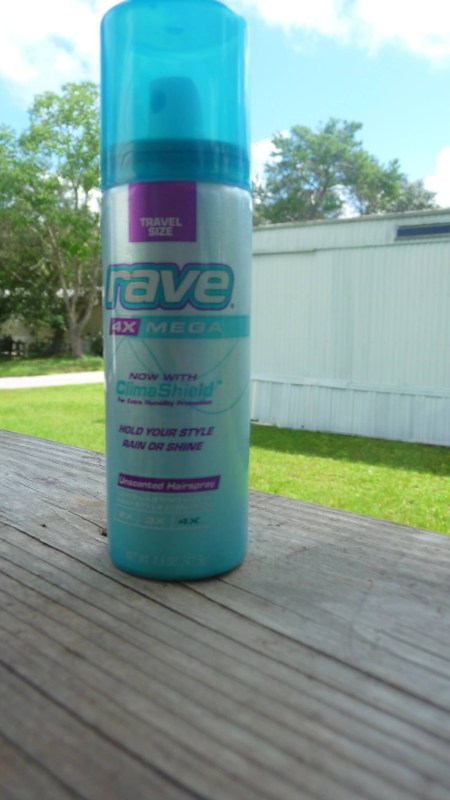 I received a bonus item. A 1.5 ounce bottle of Rave Hairspray. This is one product I do use in my hair to give it some oomph! This is a good hairspray brand and I have been using them since my high school days.
This box had a value of about $51 with a great variety of items.  Enjoy your SPA DAY!!
What do you think of Beauty Box 5?  I hope you enjoy your box as much as I do mine.
Visit Beauty Box 5 to subscribe or find out more!
The Subscription
:
Beauty Box 5
The Description
: Beauty Box Five is a beauty and makeup subscription box that delivers 4-5 samples to your door. Products are usually quite unique and different from other boxes
The Price
: $12.99 per month