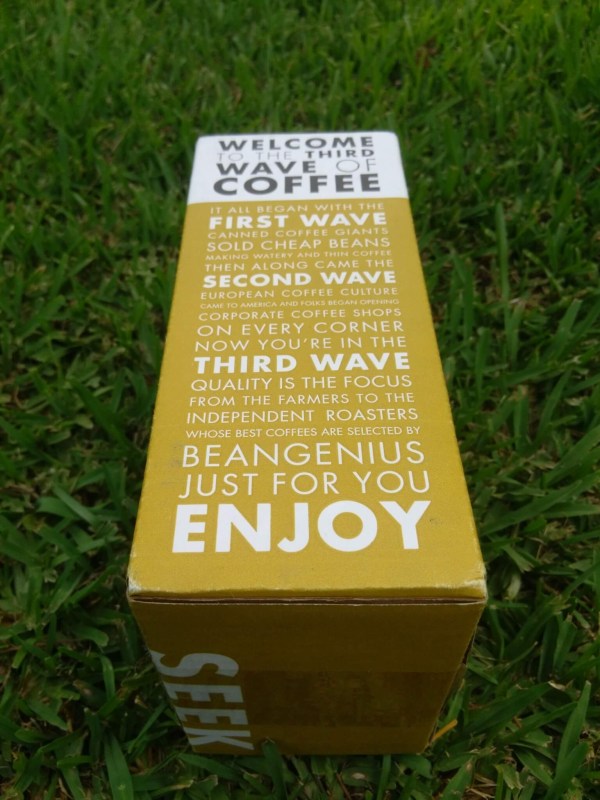 BeanGenius is a smart coffee subscription box service.  They analyze your coffee tastes for you and use their analysis of the way you enjoy coffee to deliver the very best cup of coffee possible for your own personal tastes.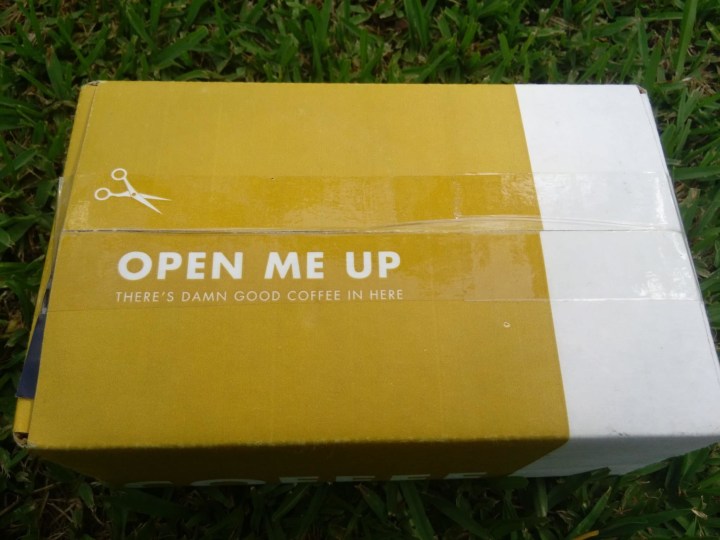 Ahem.  Nice young ladies do not use words like that.  Nor do they wear red shoes.  My grandmother said so…….  But, that's a whole other story.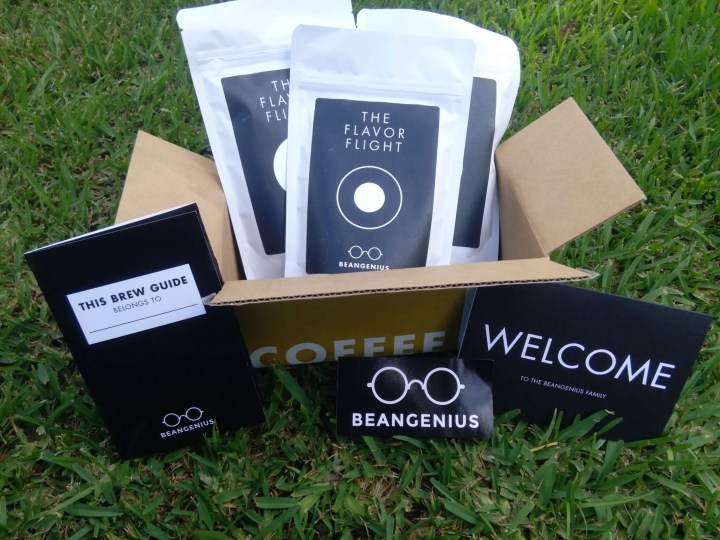 When you begin the subscription process you will be asked to enter information to evaluate your flavor profile using BeanGenius's Palate Profiler.  They have you choose between 4 and 8 flavor profiles to help them evaluate the kind of coffee you will enjoy most.  The flavor choices are floral, berry, wine – grape, sweet – sugar, pear – apple, savory, spices, melon, earthy, citrus, chocolate, dried fruit, nuts, grain – cereal, tropical fruit and stone fruit.
BeanGenius's coffees have been cupped and analyzed by myriad factors so that after you enter your information their algorithms began analyzing your choices to send you the best coffee for you.
Your first subscription delivery contains a blind three bag taster that they call The Flavor Flight.  You send them back feedback on the three coffees and they use the information to help them even better understand your coffee tastes.  Later deliveries are based off your profile and sent from roasters at peak freshness.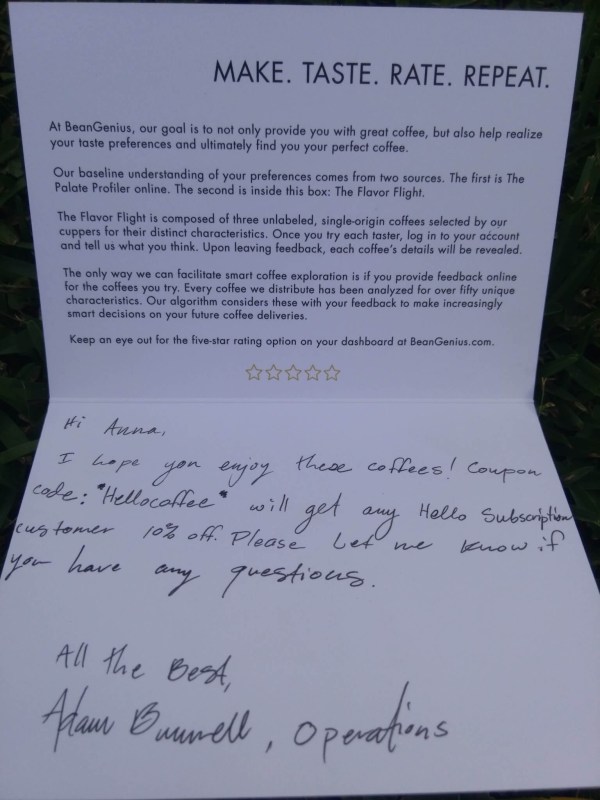 If you choose to get your coffee once a month and choose to pay every month the price is $22 a month, if you pay 6 months at a time it is the equivalent of $22.90 a month, and if you pay annually it goes down to $19.80 a month.
If you need a little more caffeine in you life than that, you can choose to get your coffee delivered two times a month and the price doubles to $44 per month, $41.80 a month (when you pay 6 months at a time), and $39.60 a month (when you pay annually).
Subscriptions can be canceled anytime, are auto renewing and shipping and handling is free.
Plus, if you use the coupon code HELLOCOFFEE, BeanGenius will give you 10% off!
This sticker was in the box in case you feel the need to represent.  And you might.  BeanGenius uses expert coffee cuppers to evaluate every coffee before they offer it to you.  They only send coffees that score 85+ out of a possible 100.  (Typically anything over 80 is considered specialty.)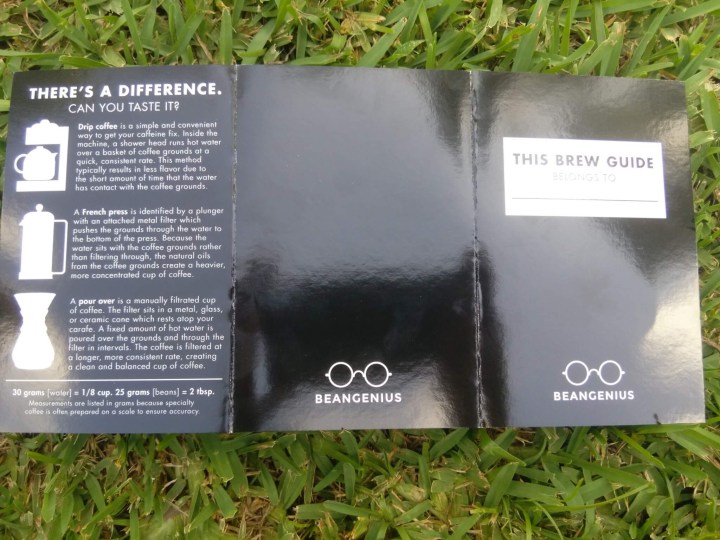 BeanGenius included this handy Brew Guide.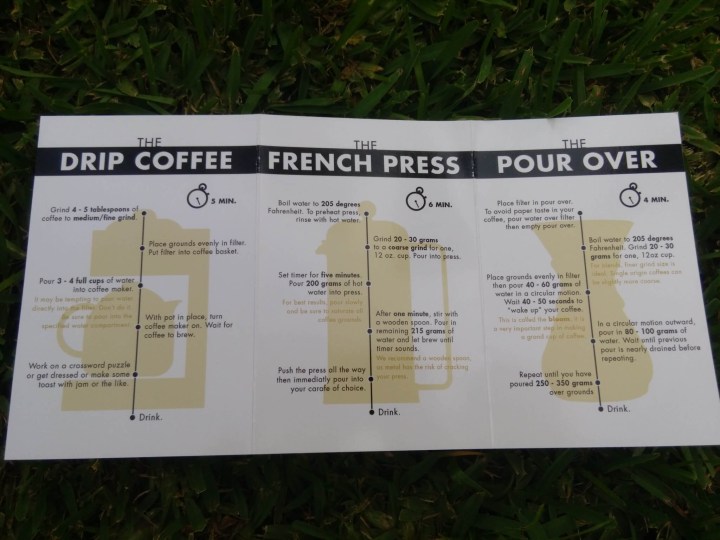 It illustrates different ways of brewing your coffee and exact coffee recipes.  Thank-you.  I appreciate a company that doesn't just assume I know this.  I love coffee, but you can always learn more.
This is the first bag I opened (the one with the solid white dot on it).  It looks like a fairly light roast with some silver skin still attached (the white stuff on the beans).  You can check out BeanGenius's roasters here.
The coffee in the solid dot bag had a slightly fruity flavor, but with more body than I expected from the lighter color of the coffee bean.  It was a good cup of coffee.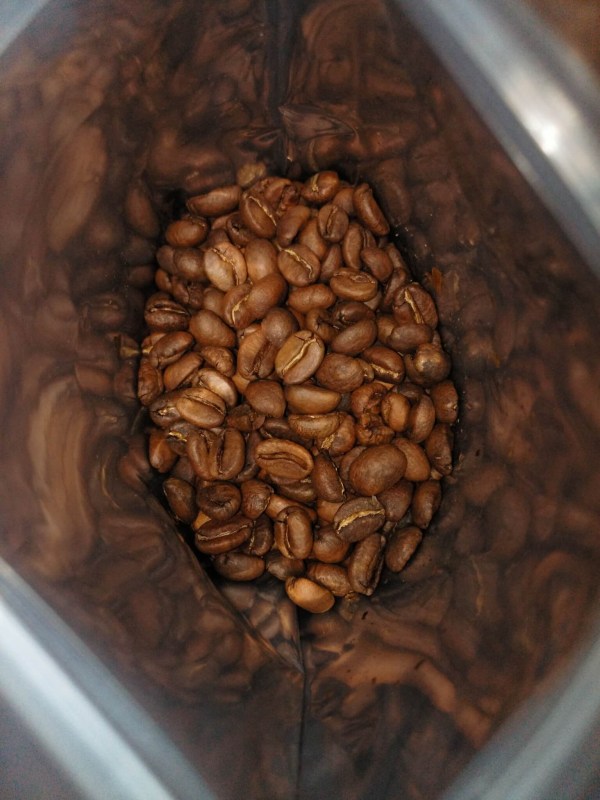 The next coffee was the dot with white in the middle surrounded by black.  Not sure why they label them this way?  These beans were smaller than the beans in the other bag, more darkly roasted and had very little silver skin attached.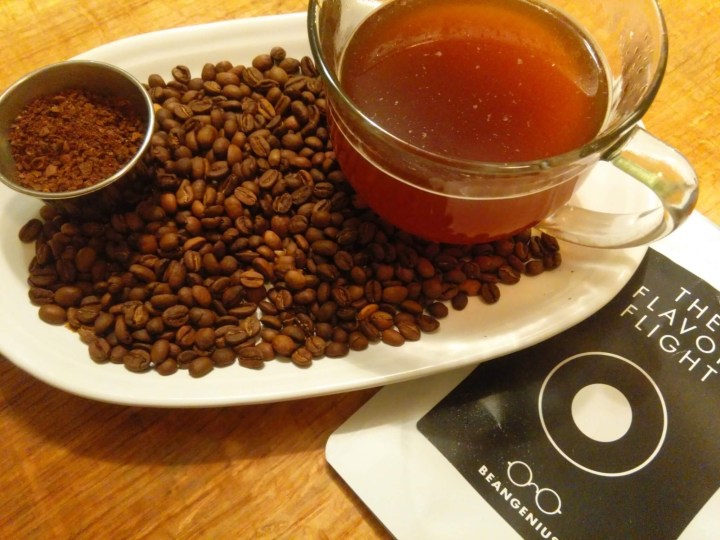 I think this one was my favorite out of the three coffees.  No bitterness, but full bodied with more of a natural chocolate flavor.
This was the last bag, the one with the solid black dot on it.  The beans seem to be a mixture of light and dark roasts with some silver skin still attached, but not a huge amount.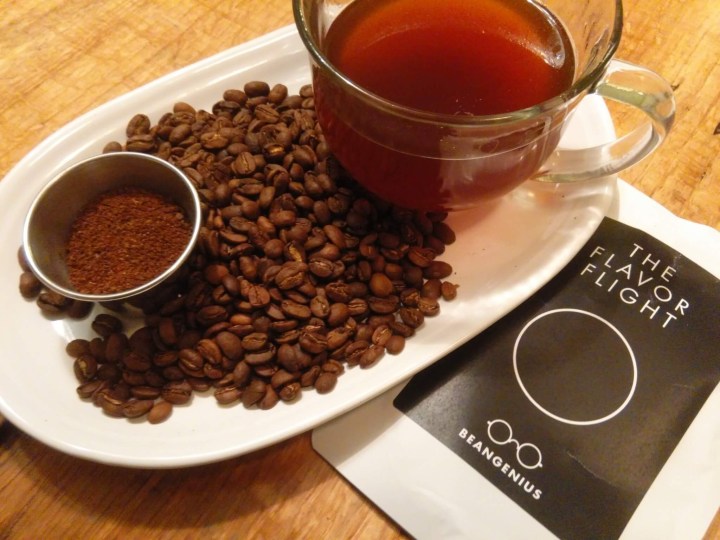 The coffee in the solid black dot bag seemed to be a mixed roast with a hint of citrus flavor, but more body from some darker roast thrown in.  Again, a good cup of coffee.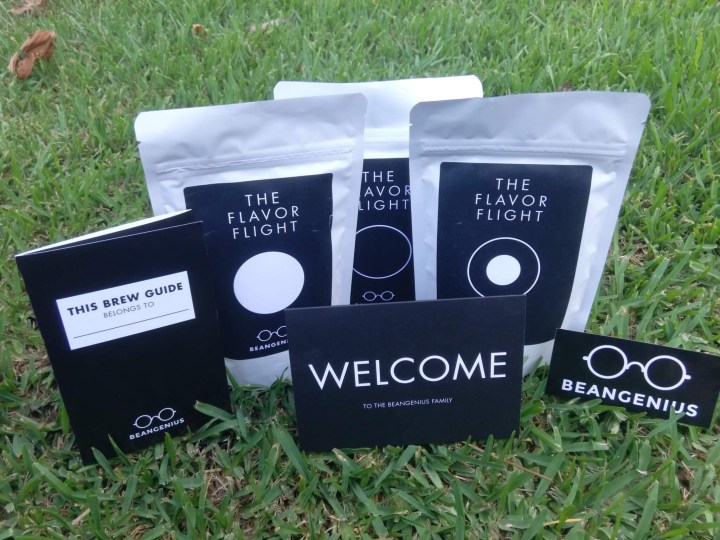 BeanGenius is great coffee done smarter.  Because we aren't all the same.  We don't like the same things.  We don't all like the same coffee.  And now you don't have to try them all to figure out which ones match your coffee persona.  BeanGenius will have you figured out in no time.  As far as your coffee preferences anyway.   The rest of life is up to you.
Did you give BeanGenius a try?  Which Dot bag was your favorite in The Flavor Flight?
Visit BeanGenius to subscribe or find out more!
The Subscription
:
BeanGenius
The Description
: Meet the smart coffee subscription and discovery service. Receive fresh specialty coffee from America's best roasters, chosen specifically for your palate, to your door within days of roasting. The more you use it, the smarter BeanGenius gets.
The Price
: $22.00 per month