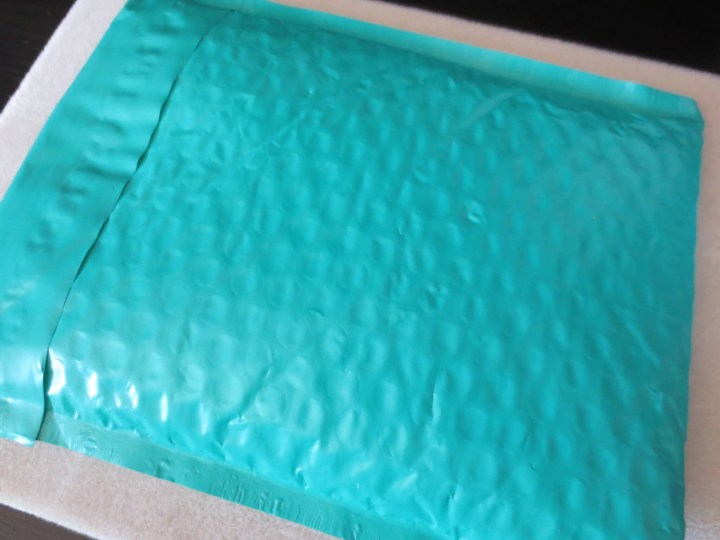 Bargain Bead Box is a monthly bead subscription service. Each month, you'll receive over 40$ worth in top-quality jewelry supplies. It can be a mix of loose beads, bead strings, findings and pendants. You can share your creation on their social media for the chance to win a 25$ gift certificate to their sister store Bead Box Bargain. Boxes are $15.95 per month. Shipping is free in the US and $7.50 to Canada. Even if it's technically a subscription box, it comes in a teal bubble mailer, which is less expensive than a box so they can send more beads! And more beads is more fun!
Inside the bubble mailer, the beads come nicely packaged inside three bags and wrapped in tissue paper. Inside the bags, everything is in individual plastic bags.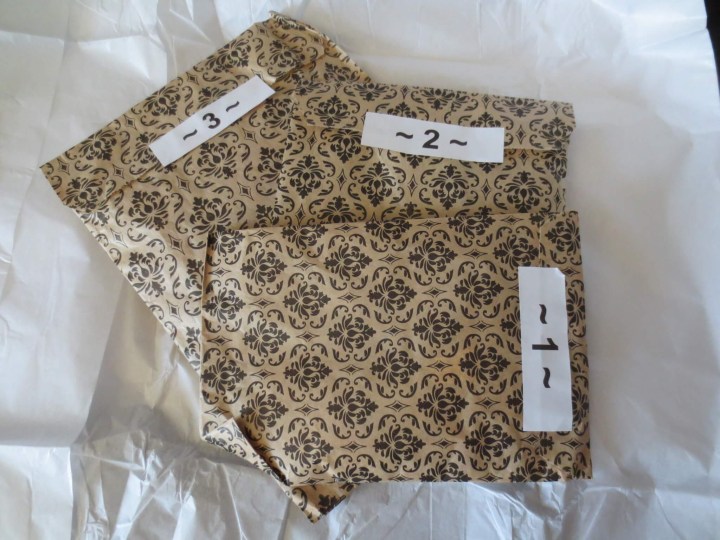 Each month is curated around a different theme and all the beads and findings are coordinated. This month's theme is "Summer Sunset" and promises rich reds, warm topaz with a bit of blue and purple! Gold is the metal this month. With the note, included in the package, you also get a discount for their sister store "Bead Box Bargains".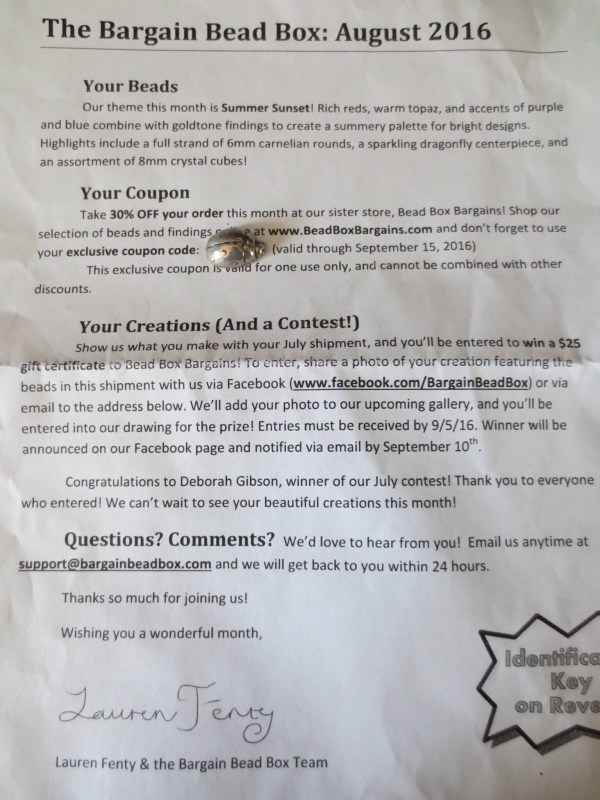 On the reverse of the letter, the content of the three bags are described.
BAG 1 : Dragonfly!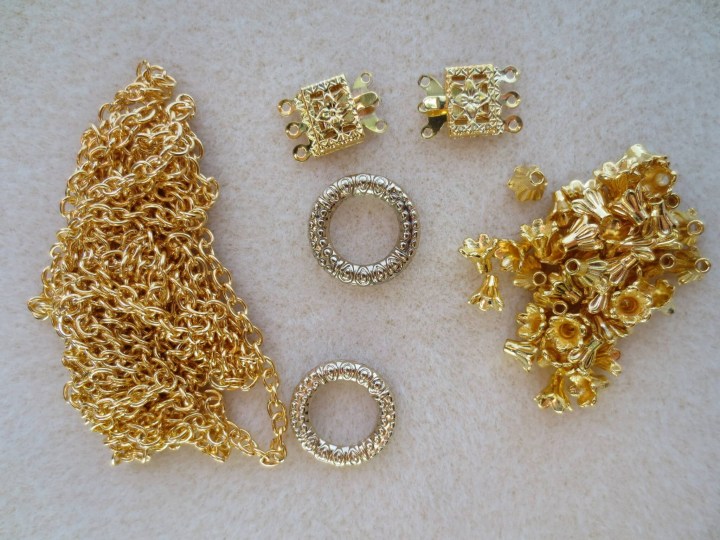 Lots of gold! 5 feet of steel jewelry chain in gold. I really like that type of cable chain, it's sturdy enough to hold a lot of weight, but small enough to be part of a design.
Two gold-plated lead-free pewter ring links. I love this little guys! They can be used as a focal piece by themselves on a bracelet or on a necklace.
Two 3-strand gold-finished brass filigree box clasp. Well, I guess I'll do a multi-strand necklace this month! Or a bracelet. Bargain Bead Box always includes some kind of clasps in their box and it helps a lot to create a design. It's the finishing touch!
Bead caps. You can never go wrong with this ones to add texture and a gold touch to a design!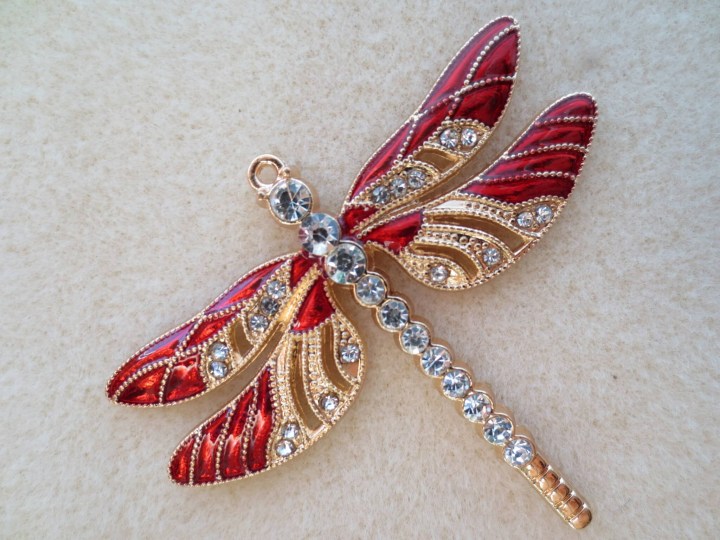 Look at that gorgeous dragonfly! Yes, it does remind me of summer sunset! The red is so shiny! With red and gold beads, this would be a great statement piece!
BAG 2 brings on the sunset sparkles!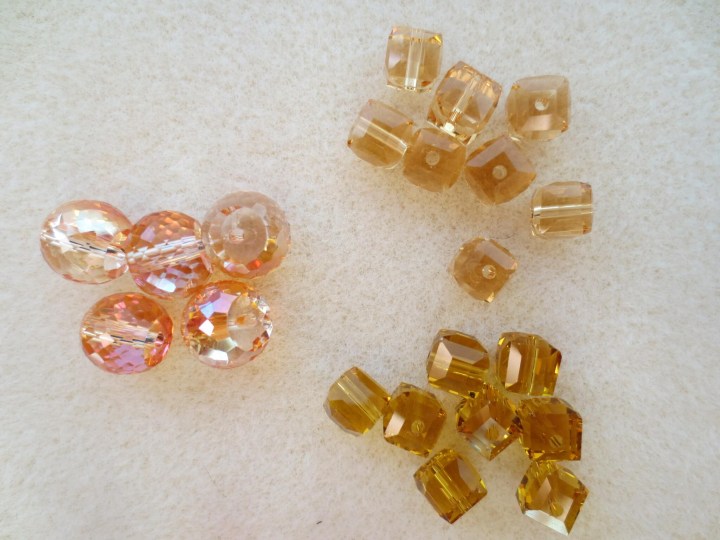 Light and dark topaz chinese crystal cube beads. There's a lot of cubic beads in this box and they would make a great necklace together, interspersed with the golden chain. The half-metallic Chinese crystal barrel beads are soooooo pretty and shiny! Like a sunset! I would see them used as a focal, even if they are not that big.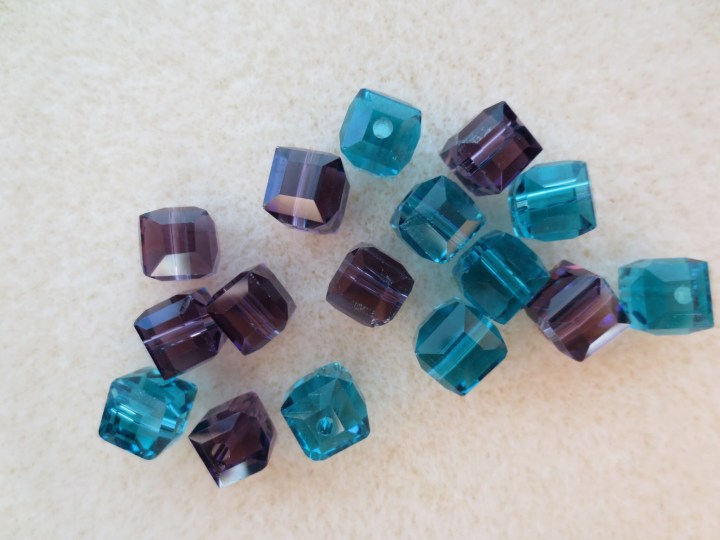 Capri blue and dark amethyst chinese crystal cube beads. I love both colours, they are deep, rich and almost candy like!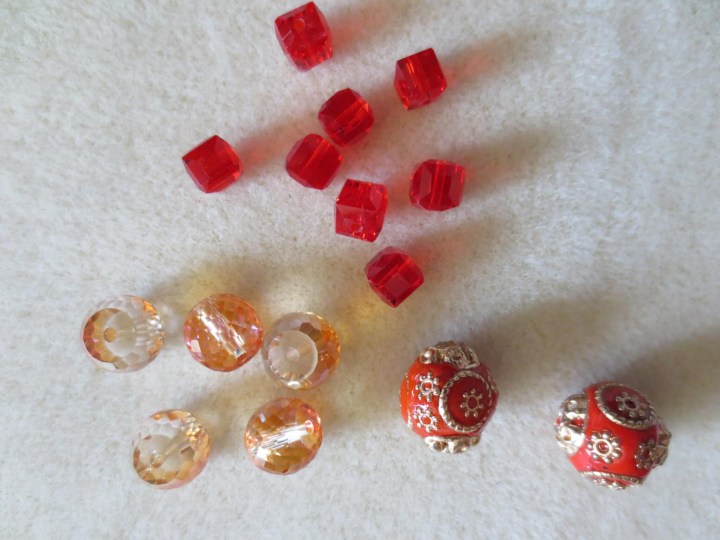 Red chinese crystal cube beads and Indonesia-style fancy clay beads (ignore the barrel beads, they made their way in this picture, they are the same as the picture above, sorry!). The clay beads are slightly more orange than the crystals. Once again, the cube beads are a deep colour, very rich and delicious looking! The clay beads would be perfect as part of a tassel, with the golden chain hanging from them.
BAG 3, warmth.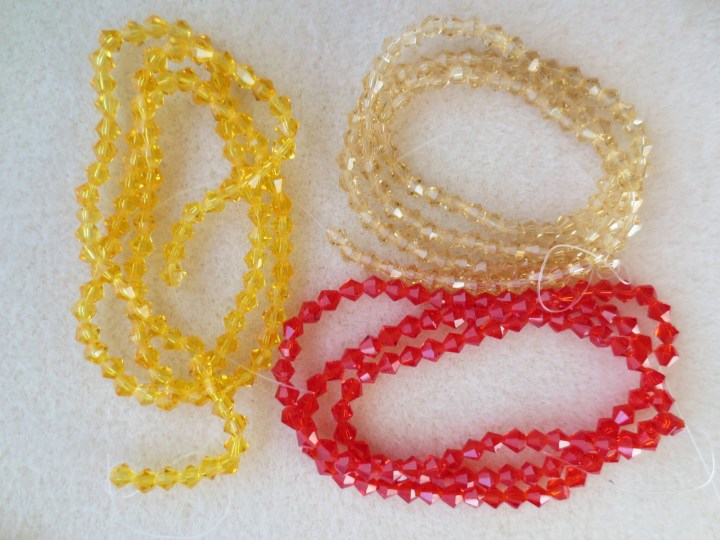 4mm Bicone Chinese crystal beads in ruby red, tangerine and citrine. The tangerine ones are not of the same colour as the tangerine bicone chinese crystal beads from last month. There's a lot of sun, fire and warmth in this selection of beads! I like having this size around as they add just enough sparks to an otherwise heavy design without being too much. Or you could use the three colours and go with a braided style of necklace with a lot of sparks and bling!
Carnelian rounds (dyed/heated), 6mm. I love getting gemstones in my subscription boxes! They are a nice orange/brown colour, earthy and warm. I love using them in simple elastic bracelet.
Two-tone crackle glass beads (red and pink). They are very nice, but I never know what to do with crackle beads (but I keep buying them for some reason…)
Resin rhinestone bumpy beads. They are quite light and sparkly! They were my least favorite of the box, but they are still very nice. I don't know how I would use them, so I might give them to my nieces.
Lots of bright and warm colours in this box! We are definitely going into fall with this month's theme!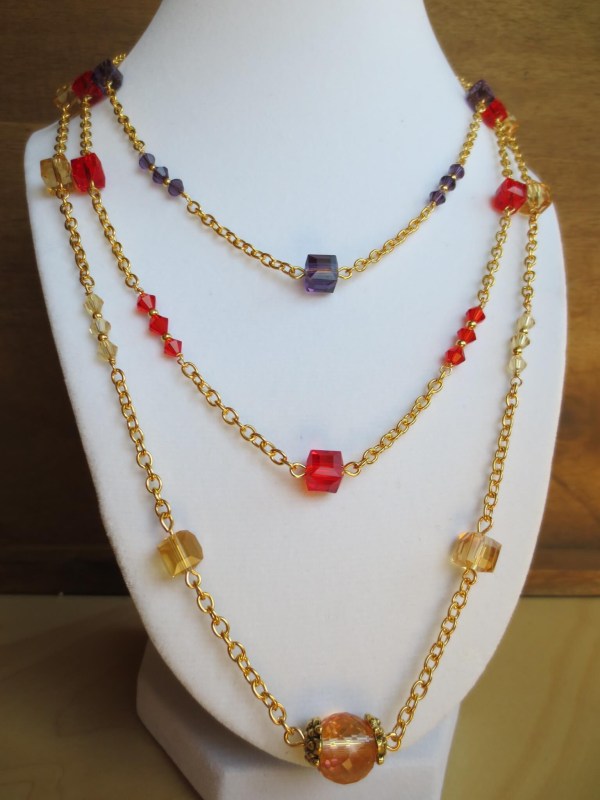 So I decided to use the square beads and the chain. I looooove chains and multi-row necklaces, so here's another one! To the box, I've added golden findings (headpins and tiny beads) as well as purple bicones, which came from an earlier Bargain Bead Box! I was inspired by the theme, Summer Sunset, when the sun is almost behind the horizon and the sky turns purple.
As always, the quality of the beads, for the price of this box, is great. There's always something for everyone : something small, something bold, a lot of spark, and a lot of inspiration! I also appreciate to get some new findings every month.
Visit Bargain Bead Box to subscribe or find out more!
The Subscription
:
Bargain Bead Box
The Description
: Get $40+ of designer-quality factory closeout beads delivered monthly! Subscribers get 10-15 full-size packages and strands of glass, crystal, gemstone, and/or metal beads & findings each month.
The Price
: $15.95 per month