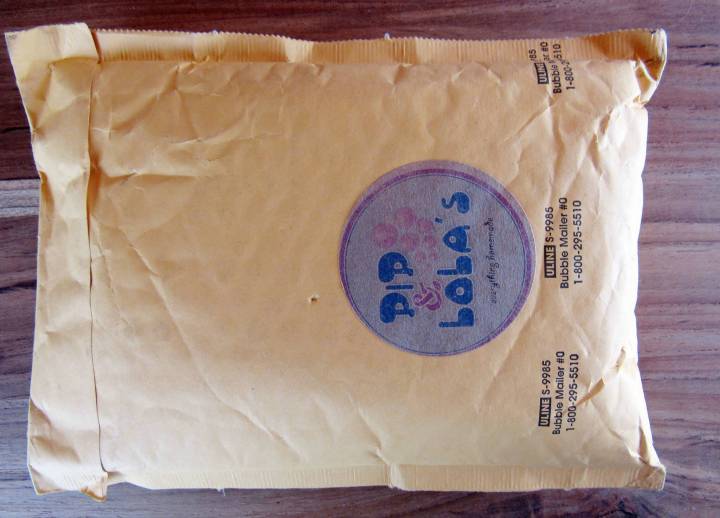 Pip & Lola's Everything Homemade Soapy Subscription Box is a customizable soap box! First, select the "Duet Better Package" (2 soaps) or the "Soaping Solo Package" (1 soap). Next, chose one of three options. The first option is the standard option of any soap from their 100 different varieties. The second option is the dude package which contains more "man-friendly" soaps and no floral scents.  The third option is the vegan package which will have soaps that do not contain goats milk, beeswax or honey in them. All options include body, facial, and shampoo soaps. Lastly, pick your payment option. Enjoy the wonderful world of soap!
I will be reviewing the Dude Package.  T, age 17, can't wait to see what is in the package!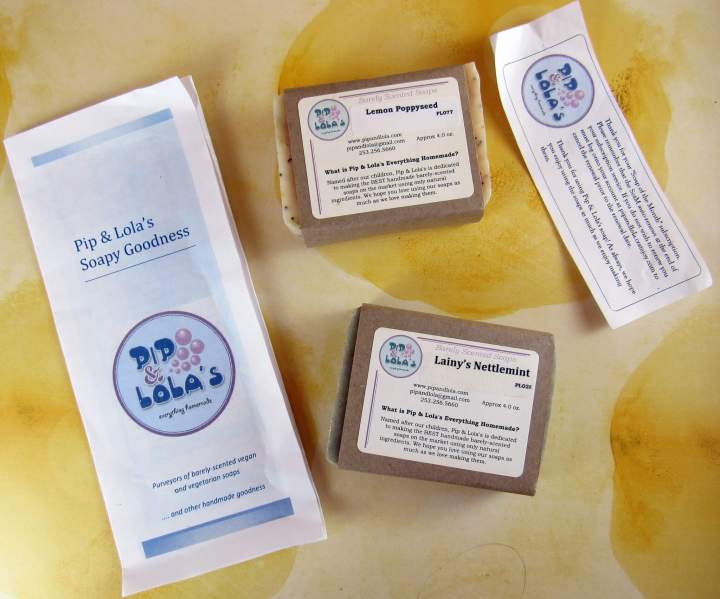 I can't wait to read up on the soaps featured in the August Box! Both soaps were wrapped in plastic bags.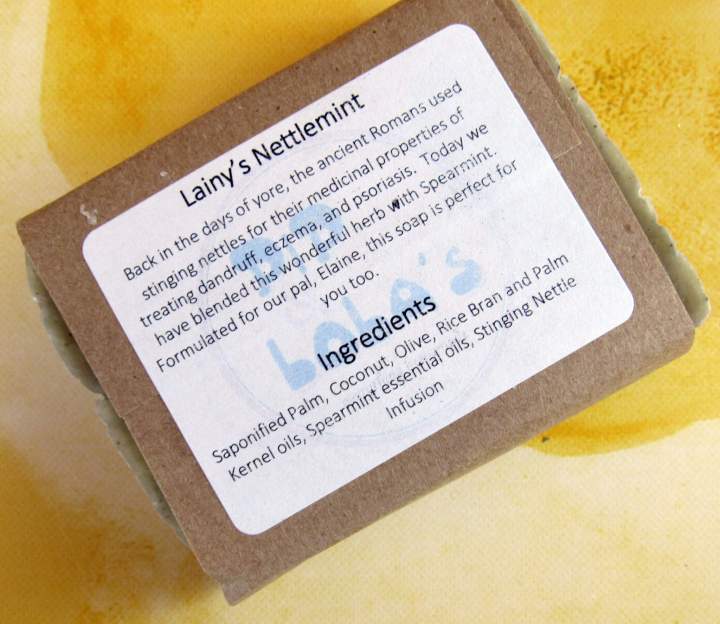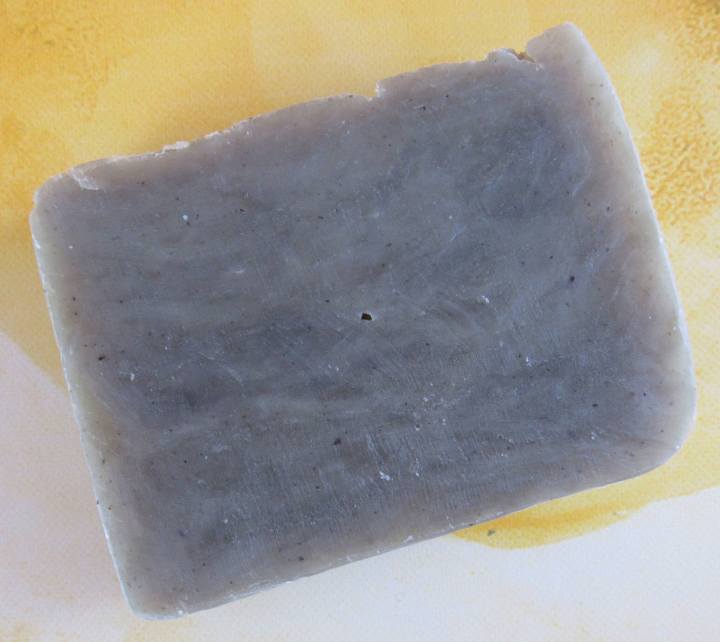 I expect great things from the Lainy's Nettlemint Soap ($5.99) which is a hot processed, vegan soap.  Stinging nettle is not a plant that you want to touch. However, it is a plant that helps with different skin conditions such as psoriasis, eczema, and dandruff which is what a teenager needs!  T  is using it now because he is still running through the woods for cross country camp. He usually has skin irritations on his legs from not paying attention when running through the woods.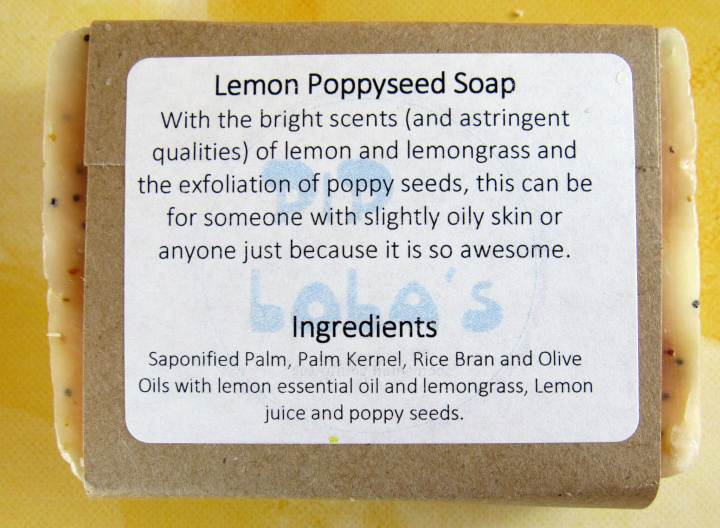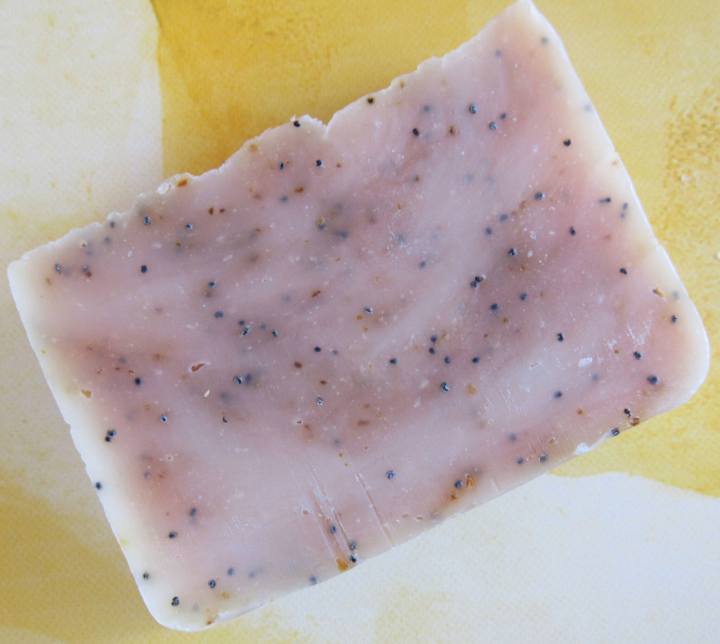 I love the smell of lemongrass! The Lemon Poppyseed Soap ($5.99) is a hot processed, vegan soap. The poppyseeds provide a gentle exfoliation while the lemon and lemongrass give the soap an antibacterial advantage. It's also great for oily, acne-prone skin aka hormonal teenager skin. And adults, too. T looked at the soap, sniffed it, and squirreled it away. It lathers quickly and leaves behind a light lemon smell.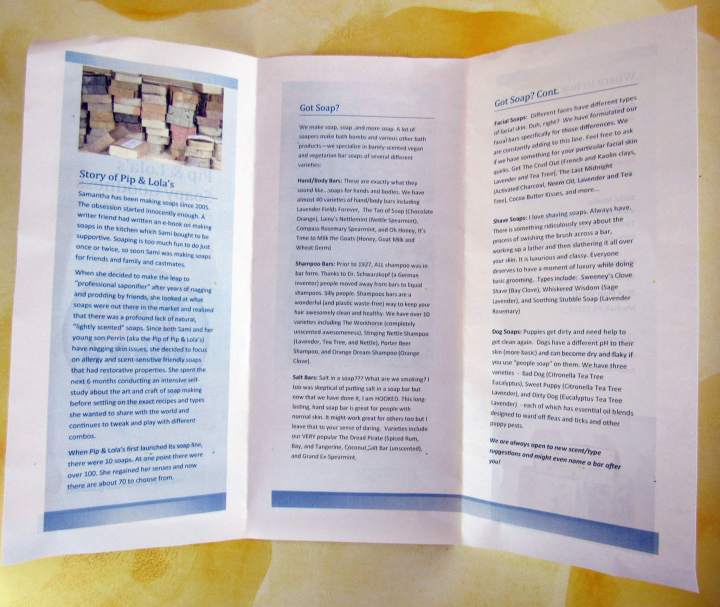 The Pip & Lola Brochure provides detailed information about the types of soaps they offer.
A quick reminder about how the subscription works.
This box was all about the dudes! T has used both soaps and loved them.  He is already talking about how important it is for him to have real soap when he attends college. Both soaps lather well, are lightly scented and meets his needs.  Pip & Lola's Everything Homemade is fun for the adventurous soap user or someone who enjoys having a variety of soaps.  The Dude Package subscription price is $6.99 + $3.54 shipping (single soaper $3.99 + $2.75 shipping,) The soaps are worth $11.98! It's the perfect box for soap lovers.  I love that different options are included to meet everyone's needs!
Did you love Pip & Lola's Everything Homemade as much as I did? If you haven't tried them out yet you can use coupon code FBSOAPLOVE16 to save 20% on your first subscription!
Visit Pip & Lola's Everything Homemade to subscribe or find out more!
The Subscription
:
Pip & Lola's Everything Homemade
The Description
: We specialize in Handmade Barely-Scented soaps made from only the GOOD stuff. All-Natural. Standard packages = ANY soaps from our almost 100 varieties. Dude packages = more "man-friendly" ie. the spicy soaps/no florals. Vegan packages will exclude any soaps that contain goats milk, beeswax or honey. Sent the 10th of each month. Samples always included.
The Price
: $7.14 per month