Meowbox is the original cat subscription box filled with fun and unique toys as well as healthy goodies. For $22.95 per month, you receive 4-6 items in the box. All edible items are sourced from Canada or the US with special attention to finding treats that are handmade, local, or grain-free. Wait until you see the kitties enjoying the box!
Writing my kitties names is a nice touch! Puss in Boots is the orange cat with white paws. Zelda is a calico. Little Lamb is a mostly white fluffy cat. Puss in Boots decided to participate in the review this month. The Meowbox is sealed with a feather.
The kitties are going to be happy.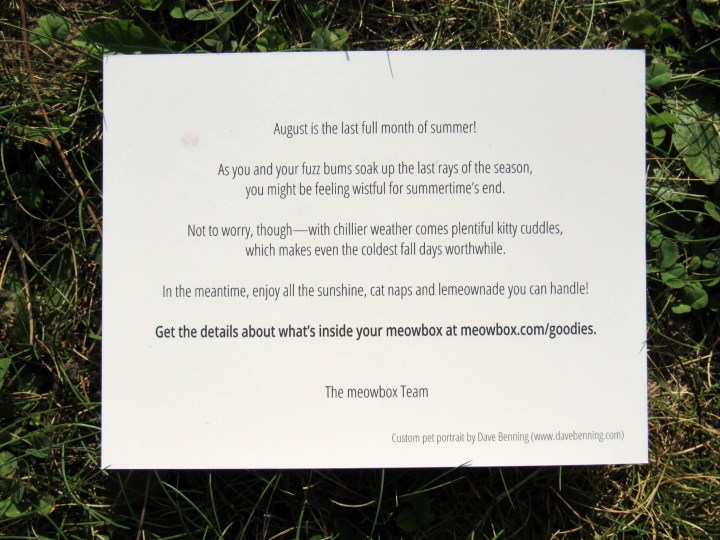 Don't you want to cuddle with all those kitties? We do! Check out what possible items were included in the August Box. The digital artwork is by Rosie Ferne who does custom pet portraits and other artwork.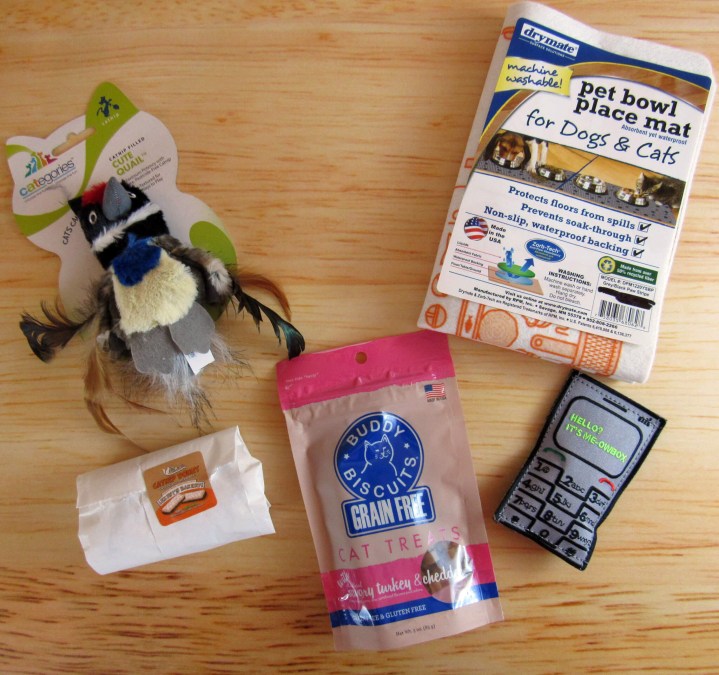 Here are the items for the August MeowBox. The cats are going to love the toys.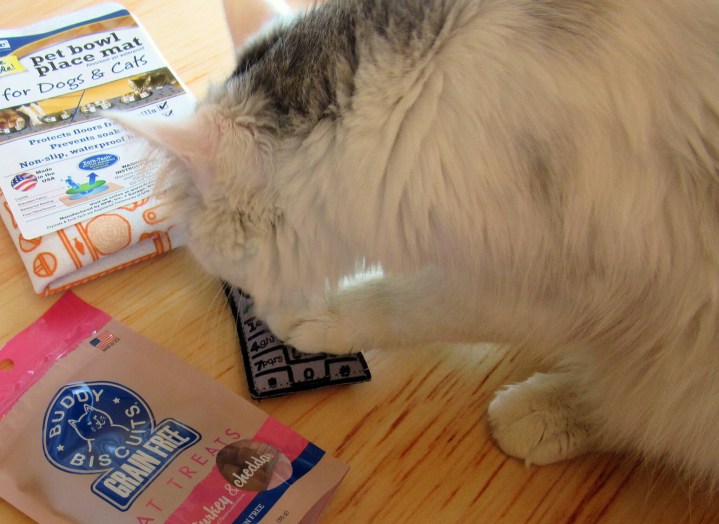 Little Lamb couldn't wait for me to finish taking photos!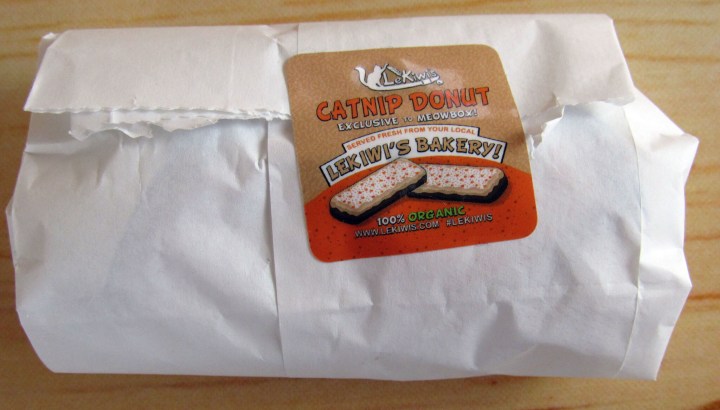 The exclusive LeKiwis Catnip Donut ($6.50) has the orange Meowbox color. It has stuffing and organic catnip in it. The kitties loved it. They bunny kicked, rolled around, and were blurs of fur. I was unable to capture a decent photo of their enjoyment.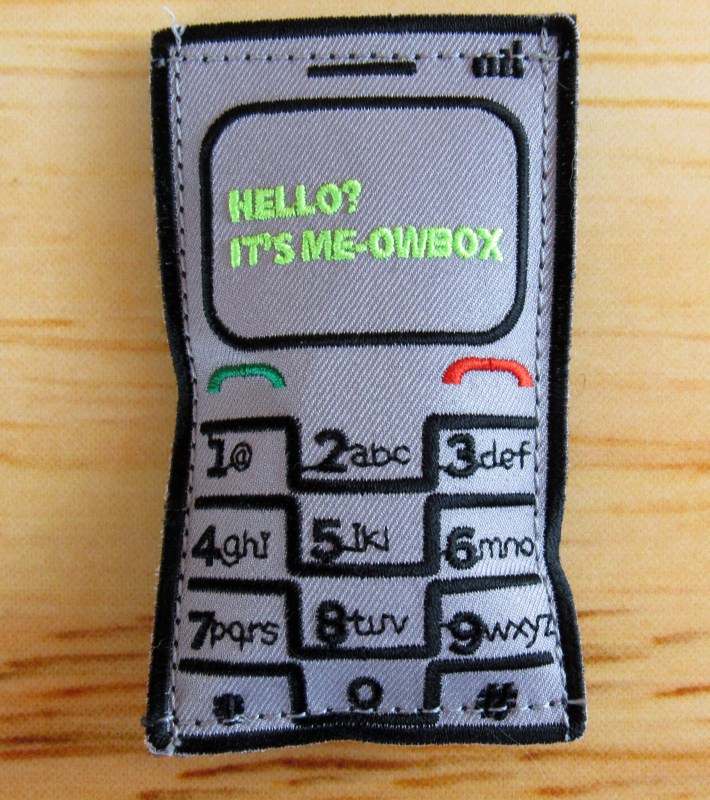 The exclusive Meowbox Cell Phone Toy  (appx $6.00) is made in the USA with 100% catnip. The cats loved the toy. Garfield refused to share.
Do you think the Hello It's Me is more Adele or Todd Rundgren?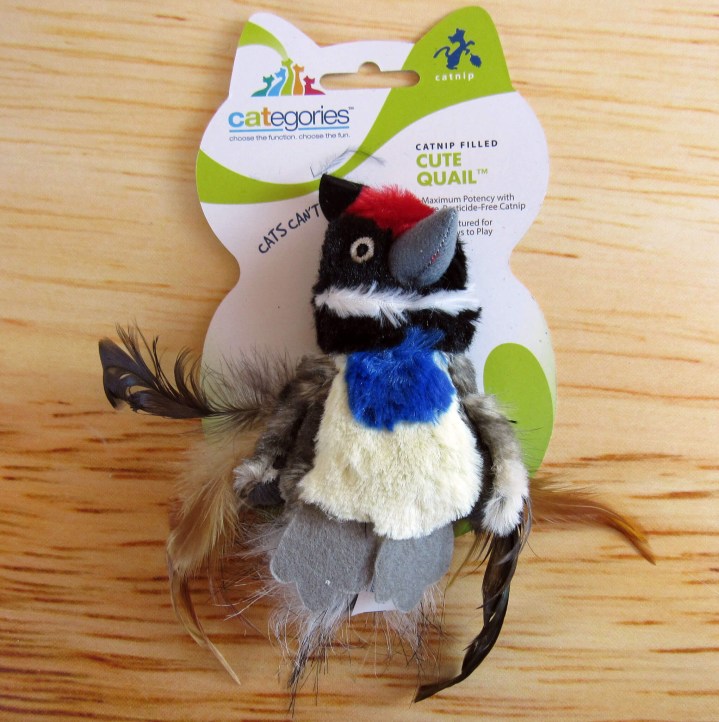 The Categories Cute Quail ($5.99) is an innovative toy designed to provide stimulation. The kitties can never resist feathers. It has pesticide-free catnip in it.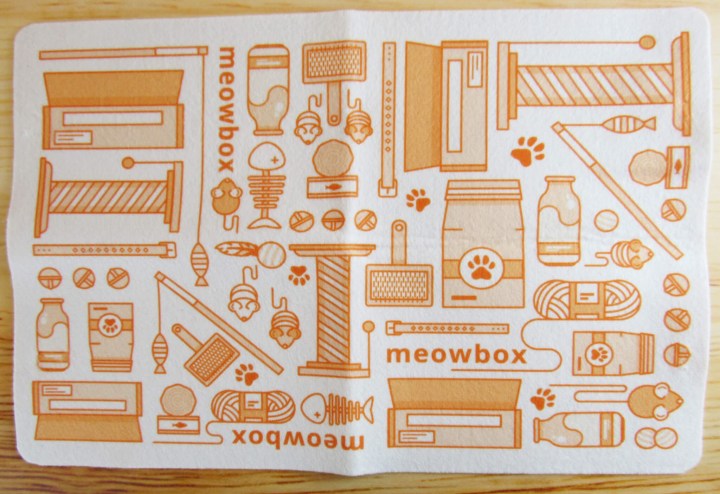 We will be using the Meowbox Placemat ($8.00) in my younger son's room when he wants to treat the kitties to special treats. It is made out of absorbent fabric with waterproof backing and is Meowbox themed.
The Buddy Biscuits Grain-Free Cat Treats with Savory Turkey & Cheddar Treats (3 oz, $3.16) were a hit with the kitties. You can't go wrong with real turkey and cheddar cheese ingredients.
Who is ready for a snack? All kitties received the treats.
Time for cat pictures! The kitties are on an old comforter and are photographed in natural lighting. Garfield photobombed the first part of the review and is photographed with photo lights.
Look who decided to show up for pictures? Garfield is playing with the quail.
He didn't want to give me the cellphone back. I left it with him on the table.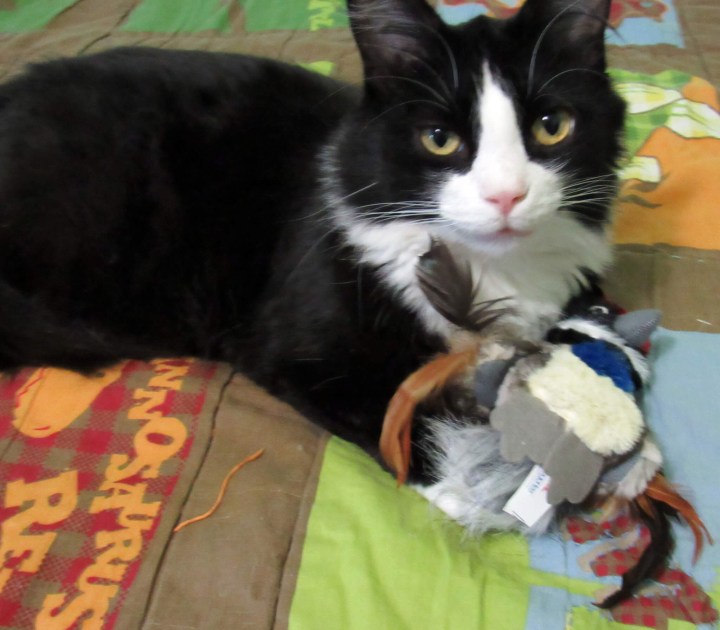 Sylvester is wondering if this is Tweety Bird.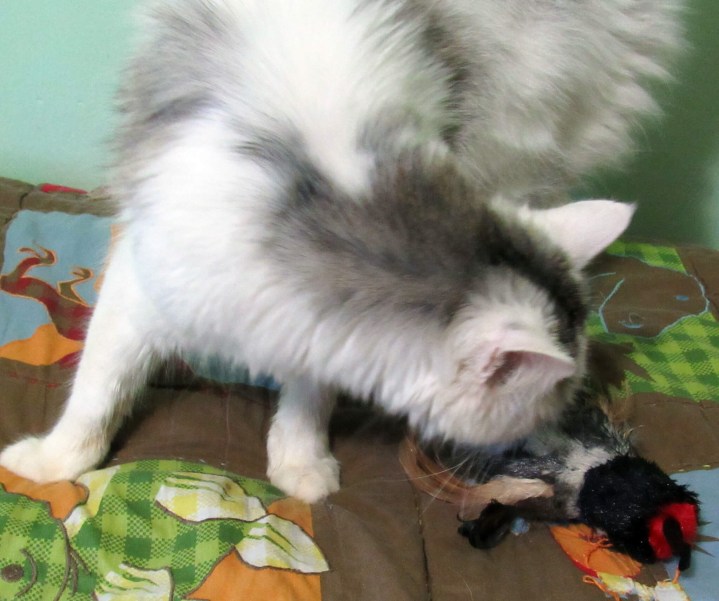 Little Lamb is excited to see a bird. He puffed out his fur.
The quail did not stand a chance against Little Lamb.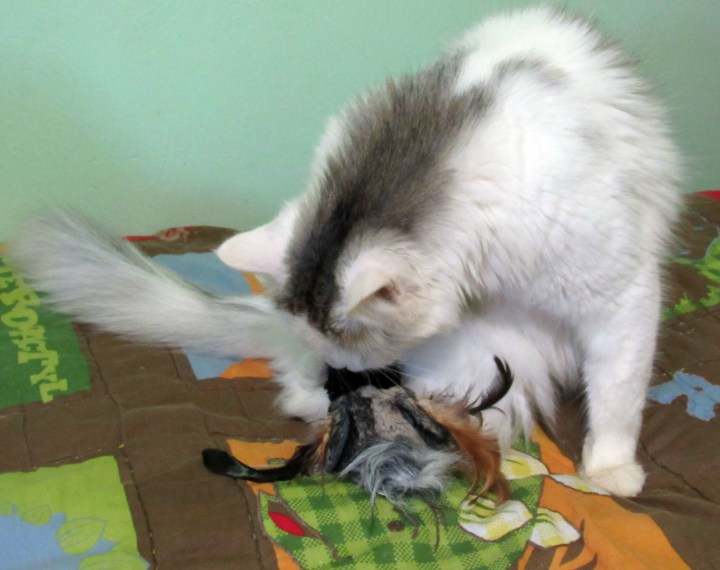 He enjoyed throwing it up in the air and trying to pull out the feathers.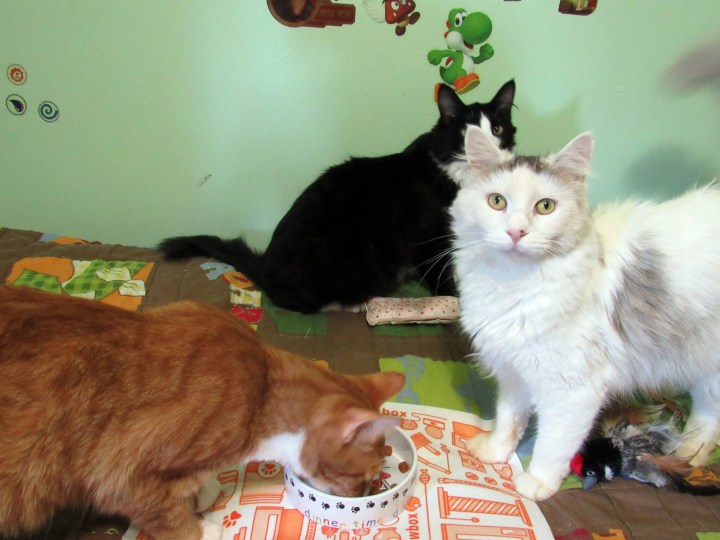 Puss in Boots is acting like a teenage cat. He finally came over when he smelled the treats. Little Lamb is a camera hog and is also guarding his bird. Sylvester stopped playing with the donut to look at the camera although Little Lamb's ear is blocking him.
The cats thought that the August Meowbox is meowvelous! The variety of items brought joy to the cats. There must be potent catnip in the toys because both Little Lamb and Garfield could not wait for when I brought the toys over to the other room.  The August box value is around $29.00 which is a few dollars above the subscription price.  Meowboxes ship for free, so there is no additional shipping charge. They also offer an option to receive it every other month. Meowbox also donates a can of food for every box sold. A can tracking number will be sent to you so you can track your can and find out which shelter received it. Our kitties thought the box was purrfect and hope that your kitties agree!
Visit meowbox to subscribe or find out more! Save 10% on your subscription! Use coupon code HELLO10.
The Subscription
:
meowbox
The Description
: meowbox is a cat subscription box, full of surprises, delivered to your door every month. Your meowbox is brimming with yummy treats and fun toys, specially selected for quality and uniqueness, to cater to your cat's discriminating taste. With every meowbox you buy, they give a can of food to a shelter cat.
The Price
: $22.95 per month