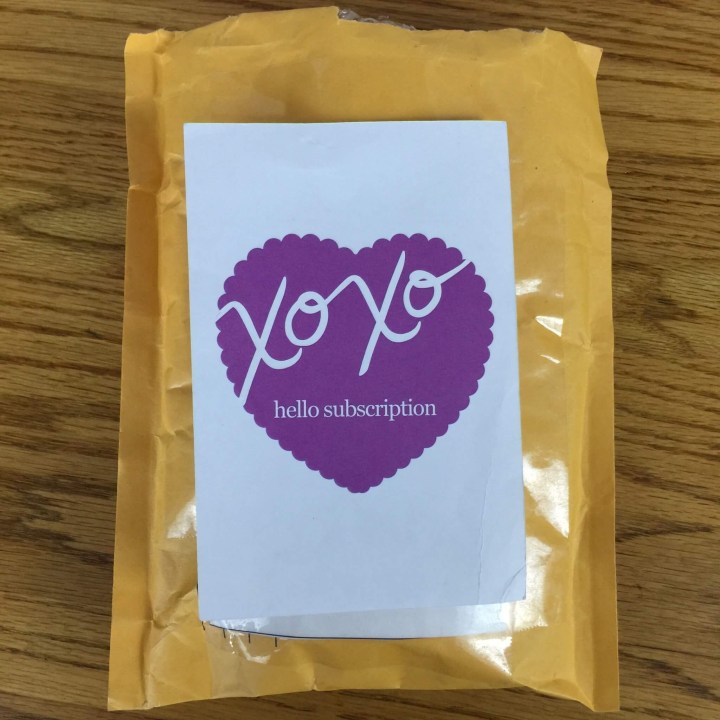 Buzz Bag by Sweet Melissa's Gifts & Etc is a subscription filled with fandom jewelry and gifts. The cost for each mystery bag is only $15 per month (you must buy each month individually).
Each bag you'll receive follows a certain theme every month, which is announced before you can buy. It is the perfect geek box for those who are fans of Game of Thrones, Harry Potter, Lord of the Rings, Star Wars, Legend of Zelda, The Hunger Games, Doctor Who, Percy Jackson and more!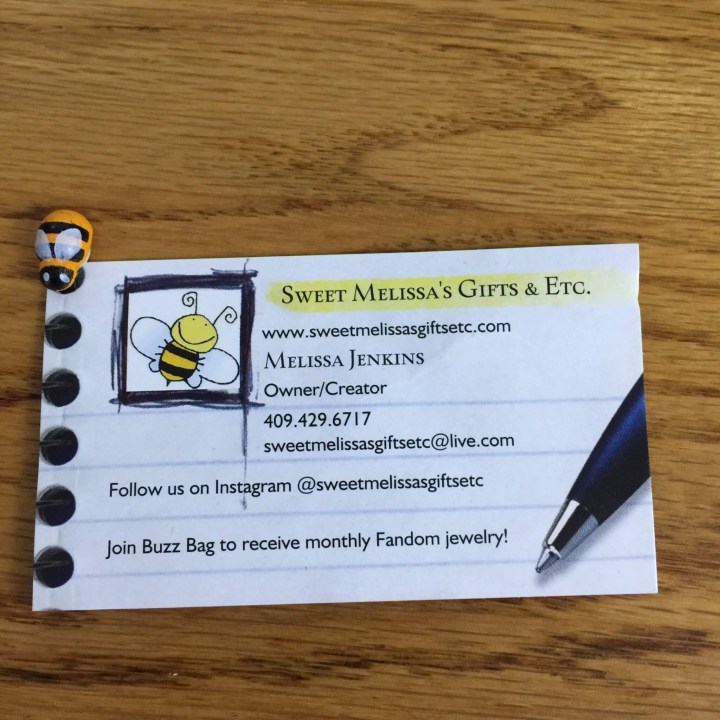 Included is a business card that gives information on Sweet Melissa's Gifts and asks you to follow them on Instagram. I suggest following them, there are some great pictures and awesome product. I have to say that I love the little bee that is included with each buzz bag, it's so cute.
I'm not sure if this Lord of the Rings magnet was supposed to be included in this month's buzz bag or if it slipped in on accident but either way I'm happy. These bottle cap magnets are so fun and they are small enough that I may never run out of room on my refrigerator.
Another bottle cap magnet that I'm not sure if it should have gone with the Sherlock bag from July or not but as long as I get to break out my awful British accent who cares. I love Doctor Who and the Eleventh doctor is my soulmate, sorry to my husband just in case he reads this.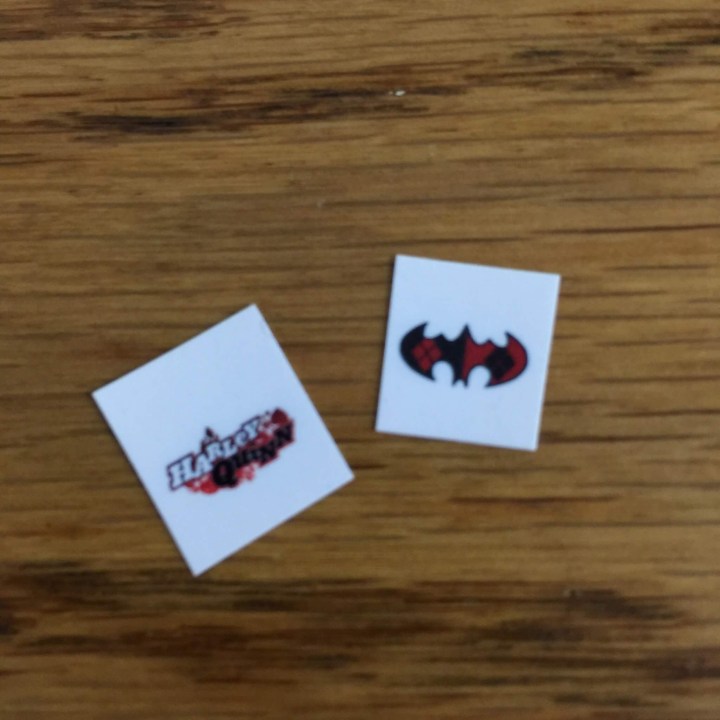 Suicide Squad Nail Decals – Unfortunately it was hard to get a great picture of the nail decals and include the details, but these are fun. I will be using them for my Saturday movie date to see Suicide Squad.
A silver necklace that brings both of Batman's nemesis together,  Harley Quinn and the Joker.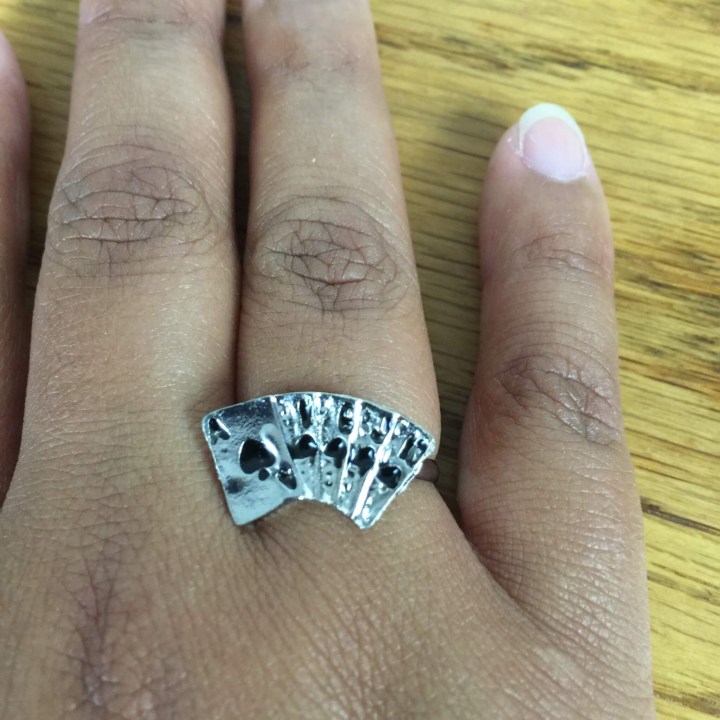 Matching adjustable playing card ring.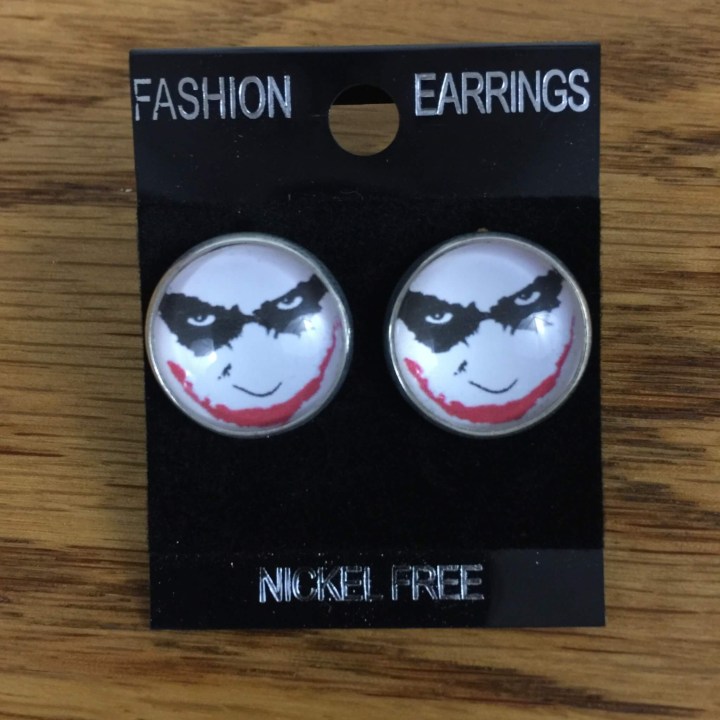 Giant Joker earrings! These earring have so much personality that I am almost jealous. The fact that they are nickel free is a huge bonus for my sensitive ears and they are also light weight so they are all day earrings. My niece is going to be green with envy!
Another magnet! This one showcases the best crazy couple in comics, well that might just be my opinion. I like glitter touch too.
This bracelet is my favorite piece in this buzz bag. I love how soft the leather is, that the charm matches the necklace and ring but most of all I love the infinity love charm. I seriously want that combination as my next tattoo. The only issue I've had is putting on, it might be operator error.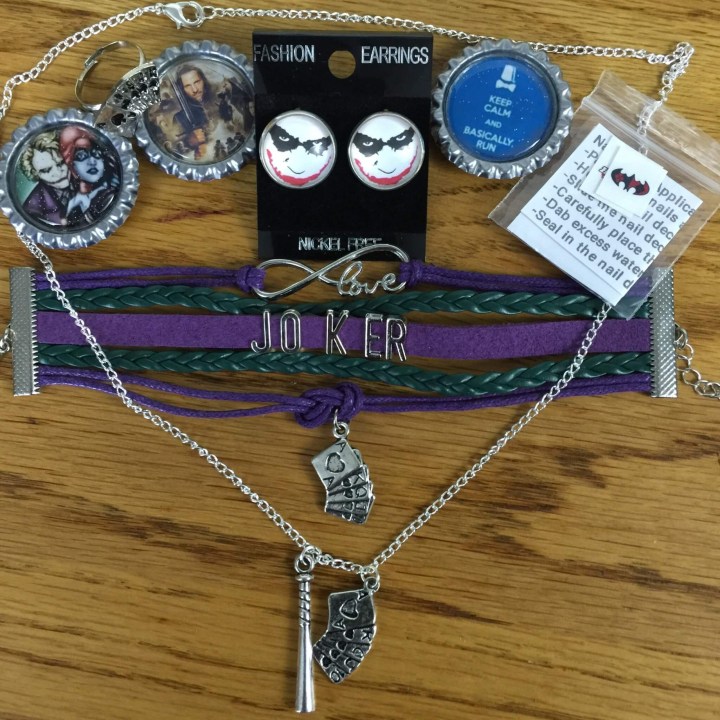 I am in love with my buzz bag! Matching product and a wonderful combination of jewelry. I really like that I can use everything even if I can't wear it.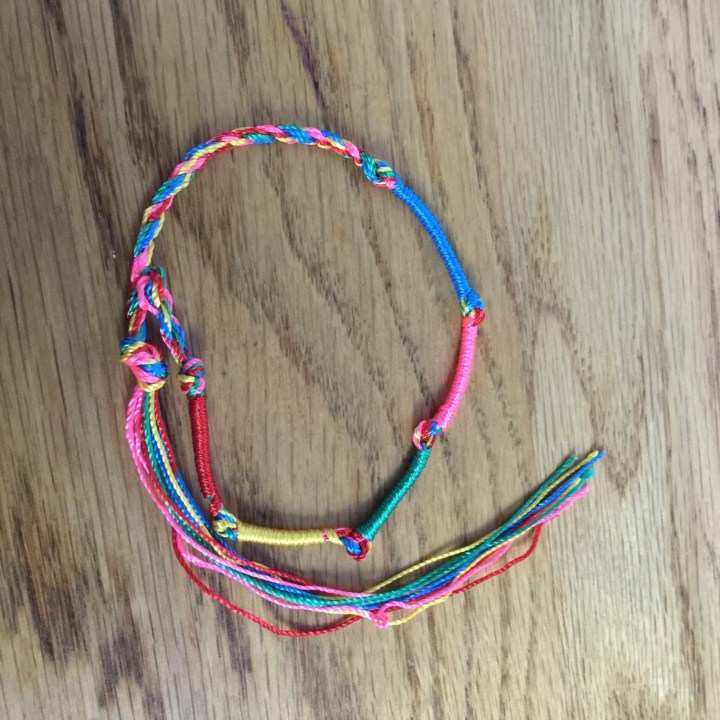 P.S. You get a free friendship bracelet!
Upcoming Buzz Bag Themes:

2016

September – Zelda/Pokémon
October – Vampires (Twilight, True Blood, Vampire Diaries, Underworld, Shadowhunters, etc.)

November – Fantastic Beast (The movie we've all been waiting for! This bag will include items from Harry Potter as well as magical animal themed items)
December – Nightmare Before Christmas (Tim Burton themed jewelry included)

2017

January – Post Apocalyptic (Resident Evil/Mad Max)
What did you think of the August Buzz Bag?
Visit Buzz Bag – Sweet Melissa's Gifts & ETC. to subscribe or find out more!
The Subscription
:
Buzz Bag – Sweet Melissa's Gifts & ETC.
The Description
: A mystery bag filled with fandom jewelry & gifts, just for you! Buzz Bags are filled with items from your favorite sources of entertainment, including Game of Thrones, Harry Potter, Lord of the Rings, Star Wars, Legend of Zelda, The Hunger Games, Doctor Who, Percy Jackson and much more! We focus on giving fans high-quality, fun items that celebrate fandom. Each bag is tied together with a theme and is announced prior to your purchase.
The Price
: $15.00 per month