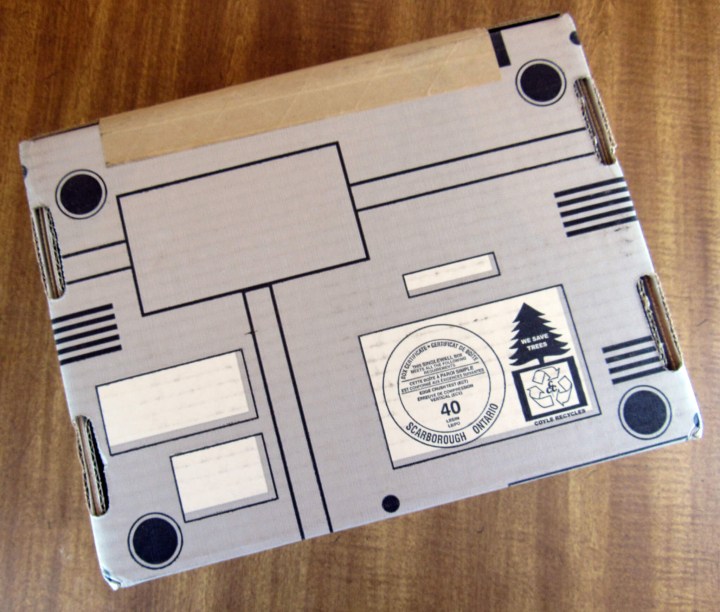 Arcade Block is part of the Nerd Block family of subscriptions and is a monthly video game mystery box. Arcade Block focuses on 4-6 video game collectible, one exclusive gamer t-shirt, and a promised value of $60.00. Arcade Block begins shipping on the 25th of each month.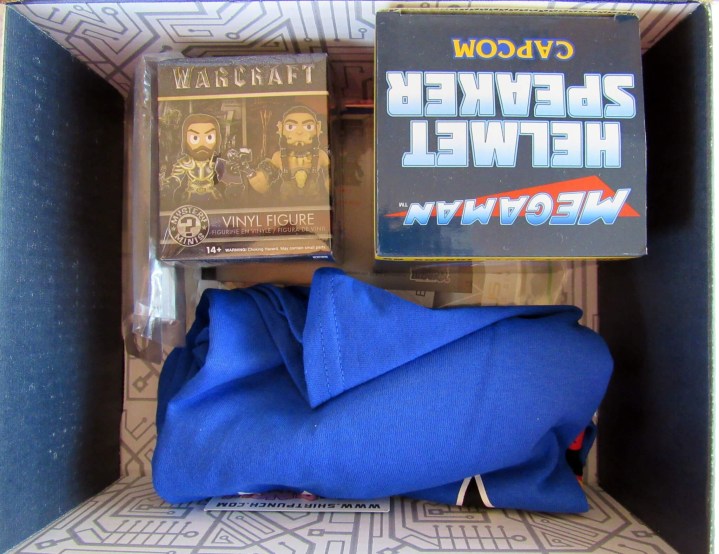 J, age 7, missed out on opening the box! He is visiting his aunt and playing with farm kitties this week.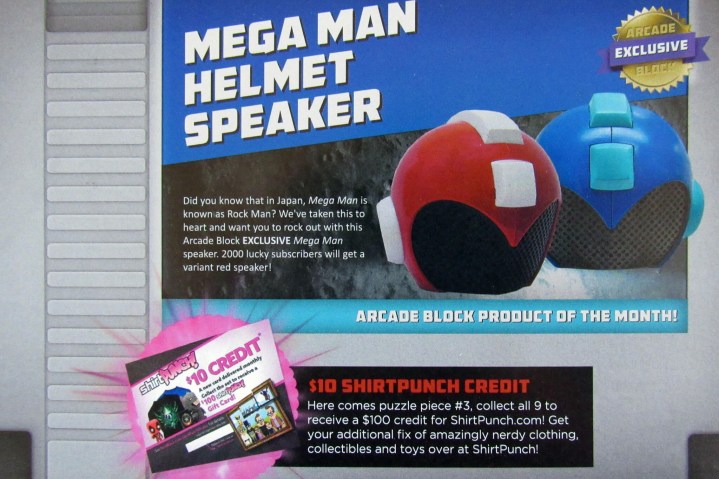 The Arcade Block Product of the Month is Mega Man Helmet Speaker!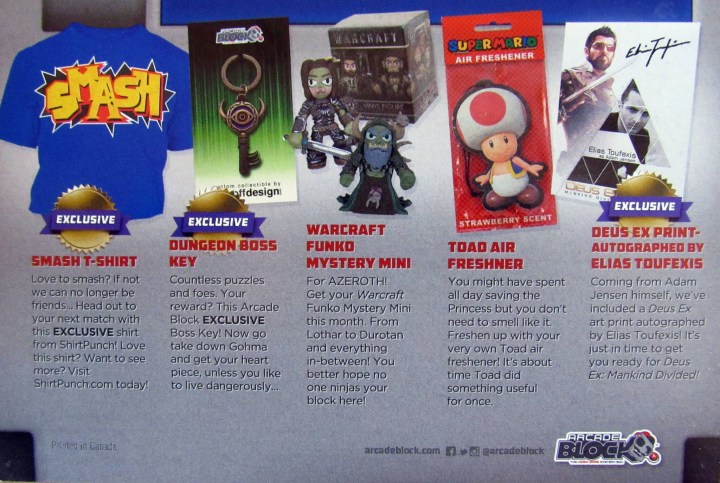 The information card lists the items included in the July Arcade Block.  There are four exclusive items this month!
Here are all the items in the July 2016 Arcade Block. I feel so bad that the little guy is missing out on it. He would go crazy over the shirt.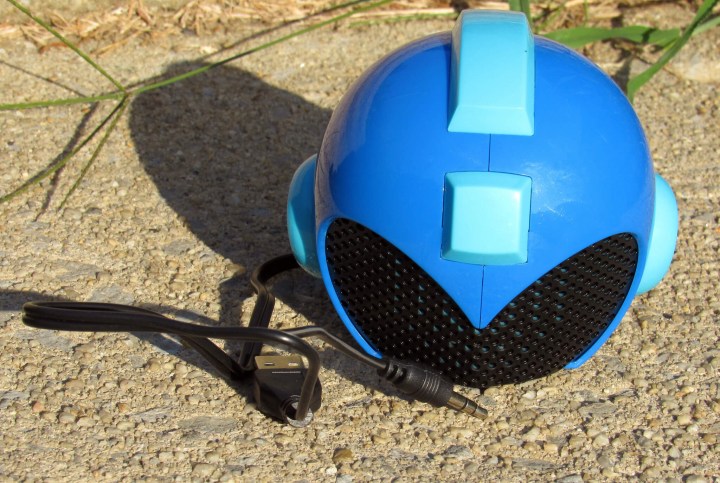 PA Anna: The seven-year-old is going to love playing his Ipod on the Mega Man Helmet Speaker. 2000 subscribers received the red variant. Let us know if you are one of them! J is eagerly awaiting for Mega Man the animated series to debut in 2017.
T: This is a Megaman speaker. The speaker design is the helmet of Megaman. I had issues with getting this to work. There is no plug included and no instructions as to how to charge the speaker up. After playing around with it, my best guess was to plug the USB cable into a plug with a USB port and put the audio cable into whatever device you want to play music off of. I did that, and still. nothing happened, so I gave up on it.
T: Aw! A Zelda boss key! This is fantastic! The detail and color on this blew me away. And this isn't just any old key design it's an actual boss key from "The Legend of Zelda: The Wind Waker" (and the HD version). THAT"S RIGHT ZELDA (and other fandom) FANS WE GO ABOVE AND BEYOND TO DO OUR BEST TO INFORM YOU EXACTLY WHAT YOU GET DOWN TO THE SMALLEST DETAILS!! The fact that they used an actual Zelda boss key design in and of itself impresses me. This is my favorite item in the box!
PA Anna: Here I was wondering if it was related to Dungeons and Dragons and how that fit into Arcade Block. I would have realized the error immediately after googling Gohma. All the love my teenager has for The Legend of Zelda franchise is finally paying off.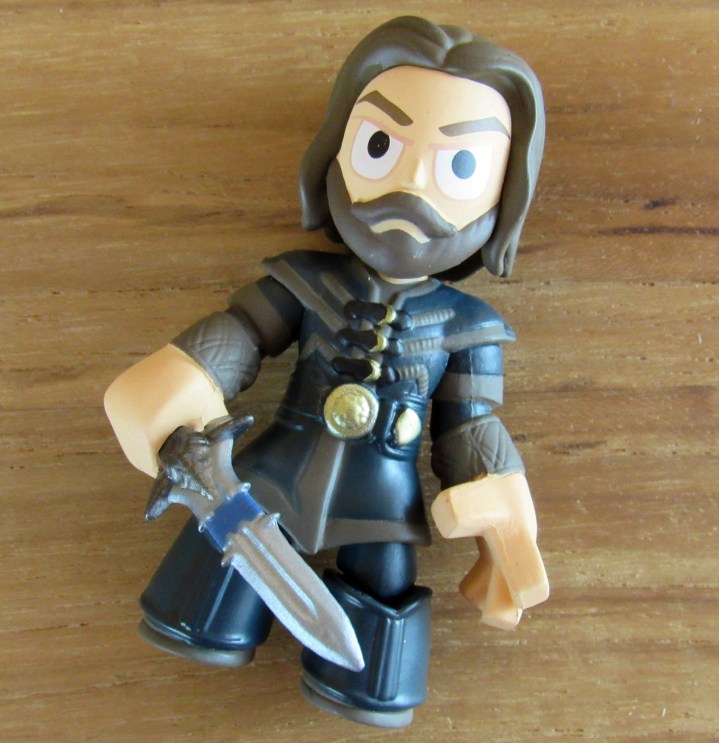 PA Anna: Blinds are always fun! The Warcraft Funko Mystery Blind ($5.41) that we received is Anduin Lothar. J is going to love it because he looks cool.
T: We received Anduin Lothar. Anduin Lothar is the military commander of the humans in the "Warcraft" movie. This version of him isn't fully decked out in battle gear, but he still looks really cool. It's detailed nicely although the sword is a little bent but we don't mind. He is a welcome addition to our Vinyl figure collection.
PA Anna: Sorry, J, looks like your older brother is claiming it.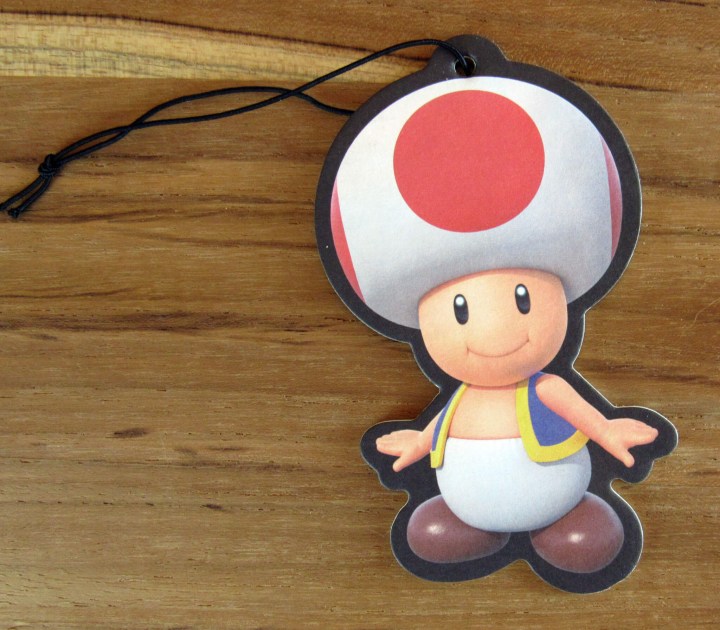 PA Anna: Every time we receive an air freshener I wonder exactly how bad do gaming rooms smell. I rarely receive air fresheners in other boxes. The boys love them because of their designs. Toad smells strongly of artificial strawberry.
T: Another aw!! It's Toad! He looks as adorable as ever. He also appears to *cough* have some sort of *cough cough* scent or *WHEEZE* something on him. I actually smelled him before I saw him. I like strawberries as much as the next guy, but this seems to be on a little strong. The card said it's about time Toad did something useful for once, which I found the smallest bit upsetting. Toad is J's favorite Mario character because years ago I told him about how Toad always lends Mario a helping hand and without him, Mario would have a harder time saving princesses (especially in Super Mario 3D world, where Toad is a playable hero). That aside, I think this is the first time we've gotten a Toad item in a box, so thumbs up for that Arcade Block!
PA Anna: Told ya! It doesn't matter that it is an air freshener. It is Toad!!!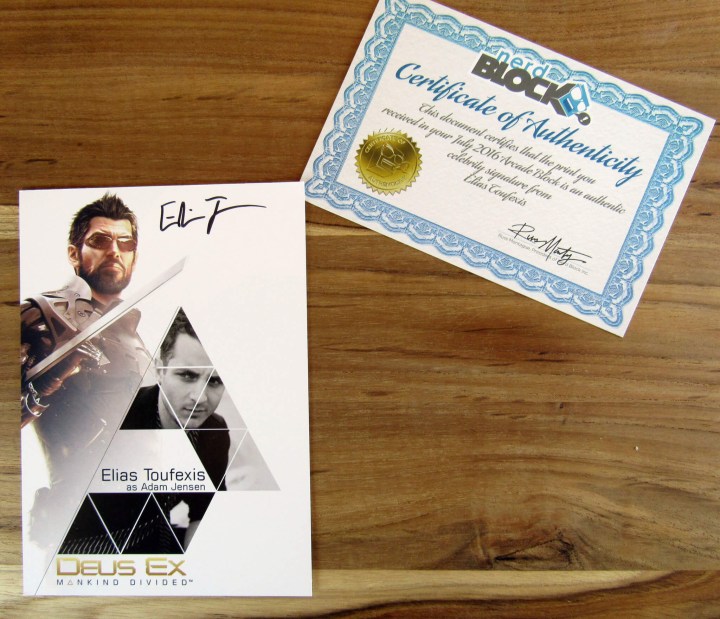 PA Anna: Just in time for the Deus Ex: Mankind Divided release is an authentic signature print from Elias Toufexis!
T: IS THAT A BLADE COMING FROM THE TOP PART OF HIS ARM?!? COOOOL!. Elias Toufexis personally signed this poster of Adam Jensen. Adam Jensen is the lead hero in the upcoming game "Deus Ex: Mankind Divided" and is voiced by Elias Toufexis. Deus Ex: Mankind Divided will be released on August 23rd, 2016.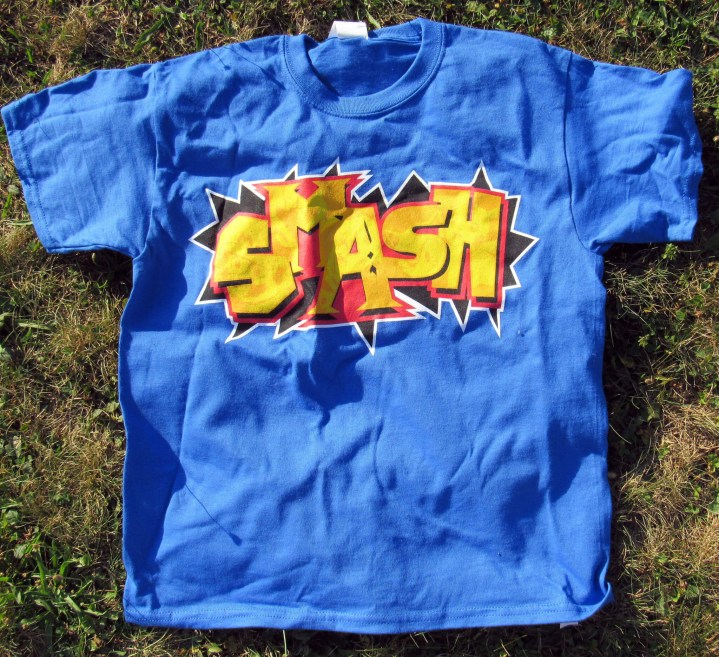 PA Anna: I LOVE this shirt! J is going to go wild over this shirt when he sees it.
T: A "Super Smash Bros" shirt! The shirt says "SMASH" and is using the original logo for Super Smash Bros (the one for the 64). We have Mario in the "S", Samus Aran in the "M", Link in the "A", Sonic in the second "S" and Pikachu in the "H". These were all characters who appeared in every SSB game since the original (except Sonic, who debuted in "Super Smash Bros Brawl" for the Wii). A very nice mix of the old and new!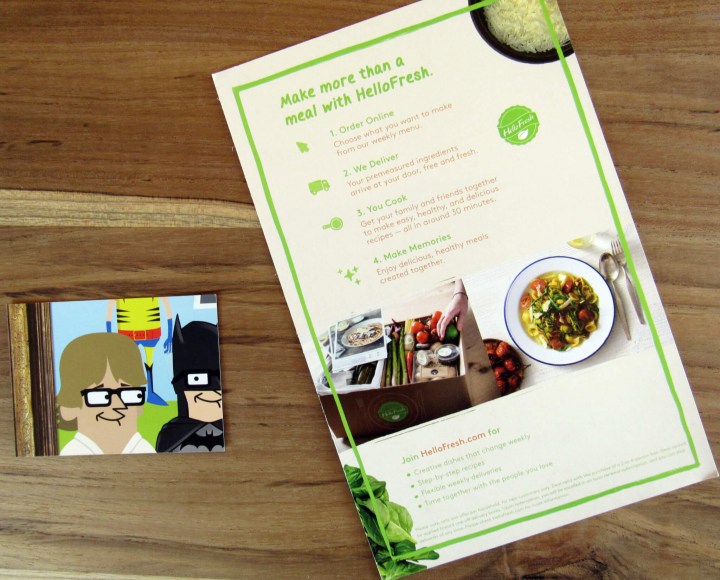 I will be using my $10.00 credit at Shirt Punch. Cool shirts are a must wear in my household. I also received a $50.00 coupon for my first two Hello Fresh boxes.
$50 Discount on your First two Boxes! Use coupon code  AUG50HF and Use this link to subscribe. Valid for new customers only. Classic, Veggie or Family Box. Expires 08-31-2016
T: I'm really happy with the items we received in this box. I'm especially excited about the key and blind figure. I'm disappointed about the speaker but love the Nintendo items.
PA Anna: I cannot wait to see J's face when he sees the shirt! He's also going to enjoy using the speaker once we figure out what we are doing wrong and having a Toad Air Freshener. Arcade Block is an excellent choice for gamers that like knowing that the majority of the items received are Exclusives and are in sync with what is happening in the gaming world.
What do you think of the July Arcade Block? Share your comments below!
Grab 15% off your first Arcade Block with coupon code HELLOSUB16, or save even more with a longer subscription. Enter this code right after pressing the big green review order button.
Visit Arcade Block to subscribe or find out more!
The Subscription
:
Arcade Block
The Description
: A monthly mystery package delivered right to your door filled with apparel, toys, and collectibles all themed around video games! Every Arcade Block comes with a custom t-shirt (Has men's regular, fitted, and women's fitted tees – and now youth sizes!) and 5-6 epic items for you to tear into! Also available – Nerd Block Jr (Girl & Boy), Horror Block, Comic Block, and classic Nerd Block!
The Price
: $30.00 per month