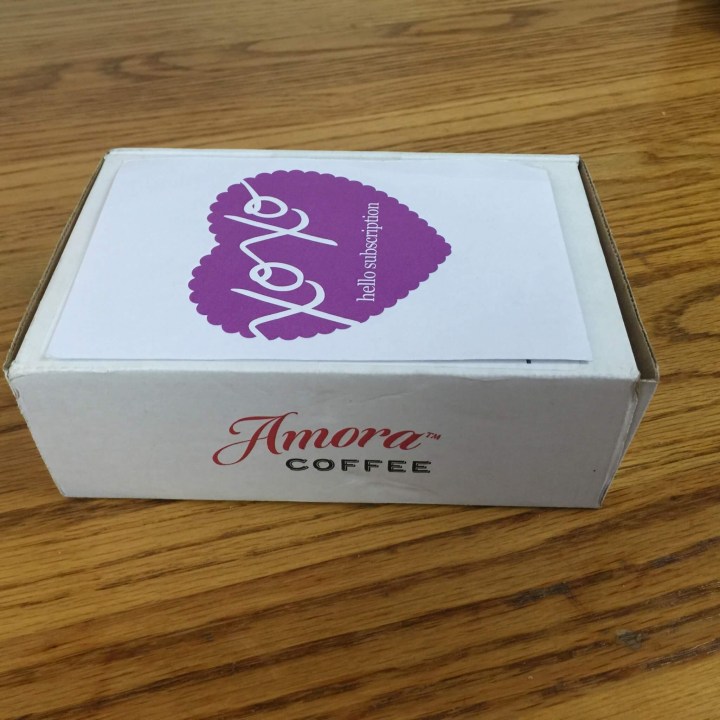 Amora Coffee is a home delivery coffee subscription. Every month you'll receive 4 half pound bags of coffee to your door for $14.95 per bag, plus $7.95 shipping and handling for a grand total of $67.75 per month. I strongly caution anyone looking at the great free coffee deal that's advertised on the website to make sure you read the terms and conditions. This box is part of the exclusive opportunities to get limited reserve coffees. Limited Reserve COffees are $16.50 per bag plus $7.97 shipping and handling.
Click the "Process Order" button below to receive your FREE half-pound bag of Amora Coffee. Pay just $1.00 for packing and Priority Mail®. If you wish to continue getting home deliveries, do nothing. Starting in about two weeks, and about every month thereafter, you will receive a fresh batch of four half-pound bags in the blend you selected, at the regular price of $14.95 per bag plus $7.95 per delivery for packing and Priority Mail® (Total $67.75), billed to the credit card you provided. There is never an obligation to purchase additional coffee and you always have complete freedom to change your coffee selections or shipping frequency.

You have the complete freedom to change your coffee selections and shipping frequency. Simply call toll free 1-855-MI-AMORA and one of our Customer Concierges will gladly provide all the assistance you need.

In addition, you do not need to meet some minimum purchase requirement. You can cancel home delivery at any time by calling Amora™ Customer Care at 1-855-MI-AMORA.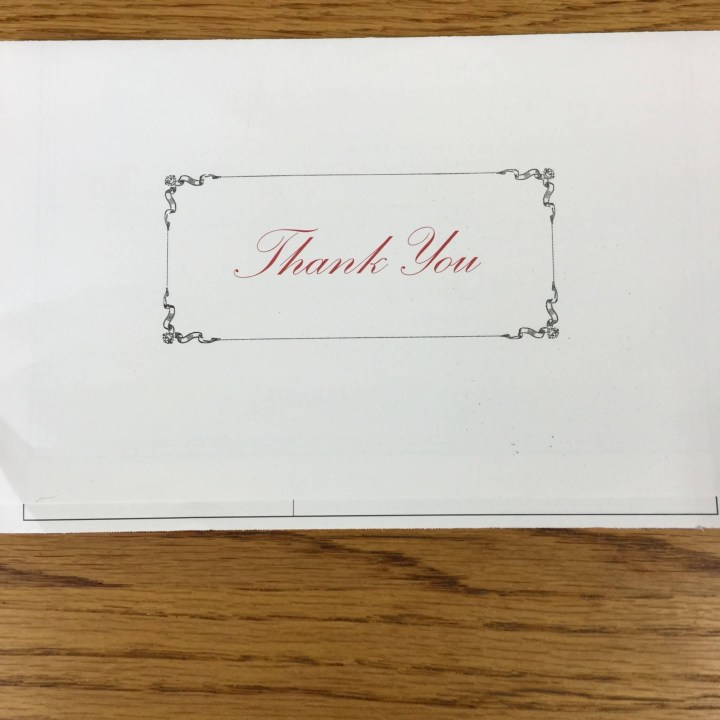 A regular 8.5 x 11 sheet of paper serves as a thank you note.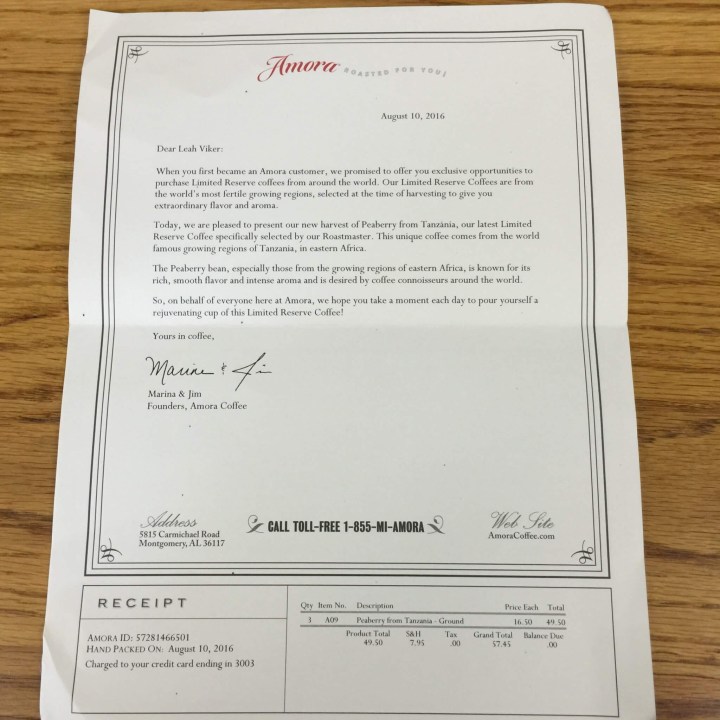 Inside are a few lines about the perks of being a member and details about this limited reserve coffee. Included are all the ways of reaching customer service,  mail, phone or website.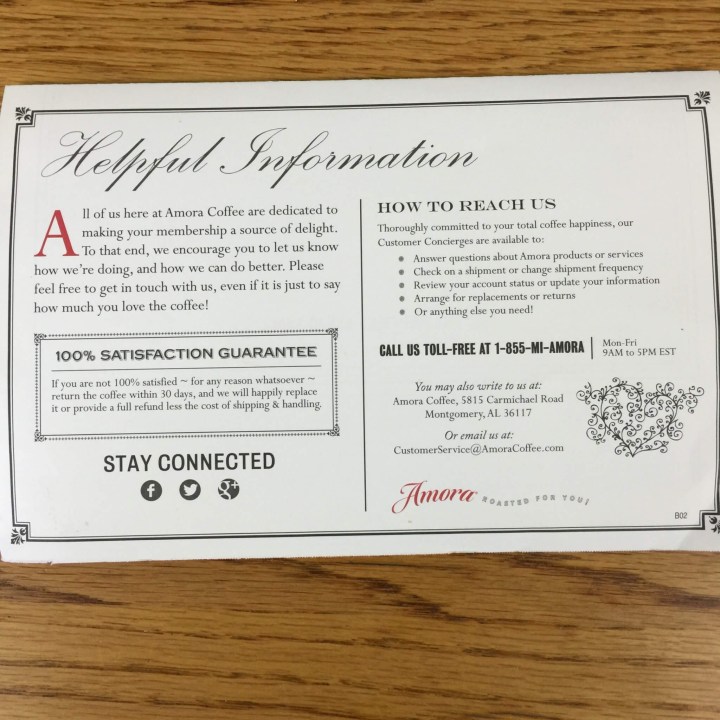 The back gives ways to connect via social media. Also included are details on the 100% satisfaction guarantee and once again how to reach customer service.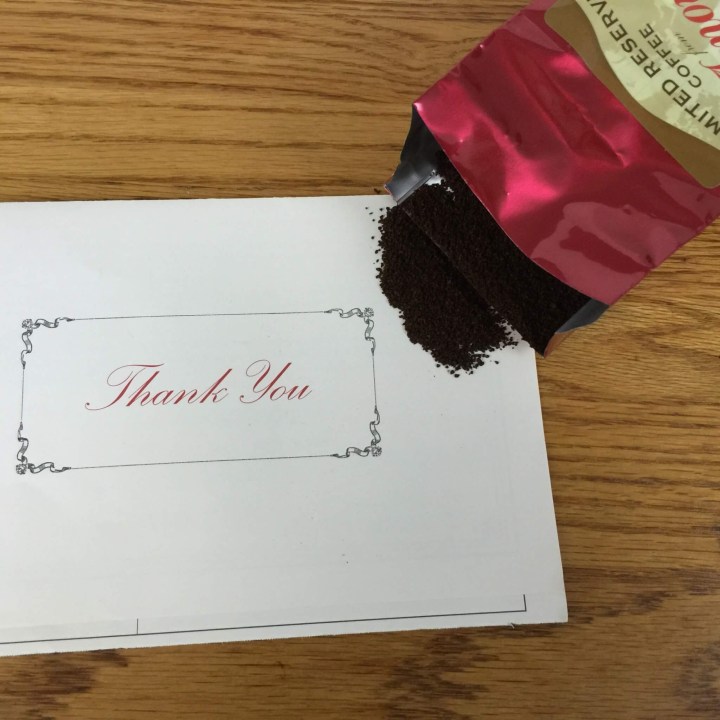 Ground to a perfect size for my French press, nothing gets through the fine mesh. The scent is bold and delightful.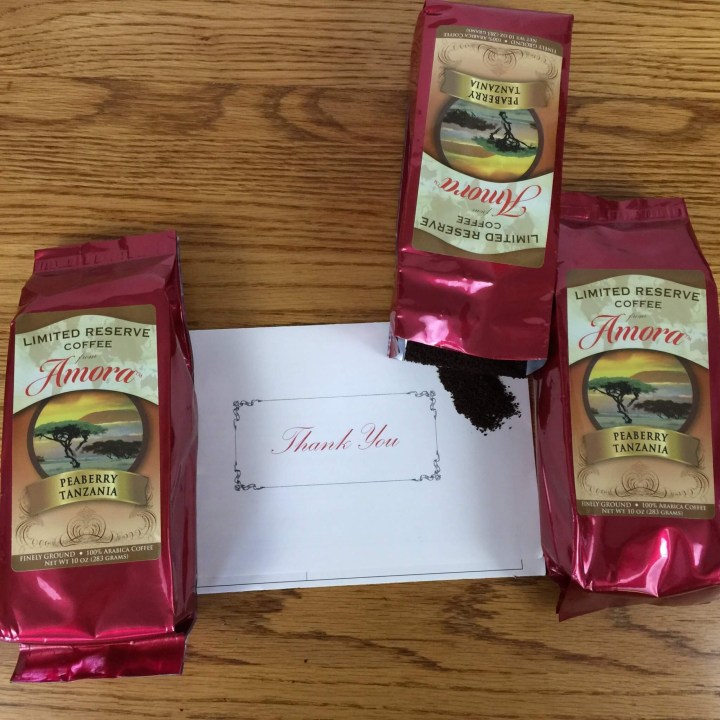 Three bags of Peaberry Tanzania were  in this box. This unique coffee comes from the Tanzania in eastern Africa. It's known for a rich, smooth flavor and intense aroma.  I brewed a pot of this coffee and it was very good. The taste was spectacular to the point that I drank all four cups by myself. The aroma was just as fantastic and I plan on using the grounds in my garden to help fertilize my plants.  The price per bag is a little high but for the quality of the product I think it evens out.
Visit Amora Coffee to subscribe or find out more! Get your first box free. Deal applies automatically, just visit and subscribe. Pay $1 shipping. In 2 weeks you will be charged the regular monthly cost (~$68) for 4 bags of coffee.
The Subscription
:
Amora Coffee
The Description
: Wake up to Amora, the ultra-premium coffee that is roasted in small batches and delivered fresh to your home by 2-day Priority Mail. Roasted in the USA by fifth-generation Master Roasters devoted to bringing you the perfect cup. Hand packed in foil-lined bags, while still warm, to protect the flavor and aroma. 8 varieties.
The Price
: $67.75 per month