Amora Coffee is a home delivery coffee subscription. Every month you'll receive 4 half pound bags of coffee to your door for $14.95 per bag, plus $7.95 shipping and handling for a grand total of $67.75 per month. I strongly caution anyone looking at the great free coffee deal that's advertised on the website to make sure you read the terms and conditions.
Click the "Process Order" button below to receive your FREE half-pound bag of Amora Coffee. Pay just $1.00 for packing and Priority Mail®. If you wish to continue getting home deliveries, do nothing. Starting in about two weeks, and about every month thereafter, you will receive a fresh batch of four half-pound bags in the blend you selected, at the regular price of $14.95 per bag plus $7.95 per delivery for packing and Priority Mail® (Total $67.75), billed to the credit card you provided. There is never an obligation to purchase additional coffee and you always have complete freedom to change your coffee selections or shipping frequency.

You have the complete freedom to change your coffee selections and shipping frequency. Simply call toll free 1-855-MI-AMORA and one of our Customer Concierges will gladly provide all the assistance you need.

In addition, you do not need to meet some minimum purchase requirement. You can cancel home delivery at any time by calling Amora™ Customer Care at 1-855-MI-AMORA.
A regular 8.5 x 11 sheet of paper serves as a thank you note.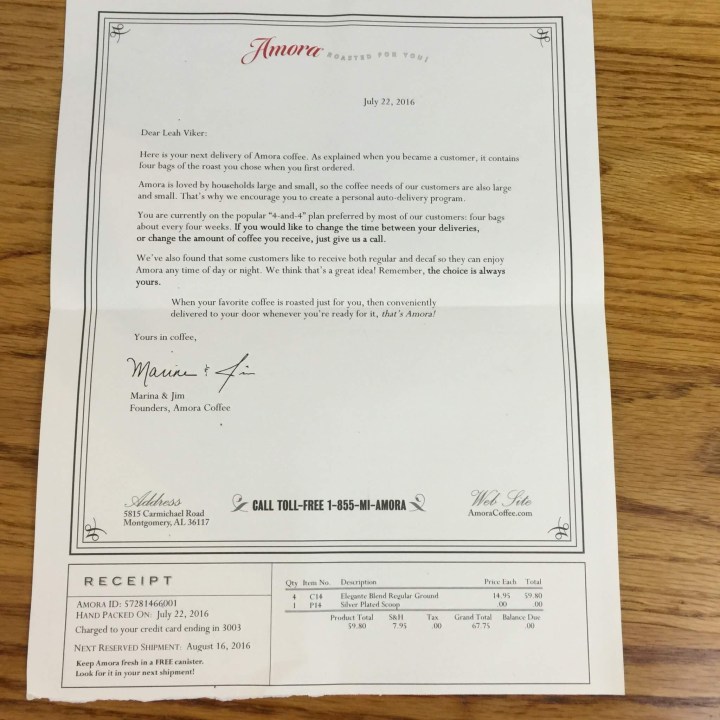 The inside gives details on this months order as well as the delivery schedule. I like how it also gives me the option to change how much coffee I receive. May favorite part of the receipt is knowing when my next batch of coffee is going to ship.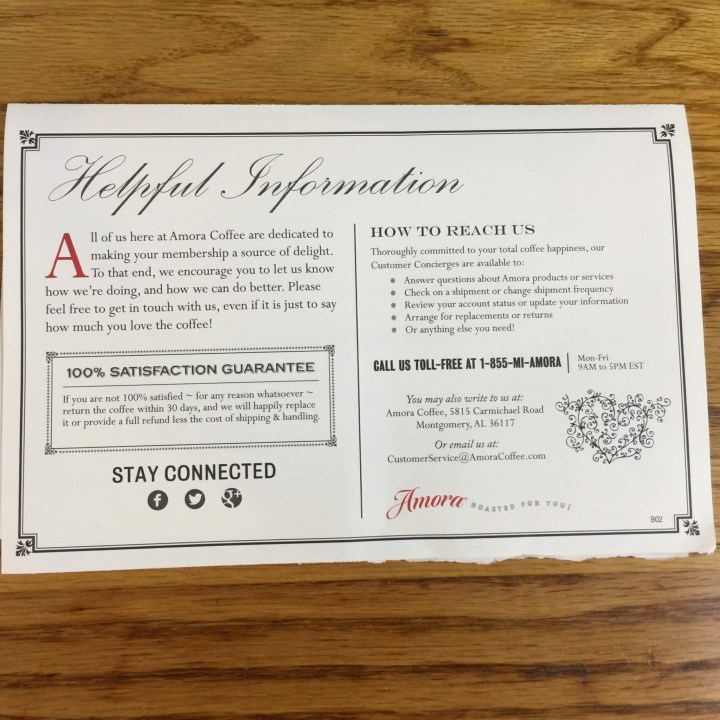 The back gives ways to connect via social media. Also included are details on the 100% satisfaction guarantee and how to reach customer service.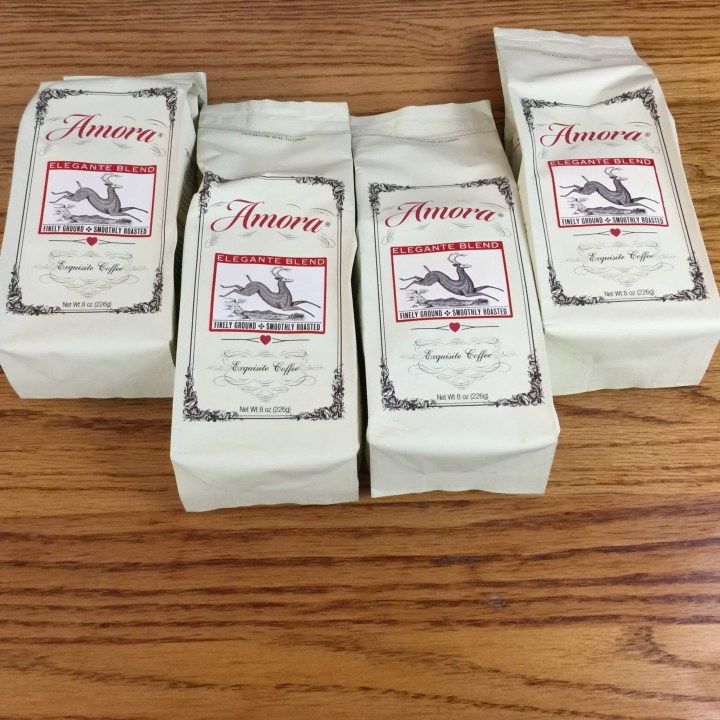 I received four bags of the Elegante Blend which is a medium roast.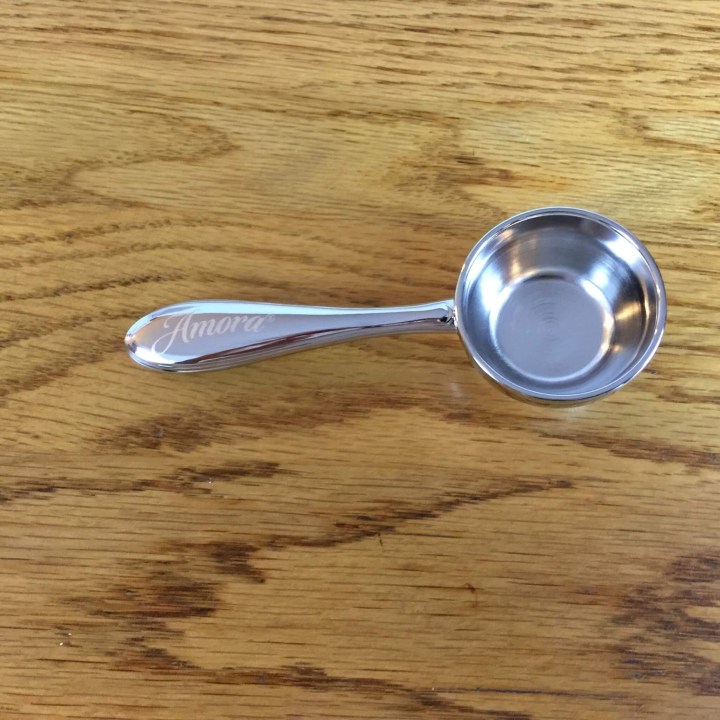 My free gift is a beautiful stainless steel coffee scoop. It's sturdy and so shiny that I don't want to get it dirty.
I have not opened any of the bags,(sorry no coffee ground pictures) but know that this coffee tastes better than it smells and that's saying a lot because it smells great! Had I not taken a few days off from drinking coffee the delivery would have been spot on as to when I ran out.  I only wish that you could get different blends instead of 4 bags of the same coffee, not really a big issue because I do like this blend but variety is the spice of life.
Here's what I wrote about this blend last month:
My bag of coffee smelled amazing! It was fresh and made me jump to brew a pot. I normally use a coffee press to brew my coffee and this was ground finely but not so fine that any grounds found their way to my mug. The brewed coffee still smelled wonderful and it tasted great too. There was no bitter after taste and each sip was as good as the first. The true test was iced coffee later in the day, it was still perfect. I added a splash of milk to my cup but no flavored creamer is need to enhance this bag of coffee. I was extremely happy with this bag of coffee!
Visit Amora Coffee to subscribe or find out more! Get your first box free. Deal applies automatically, just visit and subscribe. Pay $1 shipping. In 2 weeks you will be charged the regular monthly cost (~$68) for 4 bags of coffee.
The Subscription
:
Amora Coffee
The Description
: Wake up to Amora, the ultra-premium coffee that is roasted in small batches and delivered fresh to your home by 2-day Priority Mail. Roasted in the USA by fifth-generation Master Roasters devoted to bringing you the perfect cup. Hand packed in foil-lined bags, while still warm, to protect the flavor and aroma. 8 varieties.
The Price
: $67.75 per month