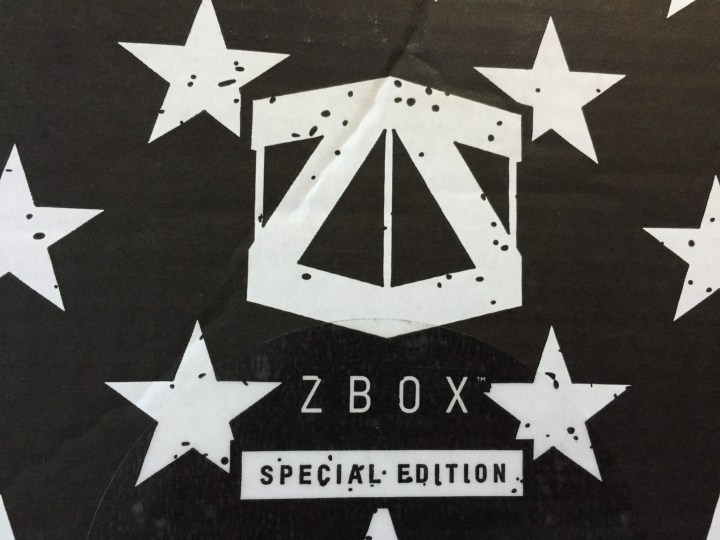 ZBOX is here! This is one of two limited edition boxes for Marvel's Captain America: Civil War. While May's ZBOX was a more general Marvel theme, these two boxes for Team Cap and Team Iron Man were specifically designed around the two teams. This is a review of the Captain America box, and it's pretty much identical in content to the Iron Man one I previously reviewed.
These limited edition boxes (there's also team Iron Man) are still available and are about $44 each shipped.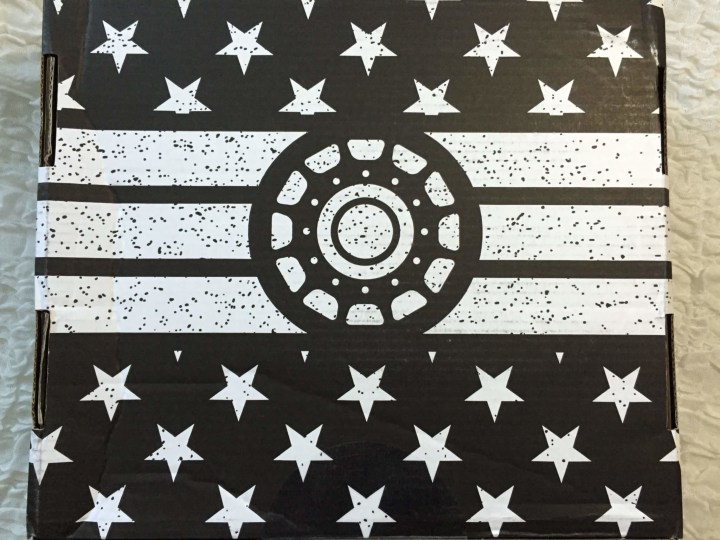 The top of the box had Cap's star on it, but the address labels covered the bulk of the design. So here's the bottom, featuring Tony Stark's original arc reactor.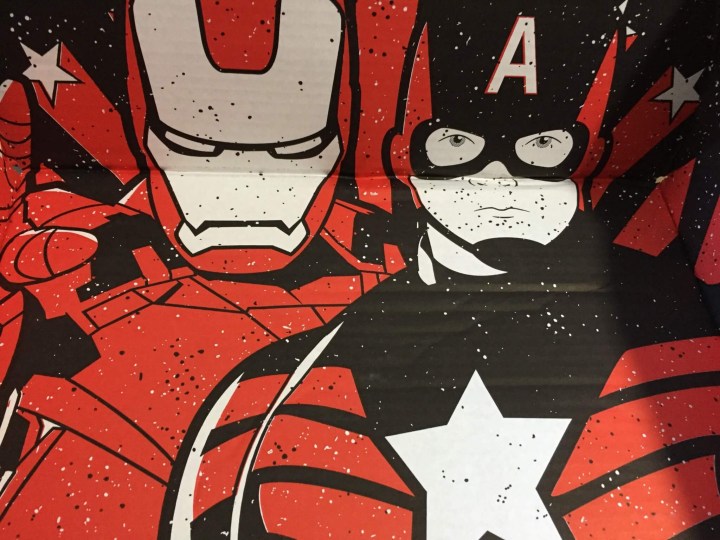 The inside lid of the box features very cool artwork of Iron Man and Captain America in a red, white, and black scheme. Again, this is the same as the Iron Man box.
First look! I had seen spoilers so I knew it was going to be a red white & blue version of the Iron Man box in terms of contents.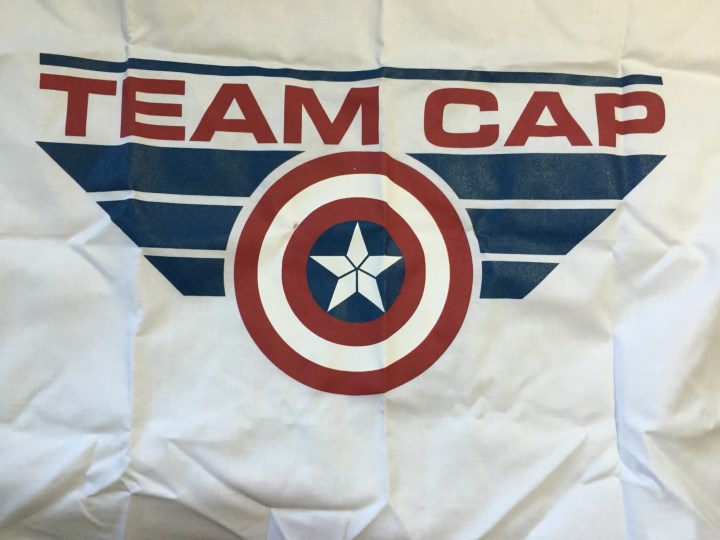 Team Cap Banner ($15?) This is about the size of a standard sized pillow case, and is made of a nicely weighted fabric with crisp printing. I think this could be used as a wall hanging, or a flag!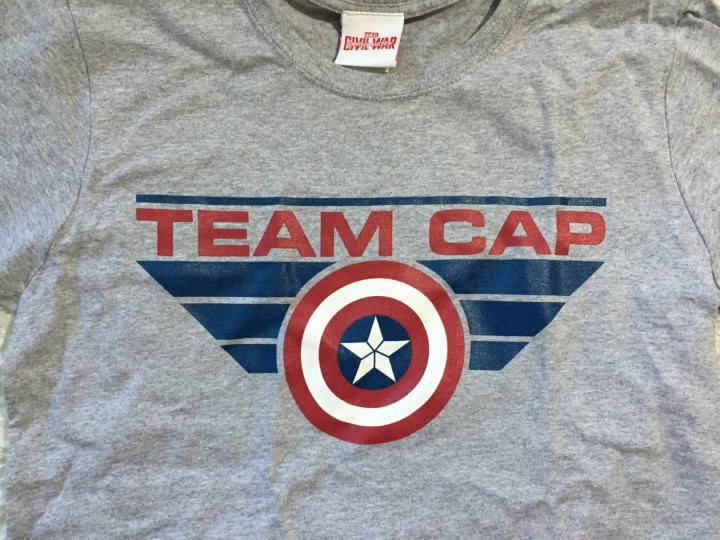 Team Cap Shirt (~$10) The shirt features the same design. I like ZBOX's shirts — they're fitted and flattering and not too tight.
Fabrikations Captain America Soft Sculpture ($8.00 USD) The detail on these plushes is really something else — I think Cap's facial expression is hilarious; he looks so grumpy!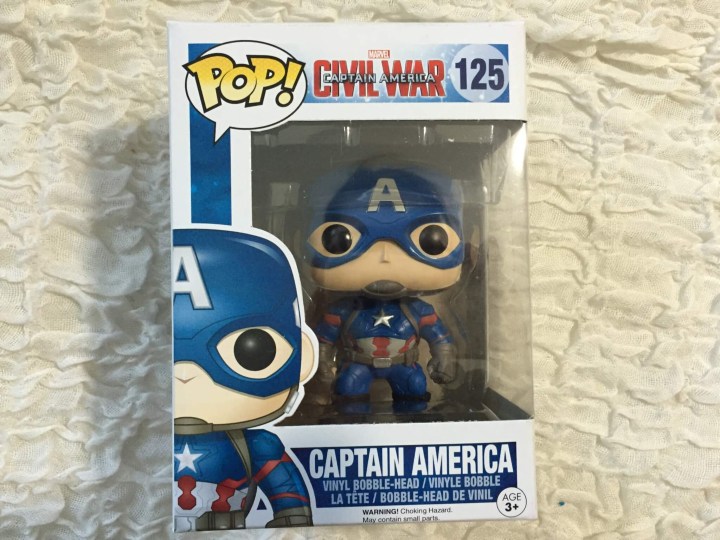 Captain America Pop Vinyl ($10 USD) I don't have a Cap yet! I love the detail on his flight suit.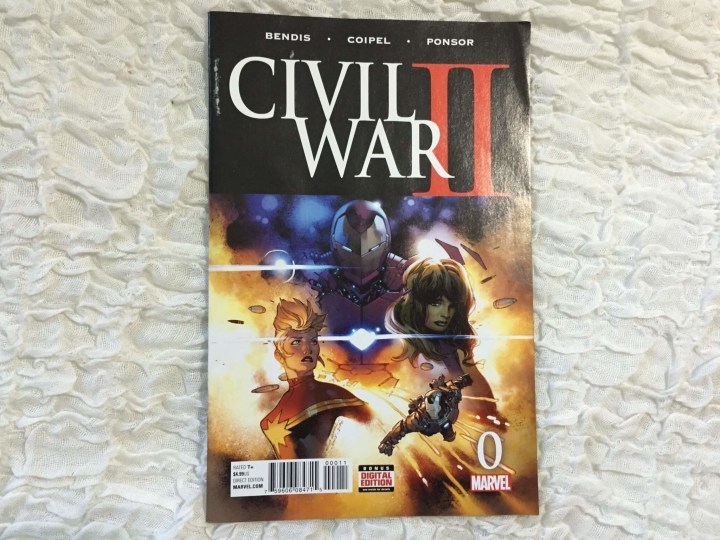 Marvel Comics Civil War II ($4.95) I have two copies of this now, so one is going to a friend of mine who just started diving into the Earth-616 universe. (Marvel's main universe!)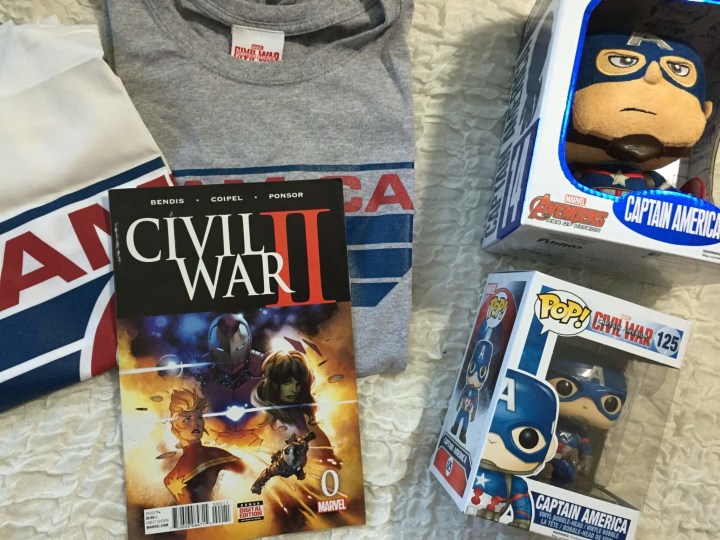 I can understand why the two boxes were so similar, but a little more variety would have been nice. Maybe a different wearable, or another character for the Pop Vinyl (someone from Steve's team?) The total value wasn't huge – about $48 USD — but I am still pleased with the new additions to my growing Marvel collection.
What did you think of the ZBOX Limited Edition Civil War Captain America Box? Which side are YOU on?