Wonderful Objects by Wonder and Company is a quarterly subscription box that focuses on storytelling and invites immersion in a fantastical world through hand-picked objects plus custom-designed story-making ephemera.  For only $72.00 per quarter, you'll get a mystery box that includes wonderful objects like limited edition art, wearable treasures, scents, baubles, and a lot more!
A few weeks before receiving this box we received the "teaser" package in the mail – see everything in that mailing here!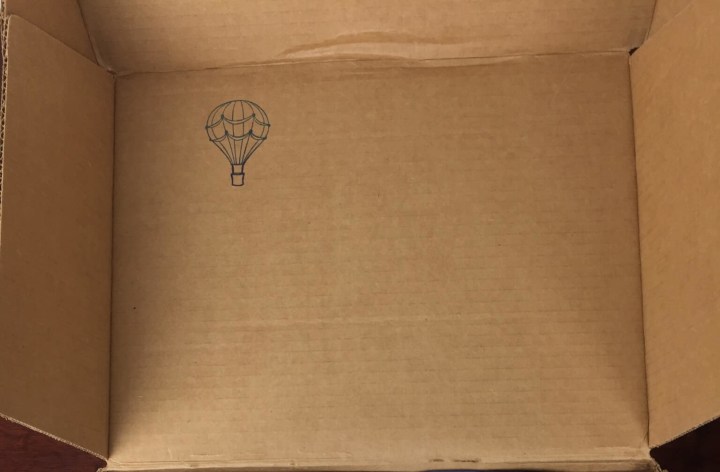 There's a hotair balloon printed on the inside of the box, reminiscent of the iconic ballon that brought the "Wonderful" Wizard to Oz.  Similarly, Wonderful Objects endeavors to transport you to an equally enchanting world of fantasy.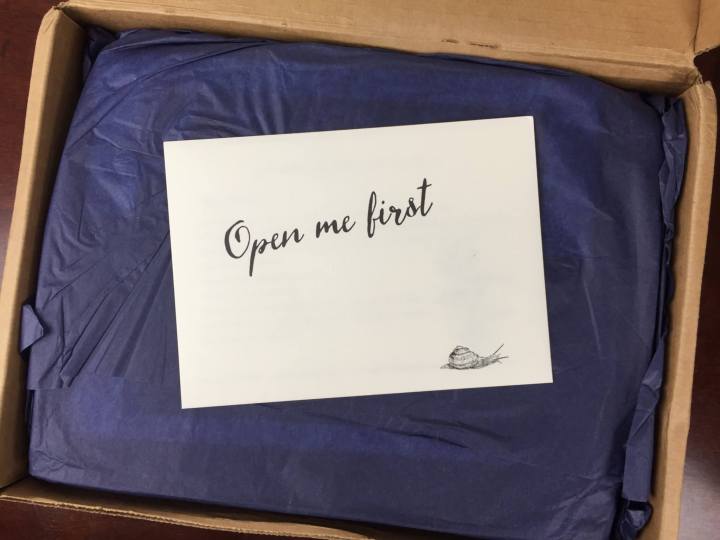 The items are wrapped by a blue tissue paper, and the mysterious envelope entreats you to read the place-setting introductory letter prior to revealing the objects within.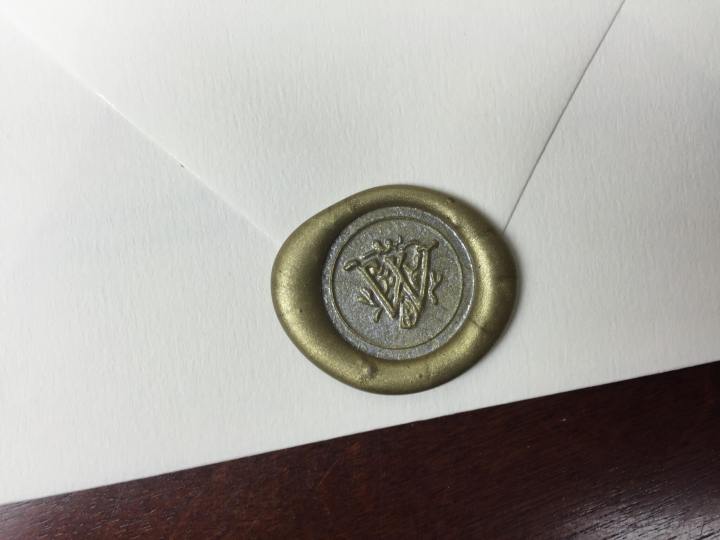 The "Open Me First" envelope is sealed with a "W" emblem.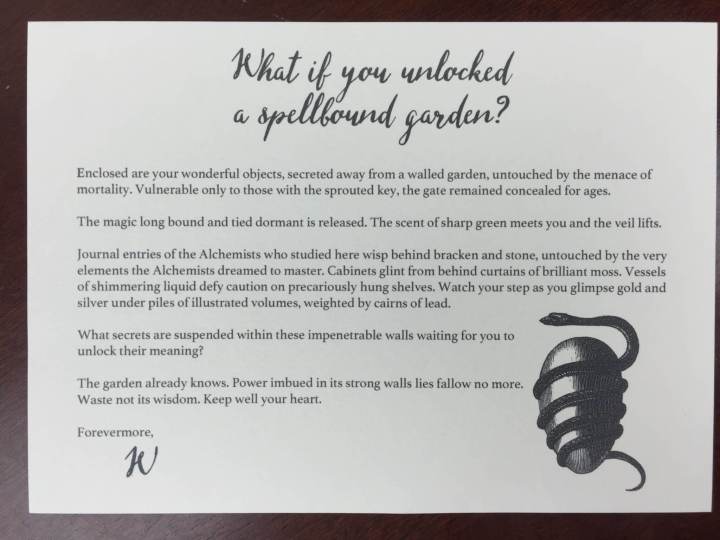 A letter from this "W" character sets the scene — you have uncovered a trove of treasures collected in a sacred space by an order of alchemists. The sprouted key from the first mailing unlocks your adventure! The card definitely invites you to use your imagination. I was excited about the theme – I'm totally addicted to alchemy and witchy novels too (think Deborah Harkness).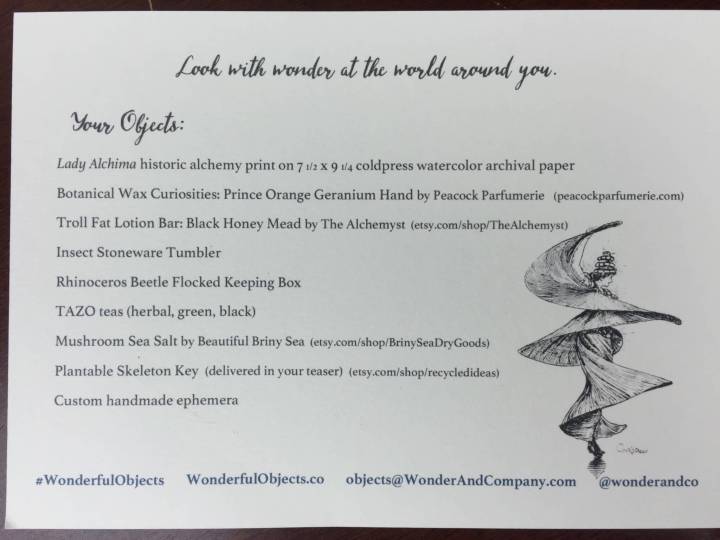 The information card gives you a list of all the items inside the box!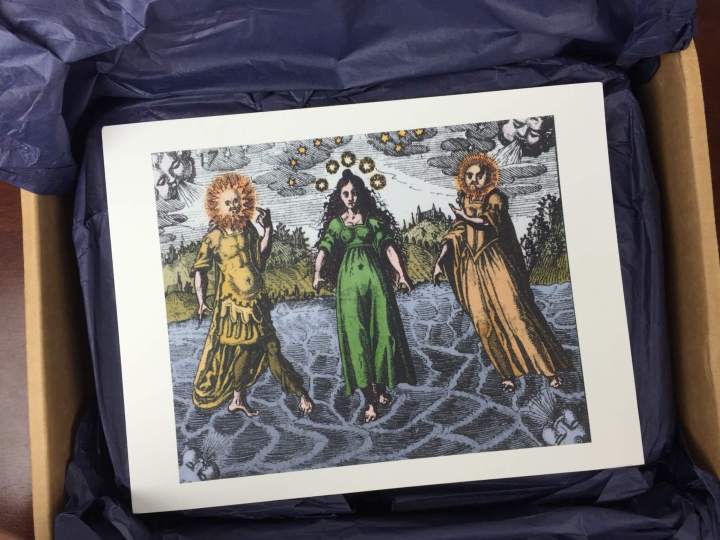 Lady Alchima Historic Alchemy Print on 7 1/2″ X 9 1/4″ Coldpress Watercolor Archival Paper ($20?)   I can already see that it's going to be quite a peculiar box.  It borrows heavily from the imagery of the alchemist and mystic traditions, as seen in this color print.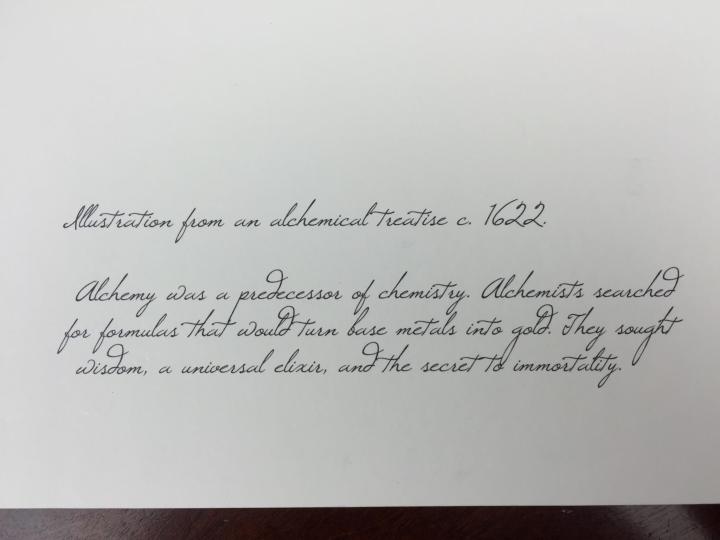 The back of the Lady Alchema print. It's from a 1622 alchemical treatise, and gives a little background on the history of alchemy if you're unfamiliar!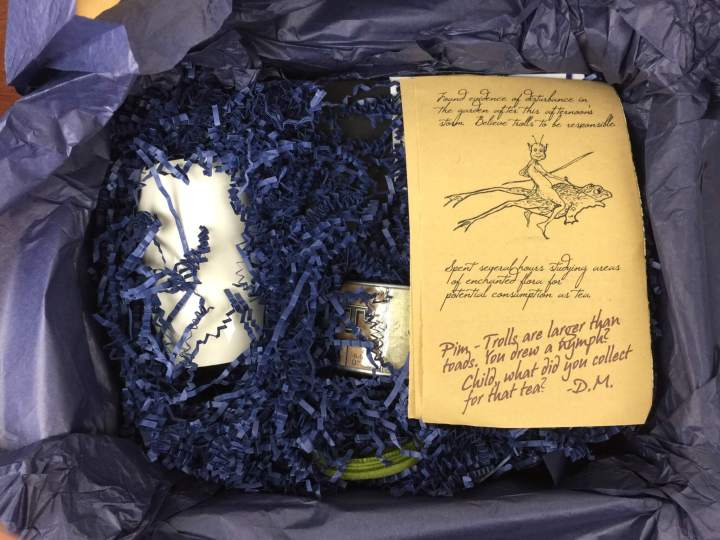 The items are secured by dark violet squiggles.
Journal pages provide a fanciful description of the box's contents, serving as an elaborate alternative information card.  Shall I make the troll fat lotion described on the ephemera? I tried and tried but could not decipher the blacked out portion. What a mystery!
It is styled as a collection of journal entries from the alchemists previously studying within the secret garden you've just uncovered.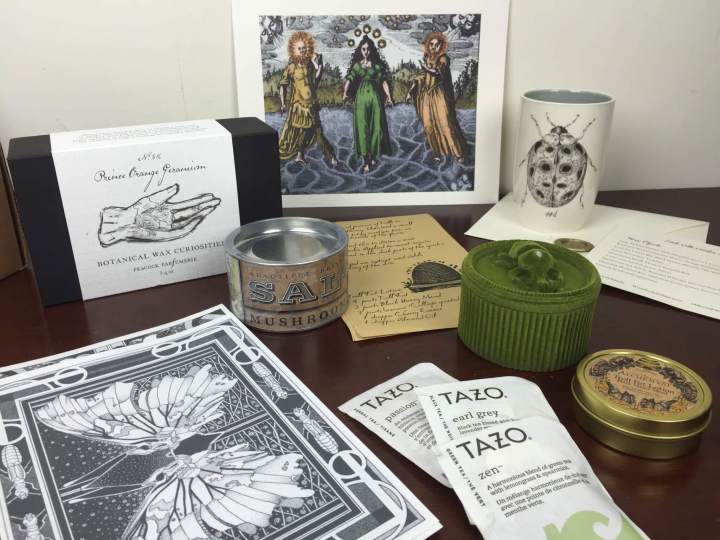 Everything in this box!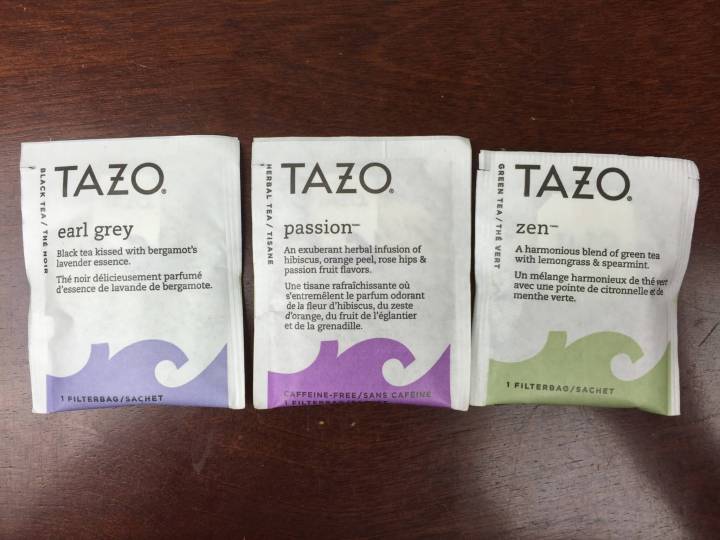 Tazo Teas in Earl Grey, Passion & Zen ($0.64)  Tazo makes nice quality teas, specializes in flavored and herbal blends.  Three blends were provided to help set your mood for exploring.
These black and white butterfly prints are considered part of the "handmade ephemera" within the box. One of the pages invites you to empty your mind by coloring the lines.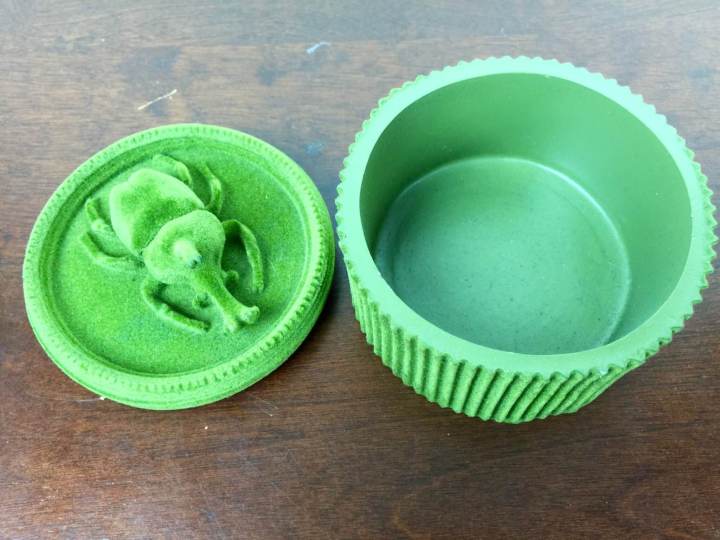 Rhinoceros Beetle Flocked Keeping Box ($11)  The bottom is about the size and shape of a muffin tin liner, suitable for holding jewelry, stones, change, buttons, dragon's teeth, etc.  This box was sent as a replacement for our original which had a cracked horn.
The keeping box is pretty enough to sit on a dresser or makeup table, yet bizarre enough to make a lovely conversation piece.  And yes, you could probably put the Tazo, or other tea, in it. In the story (please do not forget to pore through every detail when you receive your box), the journallers have detected unusual insect activity around the gate of the secret garden!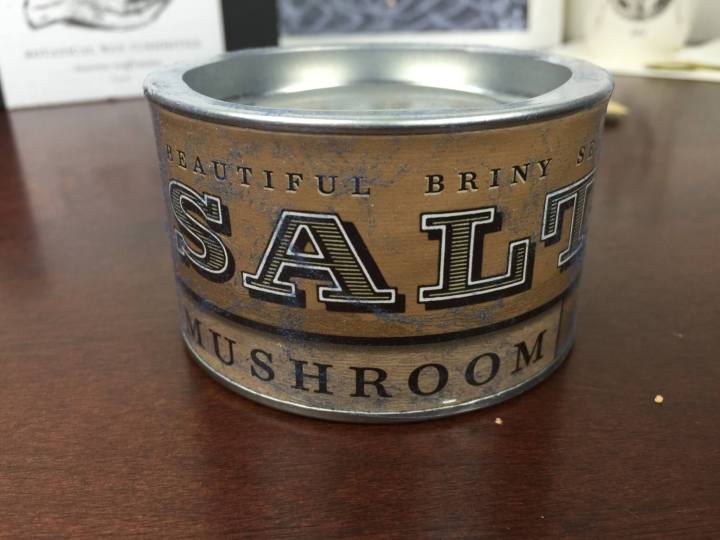 Beautiful Briny Sea Mushroom Sea Salt ($8): Lovely crystals of salt muddled and infused with mushroom powder.  A great way to up the umami of a steak, or season a portobello or some miso soup. The alchemists harvested salt from the mushroom flats!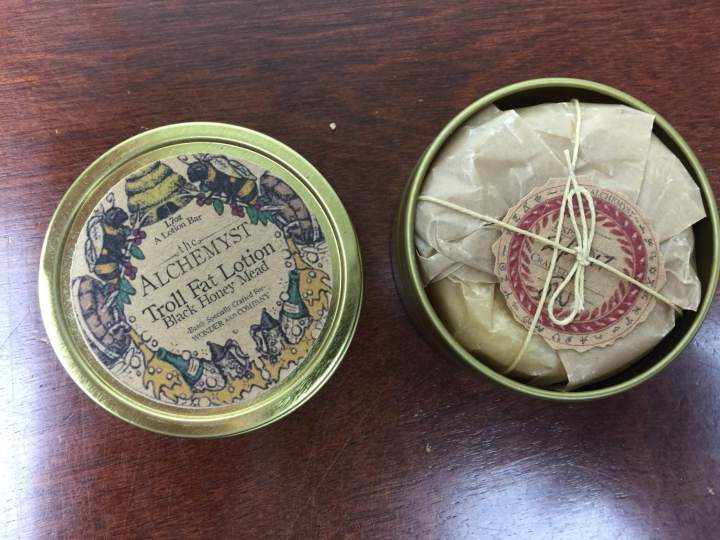 The Alchemyst Troll Fat Lotion Bar in Black Honey Mead ($12)  Made primarily of bees wax and mango butter, this disk of lotion is solid at room temp but melts when handled.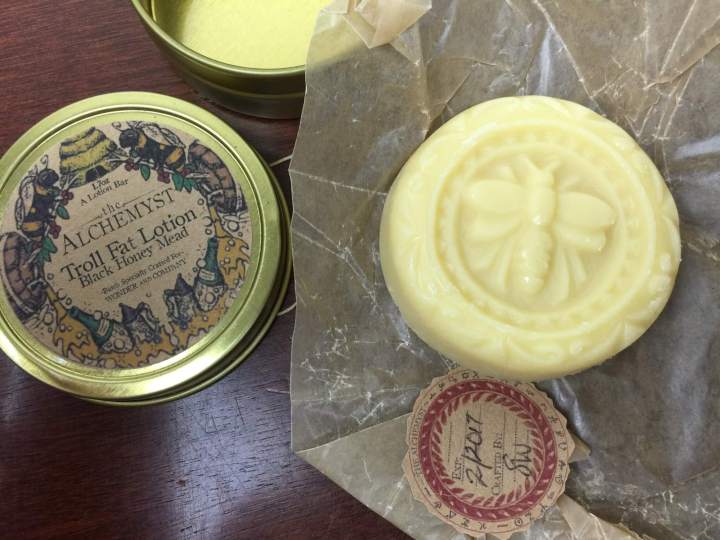 Parfumed with a touch of almond oil, cranberry, honey, and cherry essences, the bar smells like cherry Starbursts or Black Cherry Chapstick! I'm delighted that I do not have to craft my own troll fat lotion but equally delighted to immerse myself in the story.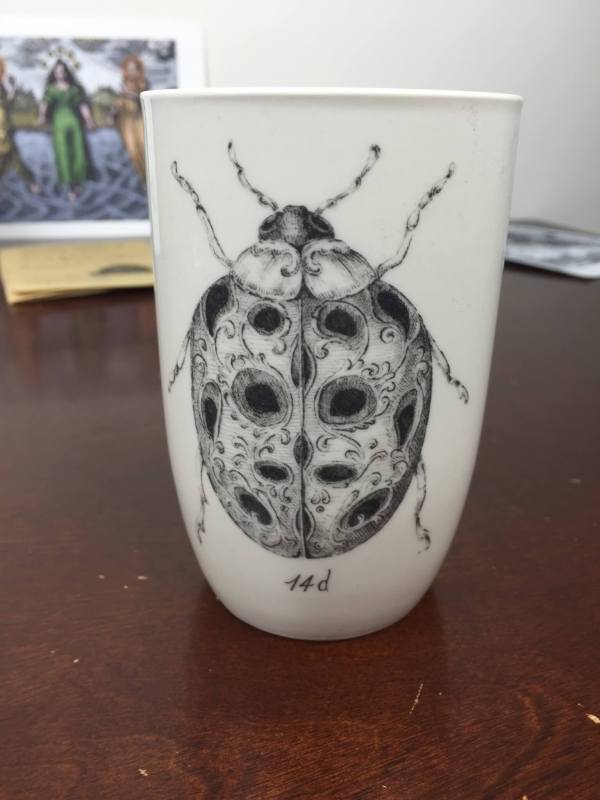 Insect Stoneware Tumbler ($5.50)  This sturdy tumbler has a picture of a numbered beetle specimen – in our case, a ladybird!
It is peculiarly shaped, part mug and part tumbler.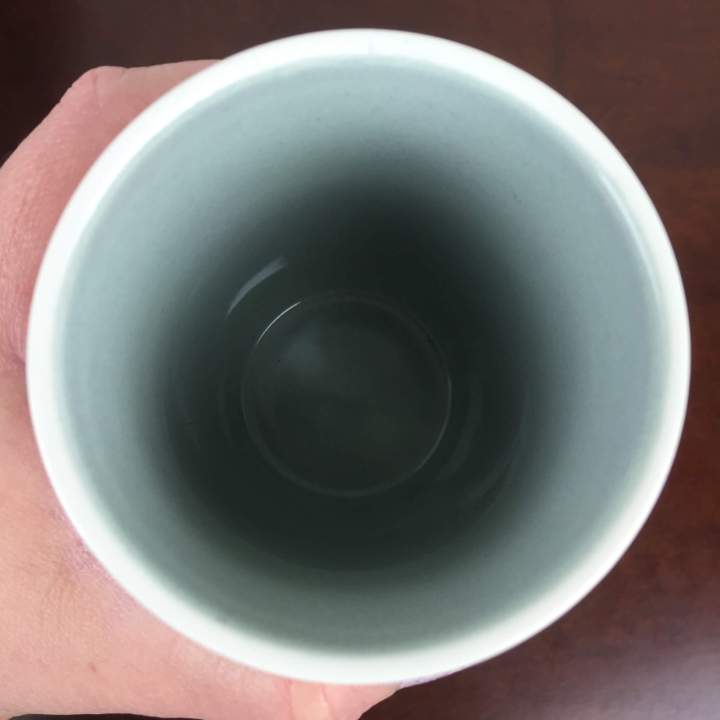 The inside is ombre, becoming grey toward the bottom.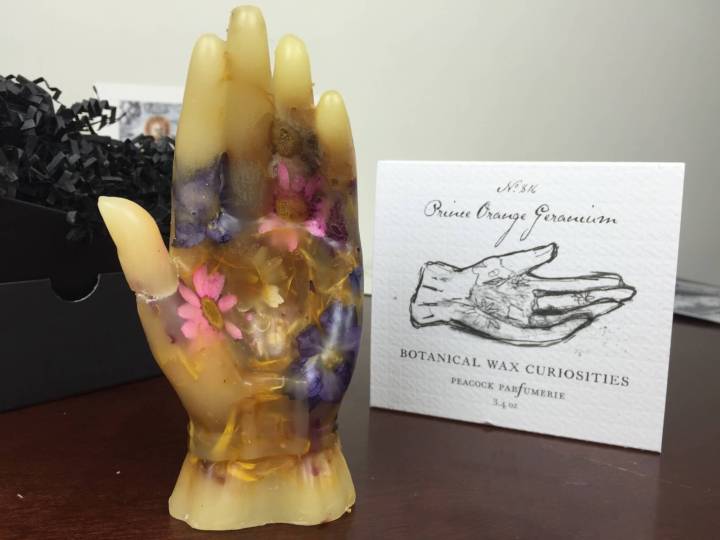 Peacock Parfumerie Botanical Wax Curiosities in Prince Orange Geranium Hand ($30):  This peculiar item is pretty and extremely fragranced.  The orange oil and flower essence is very strong — if you enjoy it, it is powerful enough to scent an entire room or wardrobe.  It is a little too powerful for anyone sensitive to strong scents.  The suspended flowers are very lovely, but they also make it very fragile — the thumb had cracked off of this one.  It was a replacement for the original which had a severed pinky. We'll try melting the thumb back on. Note – both items were packed with care and lots of packing material – it's just the nature of this particularly fragile item.
In the story one of the rights observes small movements in the fingertips when the hand is placed near his findings on the philospher's stone!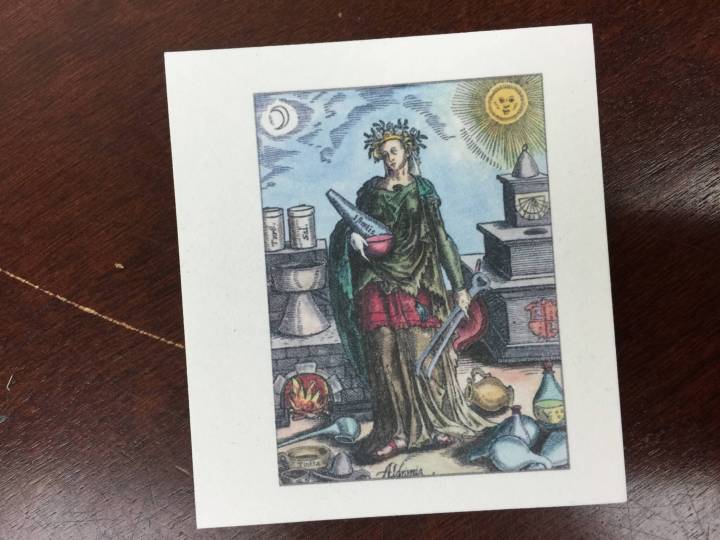 Another alchemy-themed print.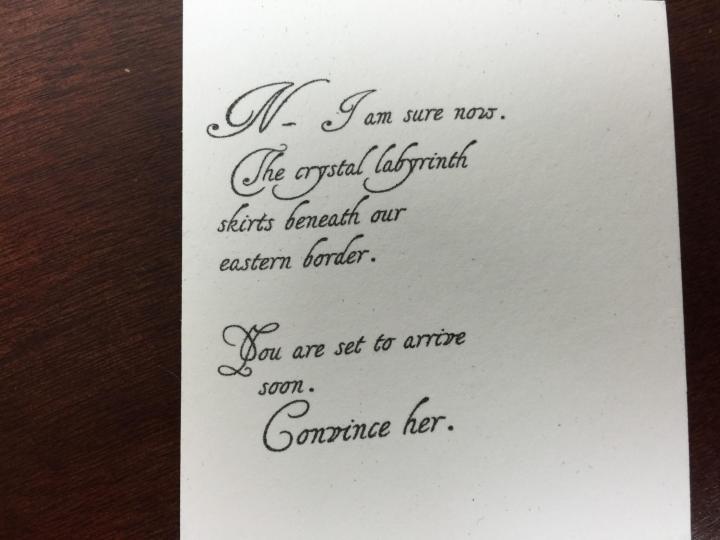 A cryptic message. I'm sure to be pondering this one for quite some time!
This is a very bizarre and unusual subscription, but it is fun to unbox and is packed with interesting little treasures.  It would be enjoyable for anyone into arcana, ephemera, or oddities.   Wonderful Objects has a children's box that shares similar themes with the grown-up version and is designed to pair well with it should you unbox as a family activity.  Unlike the first kids' box we received, the adult one doesn't have the multiple cyphers and puzzles, but the cryptic messages and explanatory materials are similarly befuddling.  The focus of this box is on admiring the items rather than solving a riddle.  A couple items, the keeping box and the wax hand, were damaged in transit — the box was well-cushioned, I think the items were very fragile.  The Wonderful Objects team was very helpful in replacing the items for us and included an extra token (an angel wing dish, which is lovely, and pairs with another I have!) because of the issues.
Are you a Wonderful Objects objects subscriber?  We'd love to hear more about your past journeys with this box! If you'd like to try it out you can save $10 on any plan with code HELLOWONDER10! See past adventures from Wonderful Objects here! My only regret is not subscribing to this box from the beginning, because I think it's pretty fabulous. I'm looking forward to checking out the past boxes page in a few weeks to see Wonder & Co's breakdown on this box too!
Visit Wonderful Objects by Wonder and Company to subscribe or find out more!
The Subscription
:
Wonderful Objects by Wonder and Company
The Description
: Delightful objects for your home and creative space, limited edition art, wearable treasures (from baubles to scents), and more!
The Price
: $72.00 per quarter