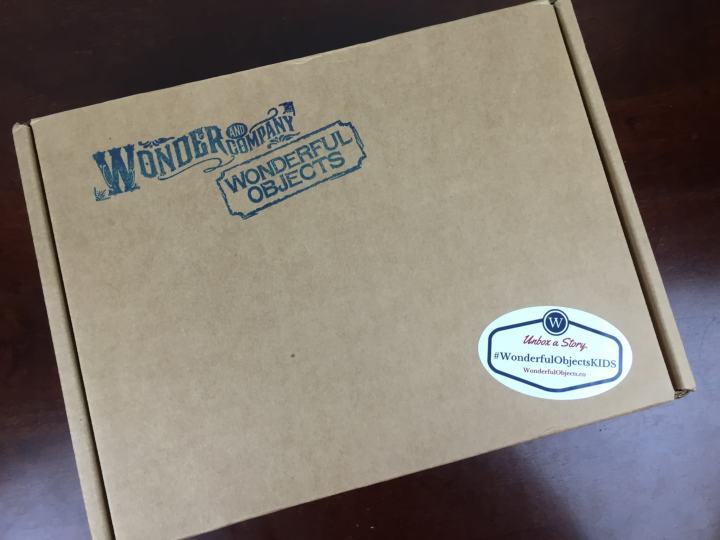 Wonderful Objects Kids Box by Wonder and Company is a quarterly subscription service that lets your kids explore the magic of story-making. For $72.00 per quarter, you'll get a mystery box that invites children to ask "What ifs…?" and encourages them to find answers through an imaginative and magical way.  This latest adventure was part Wind in the Willows and part Holmesian intrigue.
Note that this box is the second box in a 2 part series from Wonder & Co produced in connection with Cricket Magazine. The box is returning to standalone adventures next quarter.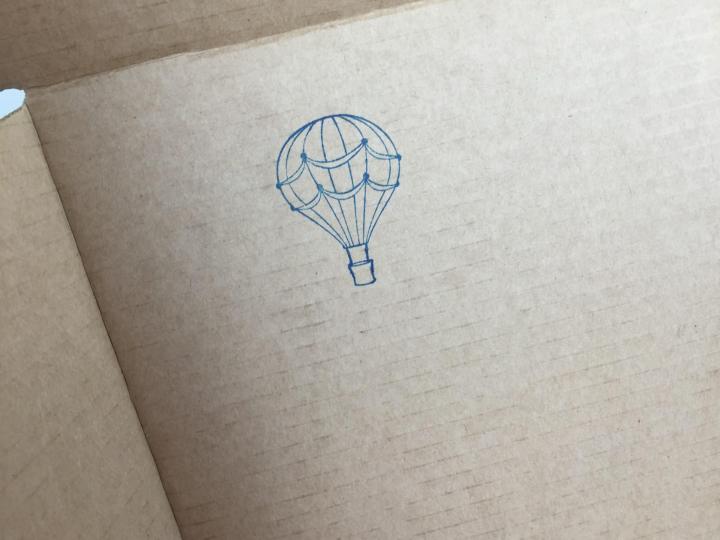 There's a hot air balloon printed on the inside of the box.
The items are wrapped by a blue tissue paper, disguising their nature.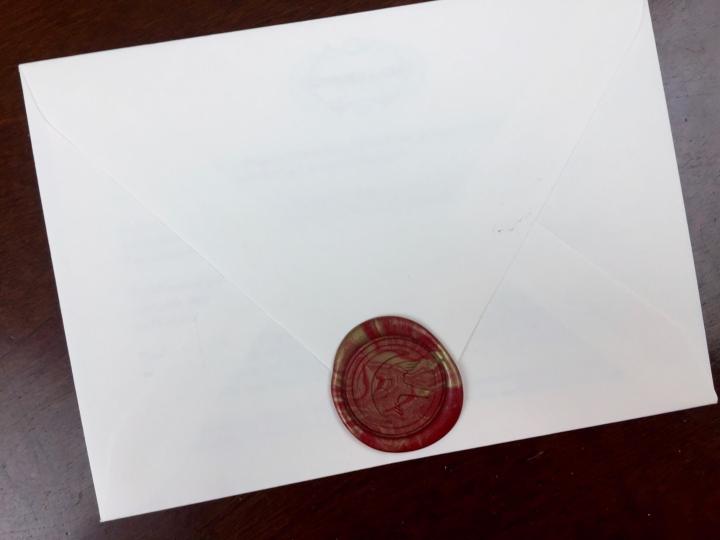 The "Open Me First" envelope is sealed with a wax stamp embossed with a bird in flight.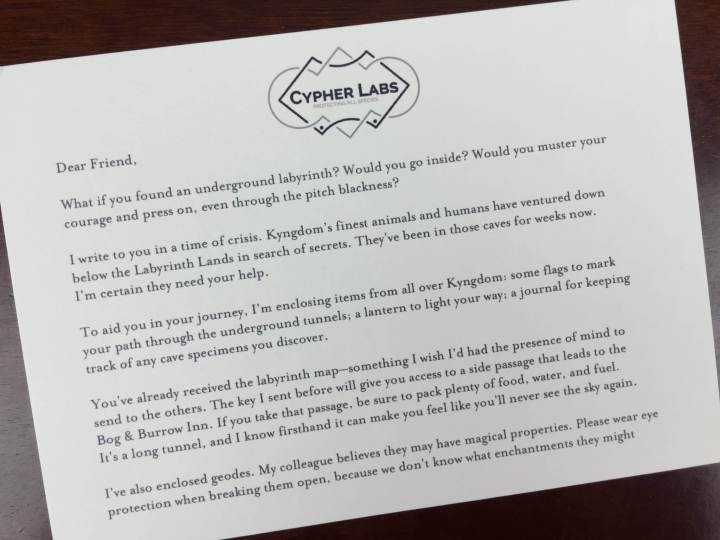 A letter from Dr. Sheepshank serves as the information card for the box, introducing the peculiar contents.  It references the Bog & Burrow labyrinth mentioned in a teaser mailing, and the cypher from that package will also be used with this box.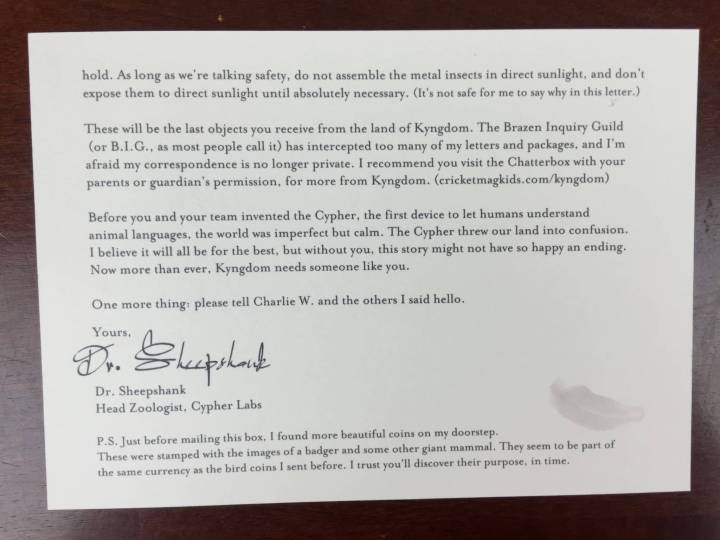 The mysterious letter references the Brazen Inquiry Guild and doesn't do much to clarify the purpose of the enclosed items.  They are all related to Dr. Sheepshank's explorations in some fashion, but the watchful eye of the B.I.G. prevents further elaboration.
Read our initial review to see what arrived a few weeks before to set the story for the box.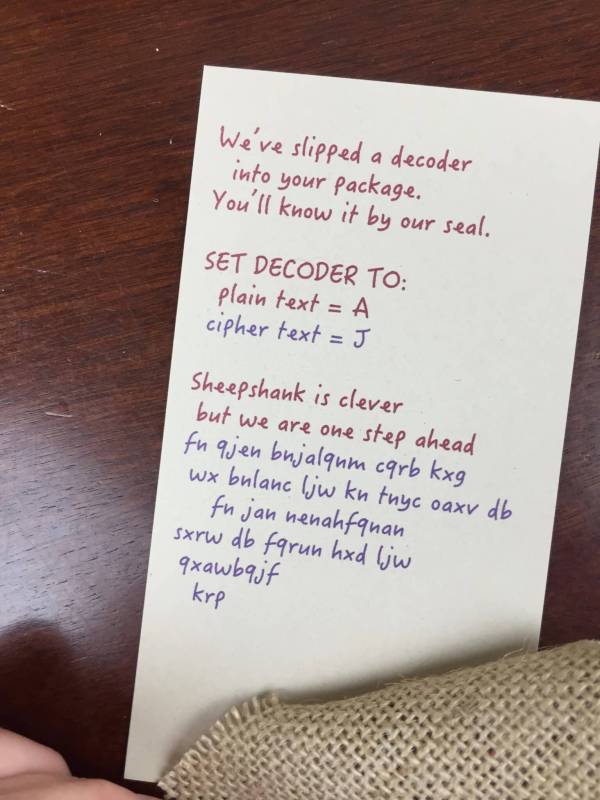 Another cypher!  This one uses the cypher wheel included in the box as a decoder.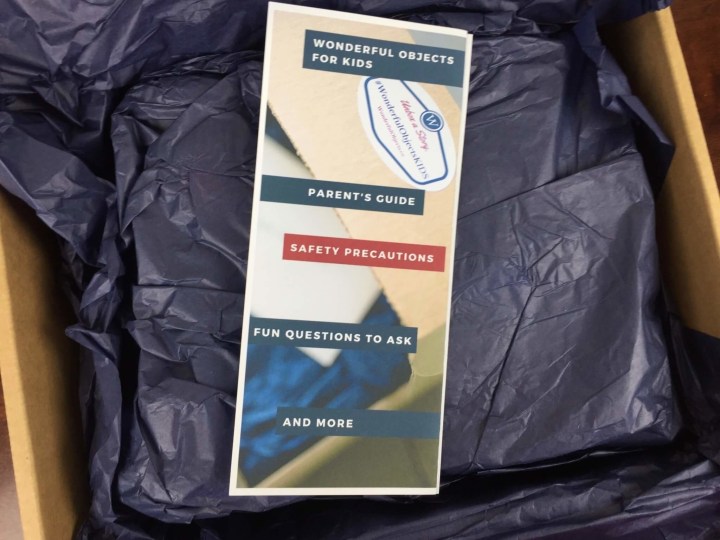 The box also came with a Parent's Guide.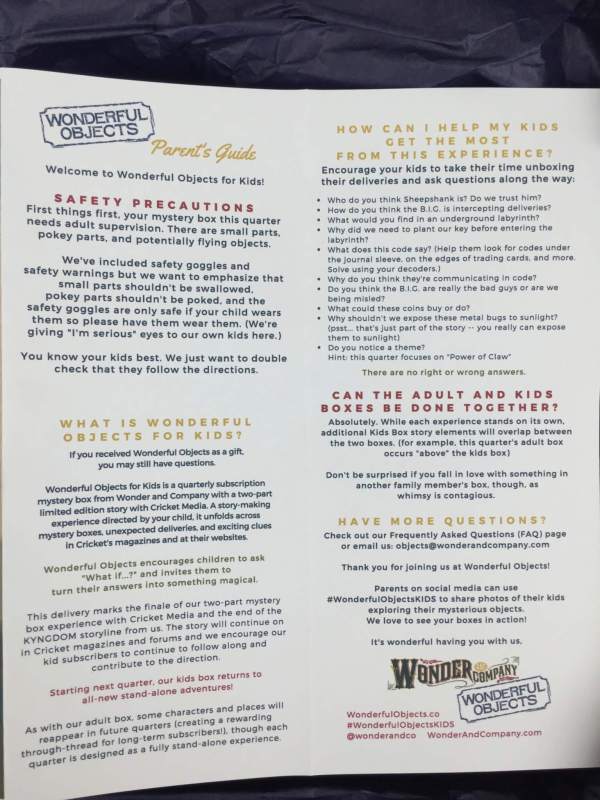 The guide provides questions to engage with your kids on their adventure, as well as important safety warnings!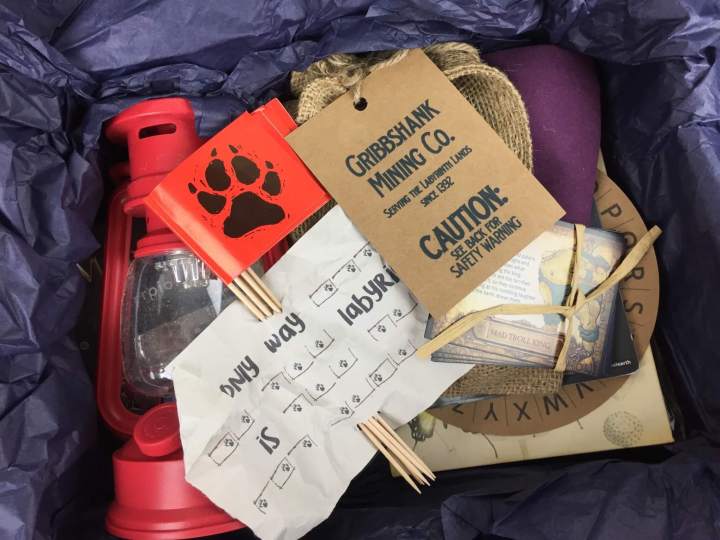 Looking from here, I can already see that it's going to be quite an adventure with this box.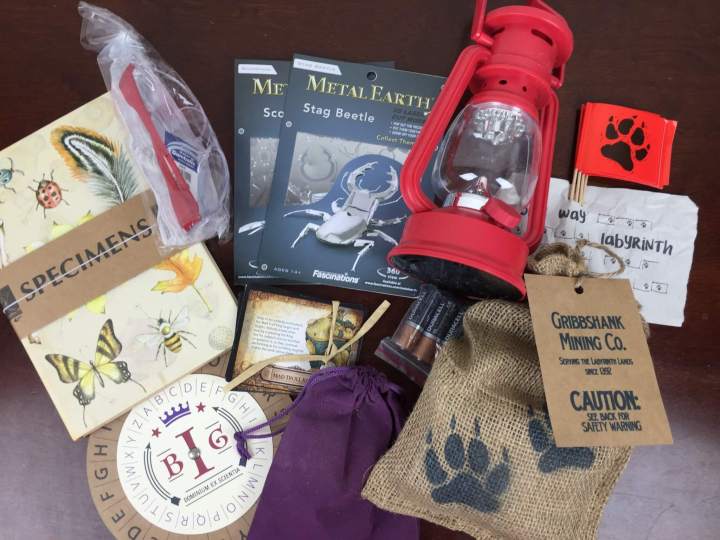 Everything in the box!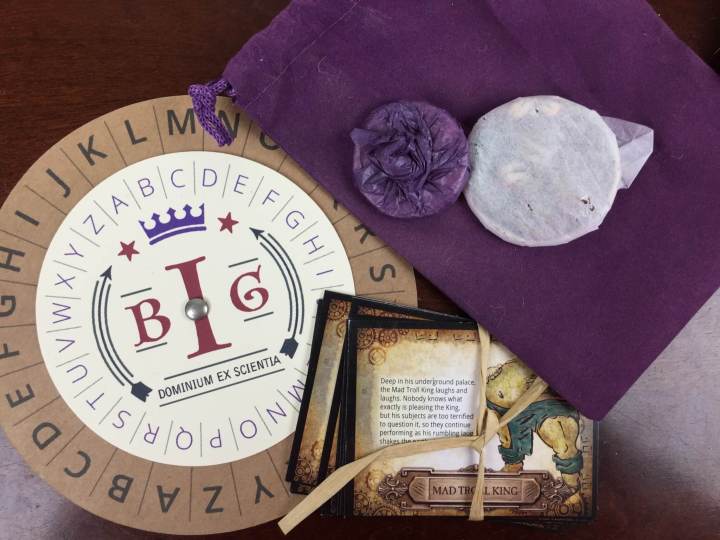 There was a decoder ring, some items in a purple pouch, and a stack of cards. Note – you needed the decoder from the teaser mailing too.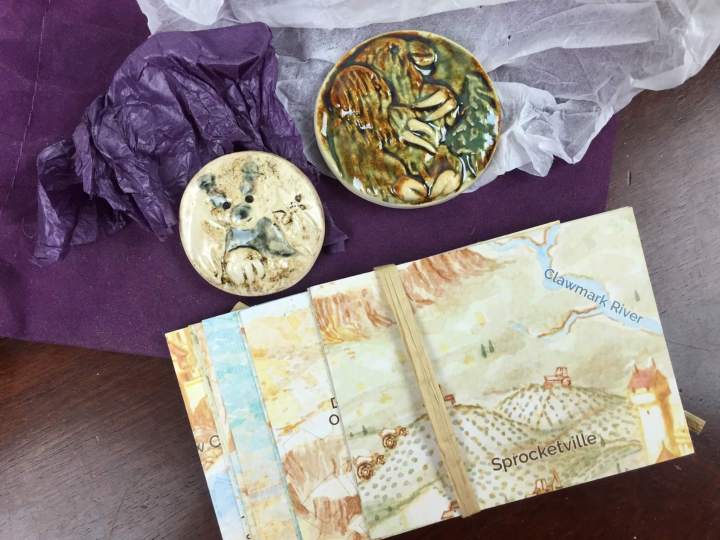 Two delightful artisan crafted ceramic disks – and the cards have maps on the back!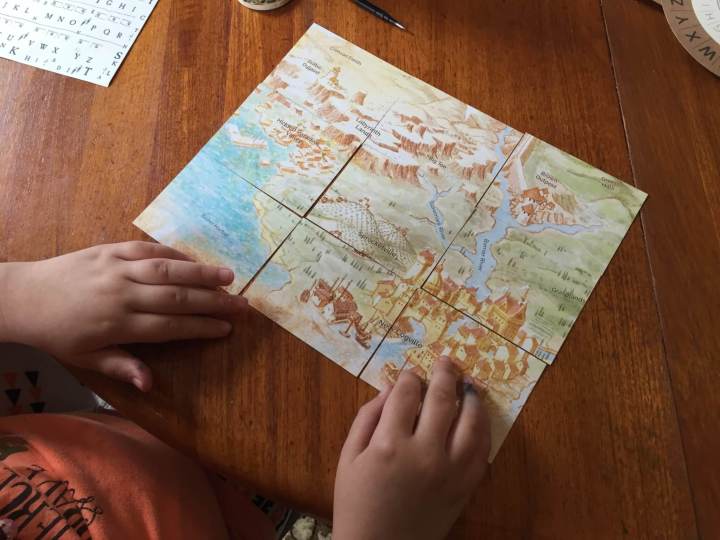 My daughter fit the map together but I am going to be honest – this box lost us on the story and we didn't know what to do with the map. There were fun parts but I think it was impossible to tell what was going on without the first box in the series.
Metal Earth Scorpion & Stag Beetle: These certainly fit the little mining theme, but they are rated for ages 14+ and we didn't put them together. They are intricate, time consuming, and it's not something children can do at all. This is a parents have to do it for you activity.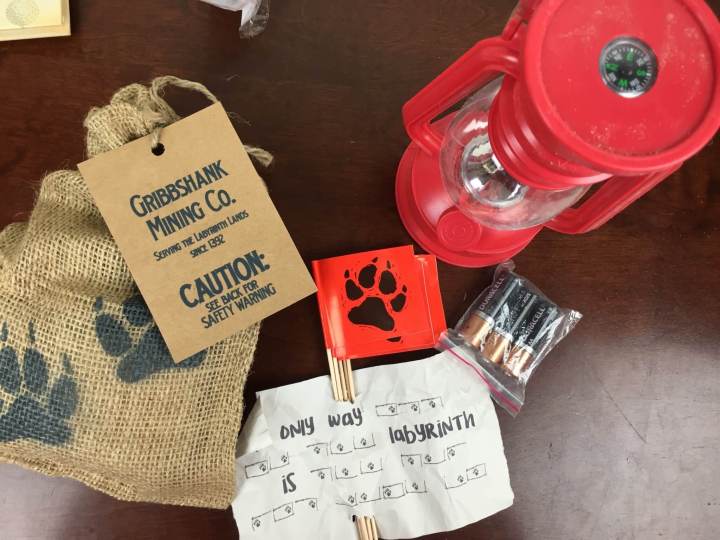 This looked more promising – a burlap sack, flags, and a lantern.
My daughter had a fun time solving the cipher.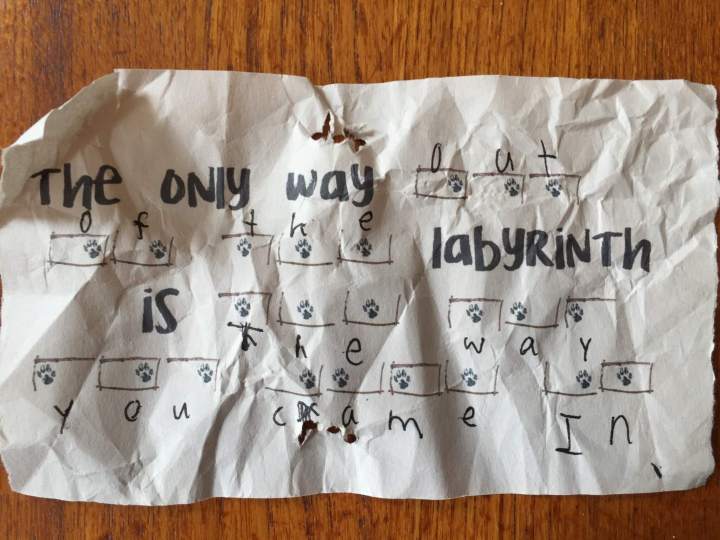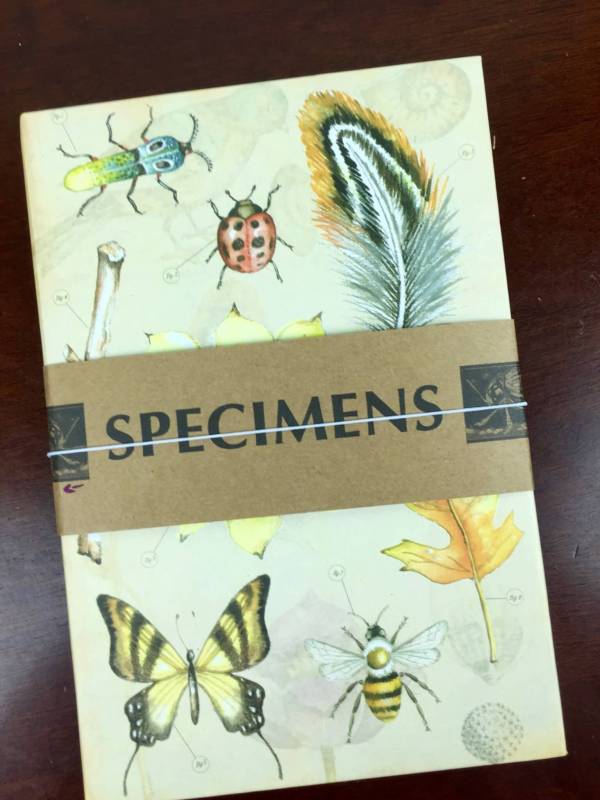 A specimens journal was included!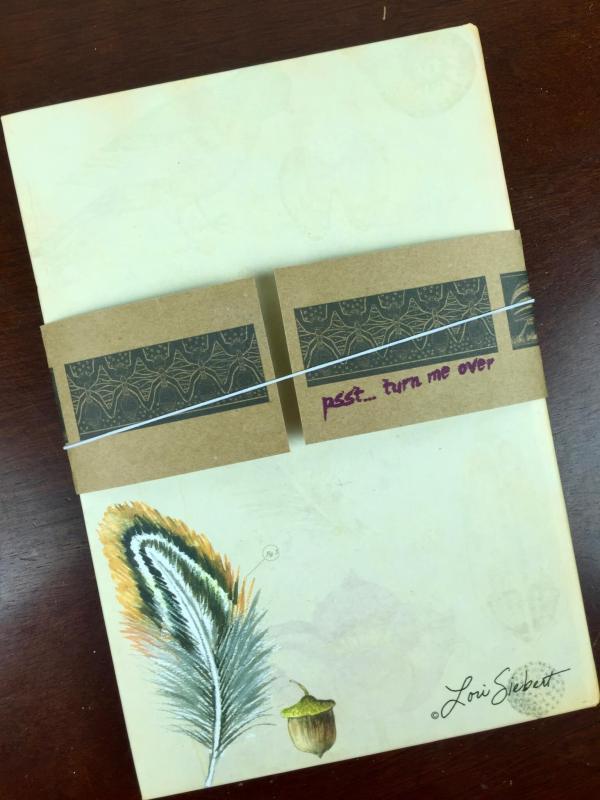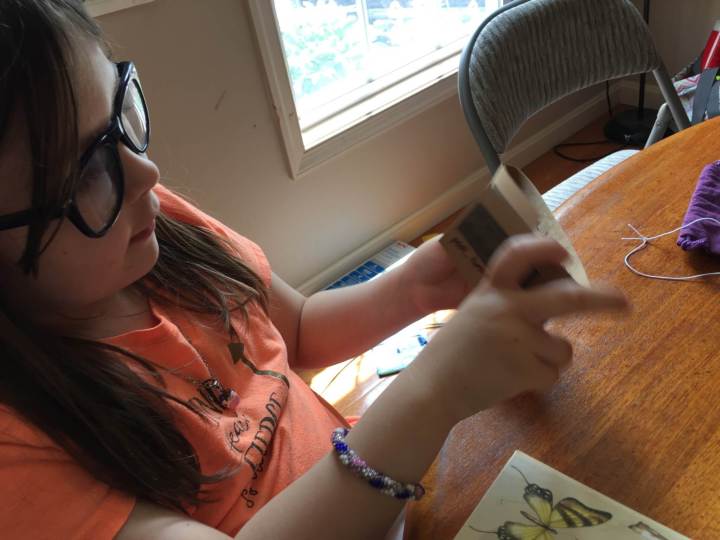 She nearly vibrated out of her chair when she discovered more to solve.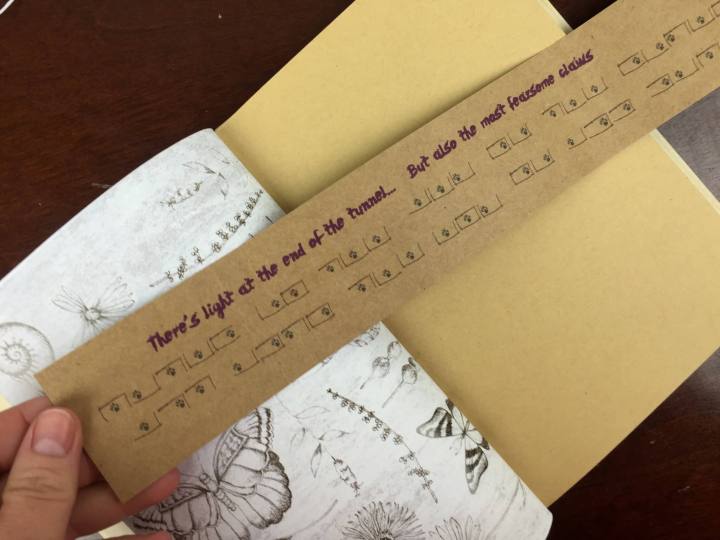 This cypher echoed a line decoded in the teaser mailing and required the paw decoder from that box.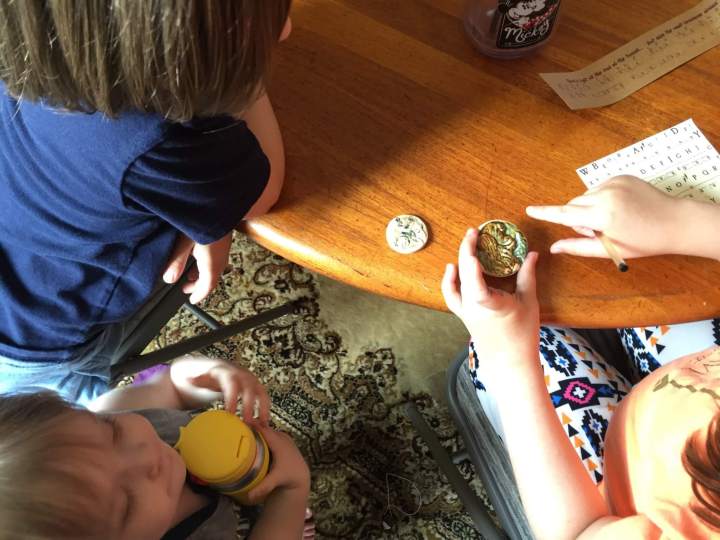 The purpose of the coins remains unknown but the kids were thrilled with these treasures.
The cypher was a warning from B.I.G.!
The lantern had a fun compass on top.  This was the most used item from the box.  Lit by a series of LEDs that reflect off an inverted funnel, it creates a bright light without any heat.  A knob allows adjustment of the brightness, too.
Safety goggles were the next item!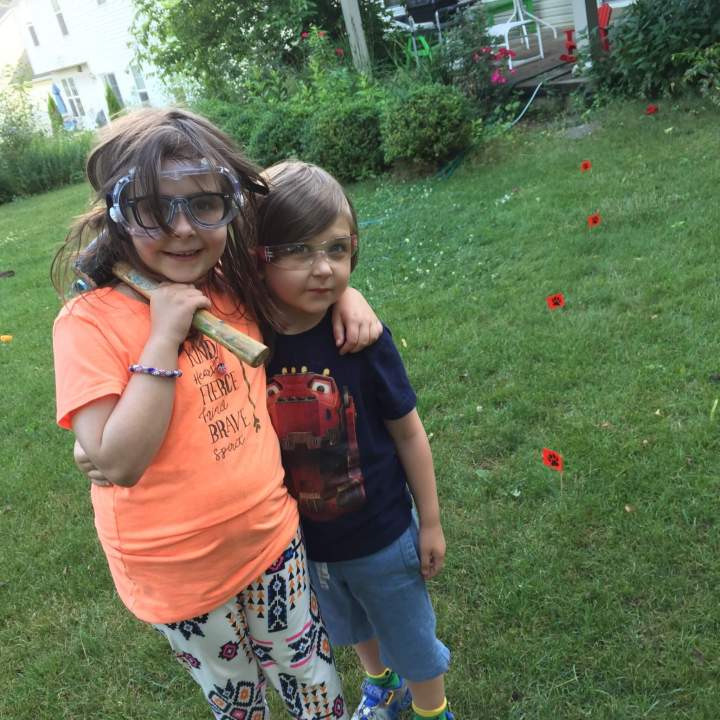 The flags were used to find your way back from "the labyrinth." Fortunately our kids are good at pretending and found it delightful to plant the flags on the open lawn. A child young enough to enjoy that is unlikely to enjoy assembling the metal figures.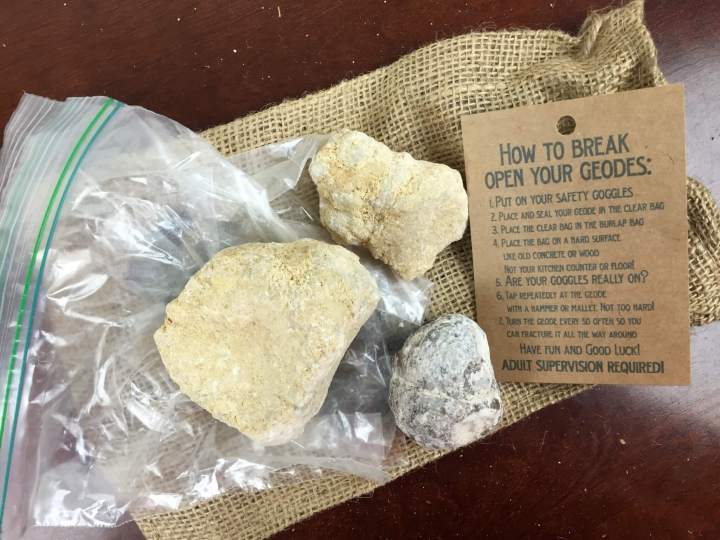 Inside the burlap sack were several geodes! And more safety info!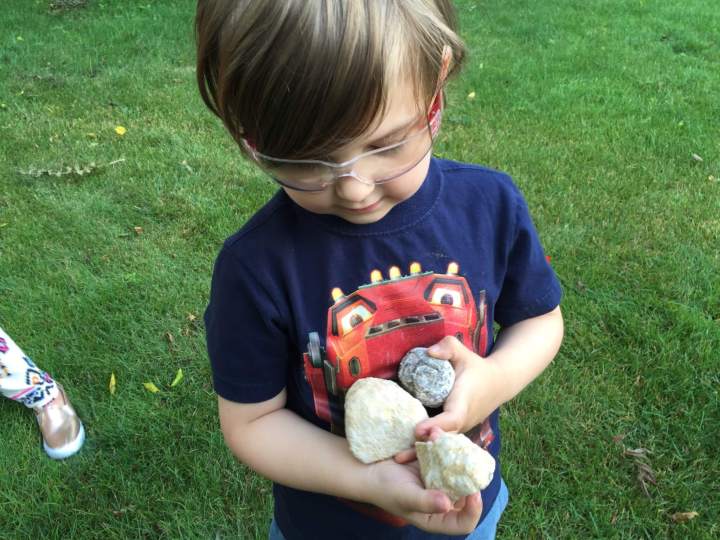 They were REALLY excited about this!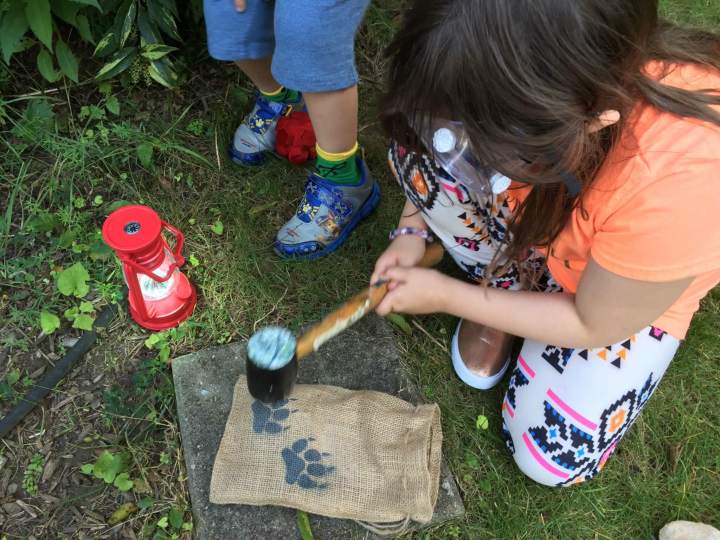 They both got a chance to TOTALLY wail on these guys. Dad had to get a metal hammer to break open the most difficult one.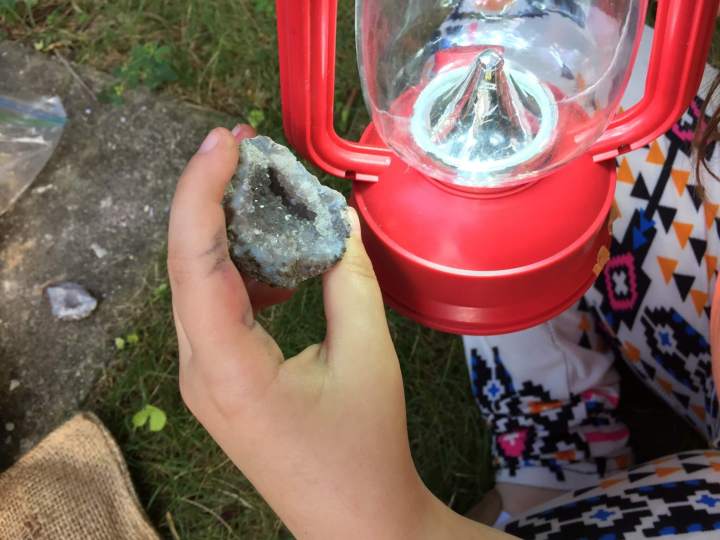 Geodes were inspected by lantern light!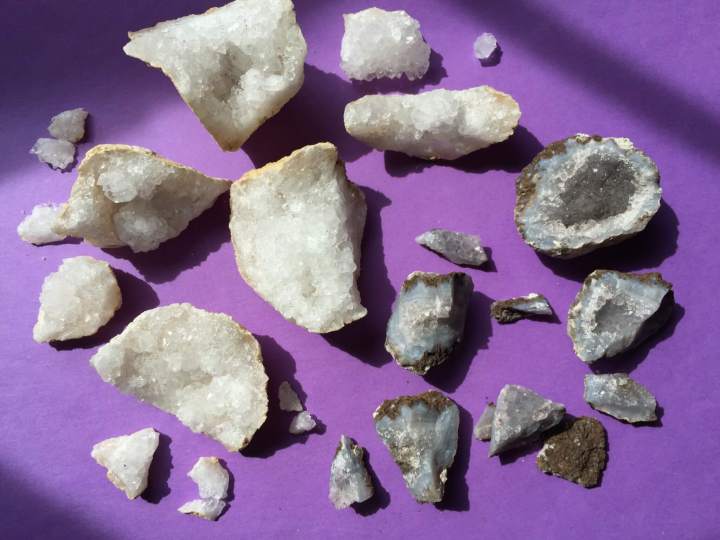 My kids had fun with this box but I didn't understand it. The lack of context and too much mystery led to more of a just the activities box. We thought this subscription could be assisted substantially by incorporating different kinds of puzzles instead of 2 substitution ciphers as well as providing a plain language explanation of what's up to busy parents that want to help set the scene but don't have quite the time or attention to fit everything together. There were additional ciphers to solve around the edges of the cards – perhaps we'll understand the story better after we spend more time with this box.
Although we think the next quarter won't be as cryptic because it won't be relying on a story from a previous month we still think the box would benefit greatly from those changes – as well as providing goodies that don't require multiple hours of parent time to assemble.
We'd love to hear your experiences with this subscription as well as any hints about the story.
Save $10 on any plan with code HELLOWONDER10!
Visit Wonderful Objects Kids Box by Wonder and Company to subscribe or find out more!
The Subscription
:
Wonderful Objects Kids Box by Wonder and Company
The Description
: The Wonderful Objects Kids Box is a story-making experience directed by your child. Unfolding across quarterly mystery boxes, unexpected deliveries, and exciting clues, Wonderful Objects encourages children to ask "What if…?" and invites them to turn their answers into something magical.
The Price
: $72.00 per quarter