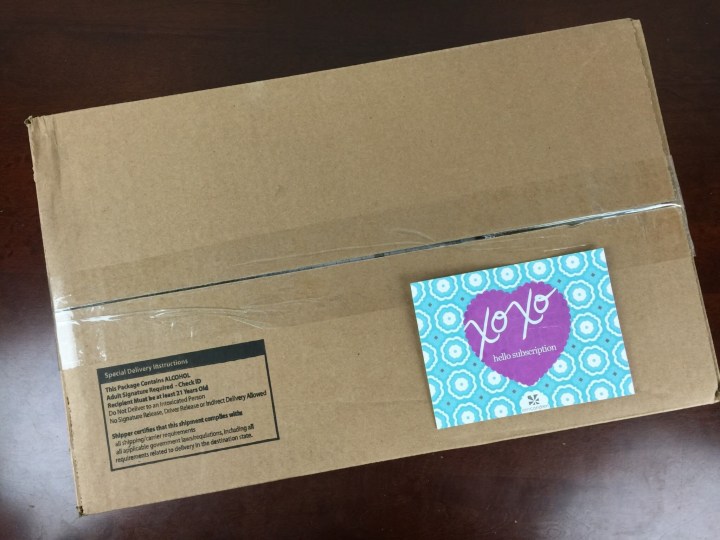 Wine Awesomeness is a wine club that's like a subscription box  – great wines are thoughtfully curated around a cool theme.  Every month you'll get themed, wine-fueled adventure complete with 3 (or 6!) excellent wines and "The Back Label" mini-mag! You can choose reds, whites, or mixed — we've been getting the mixed since we switched to the six bottle box.  One of the things that we like about this subscription is that they include rosé in with the whites, so this increasing popular category does not get ignored.
You'll get 3 (or 6, depending on your choice) wines every month or every quarter, depending on how often you'd like to receive it. The 3 bottle box costs $45, and the 6 bottle box is $75.
The six bottle box doesn't ship in the rad Wine Awesomeness boxes.  Guess that's where the savings are!  When you get a 3 bottle box this is what the box looks like – it's really neat!
The theme this month is "State of the Union."  Every month you don't just get 3 "really good" bottles of wine (for a great price, I might add), you get 3 really good bottles curated around a specific theme along with an introduction to the theme, very readable educational materials about all the grapes in this region or the theme, and page by page introductions to each wine.  The book is a great tool to help you intelligently explore the world of wine out there.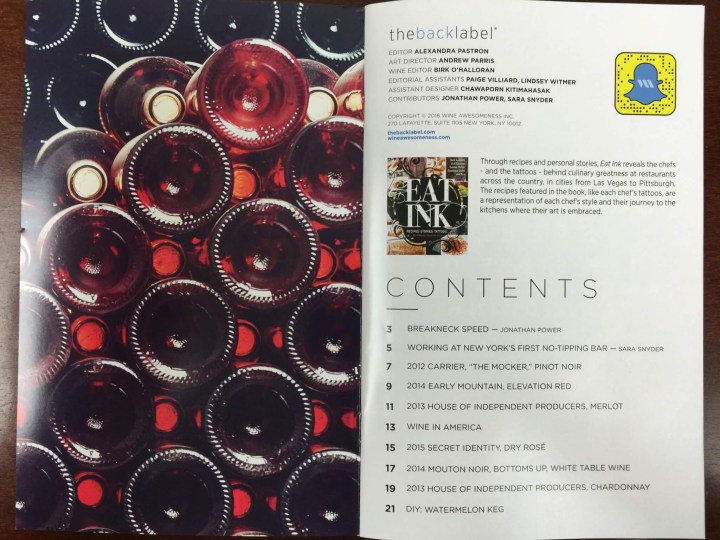 This is such a great, accessible mini-mag.  This is my favorite wine subscription because of the theme and the magazine (and the great wine!).  The mini-mag is full of cool stuff — great detail on the wines, recipes, and even several articles on the theme and its relation to wine culture.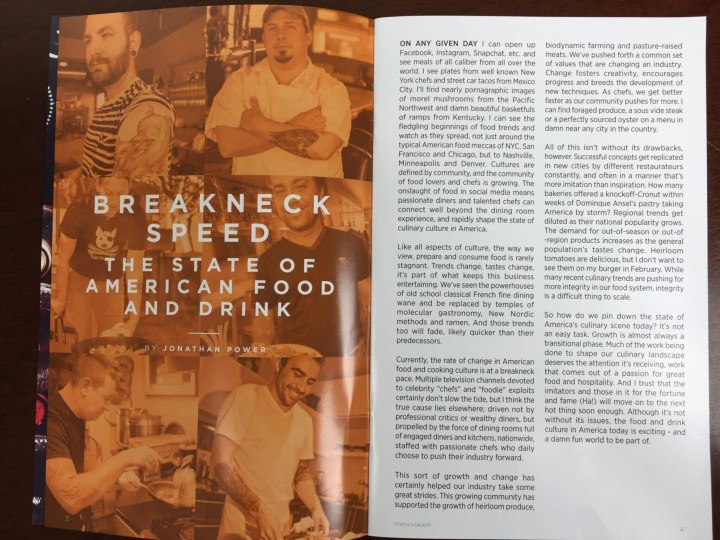 This month's letter is all about the state of our (food & drink) union – the growth and change of uniquely American cuisine and beverages!
This was a cool infographic! My state isn't quite California levels but it's up there!
Back of the book watermelon keg tutorial. Yesss.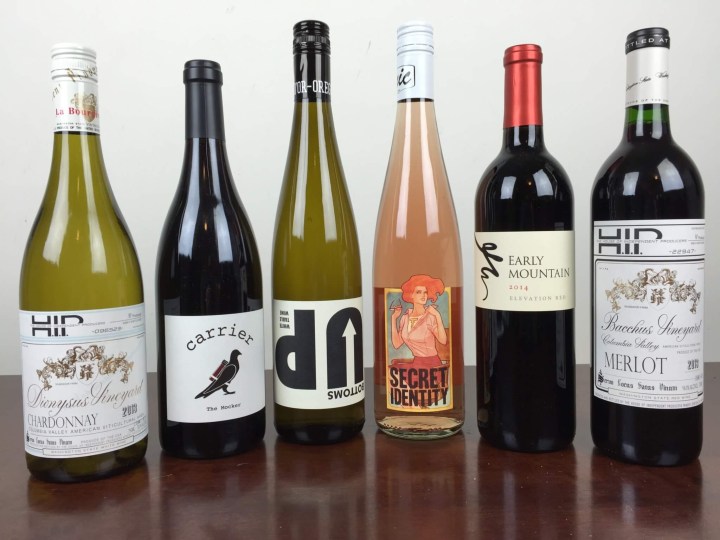 Each wine has its own information page including the following:
Wine Name
Grape
Location
What you should do while drinking this wine (many tongue in cheek)
What to eat with the wine
What to listen to while you drink the wine
A cool chart showing a visual on the Acid, Body, Tannin, and Fruit of the wine (this is new!)
Wine Bouquet
Tasting Notes
Description
The recipes appear facing the wines, which you can make to eat with, or use to guide your selections.  We are simple folk, so we usually pick the recipe that is closest to what we're already eating and grab the corresponding bottle!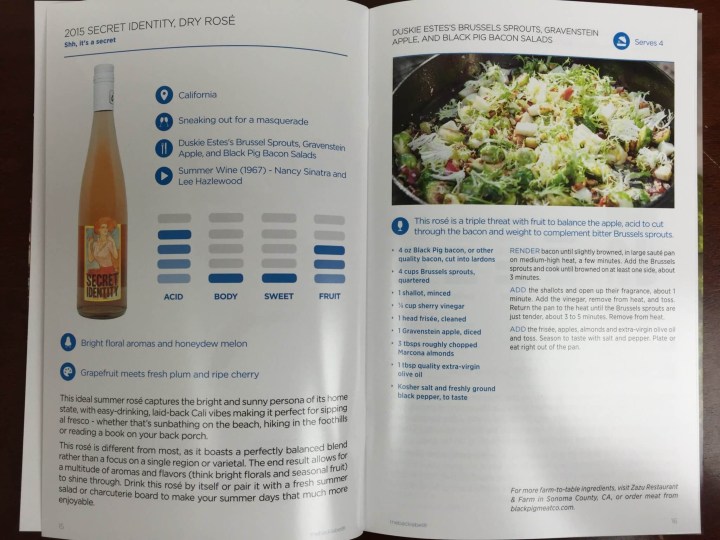 July Wine Awesomeness: Whites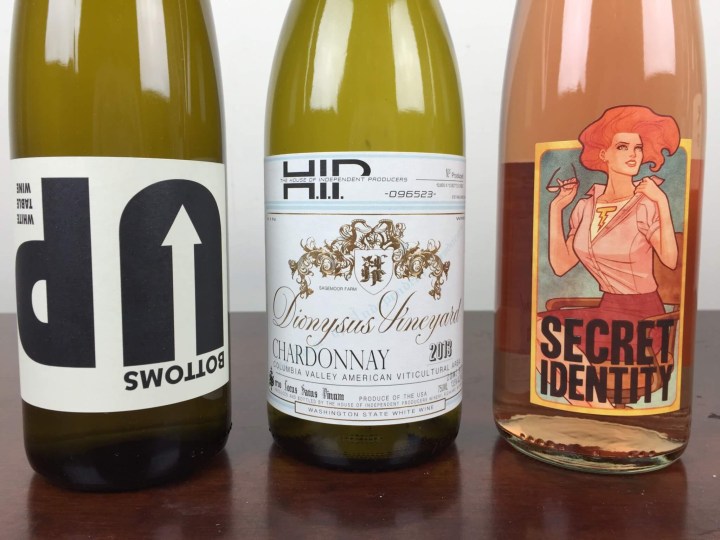 2014 Bottoms Up: A peachy white table wine, mostly Riesling!
2013 House of Independent Producers Chardonnay: This was fruity and gorgeous and worthy of the Dionysus Vineyards name on the bottle!
2015 Secret Identity Rose: Bust out of your boring life and drink this one after work to reveal your secret (rosé fuelled) identity!
The whites this month paired exceptionally well with seafood and fresh veg, making them great for summer dinners on the porch.
July Wine Awesomeness: Reds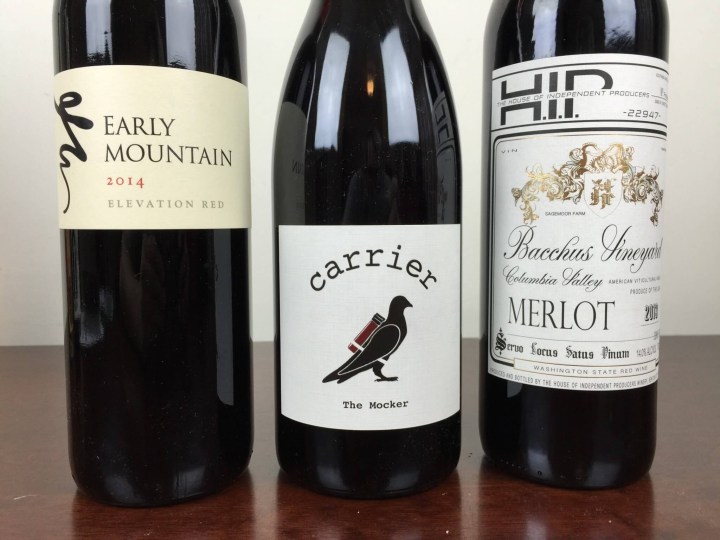 2014 Early Mountain Elevation Red: This was super fruity and mildly acidic, which made it particularly good with dinner.
2012 Carrier The Mocker Pinot Noir: Tangy and somewhat tannic this was a good pairing with a hearty meal!
2013 House of Independent Producers Merlot: Soft, big, and fruity, this was more of a sipper, which is good when you want a drink in the summer, but not necessarily to drink. Does that make sense?
All of the reds seemed at their peak – good for eating with heavy serious meaty meals that summer sometimes to bring!
Bonus!
Lindt Excellence A Touch of Sea Salt Bar Sample:  This was included as a little something extra.
What did you think of this month's Wine Awesomeness theme? You can get your first month (3 bottles) free, just pay $22.50 shipping and handling – click here to activate the offer – no code necessary!
Visit Wine Awesomeness to find out more or to subscribe.
The Subscription
:
Wine Awesomeness
The Description
: Get 3 or 6 bottles of red, white, or mixed, curated monthly. WA membership comes with tasting notes, recipes, and music suggestions. Awesomeness!
The Price
: $45 per month
The Coupon
: Get $10 off your first club 6-pack box!
Use this link
and coupon code
YAY10
to get the deal.
Ships to
: All states except Alaska, Hawaii, South Dakota, and Utah. Yep, this wine club ships to Pennsylvania.