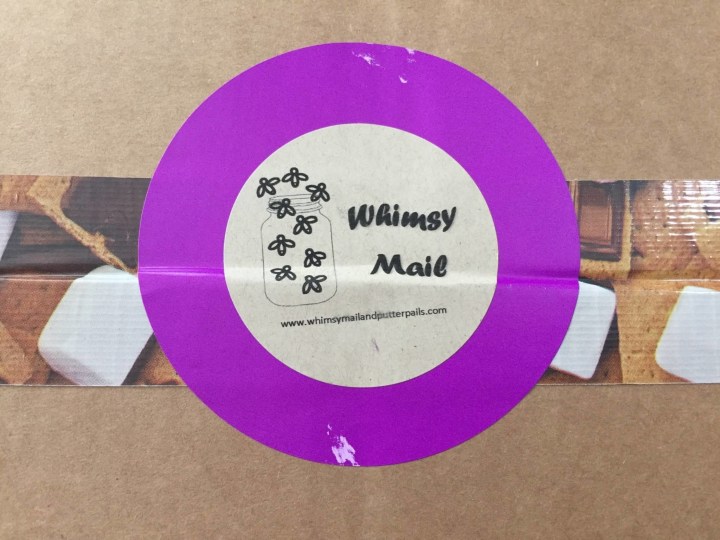 Whimsy Mail and Putter Pails is a Canadian subscription box aimed for tweens aged 8-12. Whimsy Mail is geared for girls, and Putter Pails is for boys. This is a review of the Whimsy Mail box, because I may be in my 30s but I'm young at heart. Whimsy Mail ships in a plain cardboard outer box and is packed with brightly coloured paper squiggles. So many squiggles.
Even though this is a box for tweens, it's still really fun for grownups too!
Each month the packaging tape is patterned, and it's usually a clue to the theme — I always have fun trying to guess! I see s'mores — maybe a camping theme?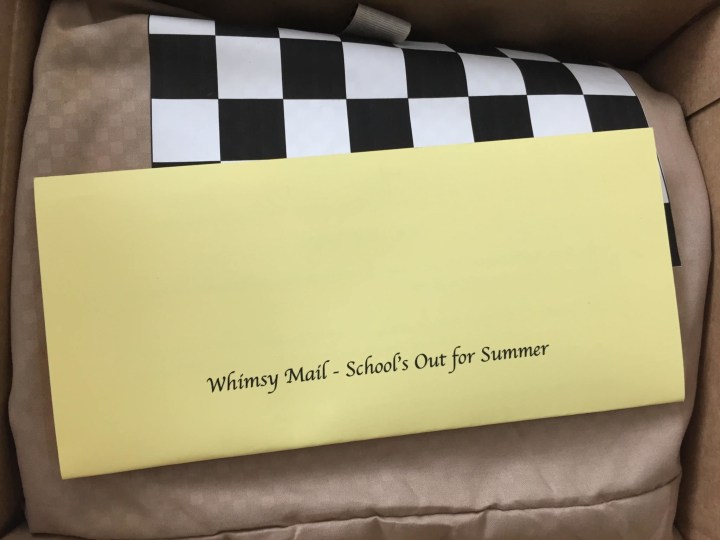 Close! It's a summer theme!
The information sheet is always simple and clean, and a fun read.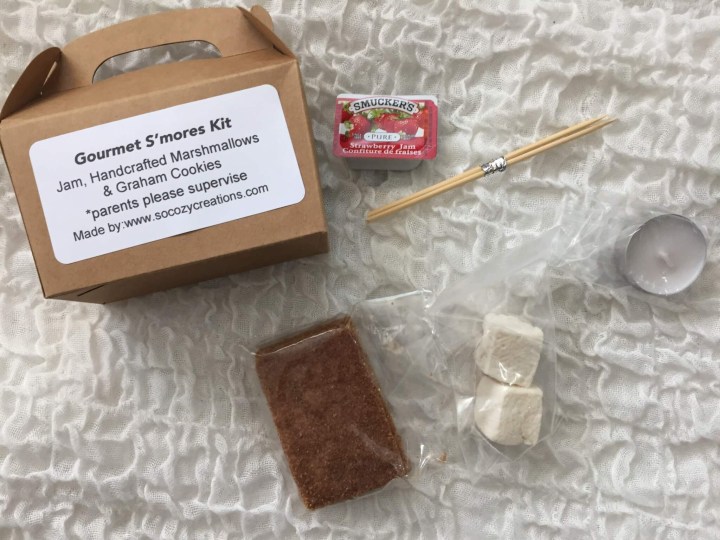 Gourmet S'mores Kit YESSSSSSSSSSSSSS. I was so happy when I saw this — what an awesome idea! Making s'mores reminds me of camping at the beach back in Brownies and even in high school. This little kit includes mini marshmallows (and they're fancy ones!), graham crackers (also fancy — they have a brown sugar sort of dusting that I love), jam (instead of chocolate — which would melt) and toothpicks and a tea light.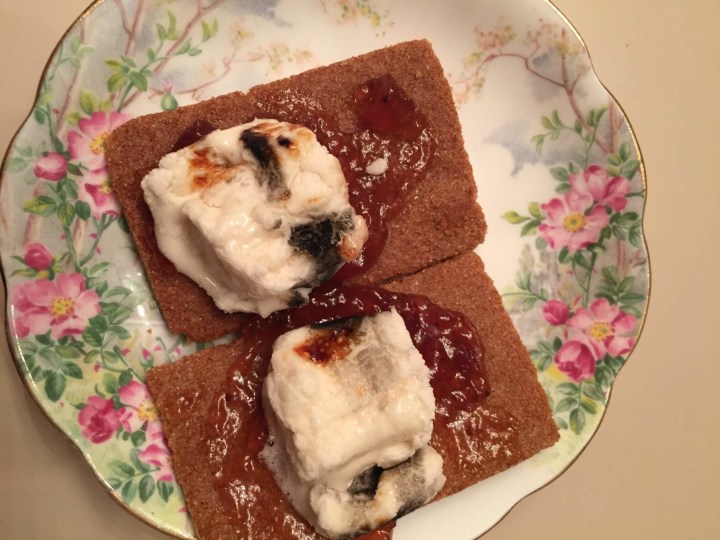 They were really yummy! I've never done them with jam before, but I liked this combo!
Upcycled Bracelet I love this bracelet — it's made of braided fabric, and the size is perfect for my tiny wrist!
Surf Ball It bounces on water! This will be great for when I'm at the cabin with my family; I think our dog will get a kick out of this as well.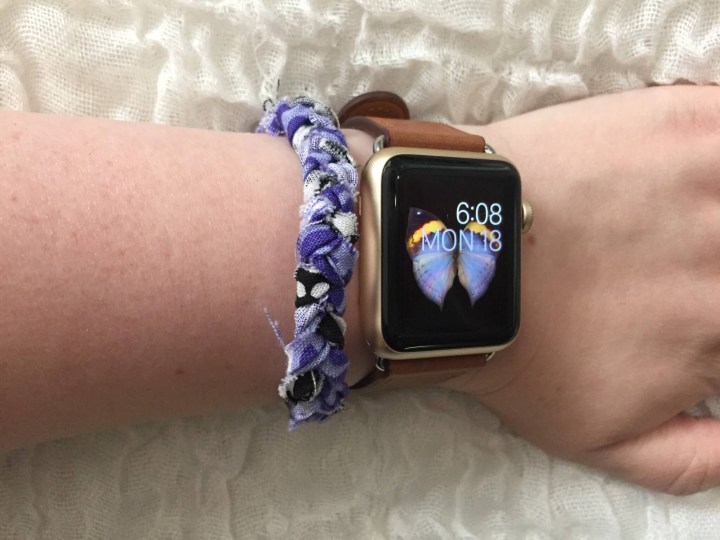 Here's a closeup shot of the bracelet; I love it! (And it fits me… always a bonus!)
Beach Bag and Games This roomy printed beach bag (a repurposed pillowcase, in true Whimsy Mail DIY style!) contains everything you need to play Sandzee (Yahtzee!) and chess or checkers. From the pretty beach glass game pieces, to a dry erase marker that you use with the laminated scorecard, literally everything you need for some beachside gaming fun fits into this bag — and there's still tons of room for your sunnies, towel, sunscreen, and snacks!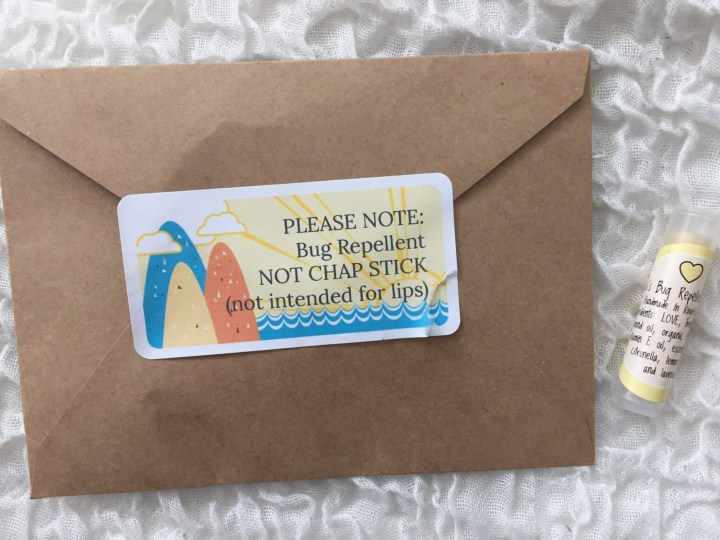 Bug Repellent Stick This couldn't have arrived at a better time — I'm planning on playing some serious Pokemon Go in the evenings here, and the bugs are aplenty down on the dyke along the beach. This natural repellent isn't made of chemicals, but instead uses natural ingredients like lavender. (Bugs hate lavender almost as much as I do…)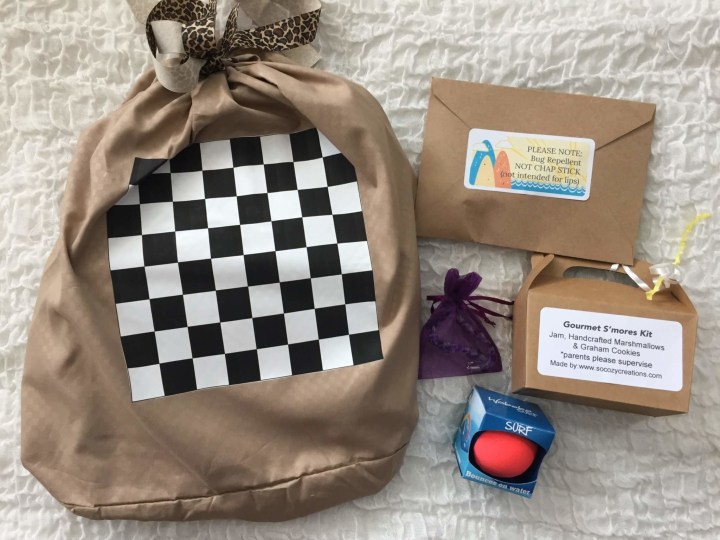 Whimsy Mail's July box included five really creative items that fit the summer theme! I especially love the bracelet and the bug stick, and the s'mores were fun to make. The ball and games will be taken up to our cabin this summer for the family to enjoy!
What did you think of Whimsy Mail this month?
Visit Whimsy Mail & Putter Pails to subscribe or find out more!
The Subscription
:
Whimsy Mail & Putter Pails
The Description
: Unique Canadian monthly subscription box for tweens with a NEW THEME every month! We feature items we know you will love as much as we have loved picking them out for you! Whimsy Mail for Girls and Putter Pails for Boys!
The Price
: $31.90 per month