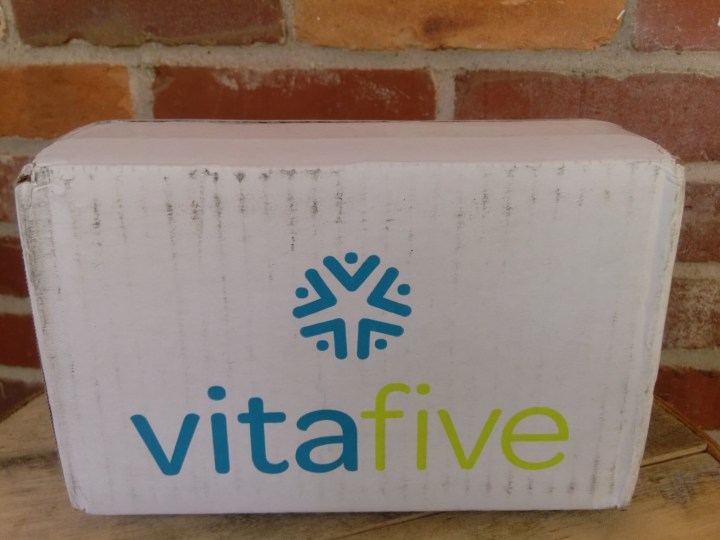 Vitafive is a convenient and personalized vitamin service.  You choose a personalized to you vitamin regimen and they send them to you in 4 weeks (28 days) worth of individual daily packs each labeled with your name and the vitamins you choose listed.  And, you must go to their website and watch their video commercial. It is hilarious.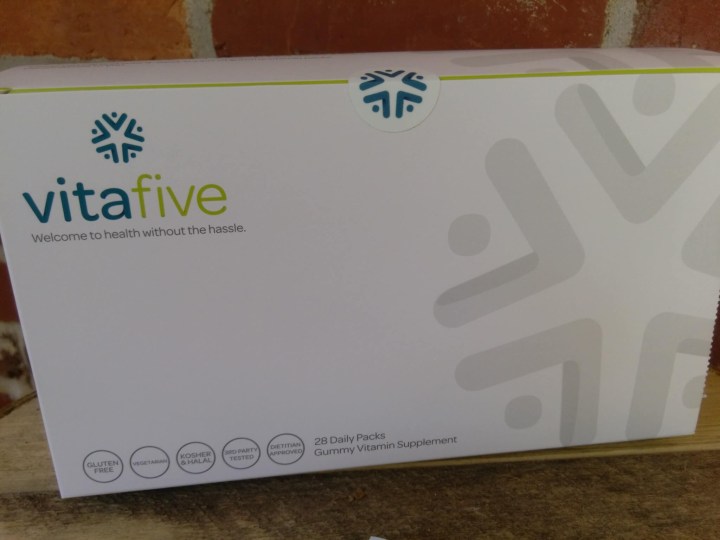 This box was carefully packaged inside the first box (above).  Vitafive's vitamins are all gummies which are gluten free, Vegetarian, Kosher & Halal, 3rd Party Tested and Dietitian Approved.  The gummies are made in the USA and 99% sourced from the USA.  Also, their vitamins are safe from melting in temperatures of up to 140 degrees.  I live in the South and it's July, so these were thoroughly tested ( I think it was around 100 degrees the day they were delivered) and they didn't melt or get squished together.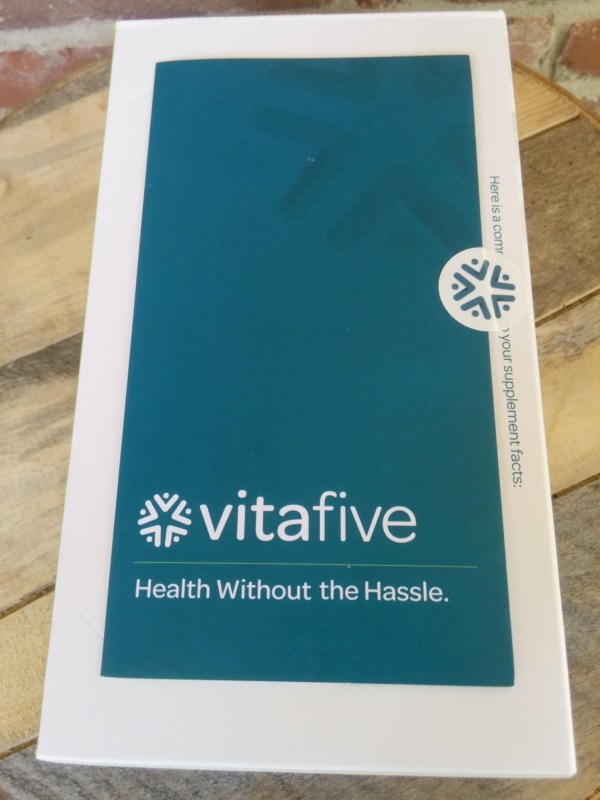 A pamphlet about the vitamins was neatly tucked into the top of the box and secured with a sticker.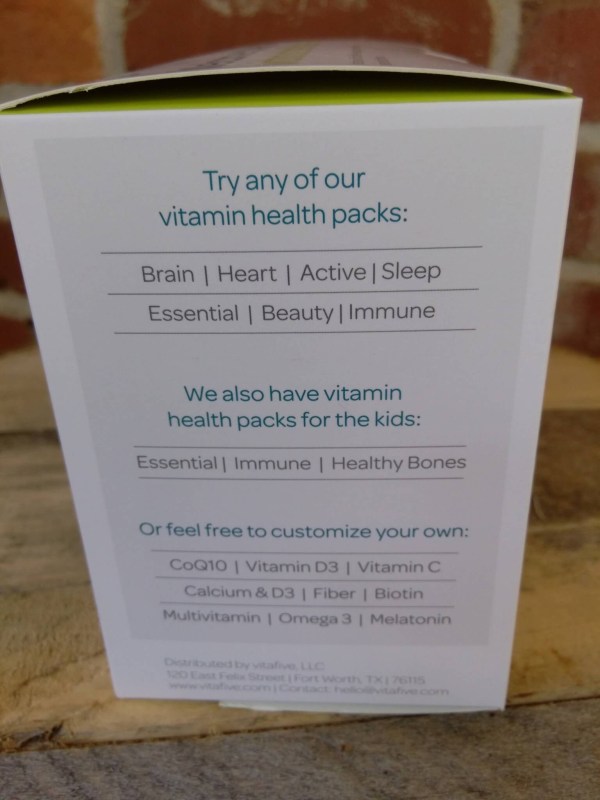 The end of the box highlighted Vitafive's vitamin choices which you can customize to you and your family's needs.  They offer ready made adult health packs that include Brain ($34.99), Heart ($39.99), Active ($39.99), Sleep ($29.99), Essential ($29.99), Beauty ($34.99) and Immune  ($34.99).  For kids, the health pack choices are Essential ($24.99), Immune ($29.99) or Healthy Bones ($29.99).  Or you can choose your own vitamin combination to customize your own pack (starts at $14.99).  Shipping is free.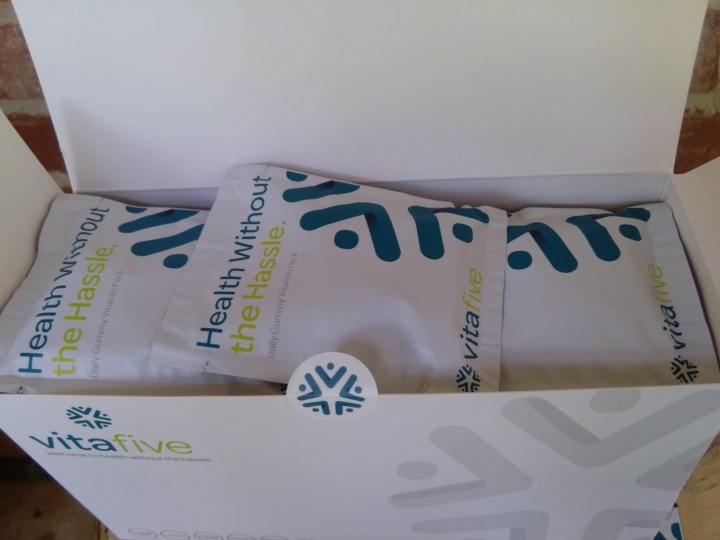 I opened the top of the box so you could see the box was full to the top with the vitamin packets.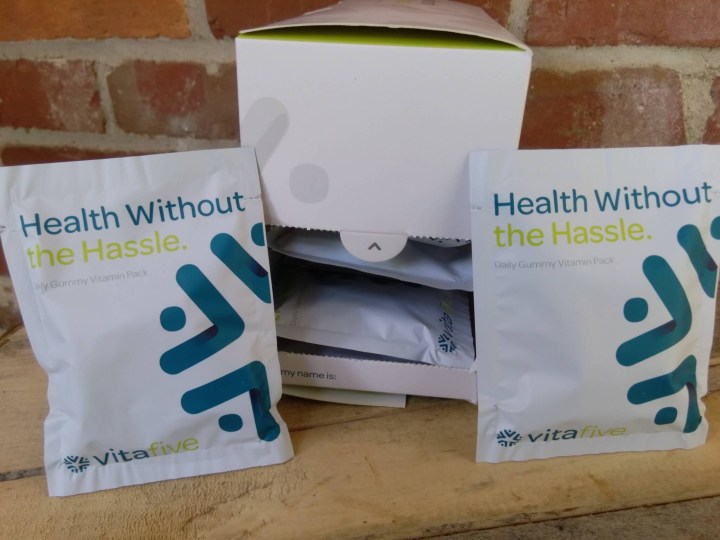 The end of the box punched out so you could stack the boxes on your counter or in the cabinet and still have easy access to your daily pack.
The pamphlet listed the dietary information for each vitamin that Vitafive offers.  Their vitamins include the following:  Biotin, Omega 3, CoQ10, Melatonin, Calcium & D3, Vitamin D3, Vitamin C, and a Multivitamin.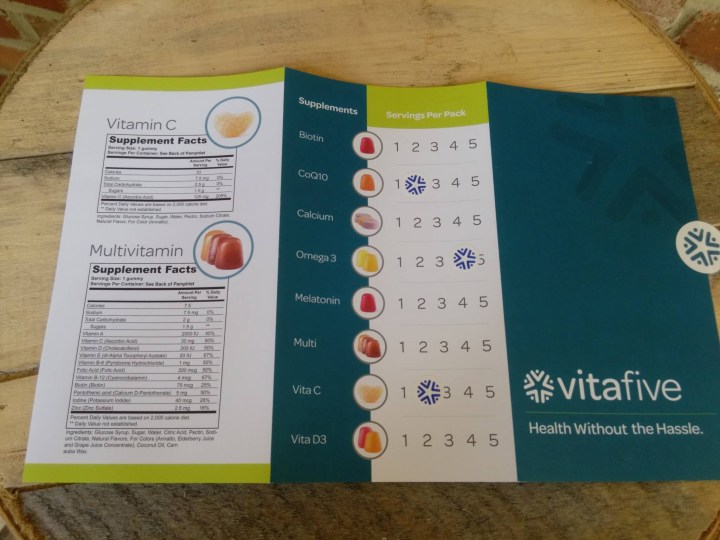 The back of the pamphlet also listed the vitamins that we chose and the amounts of each vitamin that were in the daily packs.  The Heart Pack that we chose includes 4 Omega3s, 2 Vitamin Cs and 2 CoQ10s everyday.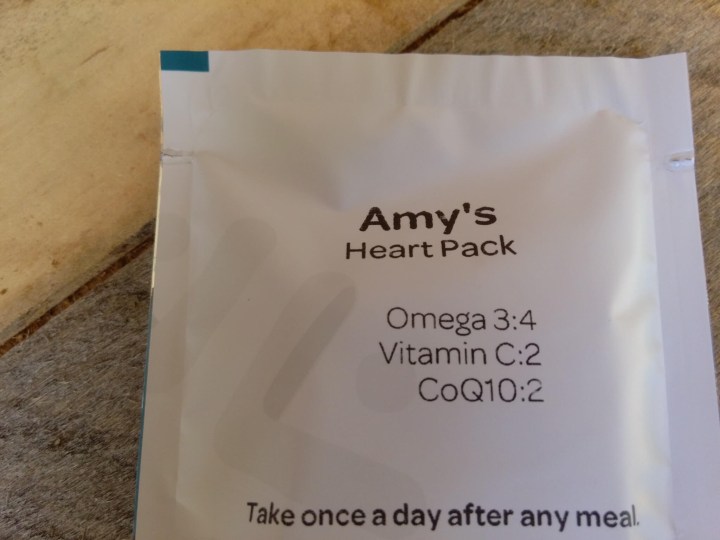 Each daily vitamin pack was labeled with our name, the type of pack it was (Heart Pack), and the vitamins the pack contained and the number of each in the pack.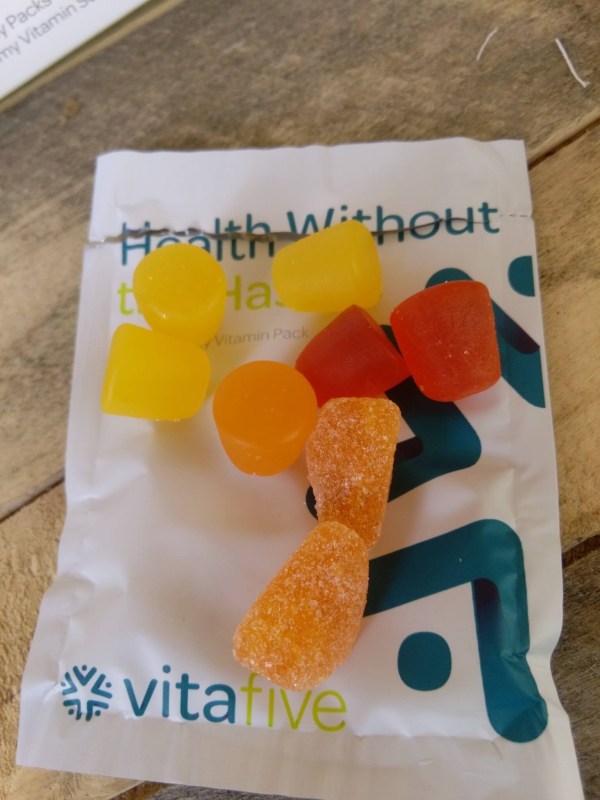 Here is the gummies themselves.  They were delicious, like eating candy, with no vitaminy aftertaste.  I found myself looking forward to the next pack.  They satisfied my want for something sweet after a meal, but were healthy.
Vitafive is gummy deliciousness conveniently delivered to your door in individual daily packs.  And, they are good.  You can't beat that! And my kids refuse to take anything but gummies (they turn their little noses up at the more chalky chewables), so these are great for kids too.  You can order the whole family's vitamins and have them in these handy ready to go packets.  You can also send packs to different addresses, so you can send a pack to your favorite college student (who you know isn't eating right) or to your grandmother or whoever.  This is such a great idea.  No more forgetting to take my daily vitamins.
If you're ready to try Vitafive save 50% off your first order no matter how many products you buy or how many members are added! Use coupon code hellosub50.
Visit Vitafive to subscribe or find out more!
The Subscription
:
Vitafive
The Description
: For around a $1 a day we offer personalized gummy vitamin packs sent directly to you every 4 weeks! No more going to the store to sift through the horse-sized vitamins, no more organizing your vitamins into your pill organizer, and no more cluttered vitamin jars filling up your kitchen counters.With vitafive, your vitamins are prepackaged into one convenient pack for each day of the week! You can take these packs with you to work, school, and even on vacation. The key to living a healthy life is being consistent and vitafive makes this easy and fun with our gummy vitamin pack
The Price
: $30.00 per month