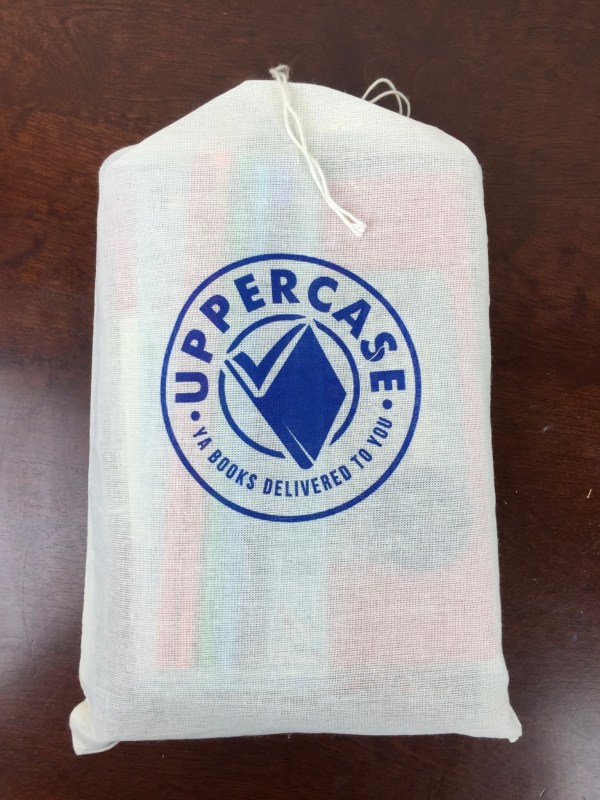 Uppercase Box is a monthly young adult (YA) book and bookish item subscription. Every month you'll receive a hand-selected book, bookish goodies, plus a special reading experience! This box is $23 per month plus $6 shipping.
 This box ships in a flat rate priority mailer and all the items are in the bag.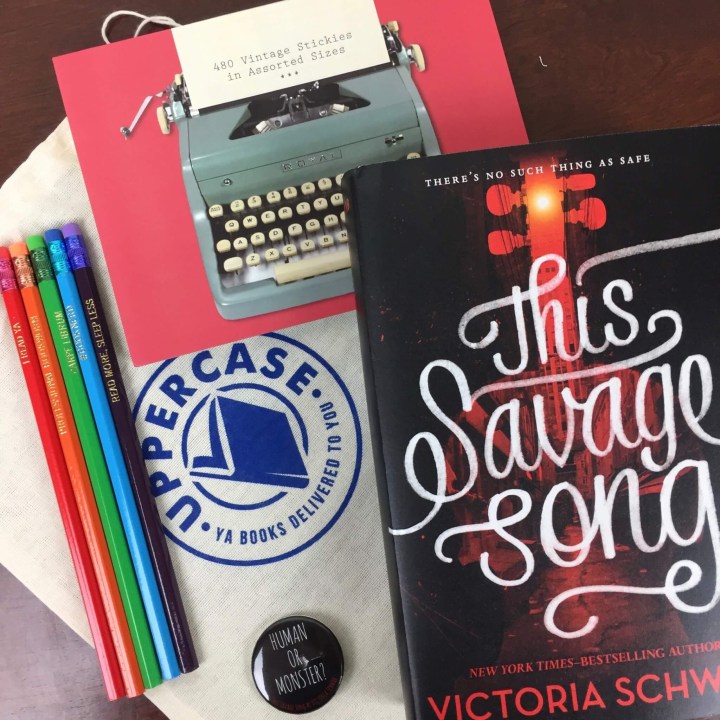 Everything in this month's subscription!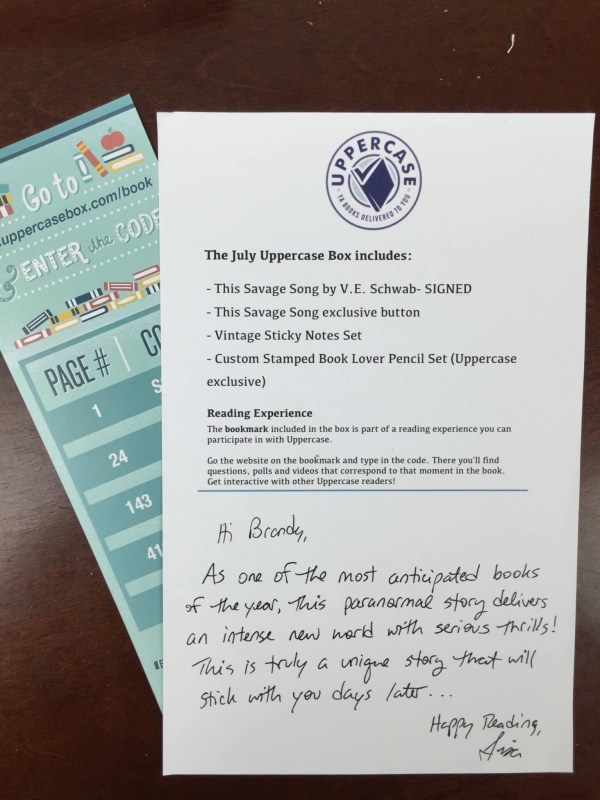 The subscriber letter tells you what comes in the box, an explanation of the reading experience included with the book, plus a curator's letter about the book.
Uppercase bookmark: This bookmark unlocks the subscriber exclusive experience. When you reach that page, you visit the subscriber website and enter the passcode for exclusive content!
This Savage Song by V.E. Schwab ($10.36) SPOILER ALERT! This book was released July 5. Unfortunately for the second month in a row it is the same selection as the July OwlCrate box. This book reminded me quite a bit of the failed Supernatural spinoff with monsters and crime families, well at least sort of. Then it spins into a tale of depravity and humanity. Yay! I love a good dystopian novel.
There's no such thing as safe in a city at war, a city overrun with monsters. In this dark urban fantasy from acclaimed author Victoria Schwab, a young woman and a young man must choose whether to become heroes or villains—and friends or enemies—with the future of their home at stake. The first of two books, This Savage Song is a must-have for fans of Holly Black, Maggie Stiefvater, and Laini Taylor.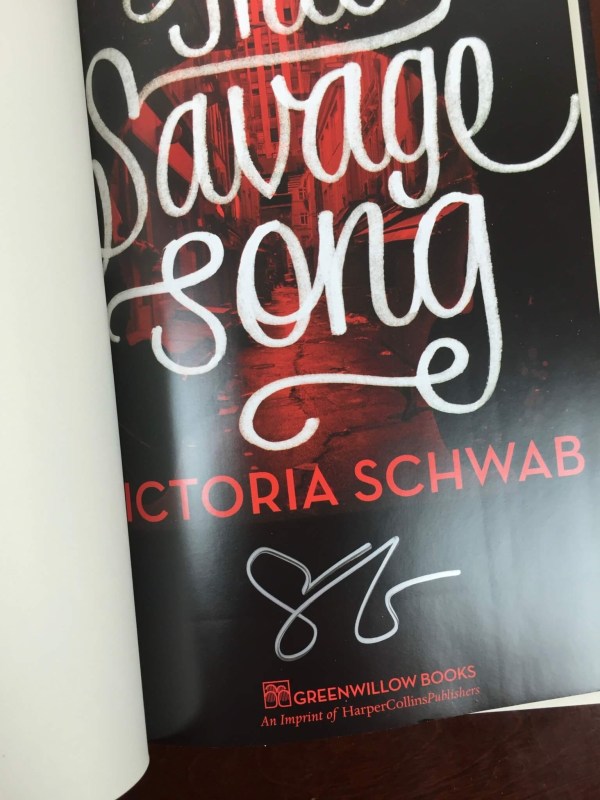 The book is signed by the author!
Kate Harker and August Flynn are the heirs to a divided city—a city where the violence has begun to breed actual monsters. All Kate wants is to be as ruthless as her father, who lets the monsters roam free and makes the humans pay for his protection. All August wants is to be human, as good-hearted as his own father, to play a bigger role in protecting the innocent—but he's one of the monsters. One who can steal a soul with a simple strain of music. When the chance arises to keep an eye on Kate, who's just been kicked out of her sixth boarding school and returned home, August jumps at it. But Kate discovers August's secret, and after a failed assassination attempt the pair must flee for their lives. In This Savage Song, Victoria Schwab creates a gritty, seething metropolis, one worthy of being compared to Gotham and to the four versions of London in her critically acclaimed fantasy for adults, A Darker Shade of Magic. Her heroes will face monsters intent on destroying them from every side—including the monsters within.
I'm checking out the adult novel from the library asap!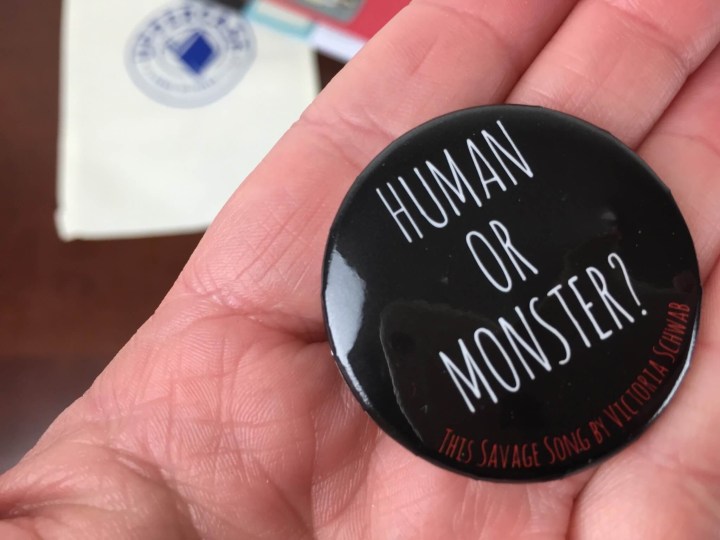 This Savage Song Exclusive Button: I think I will wear my pin when I go to the library! I find people's reactions to things like this amusing.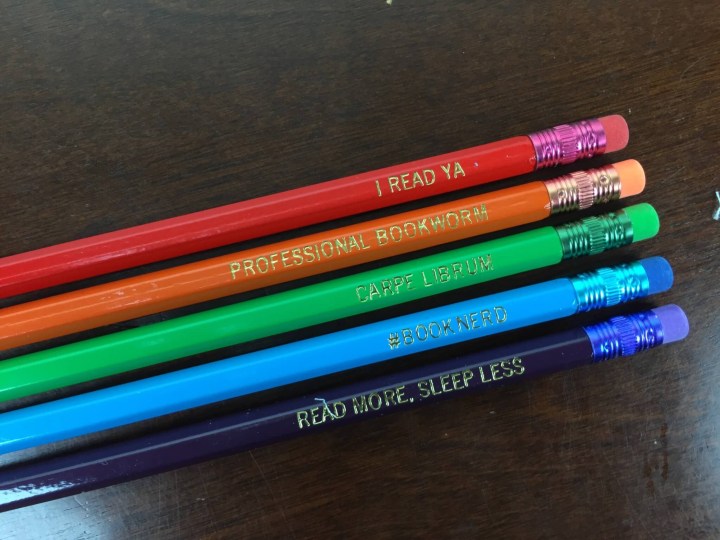 Uppercase Exclusive Custom Stamped Book Lover Pencil Set (~$8): Rainbow pencils! Subscription boxes have really upped my pencil game. They read: Read Ya, Professional Bookworm, Carpe Librum, Booknerd, and Read More Sleep Less. Excellent for book nerds!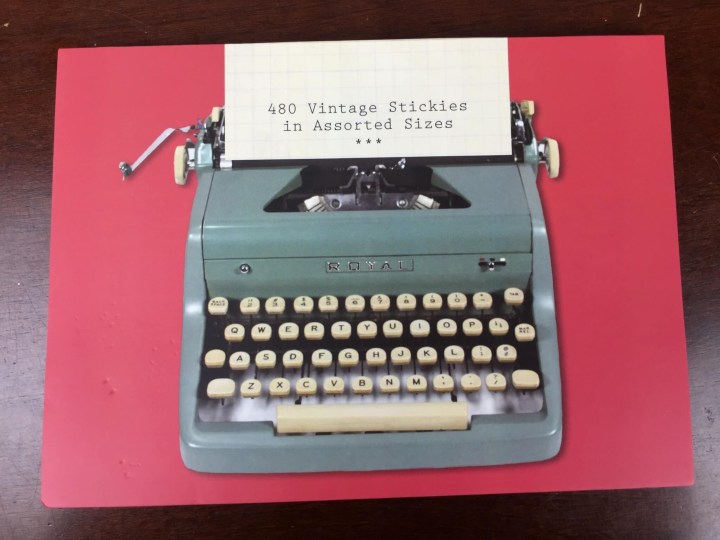 Vintage Sticky Notes Set (~$15): I couldn't really find this one online, but similar sets from the same company go for $17 (they are boxed up in a tin).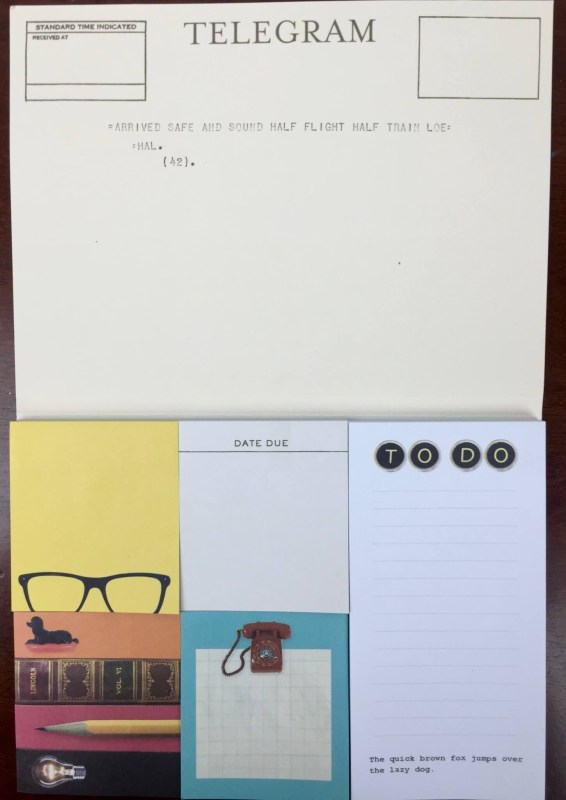 This is actually a fantastically useful item, and I love the old school library theme. These will satisfy all my memo-ing desires for a couple months at least!
July's Uppercase Box was about $33 in value, and this subscription usually meets or slightly exceeds the cost.
It's probably time to make an Uppercase Box vs. OwlCrate comparison. I hate doing so because both are excellent subscriptions, but since they've each featured the same book two months in a row it seems prudent. Uppercase Box features subscriber exclusive additional author content to provide extra value. The shipping format somewhat limits the types of items. OwlCrate actually comes in a box and typically has a greater variety of items and a little more value. Both are excellent subscriptions. If you're subscribed to both and want to keep both, I recommend going with the UpperCase Box option to have a book curated just for you.
What did you think of this month's Uppercase Box?  Save 10% on your first month with coupon code UPPER10.
Visit Uppercase Box to subscribe or find out more!
The Subscription
:
Uppercase Box
The Description
: Uppercase is a young adult book subscription box. Each month subscribers receive one young adult book plus a book accessory (funky items like bookmarks, posters, jewelry, totes, etc.). In addition, Uppercase provides an online area to talk with other readers and find exclusive book content.
The Price
: $29.00 per month