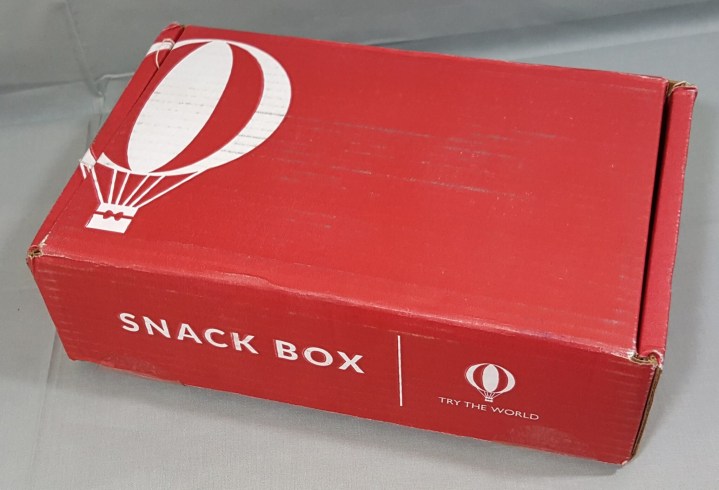 Snack Box is a newer offering from Try The World.  Each month, you'll receive 5 snacks from 5 countries.  Each box is filled with a selection of sweet and savory treats that are easy to eat on the go.  Plus, you'll receive a product card that includes the story behind each product.  Single boxes are $19; however, the price can drop to as low as $15 with an annual subscription.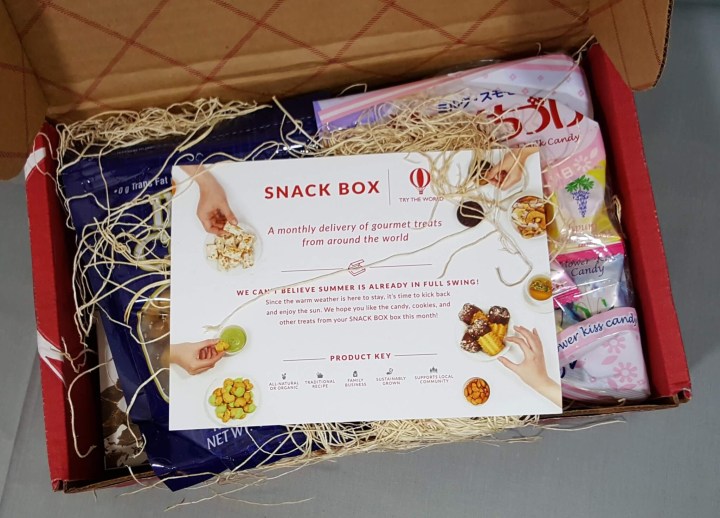 Everything is beautifully packed in raffia straw.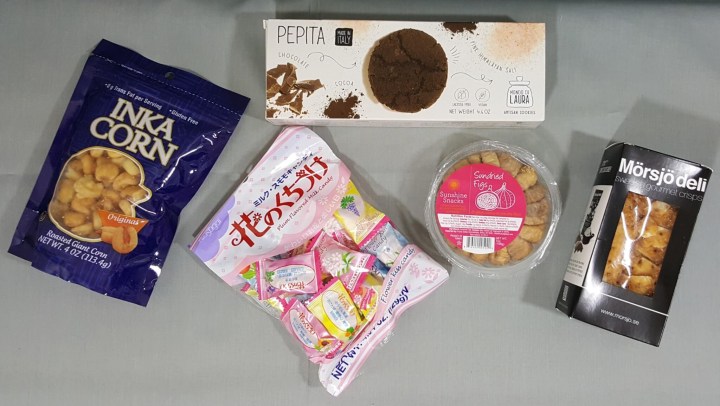 My snack box.  What a tasty group of treats!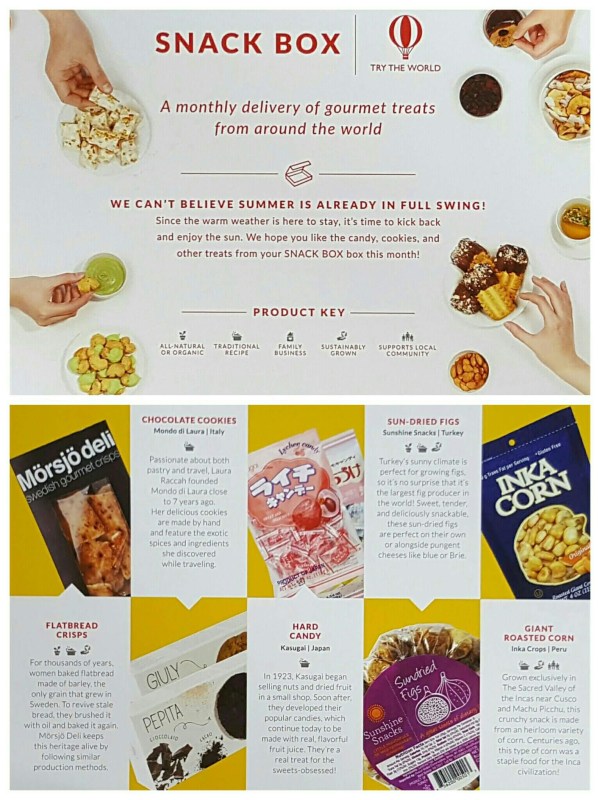 The product card provides a key identifying items which are All-Natual or Organic, Traditional Recipe, Family Business, Sustainably Grown, and/or Supports Local Community.  There is also a story behind each item in the box.
Inka Corn Giant Roasted Corn ($11.32):  Um, hello giant corn-nuts!  These were the biggest corn kernels I've ever seen.  From, Peru, these were my 2nd favorite snack in the box.  Although reminiscent of Corn-nuts, these were less salty and slightly softer in texture.  That's not to say that they didn't have crunch because they did.  I got so excited about these that I forgot to take a picture of the bag before I devoured it.  Sorry.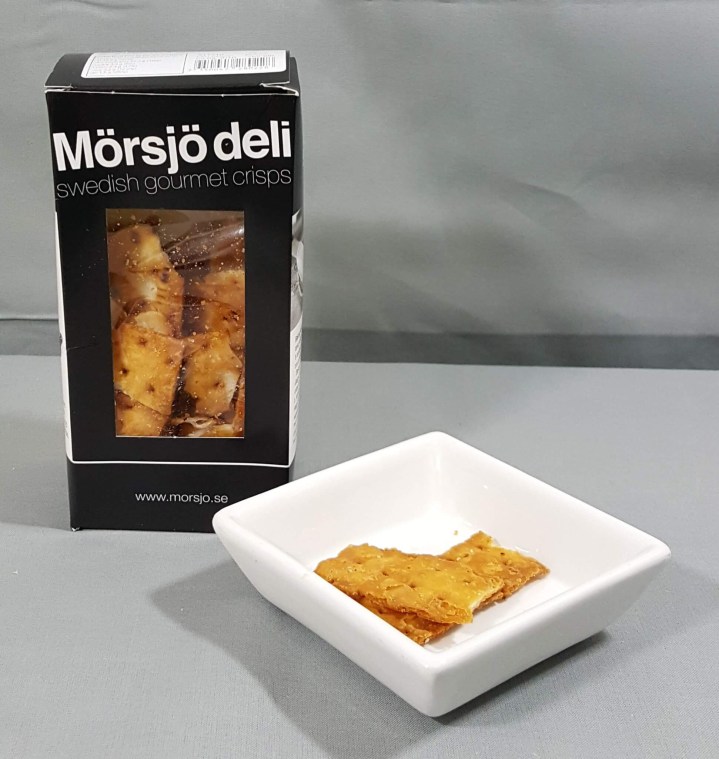 Mörsjö Deli Flatbread Crisps ($6):  These were also in the May/June Taste the World box; see Brandy's review here. I can't say that my opinion of these matches hers.  These are fried flatbread crisps from Sweden.  They have a slightly nutty taste, but I found them a bit too oily for my liking.  I think they would be good topped with a spread, and enjoyed them more when eaten with my chicken salad.
[Brandy says: !!! These are sooo good!]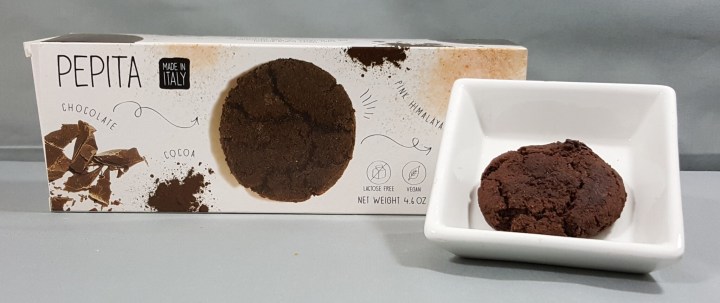 Mondo di Laura Pepita Chocolate Cookies ($9):  This is a rich, crispy cocoa-based cookie featuring pieces of dark chocolate and hints of pink Himalayan sea salt.  Absolutely yummy!!!  These were great with milk or a cup of coffee, or simply on their own.  The sea salt was more of an aftertaste and helped to cut through the richness of the chocolate.  I think I've found my new Italian obsession.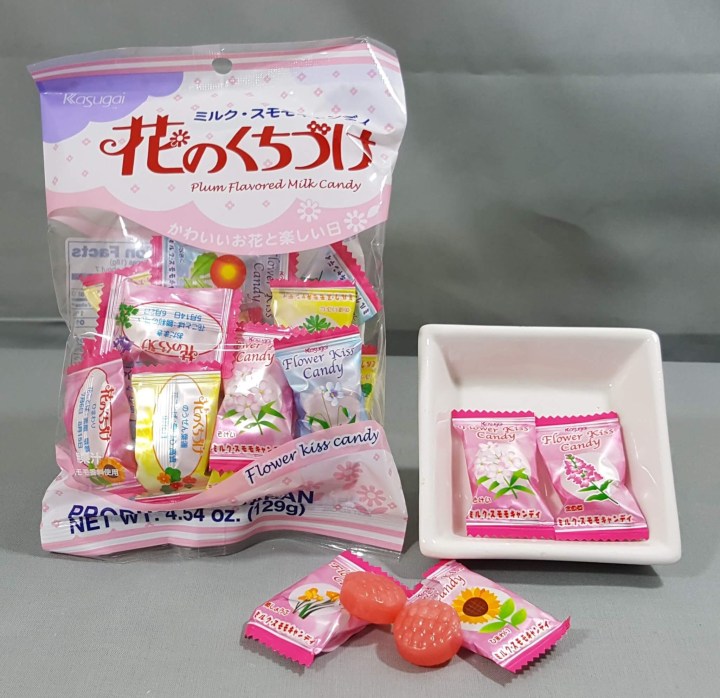 Kasugai Hard Candy ($3.64):  I grew up eating these hard candies, and they are actually my sister's favorite.  They are a plum flavored milk candy from Japan.  The formula seems to have changed a little since I was a child, and these were better than I remember.  The flavor isn't as bright as the Korean version, but that is because these have milk blended in.  They are also known as Flower's Kiss candies.
Sunshine Snacks Sun-Dried Figs ($2.59):  I am not a fig lover, unless it comes in a Newton.  I was hoping that these Turkish figs would change my views, but not so much.  The flavor is good, but I didn't like the chewy texture which makes the seeds more noticeable.
I calculated the value of this box to be just under $33, which is a fantastic value when compared to the cost of a single box.  I liked the variety of snacks – while I didn't enjoy everything, it was nice to experience something outside of the norm.  However, I feel that the retail for the Inka Corn was high.  I would not buy it at that retail if I saw it in the store, no matter how delicious I thought it was.
What snack looked the best to you?  Leave a comment below to let me know.
Visit Try The World Snack Box to subscribe or find out more!
The Subscription
:
Try The World Snack Box
The Description
: We've curated a selection of our favorite treats from our signature Try The World boxes. Between sweet cookies from Sweden and milky caramels from Japan, you're sure to love every one of the products inside. We're thrilled to have you join us! 5 of our most popular treats from our signature Try The World boxes delivered every month.
The Price
: $19.00 every other month