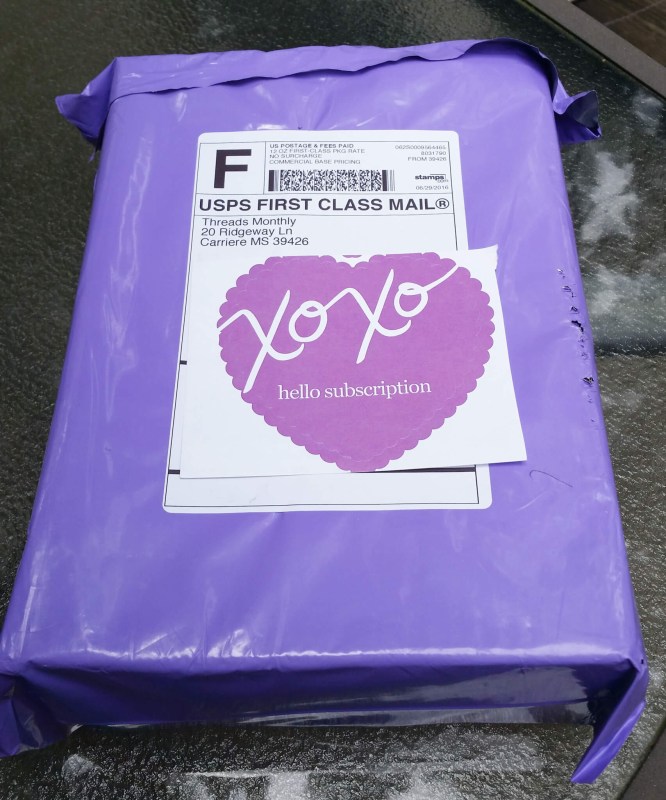 Threads Monthly is a subscription box for "women who love clothing and accessories."  Each month promises one t-shirt, one or two pieces of jewelry, and a themed accessory, all for $20 a month.  I reviewed this box with the help of my budding fashionista daughters, aged 14 and 11.  The box is aimed at women, but my girls wear adult clothes and the items in the package were perfect for tweens, teens, and grownups too! Yet again, Threads Monthly served up a box that both my daughters really liked.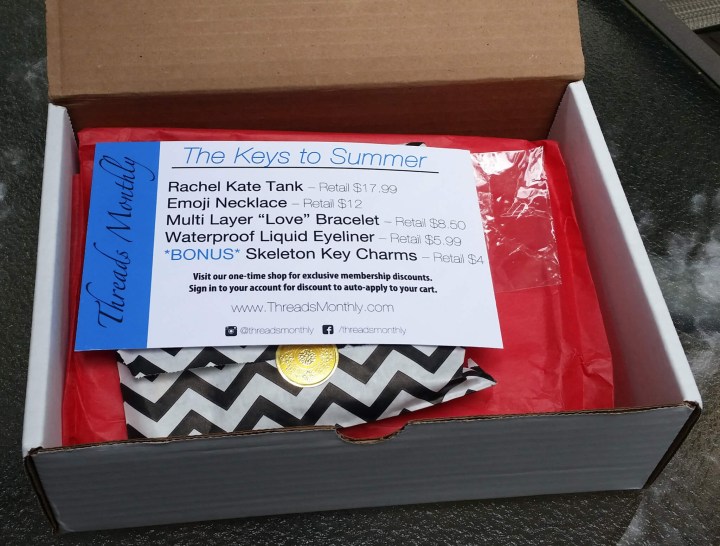 Opening the box.  Bright red paper – super summery.  Plus the usual chevron bag that we now know is filled with jewelry goodies.  This month's theme – "The Keys to Summer."  Fun!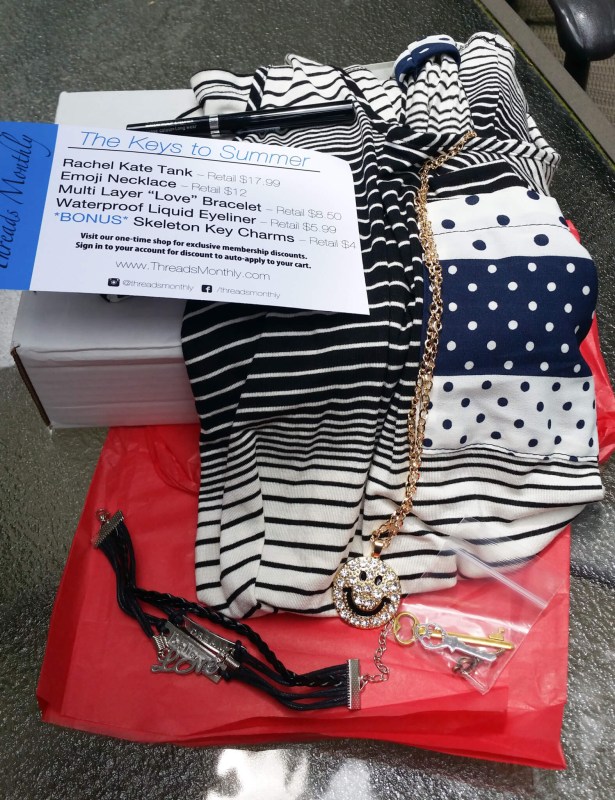 Everything in this month's box.  Love the red, white, and navy blue theme – perfect for a box we received right before the Fourth of July!  Plus polka dots, stripes, and a smiley face…we couldn't wait to dig in!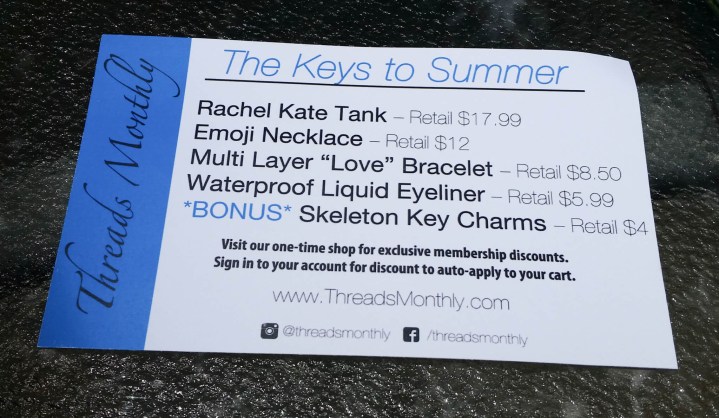 The enclosed card provides a list of items, as well as the suggested retail price for each.  Gotta love it when the box also includes a bonus!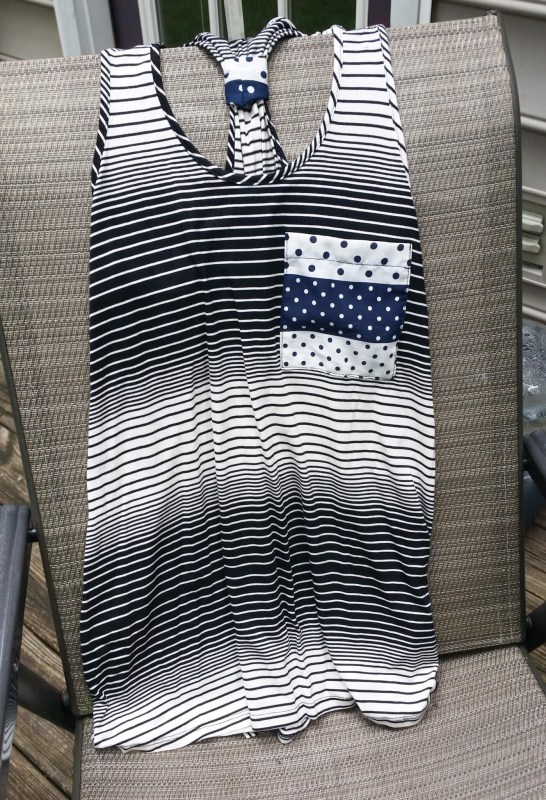 The Shirt:  This month's shirt is a seriously cute tank top by Rachel Kate.  It is a soft jersey material in black and white stripes and then has a fun pocket adornment that has navy and white polka dots.  The back, as you can see in this lawn chair photo, is a racer back that also incorporates the navy and white polka dot material.  All three of us loved this shirt.
Here is my younger daughter modelling the shirt – it's long and flowy, perfectly comfortable and fun for summer.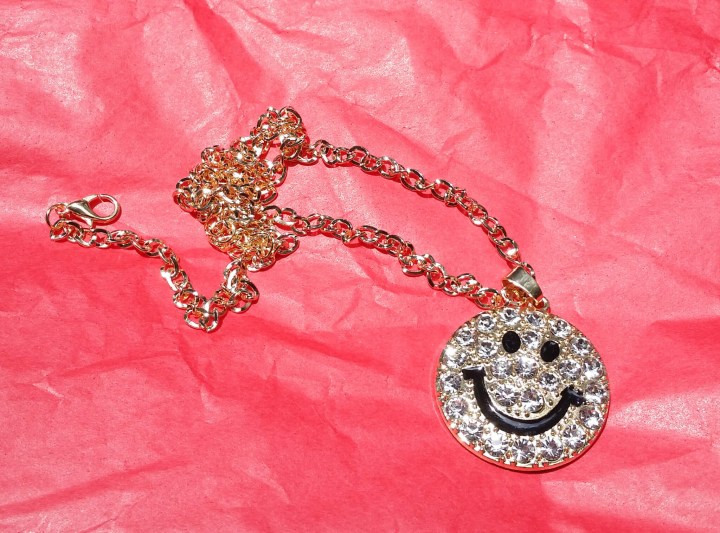 Jewelry #1:  Emoji Necklace.  This is a fun little necklace – a sparkly smiley face on a chain.  My older daughter is a little more emo and a little less emoji, but my younger daughter just loved this.  Super fun!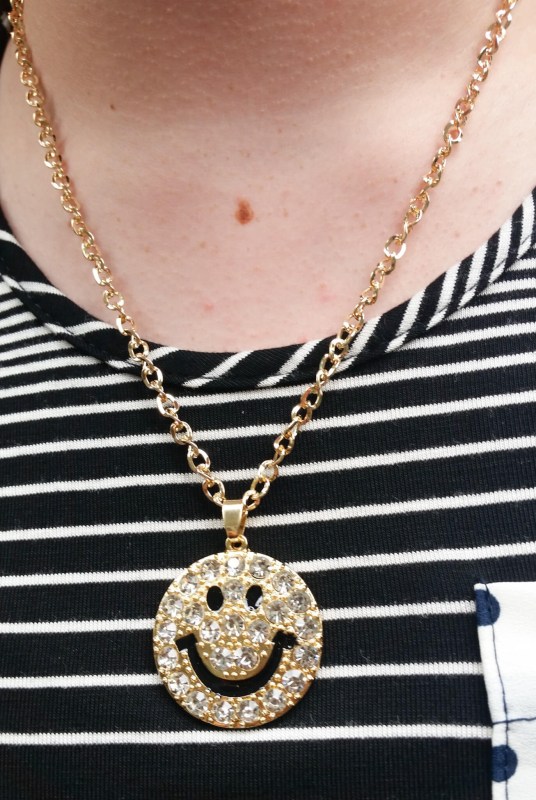 Here she is, wearing it with the tank top.  The chain is a nice length – not too short or too long.

Jewelry #2:  Multi-layered Love Bracelet.  This bracelet is pretty and super trendy – it layers together a bunch of "charms" on leather-type strands that are all attached to the bracelet's clasp…so the layers stay together.  In addition to the braid layer, there are charms that say "Dream", "Believe", and "Love."  Awesome message.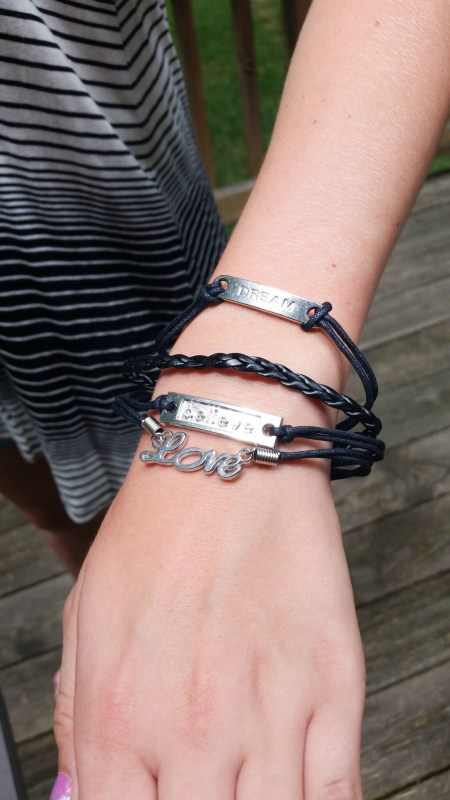 And here is the bracelet in action – pretty!
As I have mentioned in previous months, I like the way that Threads Monthly varies its items by month but also within each month.  The emoji necklace is cute, but skews a little too young and silly for my older daughter (and me).  The bracelet, on the other hand, is much more wearable and we all loved it.  Since jewelry is so personal, by offering this level of variety, Threads Monthly is bound to have everyone enjoy at least one of the pieces, if not both.  (And there have definitely been boxes where we've loved everything!)


Accessory:  Each month, Threads Monthly also includes an accessory – this month, waterproof eyeliner.  With swimming pools and sweat being big parts of summer, having waterproof eyeliner is definitely necessary.  We have really liked the accessories, because like the jewelry, they also vary by month.  Whether it be a belt, or a headband, or makeup, the accessories fit with the theme of the box and are items that we definitely end up using each month.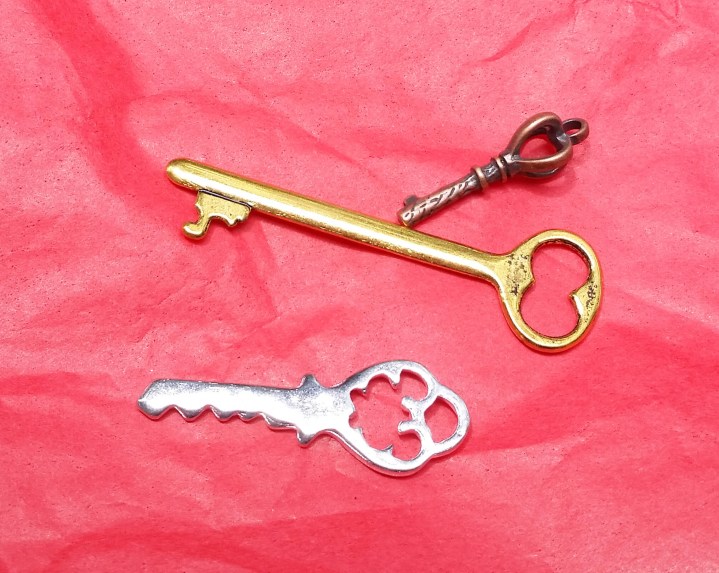 Bonus:  Skeleton Key Charms.  Who doesn't like a good bonus?  We love bonus items in our house – and this set of three little skeleton key charms was a great bonus.  I'll have to say I was surprised – I thought I was going to get to keep these, but my older daughter loved these and couldn't wait to find a chain to put them on.  They are really cute and something completely different.
We totally love Threads Monthly.  There has yet to be a box that, between my two daughters, they haven't liked everything.  More common is that they both liked nearly everything!  We really love when the purple bag arrives in the mail.  This subscription box is appropriate for teens and grownups, as well as older tweens who wear grownup sizes (subscriptions are from adult S to adult XL, subject to inventory availability).  Bottom line – Threads Monthly is a totally fun subscription box that we love to get!
What did you think about Threads Monthly? Save 20% with coupon code HELLO.
Visit Threads to subscribe or find out more!
The Subscription
:
Threads
The Description
: Included in every month's subscription is one T-shirt, one or two pieces of fantastic jewelry, and one "Monthly Themed" accessory.
The Price
: $20.00 per month