Taste Trunk is a monthly subscription box of gourmet treasures. You can pick one of 4 themes – sweet, BBQ, gourmet, and healthy chef! You can, in addition to the subscription, choose gift boxes that do not have a subscription. It's also worth checking out the site to see what seasonal trunks are available!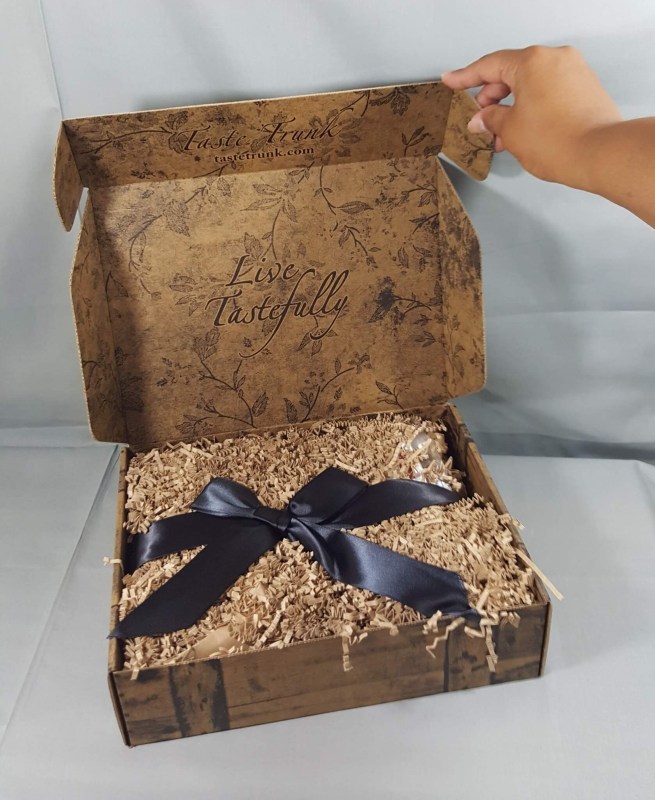 The interior packing is just as elegant as the design on the outer box.
Care is taken to ensure that items are packed to reach your home in one piece.
Everything in this month's Healthy Chef Box!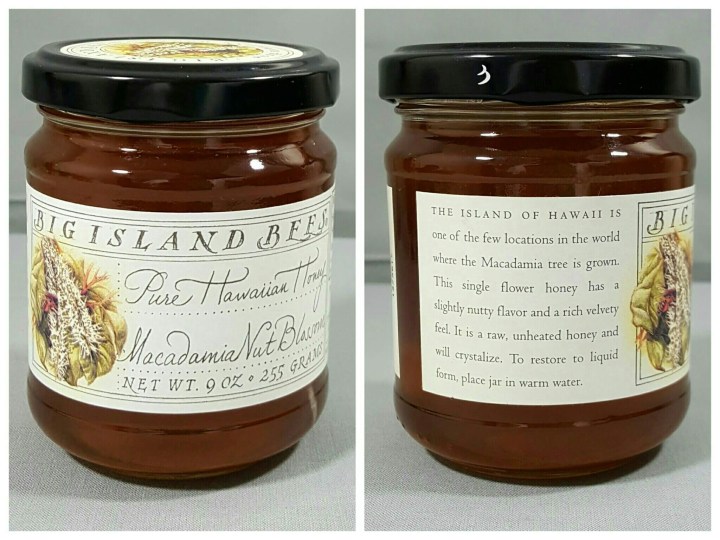 Big Island Bees Raw Macadamia Nut Blossom Honey ($10.00):  Floral and nutty flavor, velvety texture and a dark chocolate color. Great over ice cream or with pancakes and waffles!  This is priced at $10.99 in the Taste Trunk shop.  The description is very accurate, but I would say that the floral flavor was more noticeable than the nutty flavor.  However, I feel that macadamias have a milder flavor than some other nuts.  Their flavor profile lends a slightly buttery aftertaste to the honey.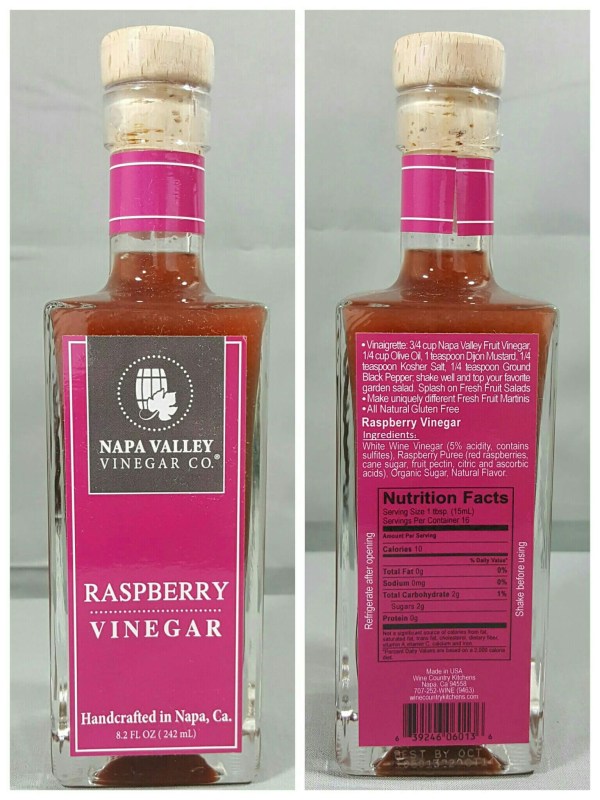 Napa Valley Vinegar Co. – Raspberry Vinegar ($9.99):  I have a love/hate relationship with raspberry flavored things.  Real raspberries = yay!  Artificial raspberry flavor = nay.  This vinegar won points because it is made from real fruit puree.  It had a nice rounded flavor – not too sharp or too sweet.  I can't wait to make a salad and use this in my vinaigrette.  A recipe is even provided on the bottle.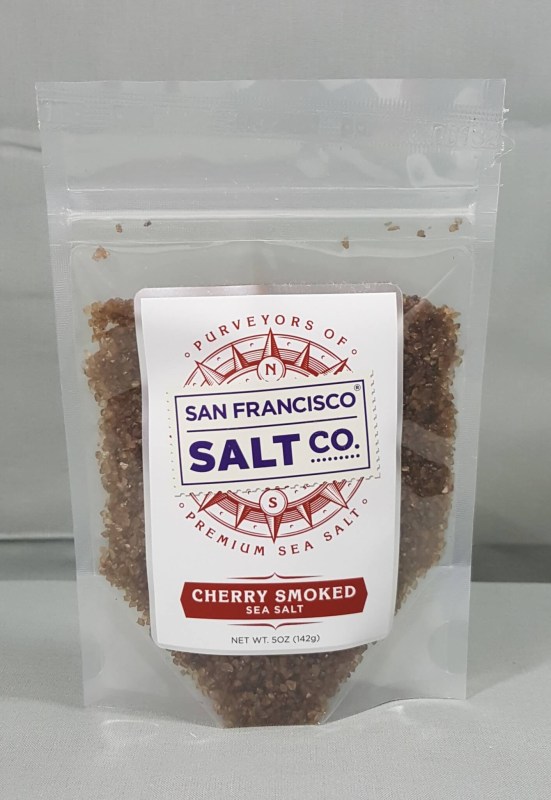 San Francisco Salt Co. – Cherry Smoked Sea Salt ($5.99):  Smoked Cherrywood sea salt is made with pure sea salt that has been slowly smoked above a Maine cherrywood fire – a centuries old process.  The result is a smooth, slightly sweet tasting sea salt, without harshness or bitterness.  Enjoy it on meat, poultry, fish and more.  I received the coarse grain salt (a fine grain is available).  The smoky scent was the first thing I noticed when I opened the bag.  There is a sharp saltiness to this salt, and the smokiness is more of a finishing note.  I would use this on a pork roast or other meat that can take on a lot of salt.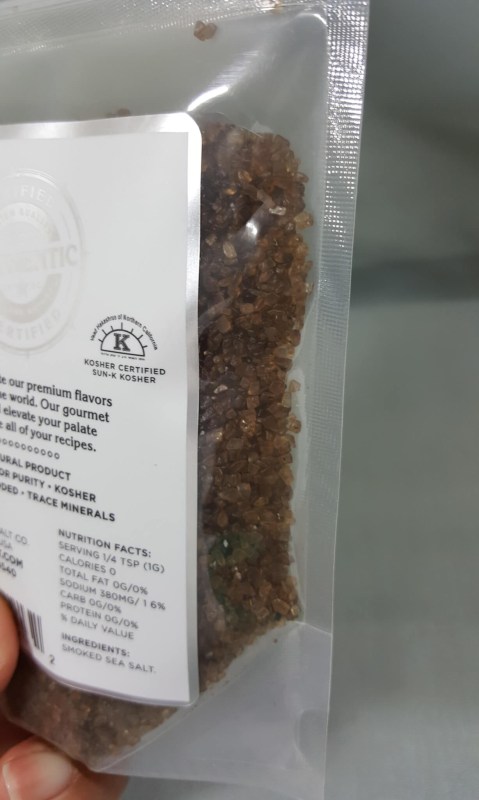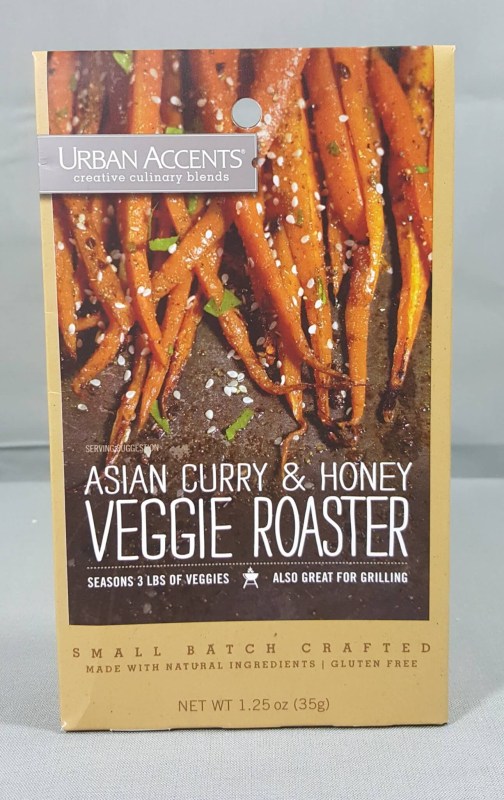 Urban Accents Veggie Roaster Seasonings – Asian Curry & Honey ($5.25):  This is listed at $5.99 in the Taste Trunk shop.  This contains a blend of honey, cumin, red pepper, peppercorns, sugar, onions, and other spices.  The timing for this couldn't have been better; I just bought a bag of carrots for another recipe that only needed 2, so I have a bunch left over.  I've received other Urban Accents seasoning mixes from Taste Trunk and liked them; hoping this is just as tasty.
While I like all of the items in this Taste Trunk, I do feel that this month was a little underwhelming with regards to the value.  The total value was less than the cost of a single box.  Also, when compared to last month, there were fewer items.  On the bright side, I already have dishes in mind that will use each of the ingredients that I received. Mmm, dinners….
I'd love to hear your thoughts on this box or one of the other Taste Trunk themes (Gourmet, Sweet, or BBQ), so leave a comment below. Save $10 on anything in the Taste Trunk store with coupon code hellosubscription
Visit Taste Trunk to subscribe or find out more!
The Subscription
:
Taste Trunk
The Description
: Taste Trunk offers 4 different monthly trunks: Gourmet, Sweet, Health, and BBQ. Each trunk has 5-10 products. Every box is all-natural.
The Price
: $36.00 per month