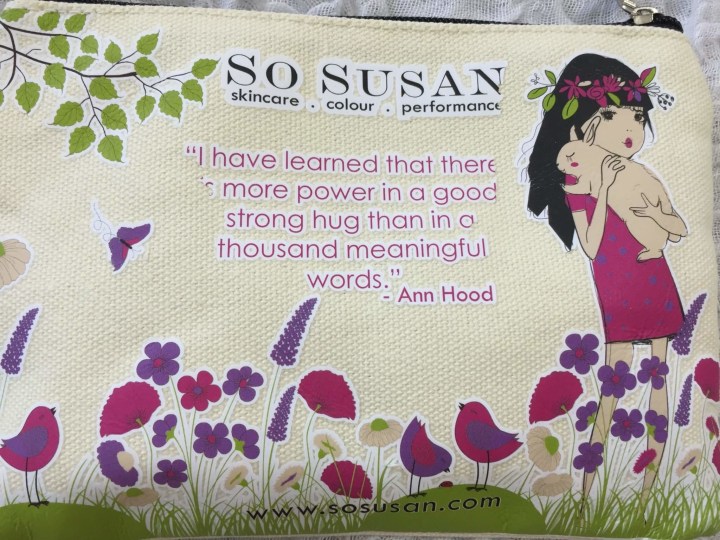 So Susan is a monthly subscription bag from the UK that delivers a designed canvas bag stuffed with goodies from So Susan and its related makeup lines (Jelly Pong Pong, Trifle, etc). I love these bags so much — the art is great and the quotes are always really uplifting and encouraging.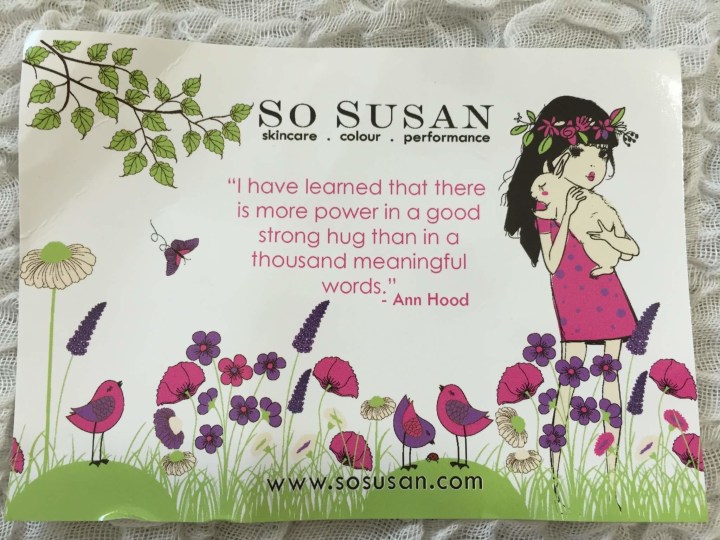 The info card always has the same design as on the bag; I wish they arrived in better condition so I could post them on my fridge, because I love the positive messages.
There was a printing issue this month! No worries, nothing important got cut off.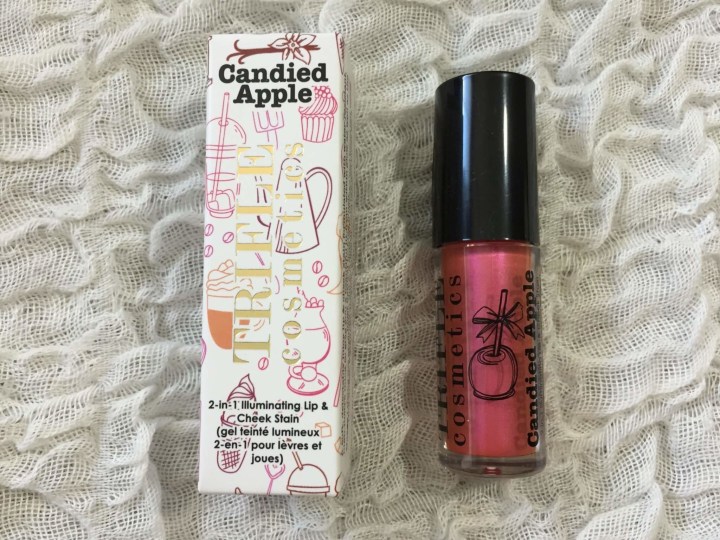 This 2-in-1 lip and cheek stain is a gorgeous apple red with a shimmer to it — I tend to use these stains strictly on my lips, just because I find stains hard to work with on my cheeks.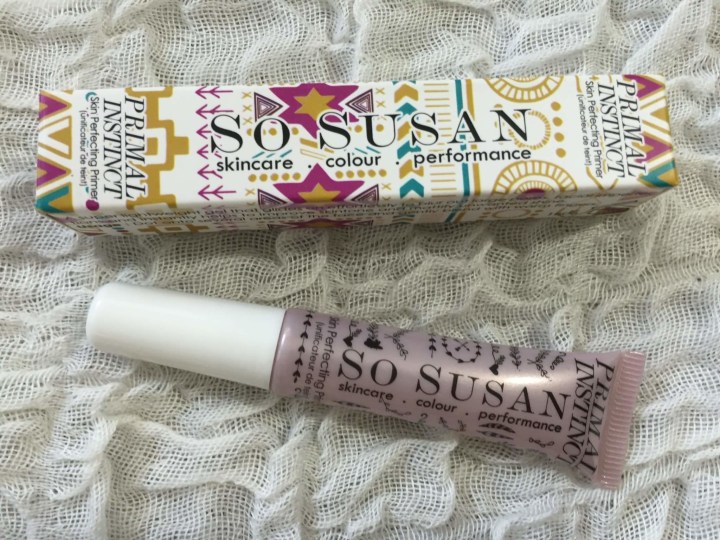 This primer contains silicones, so it applies very smoothly and evenly. I didn't think there was anything too remarkable about it compared to other primers, but I love that it's vegan, gluten-free, and doesn't contain mineral oil!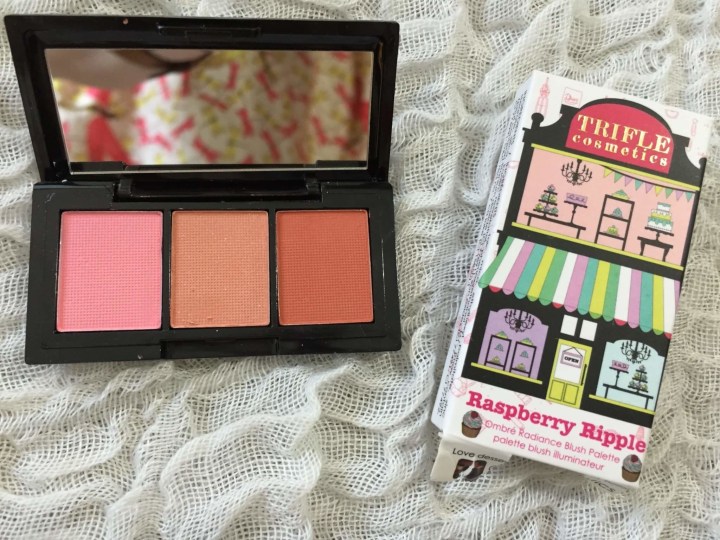 This blush palette is so tiny! Seriously, each shade is about the size of my thumb, and I have tiny hands. I definitely couldn't see myself getting a blush brush into just one colour – at least not with my limited makeup skillz. The colour on the far right is formulated with resveratrol which apparently can aid with hyperpigmentation in the skin.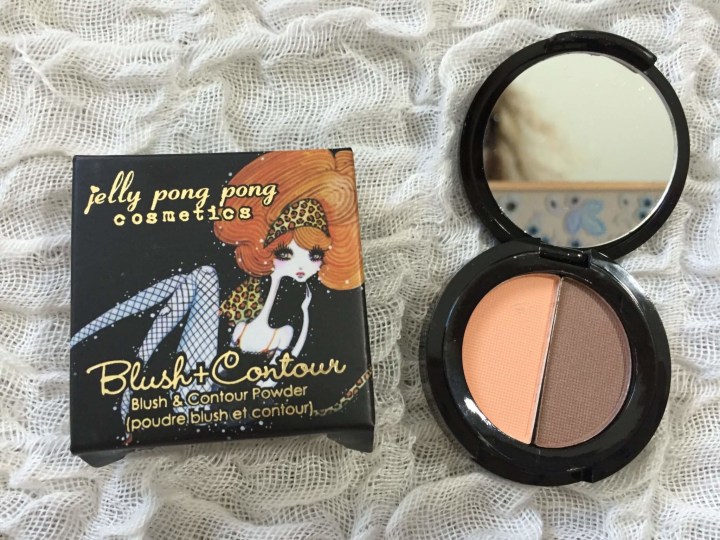 I LOVE the apricot blush side of this! Contouring, not so much. (I might use it as an eyeshadow — yes, I'm a dweeb). Again, these compacts are super tiny, so it's hard to actually use them.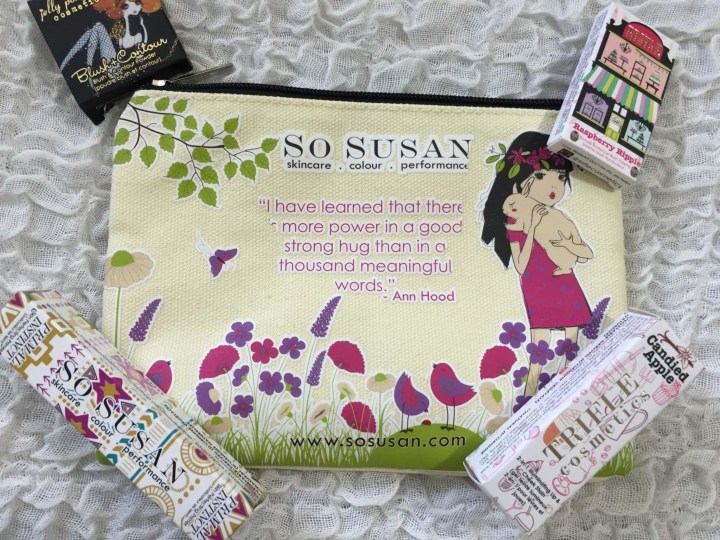 June's bag was a nice mix of products! The products definitely had a focus on face (with one dual product) which is great for summer.
What do you think about the June So Susan Lip Love? Get a free bag when you purchase a 6-month subscription! Use coupon code LIPLOVE1.
Visit So Susan Lip Love to subscribe or find out more!
The Subscription
:
So Susan Lip Love
The Description
: Every month get 4 So Susan cosmetics products: 3 makeup items and 2 bonus items, one of which is an accessory. Bags are available to view before shipment and you can skip the month or send to a friend. 100% Cruelty-Free.
The Price
: $20.95 per month