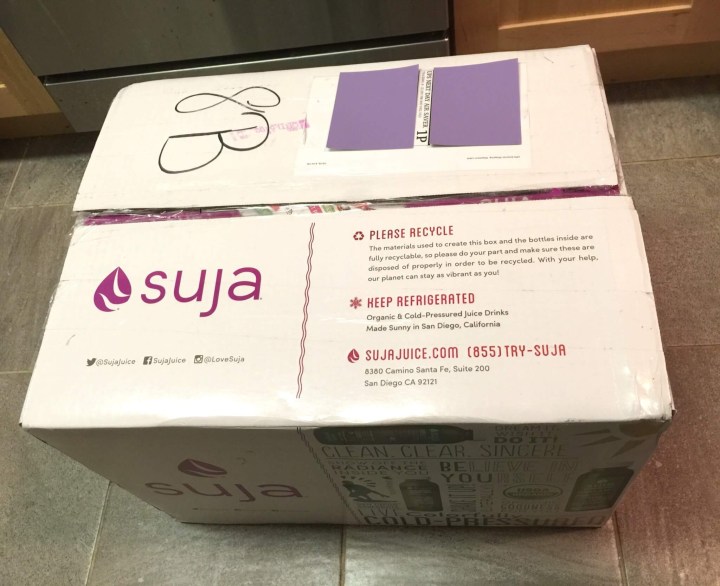 Suja Juice offers a selection of creative fruit and vegetable juice blends, which are always organic, never GMO, chemical-free, filler-free, gluten-free and preservative-free, all packaged in 1, 3 or 5 day juice cleanse programs and in monthly subscriptions.   This is a review for the Suja Juice Core Fresh Start Box.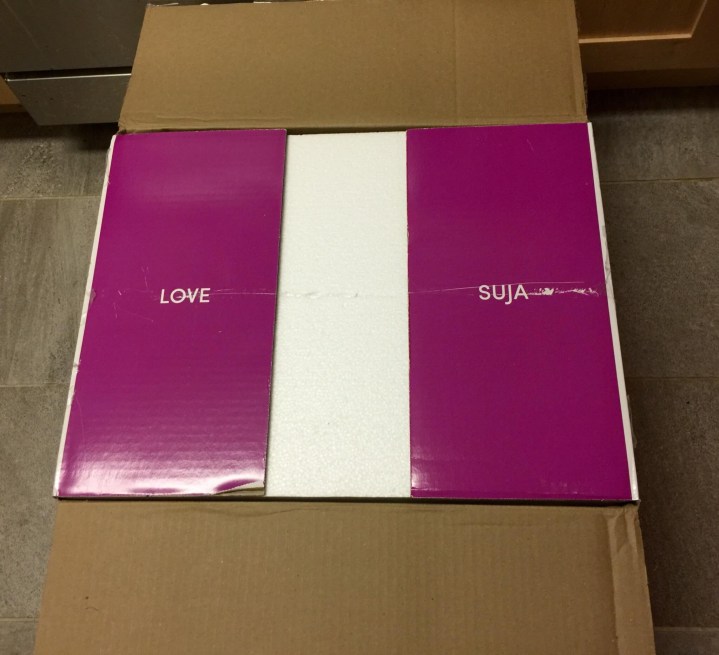 While balance is the key to health, my food intake has been weighing on the side of indulgence recently. Because I am beginning training for this year's NYC marathon shortly, it was a great time to try Suja's 3 day, "Core Fresh Start" juice cleanse.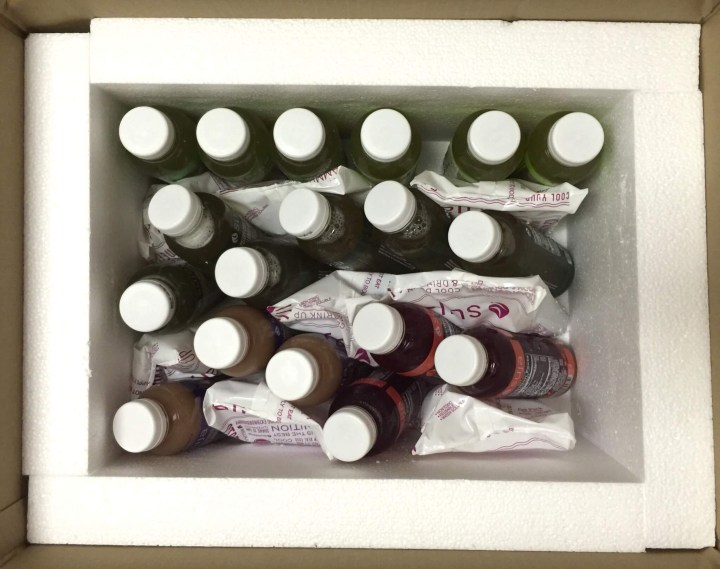 Suja Juices are shipped via 2-day express mail in a well insulated box containing several cold packs. A little tidbit, due to a new doorman at my building, unfortunately my Suja juices sat overnight in the package room before I was notified I had a package for pickup.  I was terrified that the huge box of amazing juices would be ruined due to the unintentional delay in receiving the box.
Thankfully when I opened it the ice packs were still largely solid and the juice bottles were cold. Phew!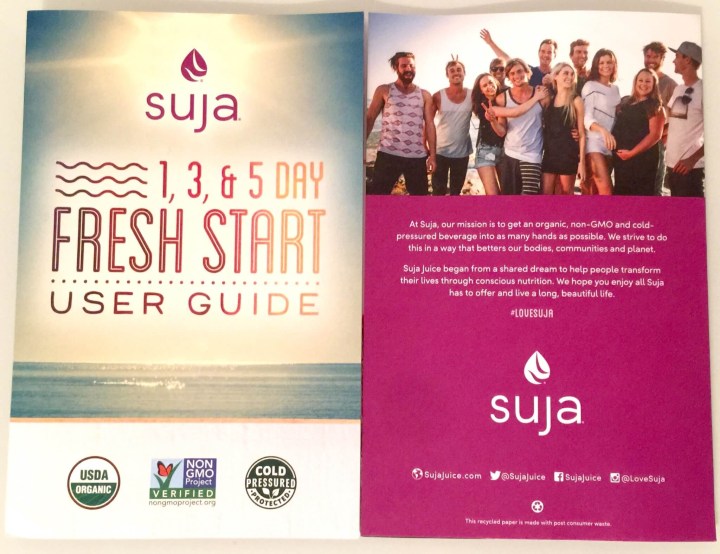 I tried the 3 day, "Core Fresh Start" package, which highlights Suja's nutrient-dense green juices. It includes eighteen bottles of juice, 16 ounces each, six to be consumed each day.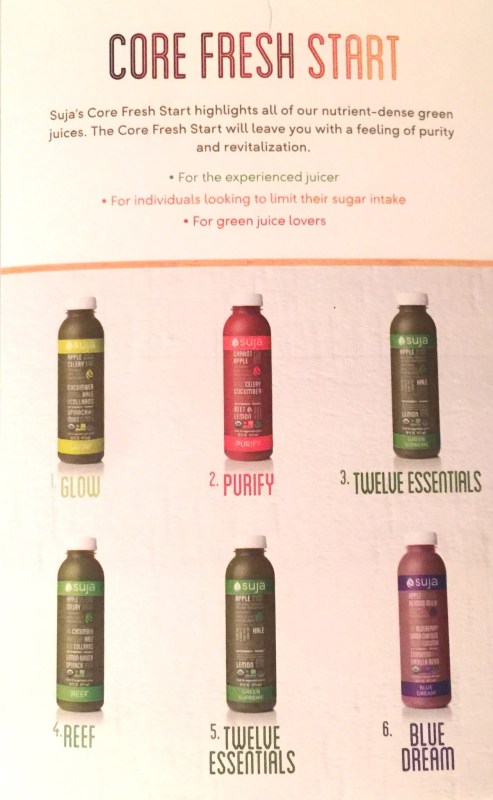 The flavors include: Glow, Purify, Twelve Essentials, Reef and Blue Dream. The package sells for $144, which works out to $8 per bottle.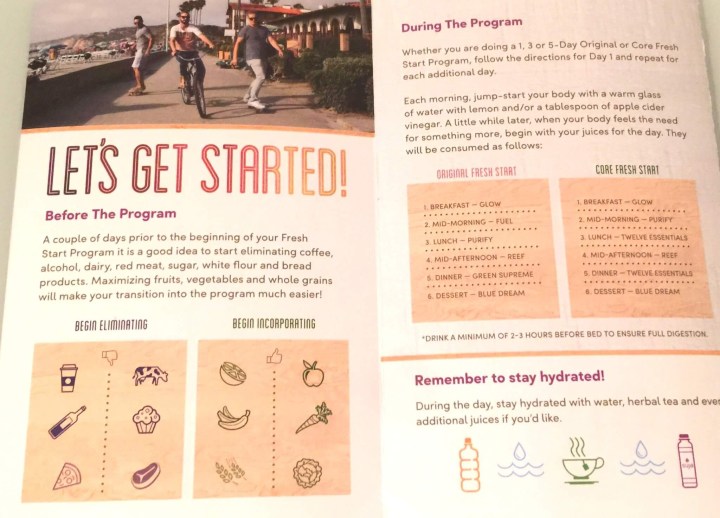 The program specifies the order in which to drink the juices, beginning with Glow in the morning, Purify mid-morning, Twelve Essentials for lunch, Reef mid-afternoon, Twelve Essentials again for dinner, and Blue Dream for "dessert" (at least 3 hours before sleep).
All the juicing goodness!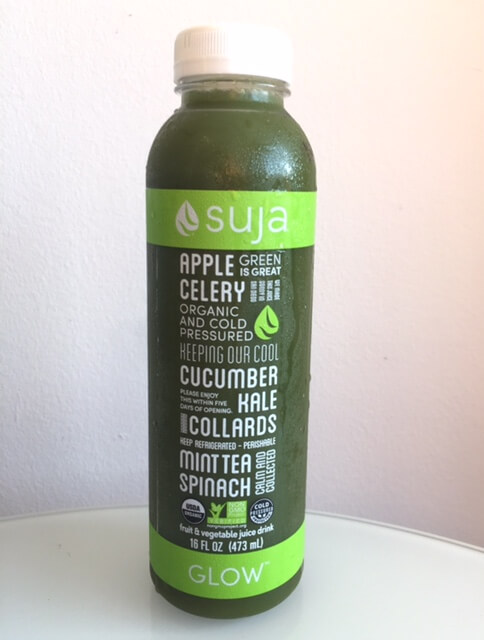 The first morning of the program I began drinking my first juice, "Glow" on my subway commute to work.  It is a light tasting green juice (celery, cucumber, kale, collard greens and spinach) that is slightly sweet (apple), with refreshing hints of mint (spearmint and peppermint tea).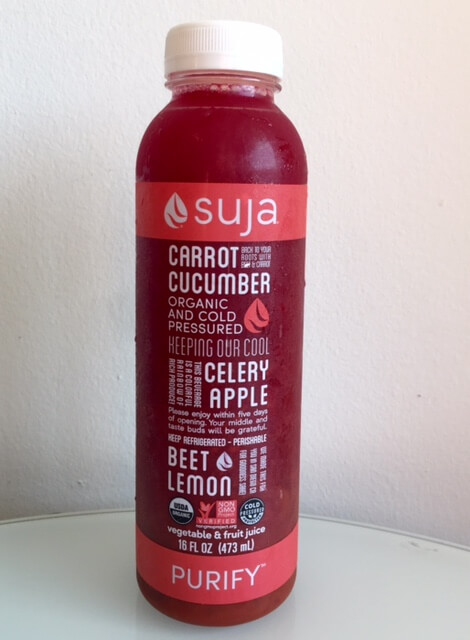 My mid-morning snack, "Purify," was an earthy tasting (beets and carrots) but still light (celery, cucumber and lemon) tasting juice.  It seemed more substantial than the breakfast juice and really hit the spot when I was experiencing my first hunger pains from denying my body a carb laden breakfast.
At lunch, instead of running out to grab a sandwich to eat at my desk, I took the opportunity to take a 20 minute walk and drink "Twelve Essentials" while soaking up the sunshine.  Twelve Essentials is the most green tasting, green juice that I have ever tasted.  It contains an alkalizing powerhouse of celery, cucumber, collard greens, lemon, kale, green chard, parsley, ginger, romaine, green leaf lettuce, spearmint tea, peppermint tea and spinach.  Without any fruit to sweeten it, Twelve Essentials tastes like drinking a field of green leaves.  It makes you feel uber healthy and like a juicing expert, but it is definitely not the type of juice most people are used to.
At home, dinner was "Reef," another light tasting, slightly sweet green juice whose ingredients are identical to breakfast (Glow), except for lemon and ginger instead of mint teas. Not eating solid food didn't bother me most of the day, but dinner was tougher, as I craved to chew anything.
I ended the day with "Blue Dream" for dessert, which was absolutely delicious (apple, almond milk, blueberry, chia seed, the Peruvian fruit lucuma) and soothing (cinnamon, vanilla bean). I couldn't have enjoyed yet another green juice at that point.
I began day two by drinking hot water with lemon like the first day (Suja recommended), and then proceeded to drink the juices in the specified order. After lunch I developed a headache, which I attribute to not having had my usual coffee for 2 days. Feeling a bit hungry with a headache, I decided to add a little solid food, including an avocado and cup of miso soup (avocados, other raw fruits and vegetables, and broth based soups are recommended if you must eat something during the program). I felt much better after adding those "helpers." I followed the same routine for day three.  My final dessert of Blue Dream was just as delicious as the first night of the program.
While I did not embark on the Core Fresh Start program to lose weight, I did lose two pounds, which isn't surprising considering that the Core Fresh Start program provides about 880 calories per day. Overall the program made me feel healthier and definitely reset my current eating habits get resume my typical diet of mostly healthy eating with occasional indulgences. I was able to kick my recent habit of eating a heavy, carby breakfast (egg and cheese bagel sandwiches I'm looking at you!) and replace it with a green juice or piece of fruit and yogurt, which I have maintained in the weeks after the program.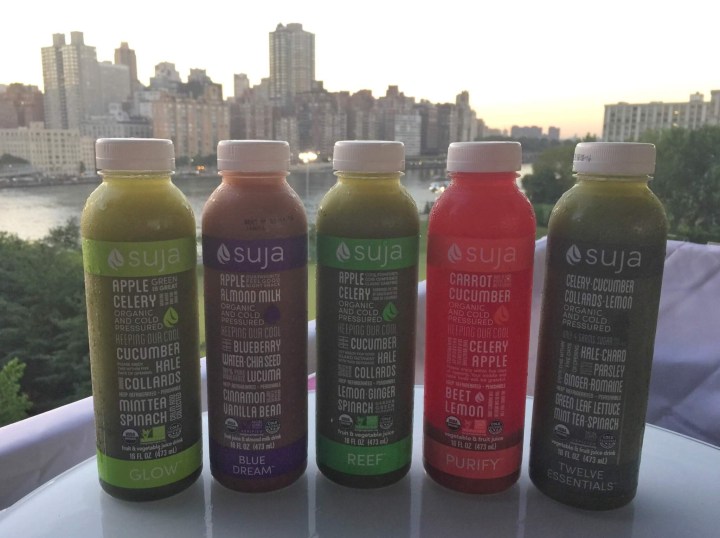 One important thing I learned through the Core program is that while I enjoy green juices, I do not need to choose the juices with the lowest possible sugar content to reap the benefits of juicing.  The Core program is designed for green juice lovers who want to limit their sugar intake, which describes me, but the slightly sweeter offerings in the Original package would have met my needs just fine.  I was tired of the green powerhouse "Twelve Essentials" after the second day, which contains no fruit for sweetness.  I do not dislike the flavor, but wish that the the Core package had included a different, sweeter green juice in place of three of the bottles of Twelve Essentials.  With 3 additional green juice blends in its Classic line that could easily be used instead, beyond the other two included in the Core package (Glow and Reef), I was puzzled why one of those weren't chosen instead of doubling up on the Twelve Essentials.  To be fair, Suja recommends that first time juice fasters choose the Original Fresh Start package, which has one less green juice in the assortment and instead uses a sweeter fruit and vegetable juice blend.  The Core program juices are barely sweet, or not sweet at all (Twelve Essentials), containing the following amounts of sugar per bottle: Glow, 28g; Purify, 24g; Twelve Essentials, 8g; Reef, 24g; Blue Dream, 34g.  Next time I will choose the Original Fresh Start package.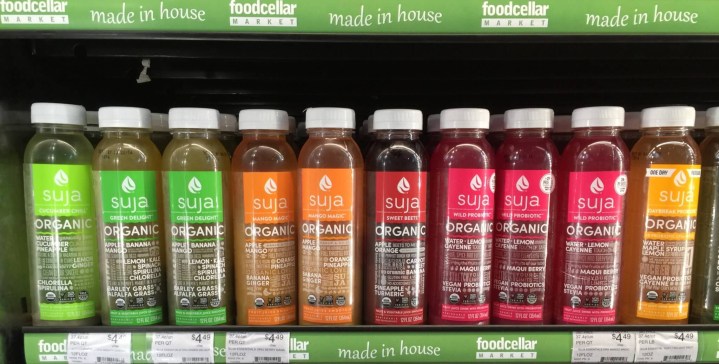 At a cost of $8 per 16 ounce bottle, Suja juices are on par with the cost of juices made while you wait in the NYC metro area, as well as with other brands of cold pressed and/or cold pressure made juices sold in individually bottles ready to purchase. Suja sells some flavors of its juices in smaller, 12 ounce bottles, in retailers such as grocery stores and Target stores. A small gourmet food store near me sells Suja juices for $4.49 for a 12 ounce bottle.
The smaller sized Suja juices available for approximately $4.49 at retail stores work out to cost approximately 37 cents per ounce, as opposed to 50 cents per ounce for the juices available in the Core program that is available directly from Suja.  The juice flavor offerings are different however, and thus the price difference may be warranted given the specific ingredients of the juices.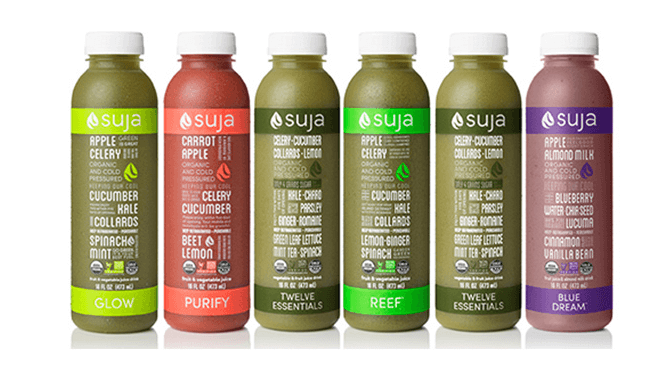 Overall, I was very impressed with the unique flavor blends and fresh taste of Suja juices.  They tasted as delicious and fresh as fresh-pressed juice bought at a juice bar, but with more interesting flavor profiles and less sugar content, with the added bonus of being shipped directly to my door.  The Core Fresh Start program was great to reset my eating habits.  I can see myself following the program a few times a year.  Next time I will order the Original Fresh Start program, however, to add more sweetness to the experience.
Have you tried Suja Juice or another juicing program? Let me know about your experience in the comments!
Visit Suja Juice to subscribe or find out more!
The Subscription
:
Suja Juice: Sayonara Sugar
The Description
: Sign up to get 6, 18 or 48 bottles per month for at least 3 months, and receive FREE shipping! Starting at $40 and big in flavor with 0-4 grams of sugar and 10-35 calories per serving, Sayonara Sugar is perfect for those looking to limit their sugar and calorie intake while still wanting to sip on something delicious! Sign up now to get these delightful deliveries every month!
The Price
: $40.00 per month