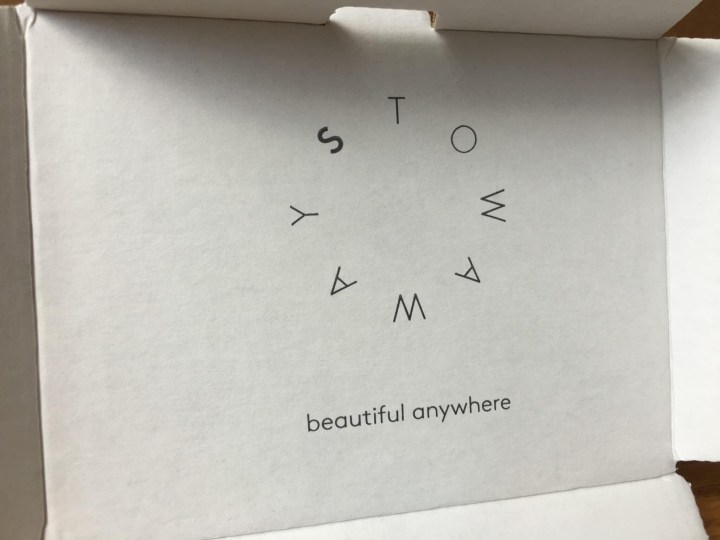 Stowaway Cosmetics Essential Edit is a subscription box full of Stowaway's right-sized beauty products and other surprise items from brands they love.  Each month, for $50, you will receive at least $70 and up to $150 worth of Stowaway cosmetics and other fun items, shipping included.
June's box was full of beachy-keen fun!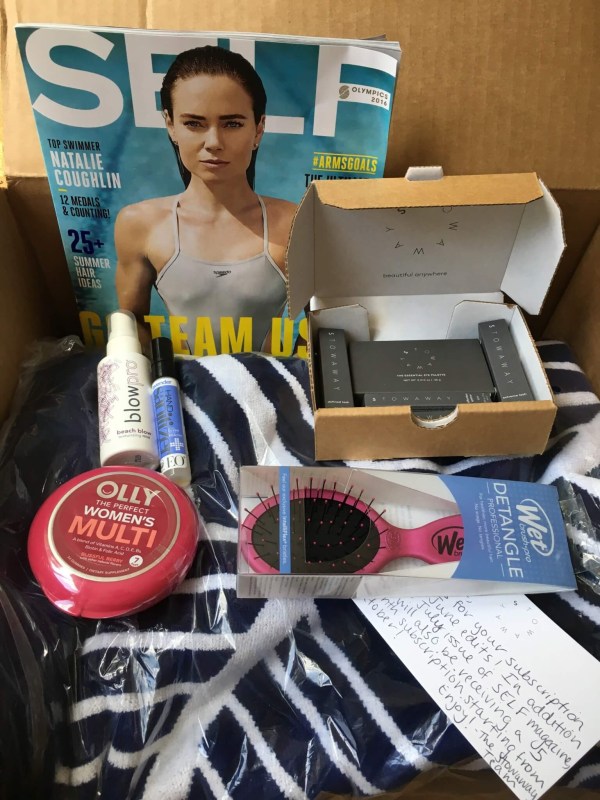 June's box included an adorable hand-written note and tons of goodies!
Makeup is Stowaway's bread-and-butter.  The company began to offer makeup in sizes that make sense for women–not too big, and not too small.  Their products are paraben-free and packaged to fit easily in a purse or clutch.
All About Eyes is a kit for $42, and includes the Effortless Eyeliner in black and spice ($10 each) and both mascaras–the Extreme Lash Mascara and the Defined Lash Mascara ($12 each, black only).  This box ALSO had the Essential Eyes Palette, which sells for $25 on its own.
Effortless Eyeliner in Jet ($10) The Jet eyeliner comes in an adorable wee container, about 2/3 the size of a standard eyeliner.
The jet is a true black.  It goes on smoothly and stays put on the top lid.  The bottom lid, near the water line, required a little more effort to get on properly.  This is a great liner for everyday or going out!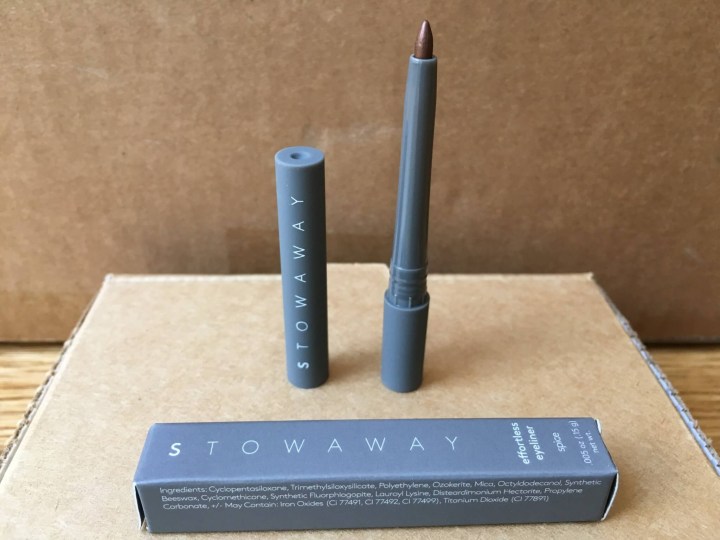 Effortless Eyeliner in Spice ($10)
The Spice eyeliner is a nice coppery brown color and looked great with my gray/blue eyes.  It has the same staying power as the jet.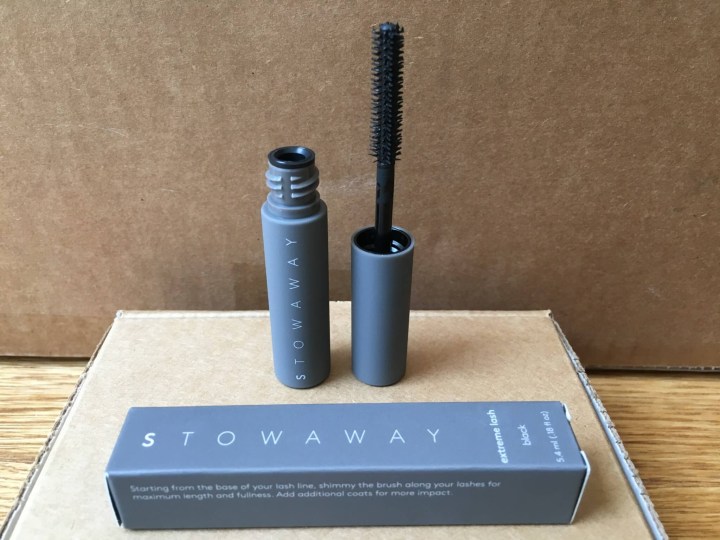 Extreme Lash Mascara ($12) in black is a nice lengthening mascara.  The straight, slim brush allows you to apply in those hard-to-reach corners.  It's not advertised as waterproof, but this mascara held up all day in the sweaty south with no smudging or runs.  A great mascara for anyone looking for length in their lashes.
The Defined Lash Mascara ($12) has a scoop-shaped brush to plump and fill out lashes.  This was my favorite cosmetics item!  This mascara really separates each lash and gives you a nice, full look without clumping or looking too "done."  This is the perfect mascara for work–you will look super put together and alert without looking like you're about to hit the bar.  Loved it!
The Stowaway Cosmetics Essential Eye Palette ($25)has four matte and four shimmering eyeshadows.  These go on smoothly and stay where you put them.  The colors blend nicely and complement each other well.  I was surprised to find that the plum shade was my favorite–it goes on more brown than purple and really highlights my gray/blue eyes.  The shimmering shades are great for swiping on after work to update your look for nighttime.  This is a nice collection that will get a ton of use.
This was a terrific collection of eye makeup–nice sizes, nice products, and good value.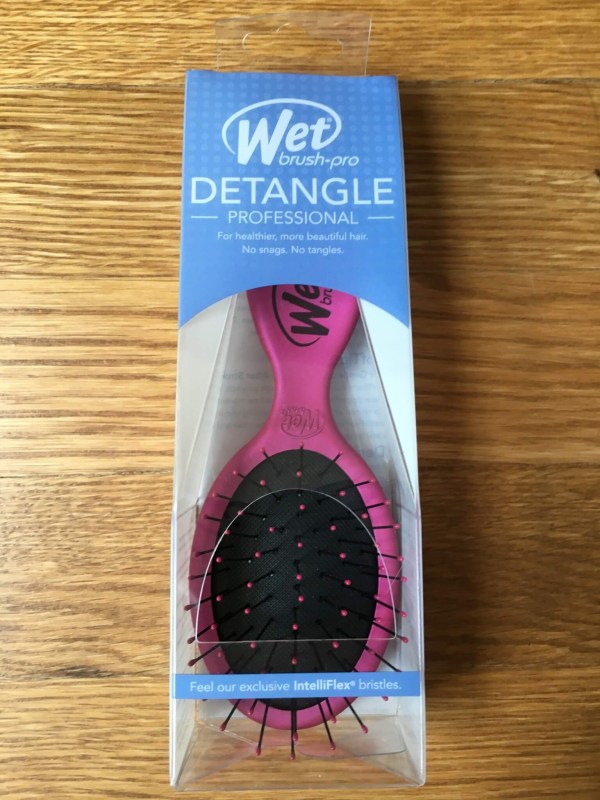 The box came with lots of other surprise items, too, like the Wet Brush Pro Detangle Professional Brush In Mini Pink .  This is my FAVORITE brush for my daughter's long, tangly hair. It really does eliminate the tears we used to have daily.  This mini size is perfect for the beach or pool bag.
Olly The Perfect Women's Multivitamin, Blissful Berry, 7 day supply  ($2.18) Who couldn't use some multivitamins?  These are tasty and provide a boost of vitamin D and folic acid, a couple of things you're probably not getting enough of in your diet.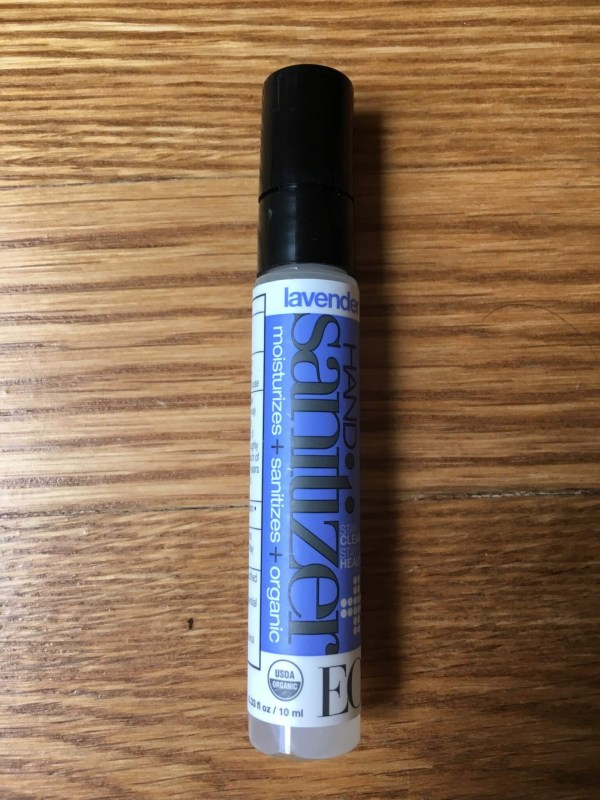 EO Organic Hand Sanitizer Spray in Lavender ($2.99).  Another great item to stick in the beach or pool bag, this hand santizer spray smells like a spa and doesn't leave your hands dripping wet.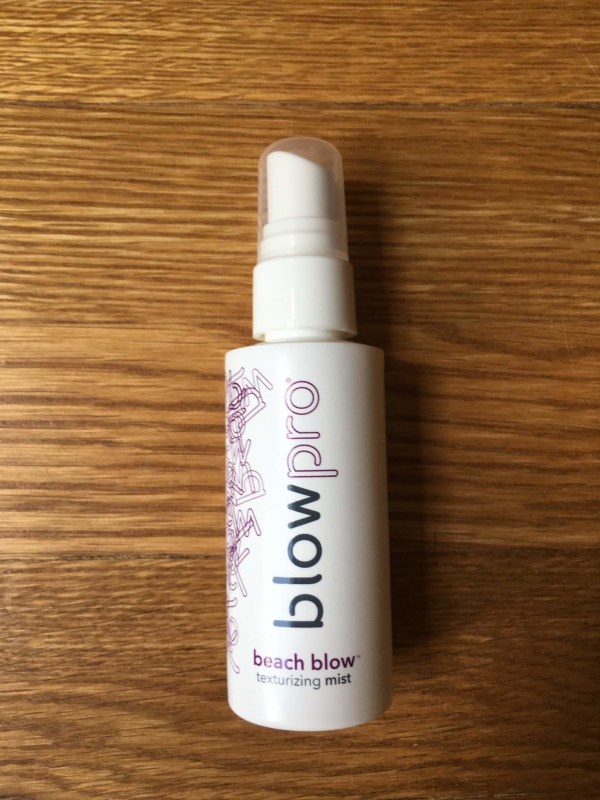 BlowPro Beach Blow Texturizing Mist ($8).  This spray has a nice smell that complements the hand spray, and has a dose of sea salt in it to give you that "been at the beach all day" texture.  I have super fine and hard-to-style hair, and this added nice volume without drying it out.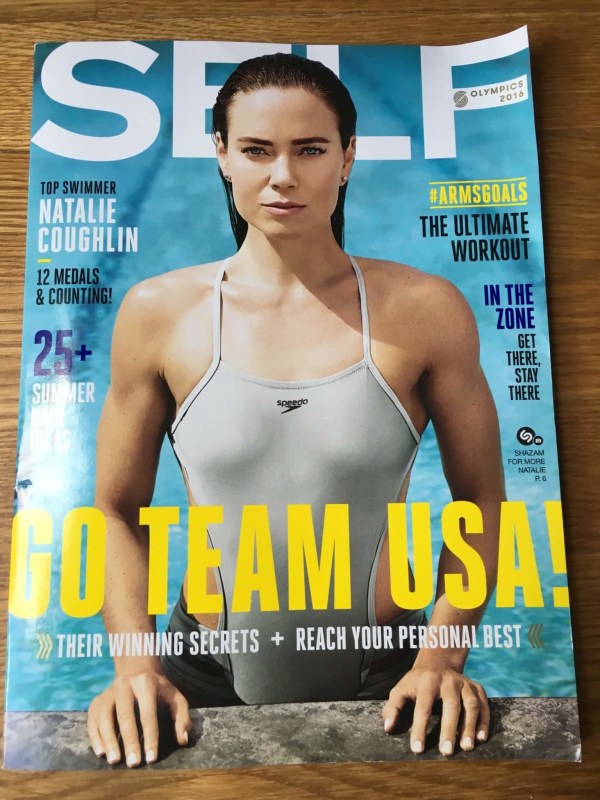 Self Magazine, July issue + 5 month subscription beginning in October ($5) This is one of those magazines I always forget to subscribe to, and now I have a subscription, so, yay.  This is obviously a great addition to the beach bag.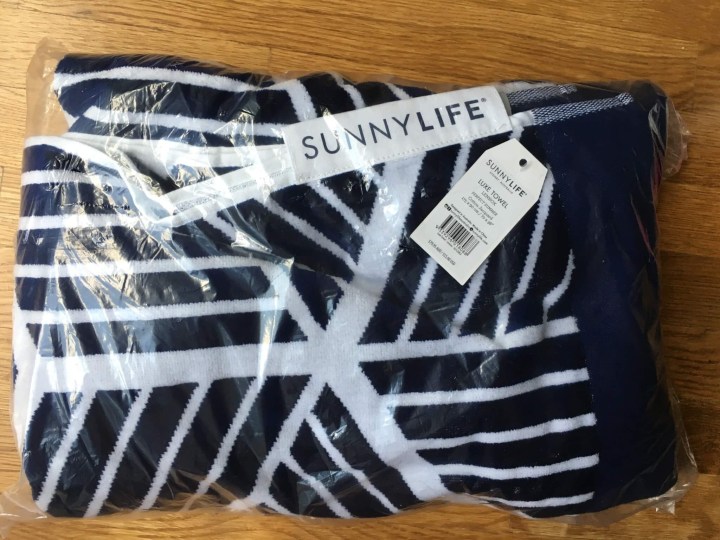 And, last but not least, the Sunnylife beach towel ($55).  As someone who stocks her pool bag with terrible conference-swag towels, I was super excited to get this.  This is, by far, the nicest beach towel I've ever owned. 
It's huge, as you can see, and at an MSRP of $55, worth the cost of the box on its own.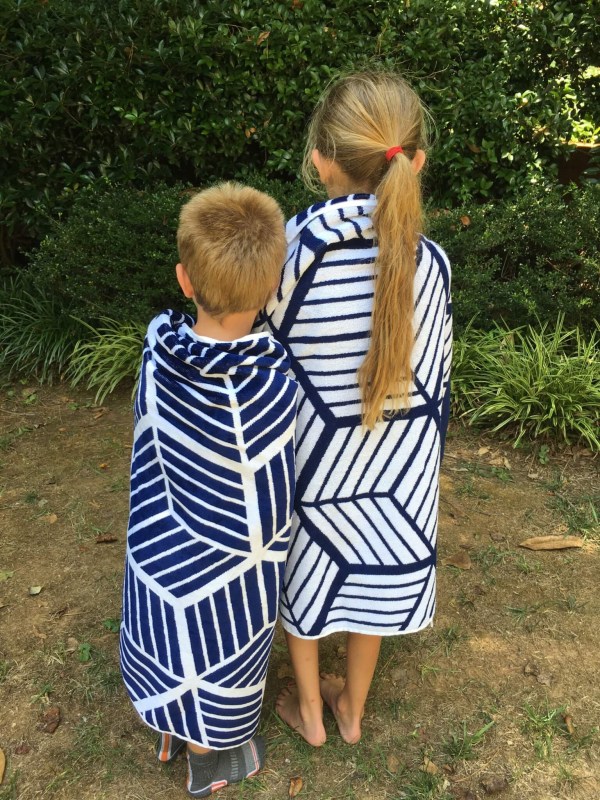 Now, I just have to get it back from my kids.
Overall, the Stowaway Cosmetics Essential Edits box was a ton of fun to get!  The items were of good quality, interesting, and kept with the theme nicely.  I felt like there was good value in what you receive for your $50 – about $148 in value.  I can't wait to see what comes next month!

Note that this box did have variations – some subscribers received the box shown above while others received the raffia bag shown in the spoiler (below).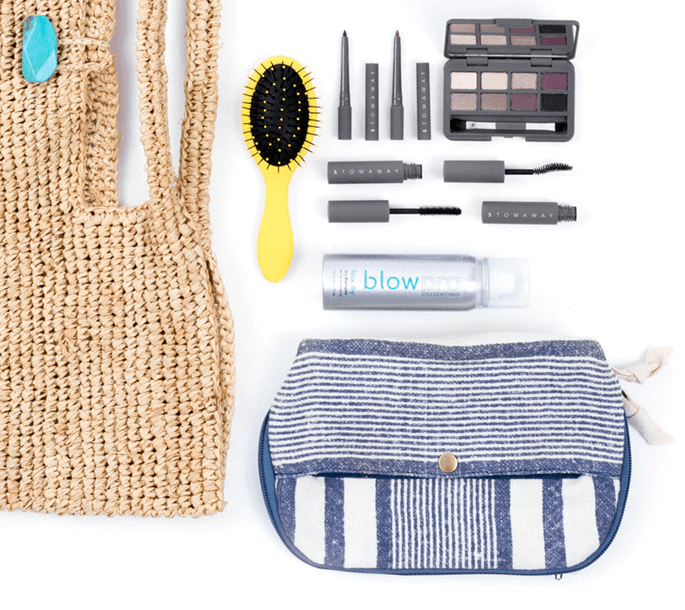 What did you think of the Stowaway Cosmetics June Essential Edits box and the variations?  Where are you taking your beach towel?  Tell us below!
Visit The Essential Edit – Stowaway Cosmetics to subscribe or find out more!
The Subscription
:
The Essential Edit – Stowaway Cosmetics
The Description
: Smart women know life requires an essential edit! Simplify your busy life with our unique monthly curations for only $50 per month with surprises that could be worth up to $200. At least $70 worth of Stowaway products each month. Surprise and delights from brands including: Blow Pro, Flight 001, Baggu, Bkr, and more
The Price
: $50.00 per month