Stars Hollow Monthly will feature 3-5 products which are inspired by the Gilmore Girls and the fictional town of Stars Hollow.  (Inspired by, meaning items that relate to, are inspired by, or are artistic renderings of the show and its inhabitants/characters.)  For $29.95, you can expect anything from tee shirts (on occasion), home decor, fashion accessories, bath & body items, and much much more.  The goal for the Stars Hollow Monthly Box is to send subscribers items they will adore as fellow Gilmore enthusiasts, but also items anyone would enjoy – high quality items that won't gather dust in a drawer somewhere.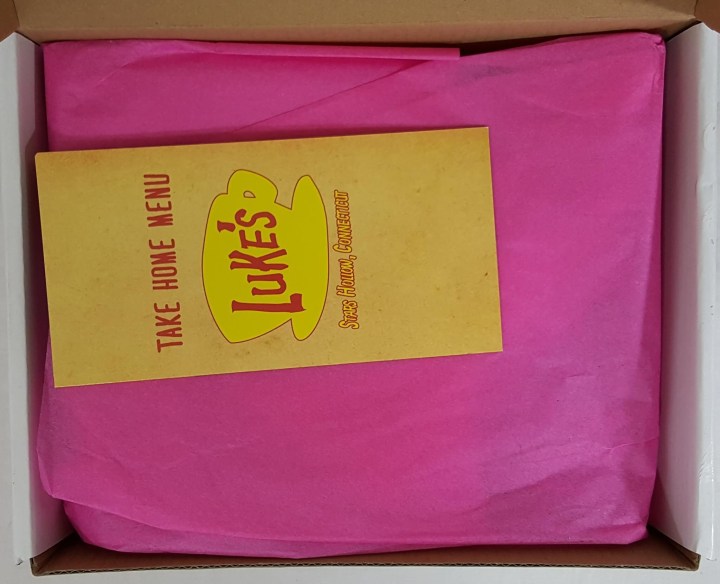 First look in, and there's a menu from Luke's Diner.  I need a cup of coffee now.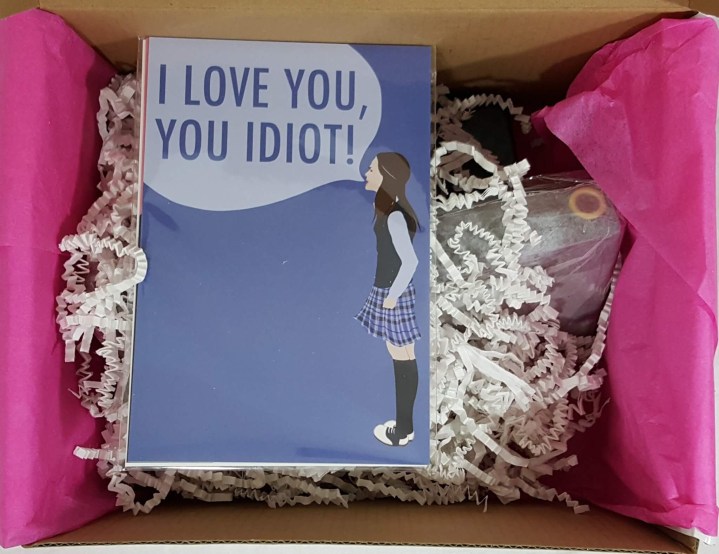 A card with Rory in her Chilton uniform yelling at an unseen Dean.  Ah, the memories are returning.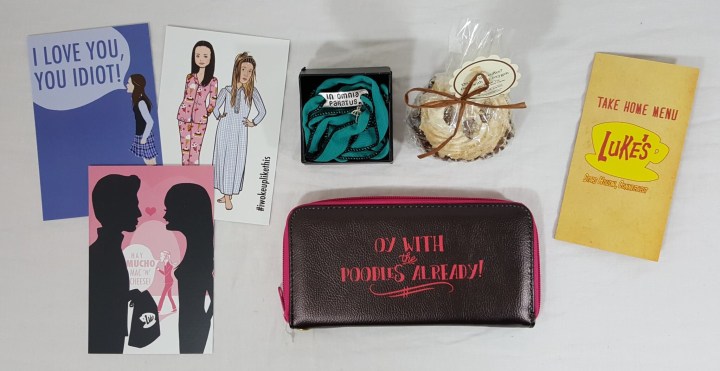 Everything in the June Stars Hollows Monthly Box.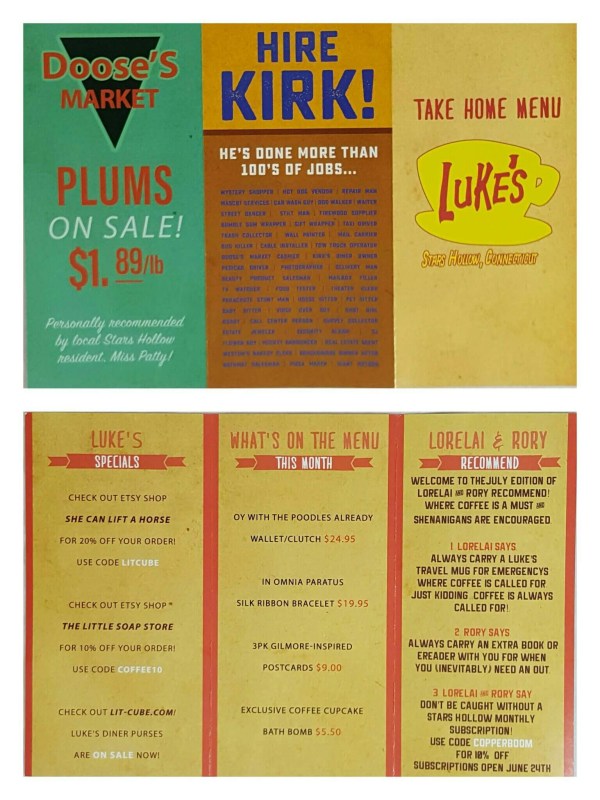 Luke's menu is actually a fold out information sheet for the box.  It contains a list of the contents with pricing, as well as discount codes for some of the items, and random information about Stars Hollow and its cast of characters.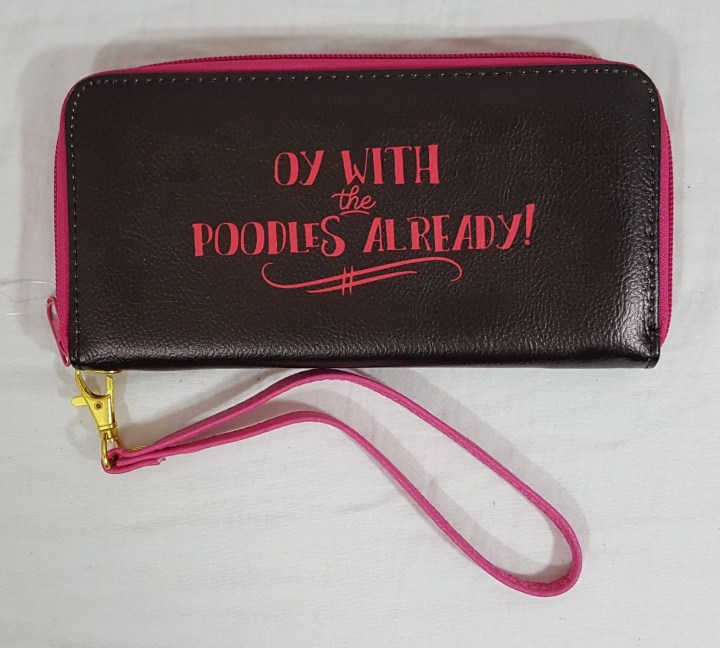 Oy with the Poodles Already Wallet/Clutch ($24.95):  Maybe this catchphrase didn't knock "What you talkin' 'bout, Willis?" out of first place, but it did make you smile.  That's because "Oy is the funniest word in the entire world."  This wallet is expandable and has a removable wrist strap.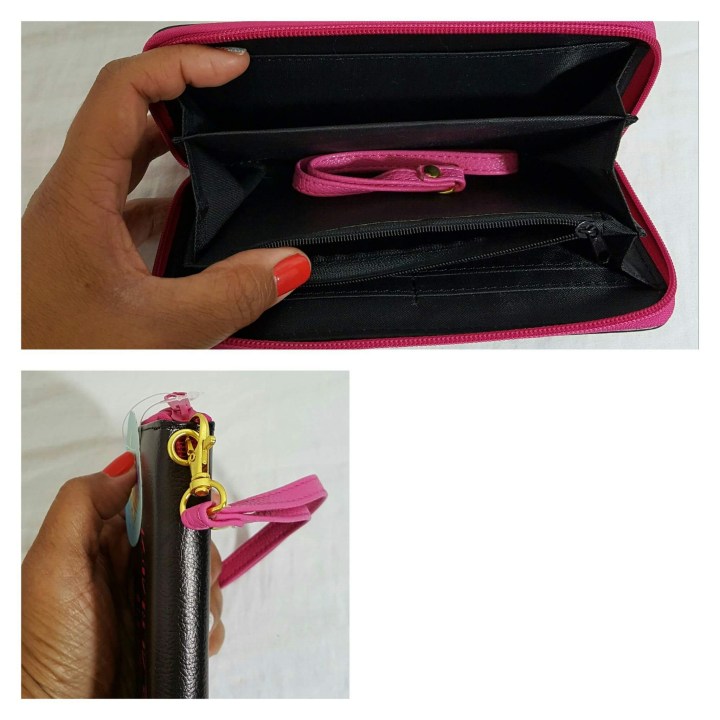 Views of the interior and wrist strap connection point.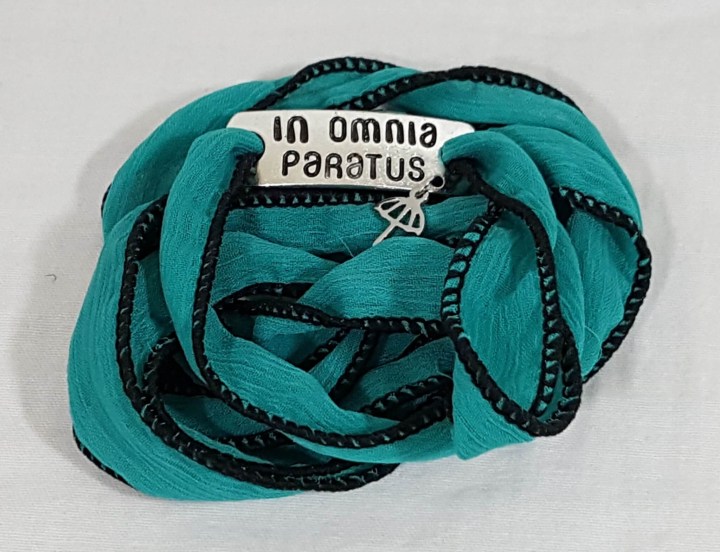 In Omnia Paratus Silk Ribbon Bracelet ($19.95):  This translates to "Ready for Anything" and is the motto of the Life and Death Brigade, a secret society that Rory discovers while at Yale.  The bracelet was released as a spoiler for the box.  It is a unique style, and I like the teal/black combo.  Now all I need is a gorilla mask and bottle of champagne.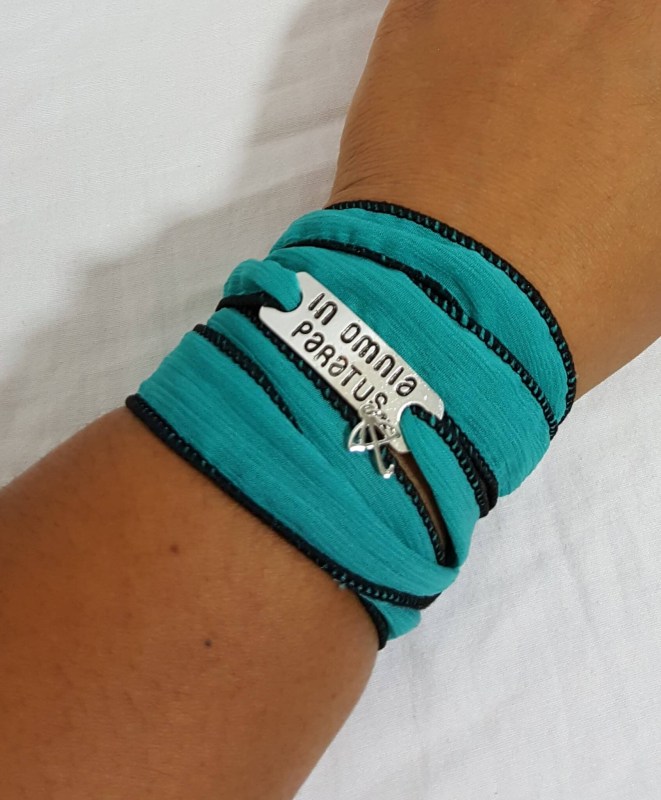 This is such a different look.
3pk Gilmore-Inspired Postcards ($9.00):  She Can Lift a Horse is the Etsy shop that makes these fun postcards, and they are selling a 4-pk for $9.  I think Lit-Cube owes me another postcard.  "Hay Mucho Mac 'n' Cheese" features Jess and Rory in silhouette, "I Love You, You Idiot" is Rory declaring her love to Dean, and "#iwokeuplikethis / We're Being Puffed" shows Rory and Paris facing their Puffs initiation.  Send these to fellow Gilmore Girls fans or hang them up as decor.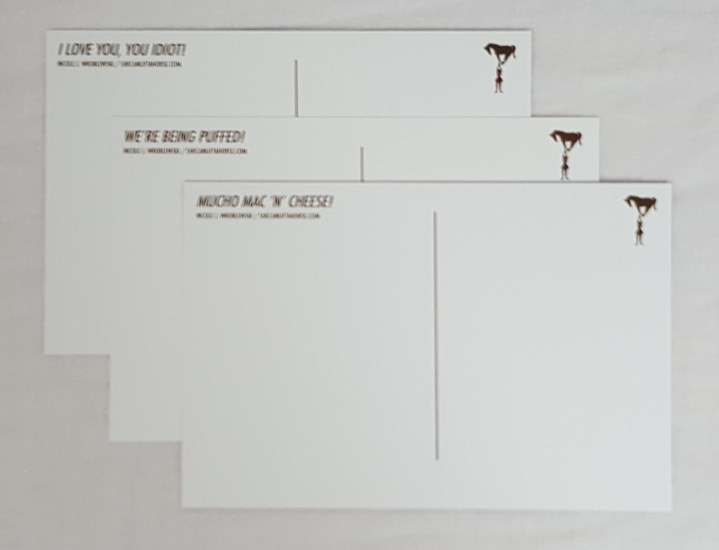 The back of the postcard has enough space to write your notes.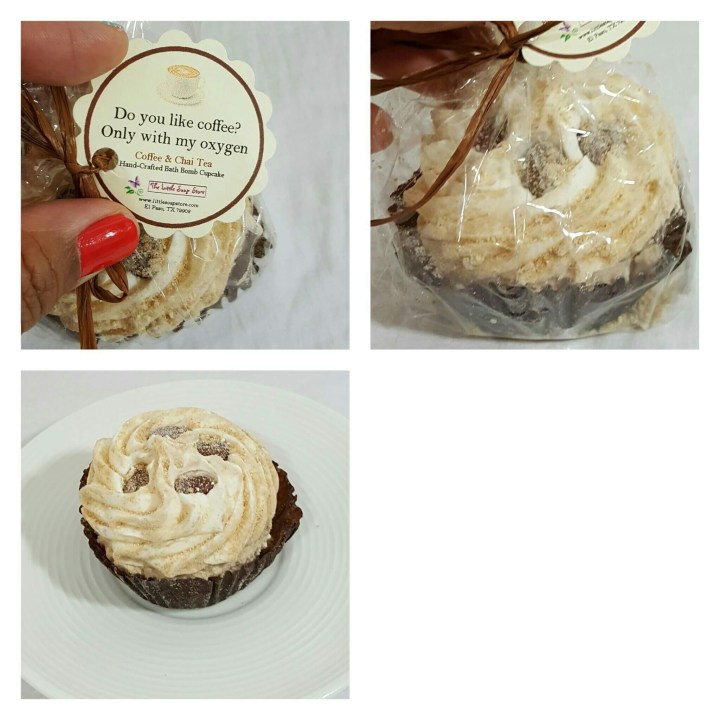 *Exclusive* Coffee Cupcake Bath Bomb ($5.50):  "Do you like coffee?  Only with my oxygen."  This looks good enough to eat and combines Lorelei and Rory's love of coffee and cake.  The "cupcake" features coffee beans on the frosting and a dusting of brown sugar.  It is coffee and chai tea scented, but all I smell are the chai spices.  I can't wait to toss this into a hot bath.  Maybe the coffee will be more pronounced as this dissolves.
Taking into account the variance for the postcards, I value this box at just over $57.  That's well over the cost.  I had such a great time revisiting episodes from one of my favorite shows and, for me, that was worth the cost of the subscription.  There was something about the Gilmore Girls that just resonated with me; maybe it was the mother-daughter relationship, or the fast dialogue, or just something that I saw of myself on the show.  Whatever it was, it kept me tuning in weekly from the pilot to the finale.  Did you have as much fun as I did with the Stars Hollows Monthly Box?  Let me know if this made you miss the Gilmore Girls too.
Visit Stars Hollow Monthly to subscribe or find out more!
The Subscription
:
Stars Hollow Monthly
The Description
: Stars Hollow Monthly will feature 3-5 products which are inspired by the Gilmore Girls & the fictional town of Stars Hollow. *Inspired by, meaning items that relate to, are inspired by, or are artistic renderings of the show and its inhabitants/characters.* You can expect anything from tee shirts (on occasion), home decor, fashion accessories, bath & body items, and much much more. Our goal for the Stars Hollow Monthly Box is to send our subscribers items they will adore as fellow Gilmore enthusiasts, but also items *anyone* would enjoy- high quality items that won't gather dust in a drawer somewhere. (as opposed to kitschy fandom stuff)
The Price
: $29.98 per month