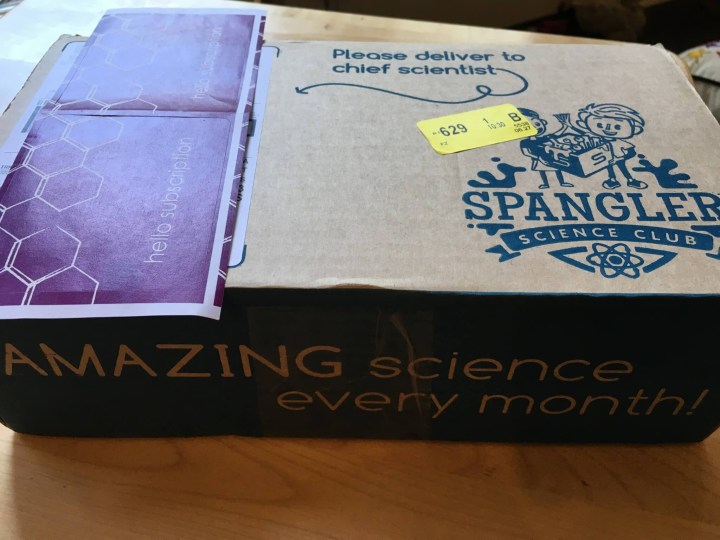 Spangler Science Club delivers cool, hands-on science experiments for young scientists monthly. The interactive experiments are designed to get young people excited about science while reinforcing in very concrete ways what is often taught in abstractions in school. Each shipment includes a lab notebook for kids and a parents' guide, both of which include detailed directions to aid in successful scientific discovery as well as ideas for extending learning further.
We were very excited to receive our second shipment! I had been eyeing this subscription for months and was thrilled to learn I'd be receiving it to review! While my son is clearly younger than the intended audience for this box, he loves doing science experiments, and I'm excited to try my hand at scaffolding the enclosed activities to bring the excitement of hands-on science into our home.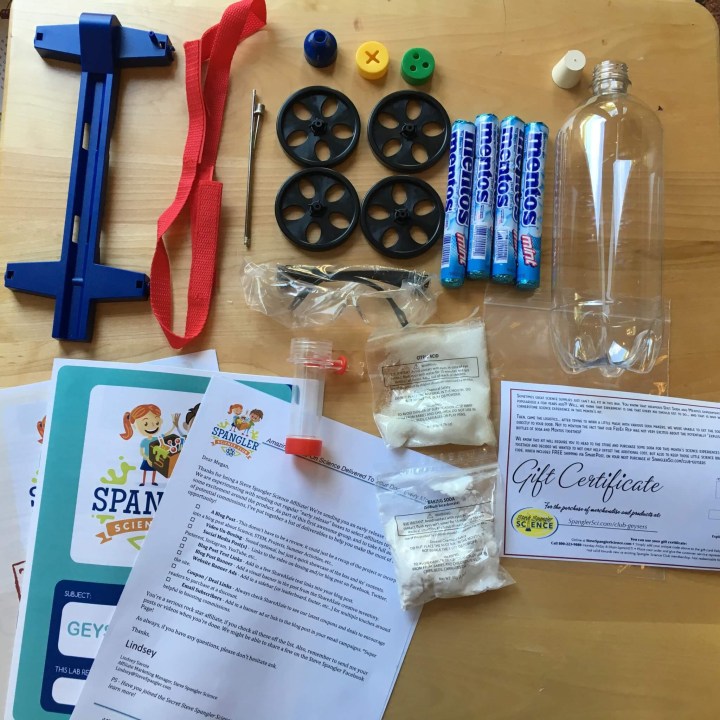 This month's theme was Geyser Science! This box is intended for independent readers and writers who need minimal help and who can log their discoveries in their own included lab book. Since my son won't be doing that, I've tried to enclose pictures of the kid's lab notebook for those who are interested. Relevant pages are included with descriptions of the applicable experiments. While directions for how to complete the experiments are located in video tutorials online, written descriptions are also included in the kid's manual.
The adult manual's outer cover is beige, while the kid's manual is blue. While the kid's manual is comprehensive, the adult's manual is not; it contains hints intended to help a child who is stuck.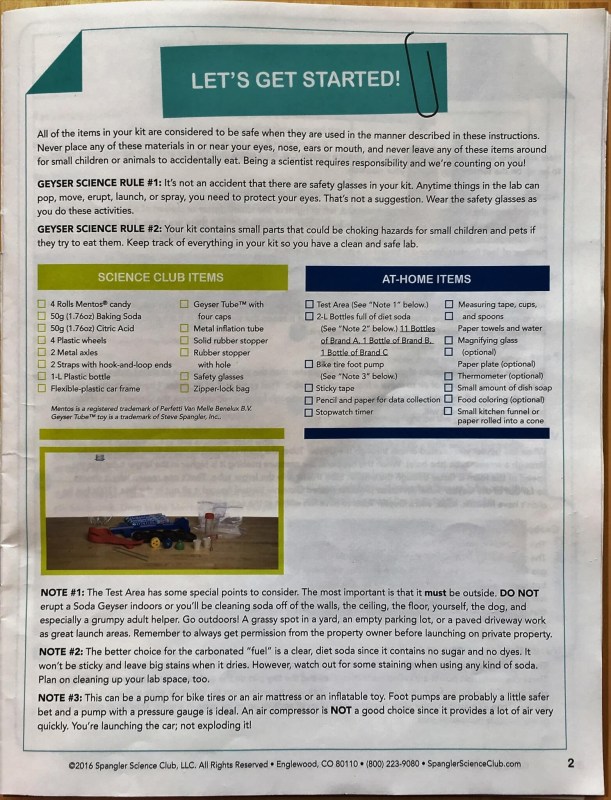 This month's experiments will probably require some preparatory shopping. Both lab notebooks contain a nicely organized list of supplies that you'll want to have handy before beginning this month's box. If you take this list with you when you go shopping, you might consider adding another package or two of mint mentos (and possibly other-flavored mentos, if your child would like to experiment further. If you don't have a large flat surface in your home, you might want to pick up a fan with multiple speeds too!).
Recognizing the additional cost required to complete this month's box, Spangler Science Club enclosed a $10 voucher good toward items in their store. Even though it cannot be used to receive a discount on a future month's box, this was a thoughtful inclusion. (Note: You'll probably spend more than $10 on your shopping trip for this box!)
Experiment 1:
An Initial Drop…or Three (blue–5 minutes each):
Each experiment is color coded, with an approximate time needed for completion listed on the top of the page.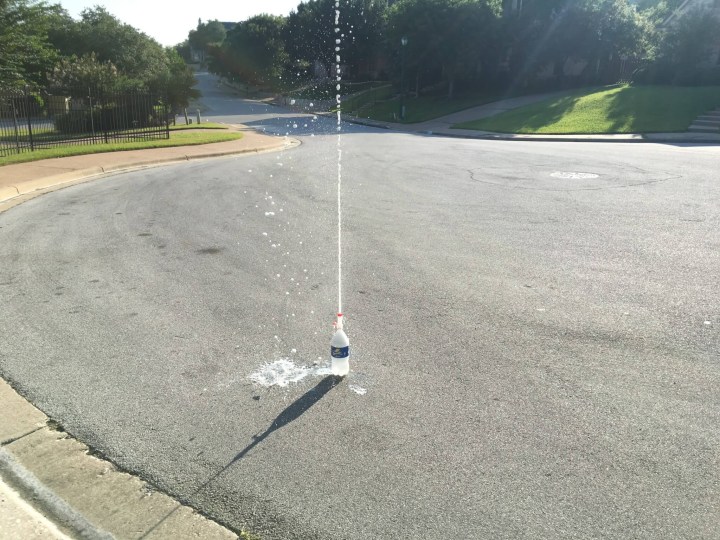 This experiment set the tone for this month's box! Here, you drop mint mentos into a bottle of soda and watch the ensuing explosion. Fun!
As someone who has done this basic experiment before, I really appreciate all the gear included in this box! When I did this on my own, I found it very difficult to get more than three mentos in my soda. Also, every time I'd do this, I'd come back dripping in Diet Soda. The geyser tube included in this set is awesome. Not only does it allow you to get more mentos into your diet soda with less mess, the additional Venturi Effect afforded by the geyser tube results in more spectacular eruptions. The inclusion of caps of different shapes is an added bonus.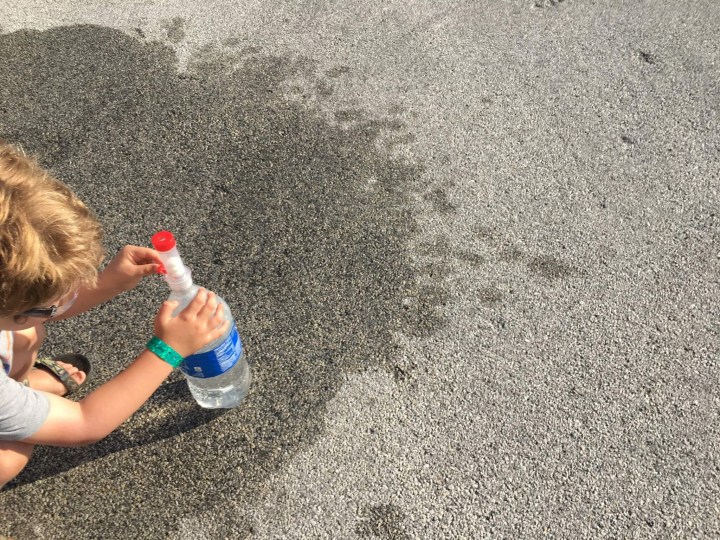 After watching me set off the first explosion, my son decided to try doing it himself. He placed three mentos in the tube, pulled the plug and watched the soda soar into the sky!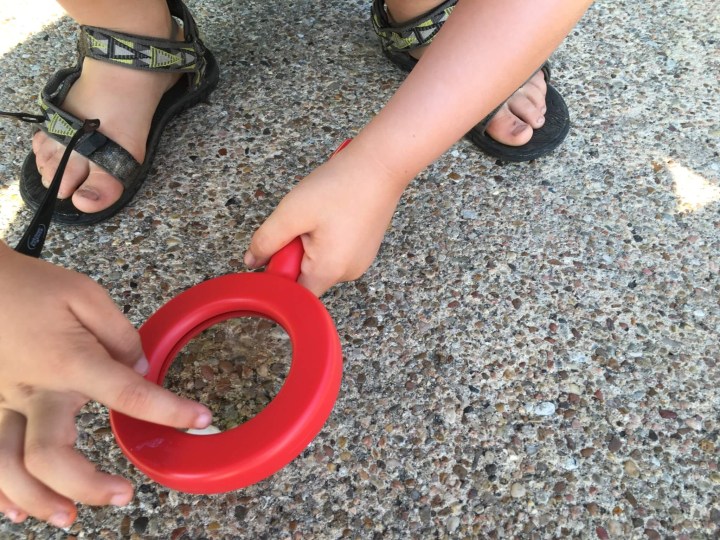 Afterwards, my son inspected the mentos. He used his magnifying glass to note the mento's uneven surface. We talked about nucleation and how the bubbles gripped onto the mento that fell into the soda. As the bubbles continued to grip onto the mento, pressure began to build in the bottle. As the pressure mounted, the bubbles' only release was up!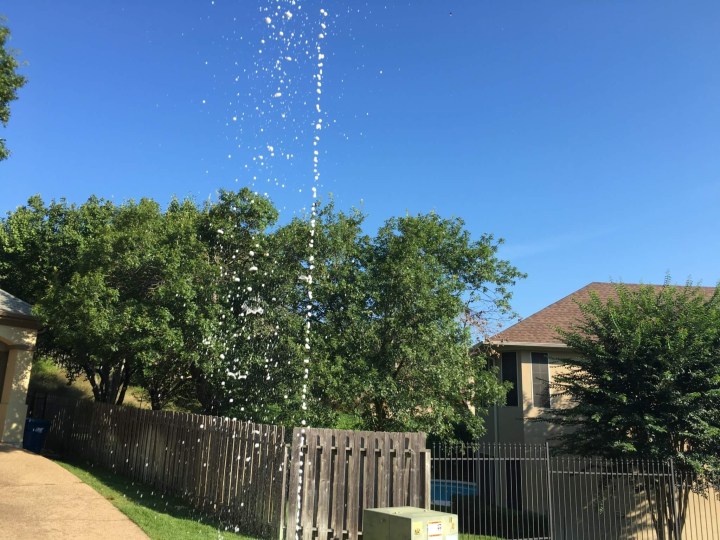 For comparison's sake, we decided to see what would happen if, instead of adding three mentos to the diet soda, we added seven. Whoa! The eruption went so high that my husband couldn't begin to capture the entire explosion in a single camera frame!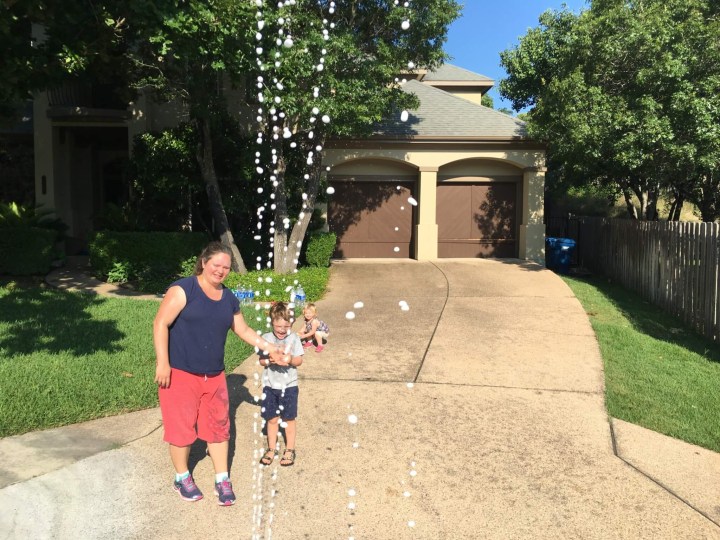 Next, my son did the same basic set up, but this time, he put different-shaped end pieces on the geyser tube. The first cap my son tried out had three holes up top.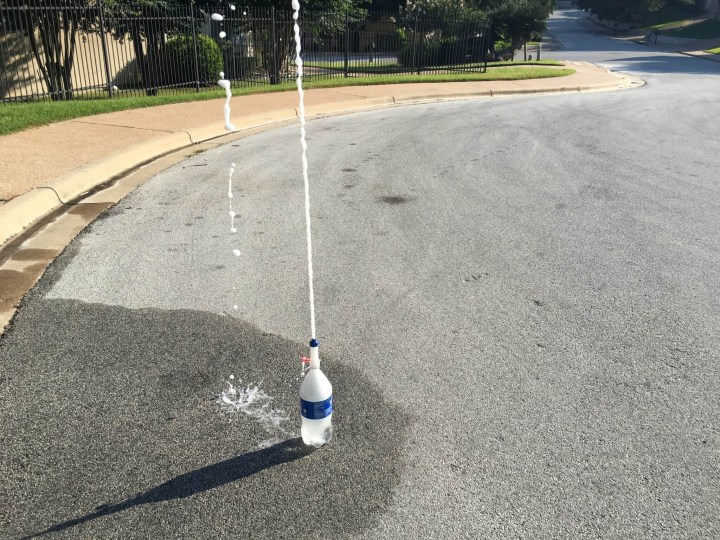 The next one had a single hole, like the original, but the cap tapered toward the hole. The resulting additional Venturi effect is supposed to make the soda come out faster, and thus, higher. The effect was somewhat lost on us, however, as we had already seen a seven mentos eruption. The next time we do this activity, we'll hold off on adding additional mentos until later. That way, we should be better able to notice the subtle differences in eruption height between the different geyser tube caps.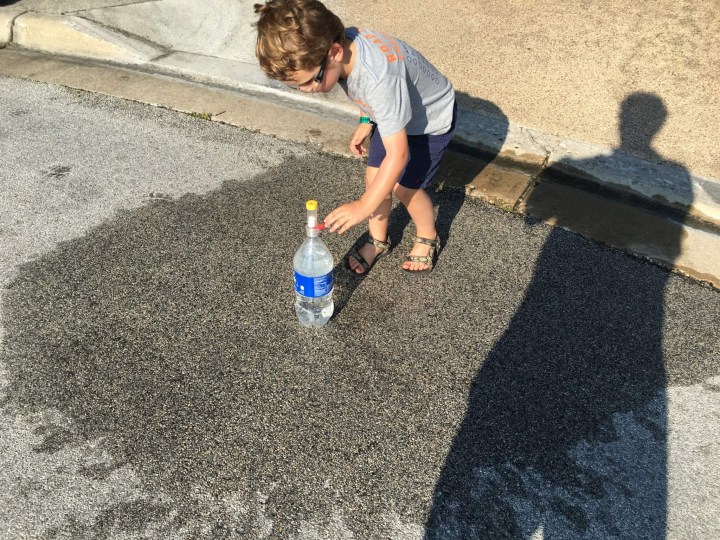 The last special cap had an output in the shape of a plus sign.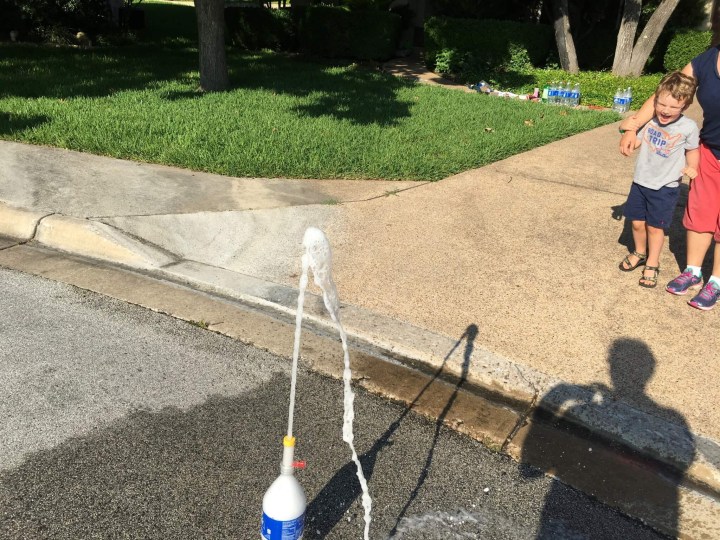 My son enjoyed watching the eruption very much.
Experiment 2:
A Geyser on Wheels (purple-15 minutes):
This next "experiment" is really just the setup for the following experiment. Here, you construct the car base that you'll use to see how far a mentos and diet soda-powered car can travel.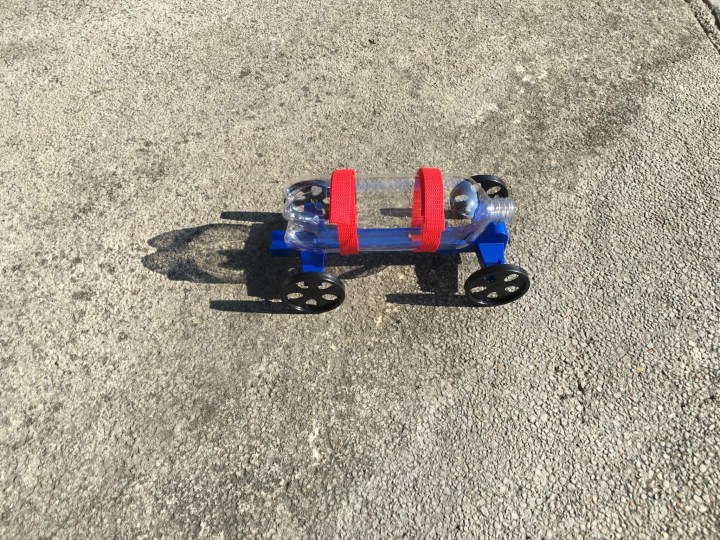 Assembling the wheels took a lot of fine motor strength. While I doubt older kids would have much trouble with this, I needed to help my 4 year old with it.
Experiment 3:
The Green Flag (orange-30-40 minutes):
In this exercise, you practice setting up and releasing your car so that you'll be ready to make comparisons between sodas in a later experiment.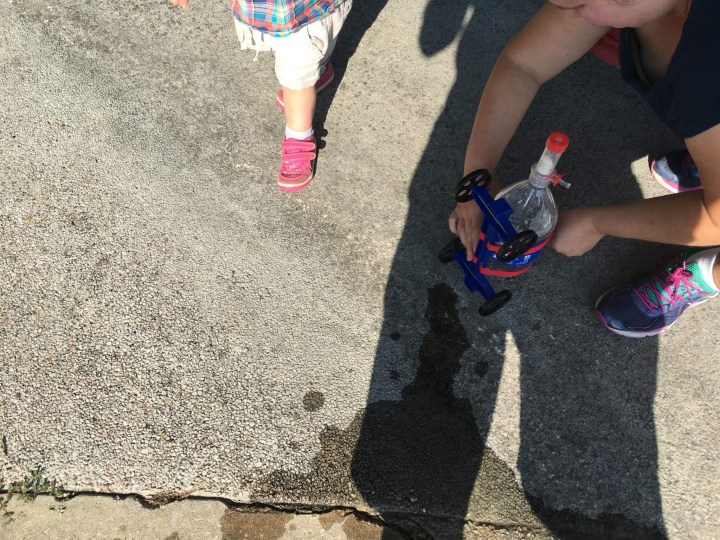 After demonstrating how to do it, I asked my son if he wanted to set it up or if he wanted to mark how far it went. He chose the latter. This was a smart choice as the set up here is a little tricky. After hooking the bottle with the geyser setup into the car, you need to release the mentos like you did in the geysers and then turn the setup onto its side so that the car can travel on the ground. If you turn it too soon, though, your mentos won't fall to the bottom of the bottle and your car won't have much power. If you take too much time, you'll get drenched in diet soda (and it'll be difficult to gauge how far your car could have gone!).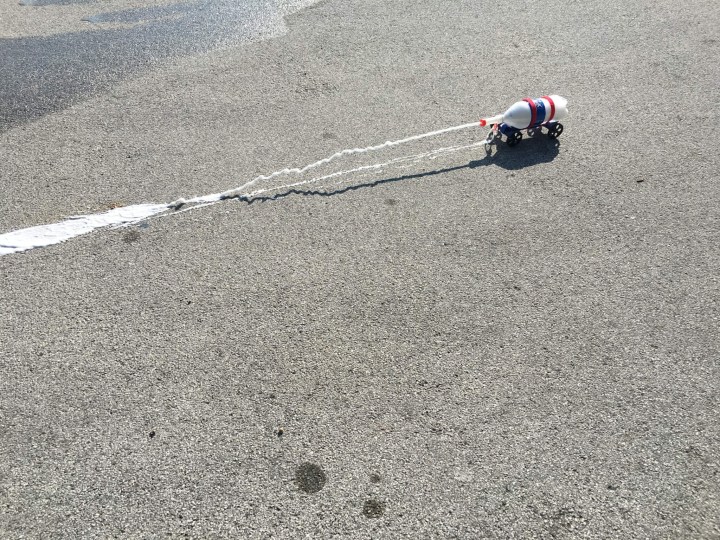 Once I got the set up right, the Diet Sprite and mentos-powered car had no difficulty managing the slight hill on our cul-de-sac.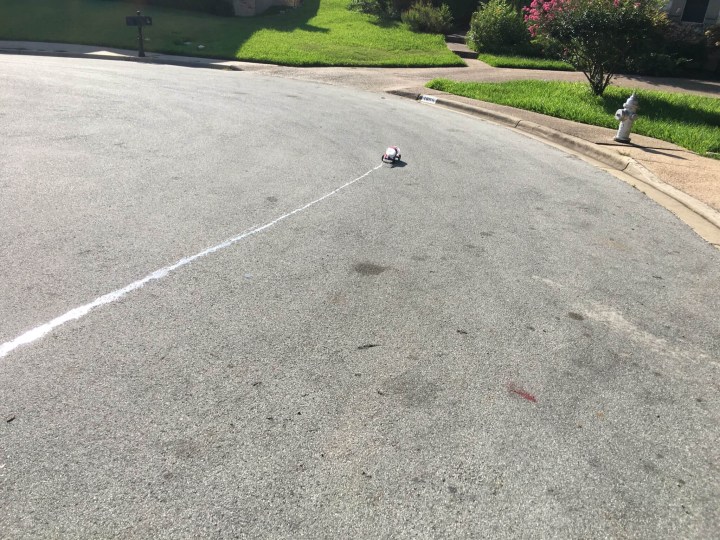 It didn't stop until it hit the curb on the other side! Exciting!
Experiment 4:
Challenging Newton's Laws (turquoise-15 minutes per section):
The next set of exercises provided a nice breather from the heat!
Here, children investigate and discuss Newton's Three Laws of Motion.
Every object in a state of uniform motion tends to remain in that state of motion unless an external force is applied to it.
F=ma
For every action there is an equal and opposite reaction.
To explore Newton's First Law of Motion, my son looked at his car stand still. He decided that, as nothing "gave it the power to move," it would never move. I asked him what things might give it the power to move. He said you could push it or the wind could blow it. I asked what would happen if we put it on a ramp. He said that would move it too. He demonstrated this happily.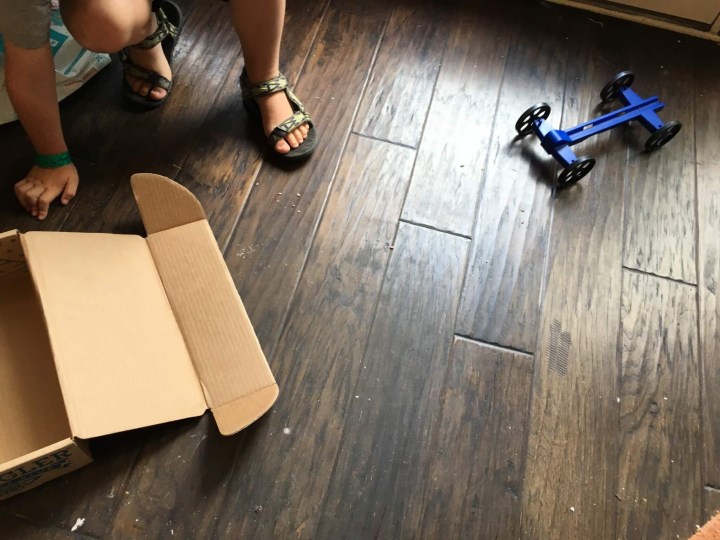 We had trouble demonstrating Newton's second law of motion as we don't have a completely flat surface in our house! No amount of wind that we produced by breathing would move the car. The next time we go shopping, I hope to pick up a small fan to aid us in this endeavor.
Although we discussed Newton's third law of motion, we did not do the suggested exercise as it was a bit math heavy for my four year old. He can add and subtract and is learning multiplication, but hasn't yet been exposed to division. Still, we enjoyed our discussion of forces very much!
Experiment 5:
Testing the Limits with the Geyser Car (magenta-30-40 minutes):
After we cooled down a bit and had a glass of water, we went back outside to see just how far our car could go with different power sources (i.e. different diet sodas).
Earlier, we saw the Diet Sprite bottle travel across the entire cul-de-sac. Here, my son marked how far a Diet 7-Up bottle traveled.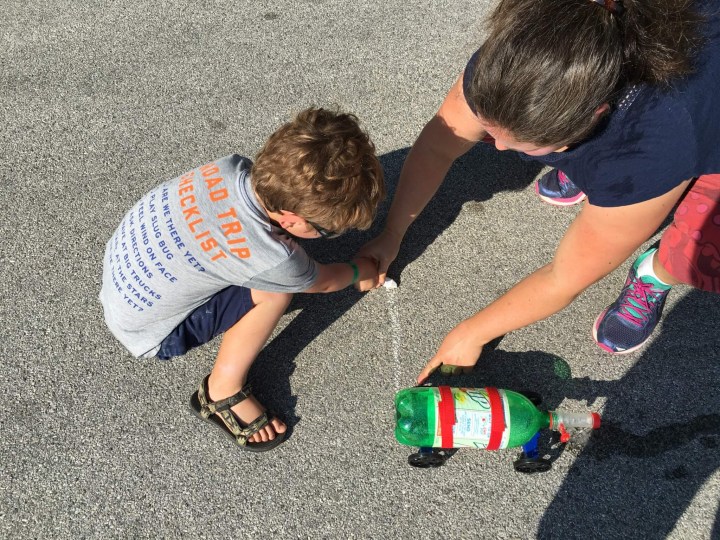 It didn't make it to the end of the cul-de-sac. My son marked it's destination with a piece of sidewalk chalk.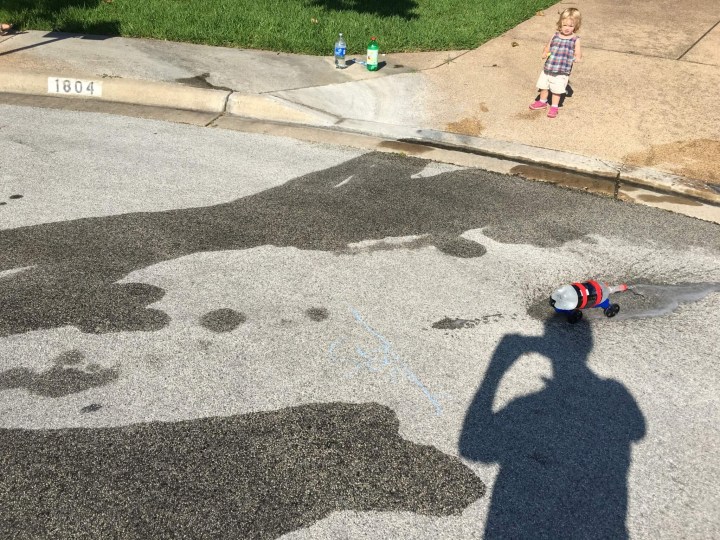 Prepared for another long run, my son positioned himself at the end of the cul-de-sac for the club soda run. Unfortunately, though, the club soda went backwards (our cul-de-sac has a slight incline which the club soda-powered car was unable to overcome).
I liked how the Spangler Science Club's introductory letter to parents suggested this outcome from the outset by describing what's so great about using clear diet soda in these experiments: while the presence of sugar in carbonated water disrupts the water's surface tension so that carbon dioxide can escape more easily than it otherwise would, aspartame is even more effective than sugar at breaking up water's hydrogen bonds on its surface. In other words, although it's better to use regular soda in these experiments than carbonated water, using diet soda sweetened with aspartame is even better! Based on our results, I would guess that aspartame is also more effective than splenda at disrupting water's surface tension. Further investigation is necessary, naturally.
Experiment 6:
Beyond Soda and Candy (5 minutes per setup):
In the last set of experiments, you get to play around with different power sources!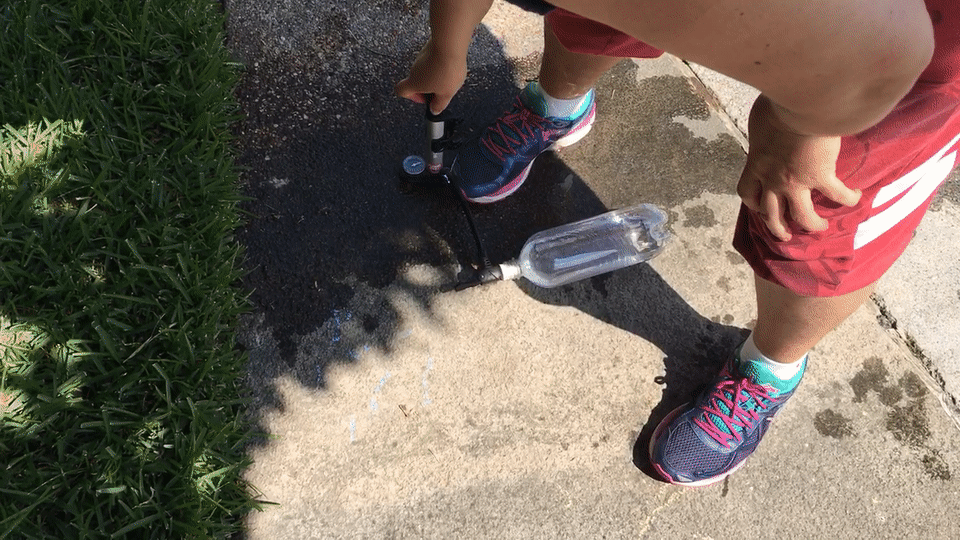 First, you put about a cup of water in an empty 1-L bottle (provided) and fill the bottle up with air. When the bottle's maximum pressure is achieved, the stopper will pop out and the air and water will propel the bottle forward.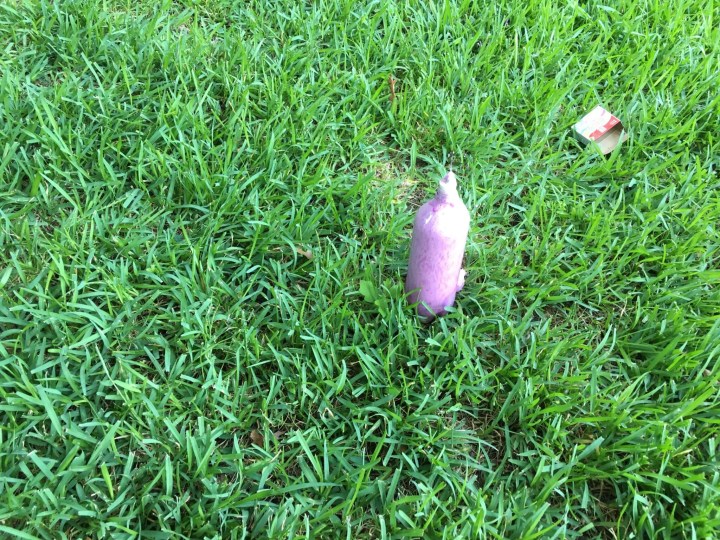 Next, you use a chemical reaction to create a geyser. Mix citric acid and baking soda with water, a bit of dish soap and some food coloring, seal the bottle and watch what happens!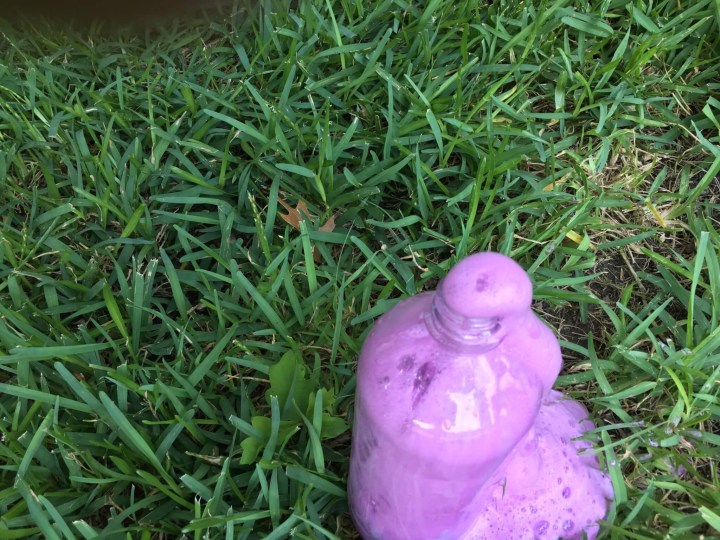 As the pressure mounts, the top pops off, and the colorful geyser slowly erupts from the bottle. Fun!
Congratulations!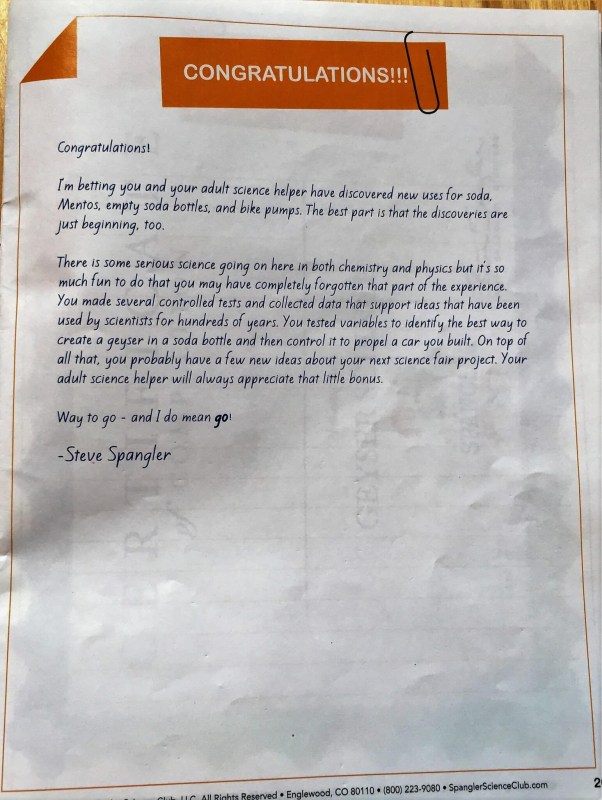 There's a nice summary letter and certificate included at the back of the kids manual congratulating the child for a job well done.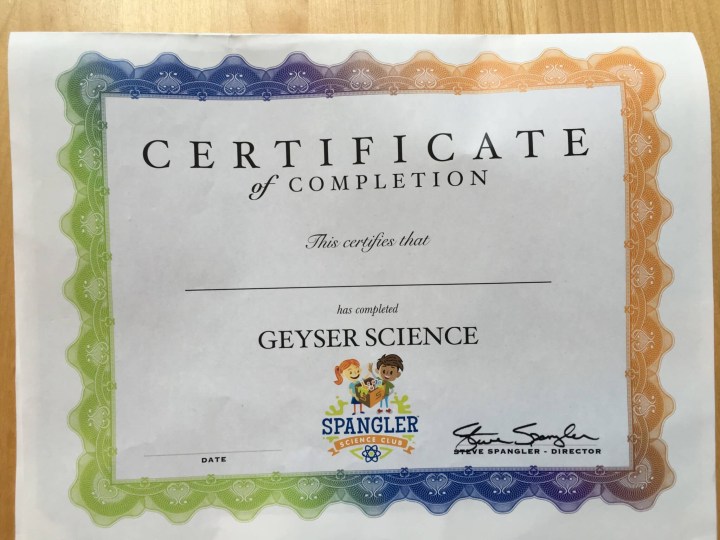 My son and I had a great time exploring geyser science in this month's installment of Spangler Science Club! I only wish I had had access to something like this in high school–it would have made the Venturi effect and Newton's laws of motion really come alive in an otherwise pretty boring high school science class. Needless to say, this subscription would be ideal for homeschoolers or anyone else interested in having fun learning about science in a low-key, playful way. My four year old son loved it, and I loved working through the activities with him! I'm sure we'll revisit these ideas many times in the future together, and when we do, we'll look back fondly onto all the fun we had playing with our geysers and cars.
We've already revisited and extended some of the ideas from the Cartesian Divers box! At my son's preschool's end of the year party, we talked about how an increase in temperature helped reinflate old ball pit balls and how a decrease in volume increases pressure, resulting in higher water (children were standing on an inflatable water sprinkler).
We can't wait to discover more about the world around us with next month's installment of the Spangler Science Club! You can save $6 on your first kit with any length subscription with coupon code SIGNSAVE20!
OR Save 40% on your first month with any 3+ month subscription – use code SPANGLER16AF for the deal.
Visit Spangler Science Club to subscribe or find out more!
The Subscription
:
Spangler Science Club
The Description
: Amazing hands on science delivered to your door! Ignite the spark of science and creativity in your child with a subscription to the Spangler Science Club. Join today and you'll receive Steve Spangler's most amazing hands-on science experiments delivered to your door each month.
The Price
: $29.99 per month