Snakku is the prettiest treat box you will probably ever open. With a focus on more traditional Japanese snacks and treats instead of the widely-known variety, this box always so much fun to open.
My June box arrived in a pink furoshiki — it's actually the same as the one on my very first Snakku box, so now I have two — I need to use them for something, maybe to wrap a birthday gift?
The box inside is also really pretty, and the top slides off length-wise to reveal the goodies below.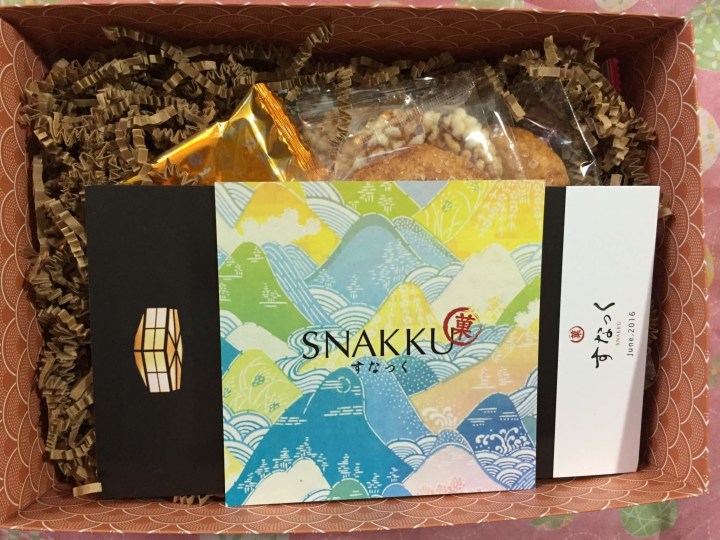 The artwork featured on the printed materials is so beautiful. There is a standard information card outlining the items included, and I was also sent a hand-written note of thanks as well.
I always love the photos and artwork used on the printed material!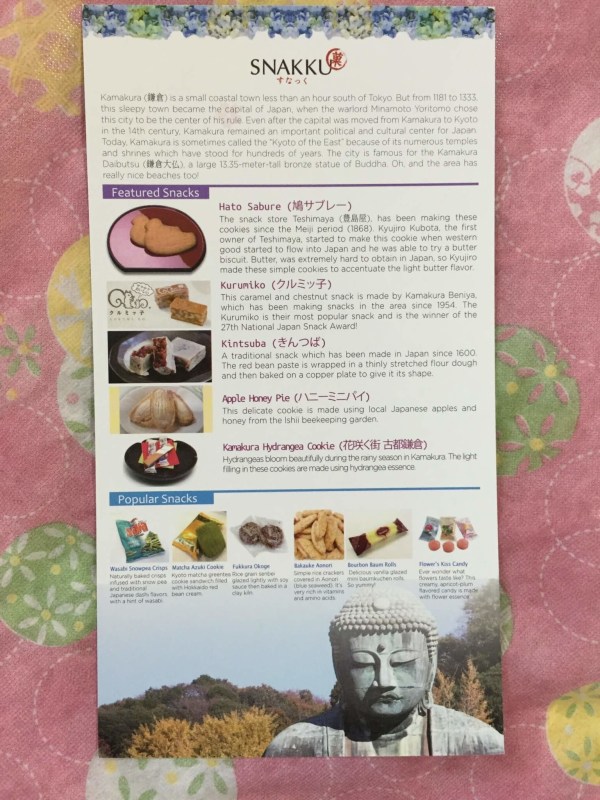 Kamakura is a coastal town south of Tokyo, and was actually the capital of Japan for a brief time from 1181-1333. (I love the history lesson included in Snakku!) June's box features a bunch of great items right from Kamakura.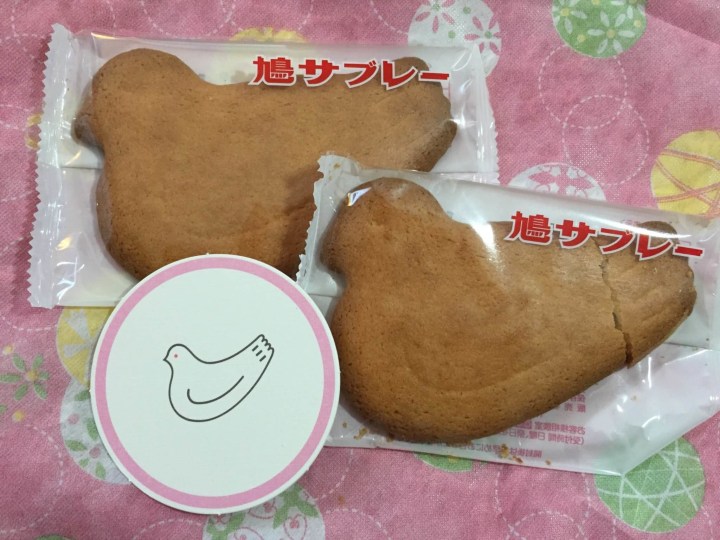 Hato Sabure These cookies are lovely! Inspired by the influx of Western goods coming into Japan in the 1800s, these simple dove-shaped cookies contain butter, which wasn't easy to come by in Japan. They are a very light butter flavour with a touch of sweetness to them, and are pretty fragile. Snakku has done an in-depth review of these cookies on their blog — check it out for a really interesting history lesson!
Kurumiko SQUIRREL! Sorry, I just loved the packaging on this little treat! It's made of caramel and chestnuts, and is sooooo delicious! This is Kamakura Beniya's most popular snack! It was really sweet and rich, so the small size was perfect.
Kintsuba This is red bean paste wrapped in thin dough and then baked. The name of the treat (きんつば — read top to bottom, right to left!) is printed on the top. I love red bean paste treats — it doesn't taste like bean, it just tastes lightly sweet and has a nice texture.
Apple Honey Pie A thin cookie with a pastry-like texture. This is made with local apples and honey, but I didn't taste the apple in it — just the honey, which was delicious!
Kamakura Hydrangea Cookie I love hydrangeas; we have them blooming like crazy outside my apartment, but I've never tasted one before! Their essence is a light floral, and the wafer of the cookie balances it out nicely.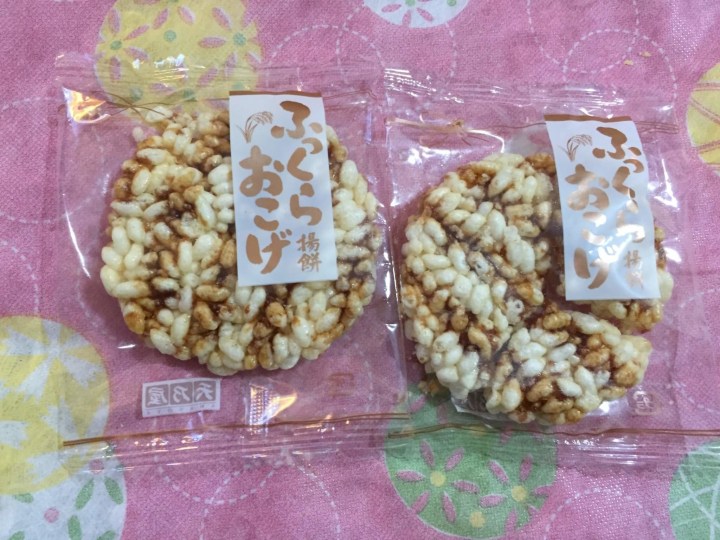 Fukkura Okoge How pretty are these senbei? They look like fancy striped rice crispy treats, but they are actually baked senbei with a soy sauce glaze. They look great and taste great too.
Bakauke Aonori These senbei are covered in aonori (blue seaweed! Aoi: blue; nori: seaweed). So they have that flavour of the ocean without being fishy. These were really crunchy and I enjoyed them as well! (Then again, I love pretty much ANY kind of senbei…)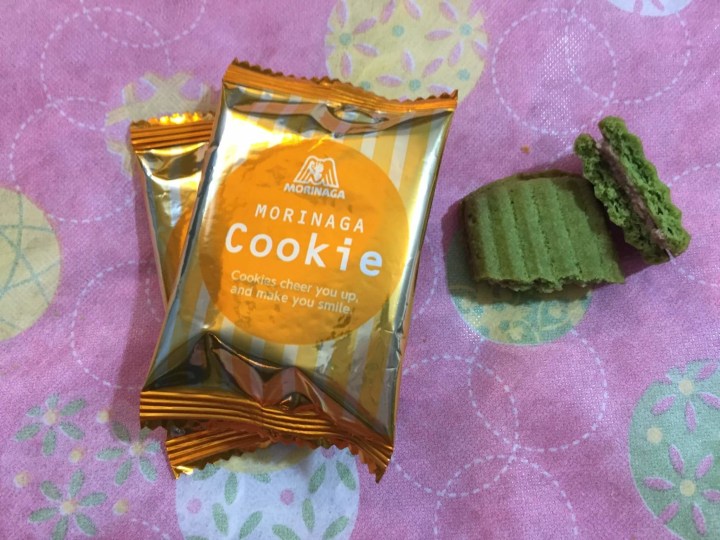 Matcha Azuki Cookie The green tea flavouring of the cookie is quite strong, while the red bean cream paste in this is a lot milder. May's box featured a soft cake-like version of this same combination, which I wasn't too fond of, but I think I like the crunchier version better.
Bourbon Baum Roll Okay, I had to google baumkuchen rolls — apparently it's a German version of the spit cake. We made spit cakes when I went camping with my Brownie troupe, and it basically involves cooking dough over fire and rotating it on a stick before adding more on top. The end result is a layered cake. This baum roll is vanilla flavoured, but I also taste lemon in it!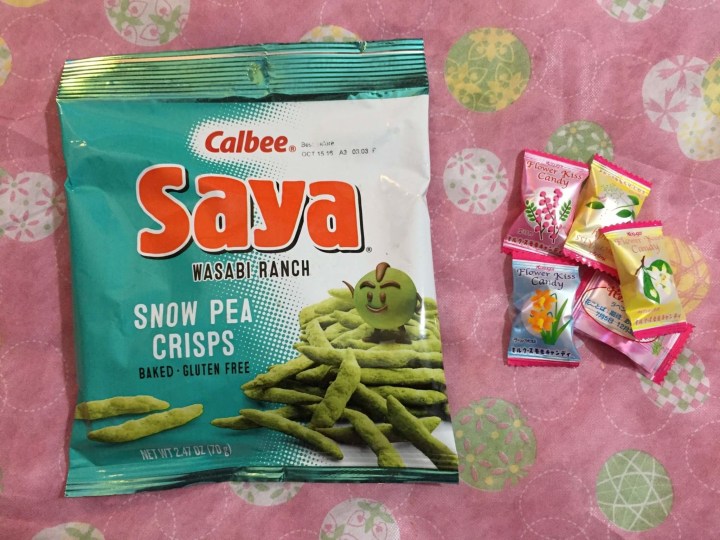 Saya Snow Pea Crisps I loooove snow pea crisps! I've tried the salted version but not this wasabi ranch version. It's got a big bite to it, but the ranch flavouring was interesting!
Flower's Kiss Candy Hard candies infused with floral essence and apricot flavours.
These extra snacks were tucked into my box, and I was a bit confused at first because they weren't on the information card. But then I recognised them as my favourite items from the May box! (click for review) すなっく、ありがとう!♥ I included them here because they made it into the main photo and I wanted to point out that they aren't part of the box.
My box was literally stuffed this month! I love the wide variety of treats and the opportunity to try something new and different. The curation and themes are always so good, and I love that we are sent multiples of the items — I like to share… most of the time! Sometimes I just have to hoard everything for myself!
What did you think of this month's Snakku? Save 5% on your subscription with coupon code HELLOSUB.
Visit Snakku to subscribe or find out more!
The Subscription:
Snakku
The Description: Get a collection of hand-picked snacks that you can only find in Japan, along with a selection of familiar & delicious Japanese snacks delivered every month.
The Price: $38.95 per month. Free Shipping to US, $5 shipping to Canada, $15 everywhere else.