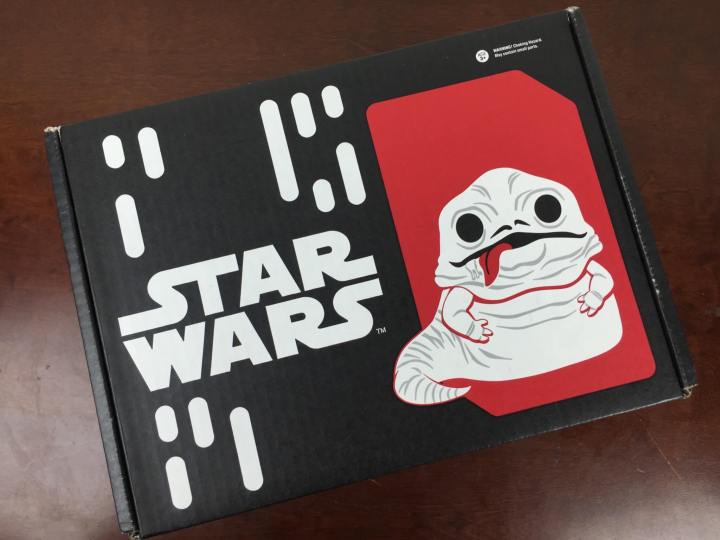 Smuggler's Bounty is a bi-monthly Star Wars subscription box from Funko and the only official Star Wars subscription box (in the galaxy). Everything inside is 100% exclusive to the box and designed in collaboration with Funko!  Funko also produces the Marvel Collector Corps Box and the DC Comics box Legion of Collectors!
Thank you, Funko, for caring enough to keep your packaging clean by putting the label on the underside of the box. I love the unboxing experience to start out perfectly!
Behold! Your share of Smuggler's Bounty! An exclusive patch & pin! The theme for July 2016 was JABBA'S PALACE!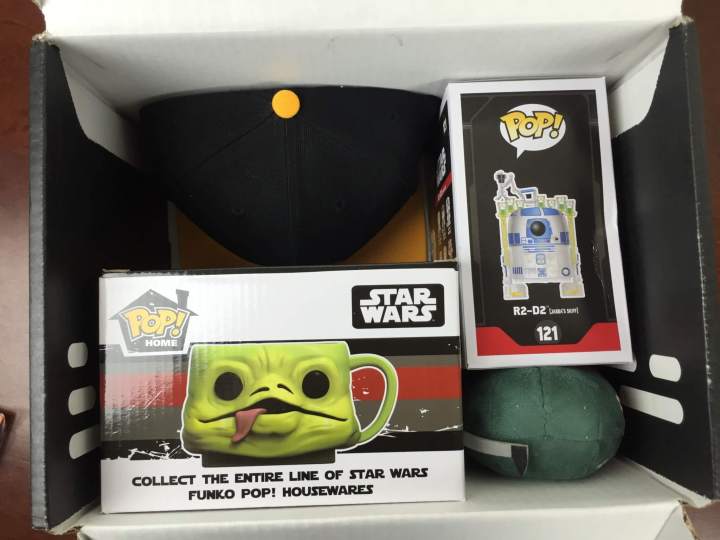 The box was billed as the biggest Smuggler's Bounty box ever. Dudes, they meant the size of the box. I know a lot of people were a bit disappointed there wasn't some giant item.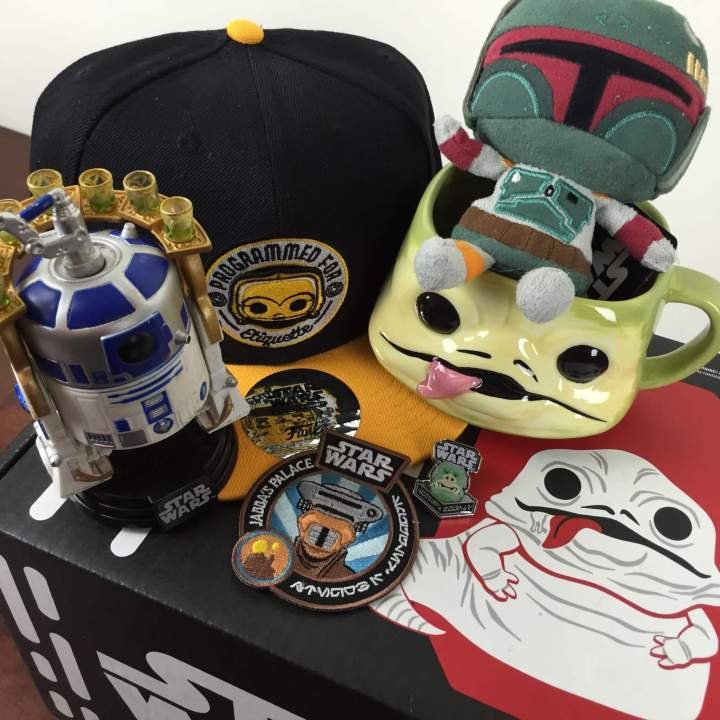 Everything inside the Smuggler's Bounty Star Wars box for July!
Alas, my box didn't come with an insert card.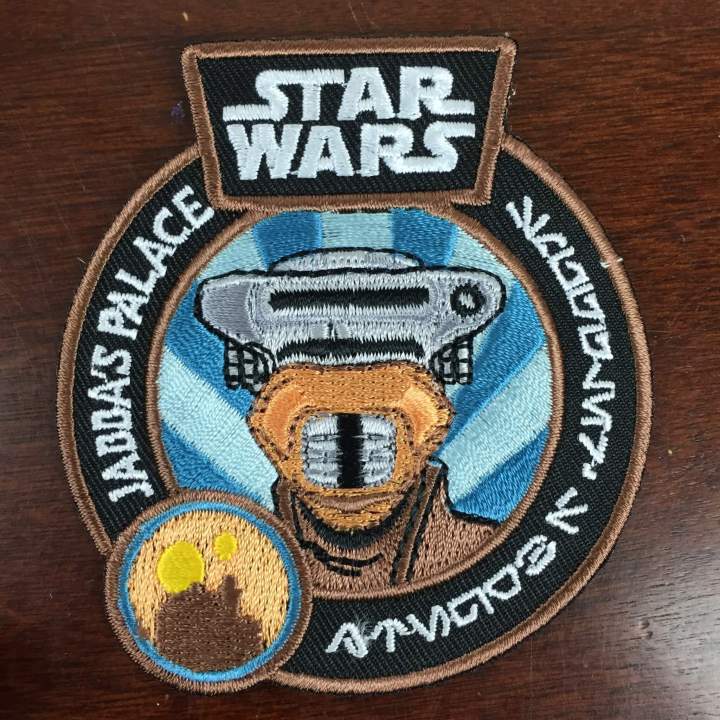 Boushh Leia patch (says Smuggler's Bounty in Aurebesh). She makes an excellent bounty hunter!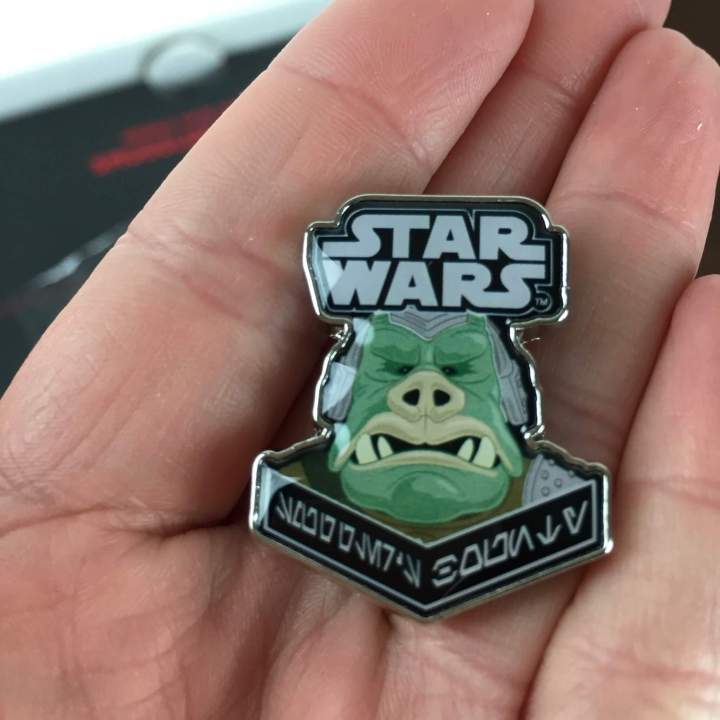 Gamorrean Guard Pin
Funko Plush Boba Fett – This is the very first item in the new Funko Plush line! They're pretty much like Mopeez, but they don't mope. I love it. I'm really excited about it and I'm hoping to see LOTS of these in future subscription boxes!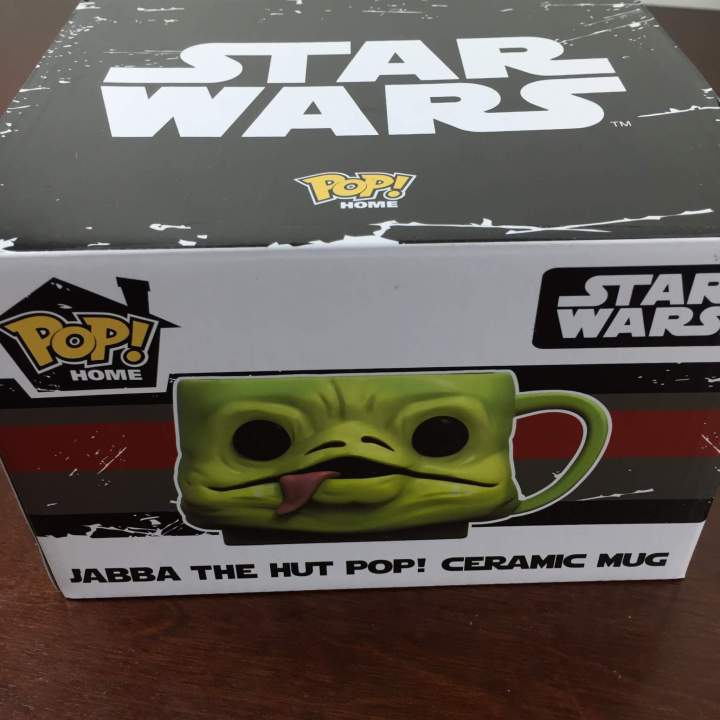 Funko POP! Home Jabba The Hut Ceramic Mug: I'm still bummed that I don't have a Jabba Pop, but this is a good second.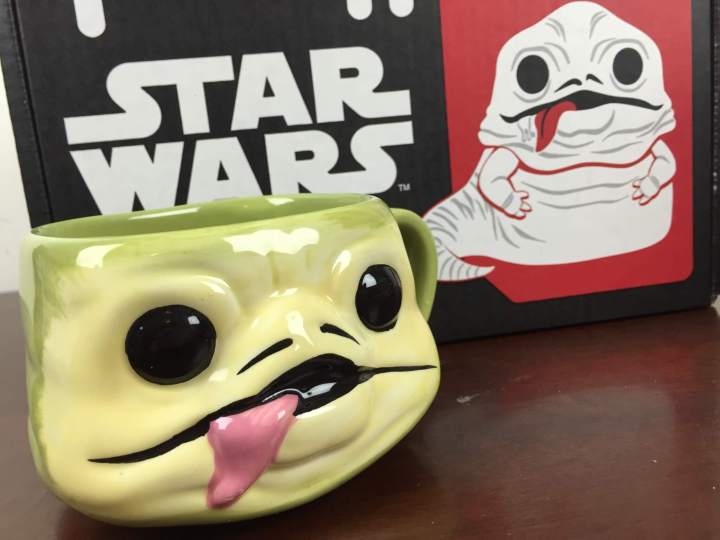 The styling on this is funny and cute. I really feel like making a bowl of ramen to eat from it, because it would be like eating Jabba's brains. Slurrrp!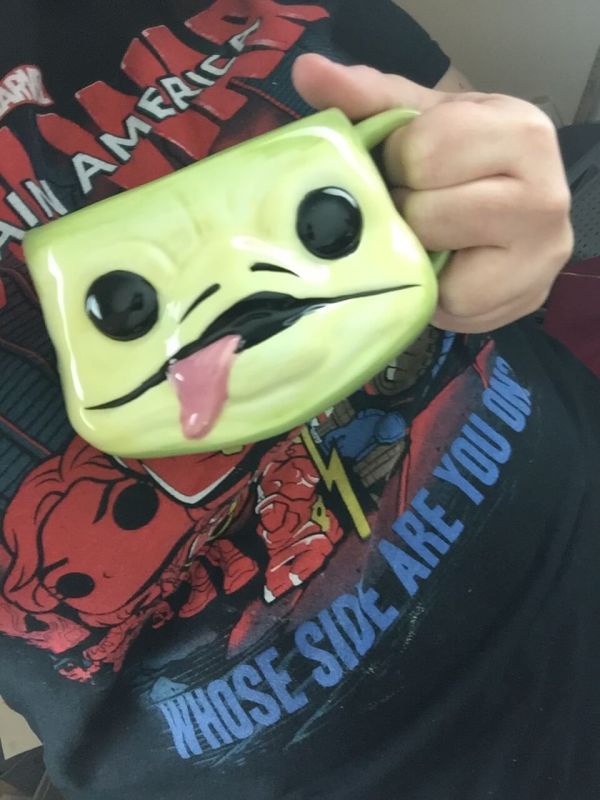 I'm a left handed drinker (because I'm a right-handed mouser) so I can walk around displaying Jabba. I thought this was funny.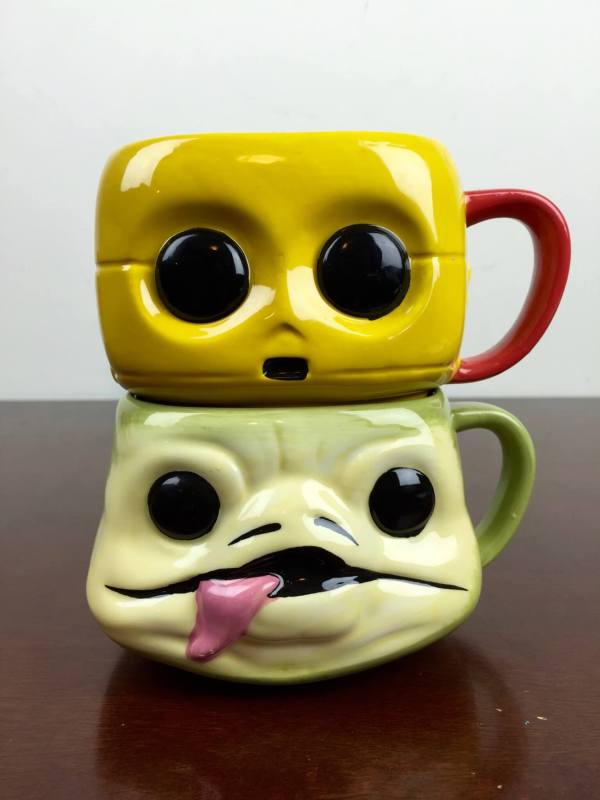 These guys are going to make a great ice cream set!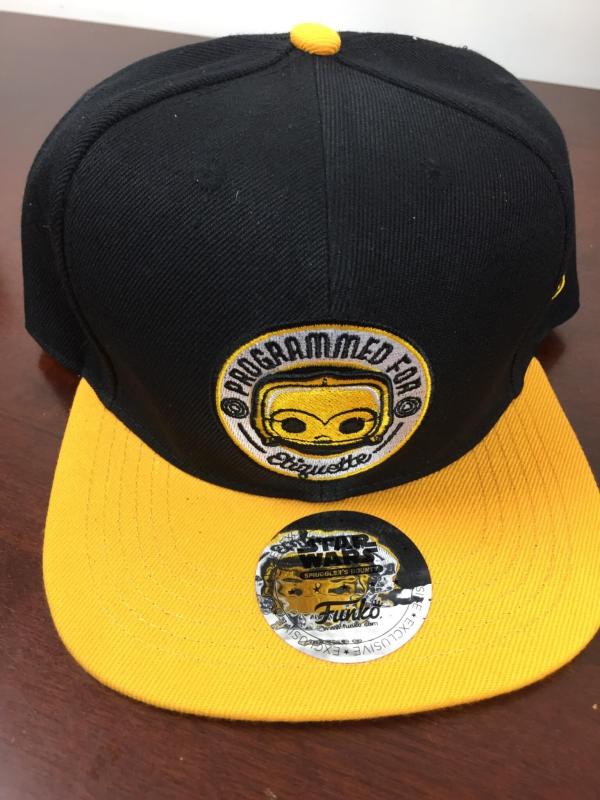 Funko Pop Tops C3PO Snapback: This is basically funny and ironic on me, because I am the least proper person I know.  I love the little Funko-style C3PO too. They seem to be alternating styles on the wearable perhaps? This is part of Funko's new "Pop Tops" hat line.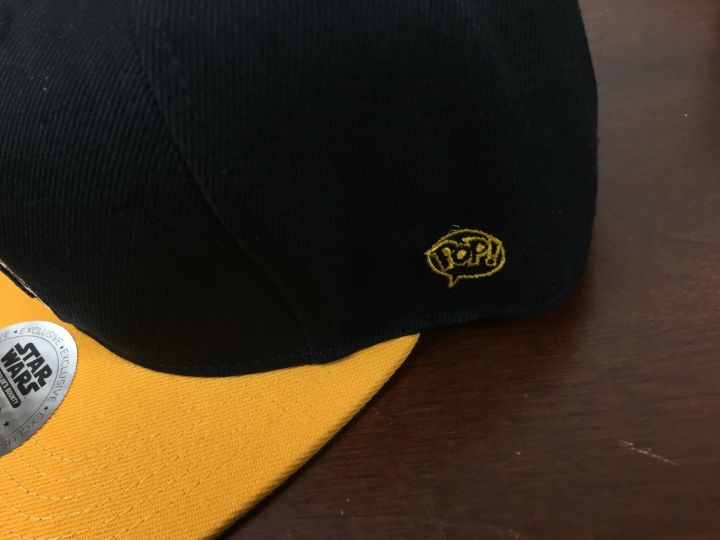 It has a little POP! emblem on one side.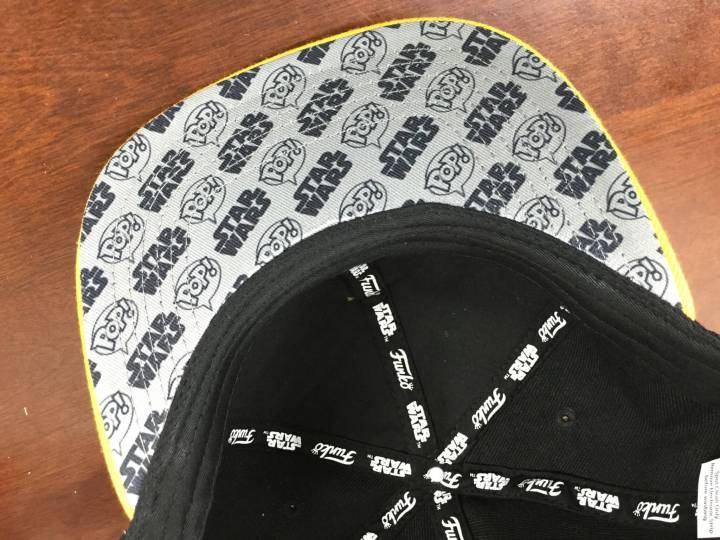 Under the brim is a great print. There is no question who produced this hat!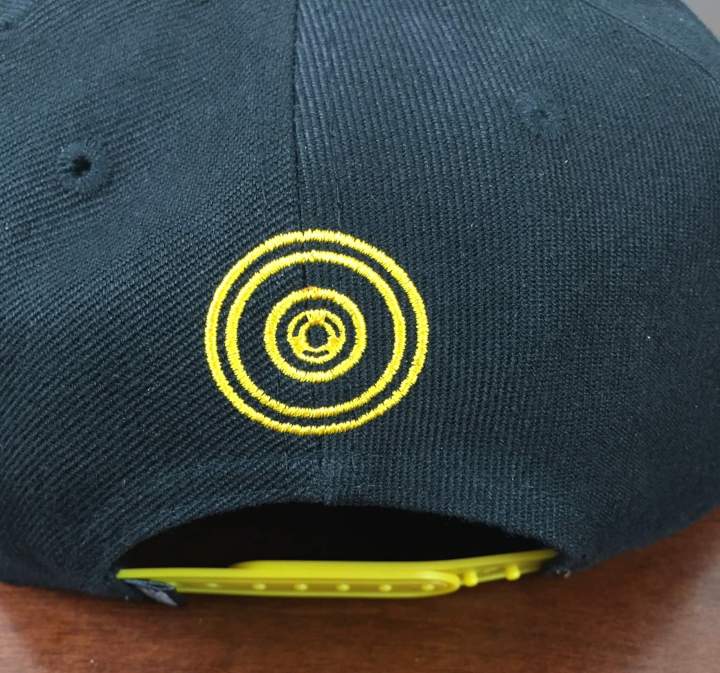 I think Funko missed the chance for a good joke here – this is reminiscent of the thing (I have no idea what it does?) on 3PO's abdomen – when it should have been a representation of the port on the back of his head! They are somewhat similar but this is definitely the front of him.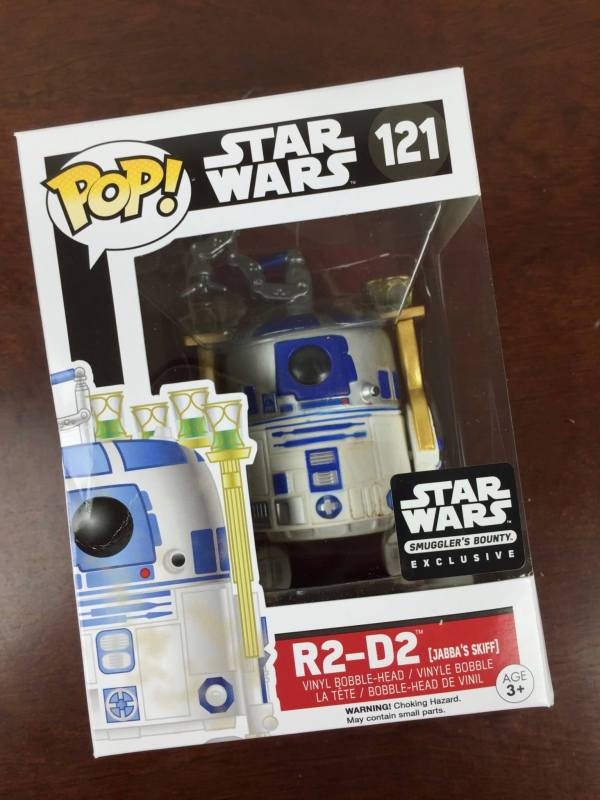 Star Wars Funko Pop! R2-D2 [Jabba's Skiff] Bobblehead: I was really excited about this – this may be one of my favorite POP!s of all time. Along with flocked Chewie of course. As you can see in the photo my box was banged up pretty badly, and I've seen others with chewed up boxes as well – Mint boxed versions of these may become super valuable!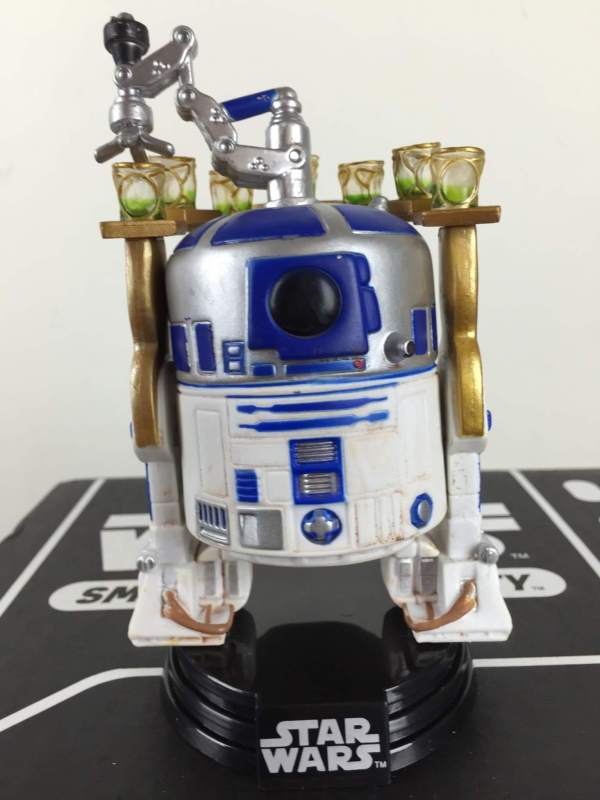 The detail on this Pop is unbelievable! Fill 'er up R2!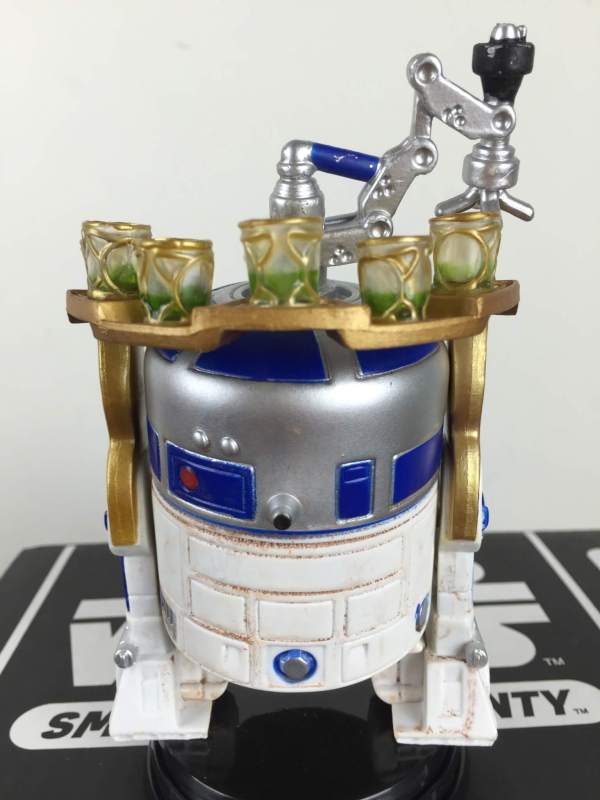 He is SO dirty! I think it's fantastic. Not sure about the "bobble" action – he does move, but no real bobble action, unless mine isn't working correctly.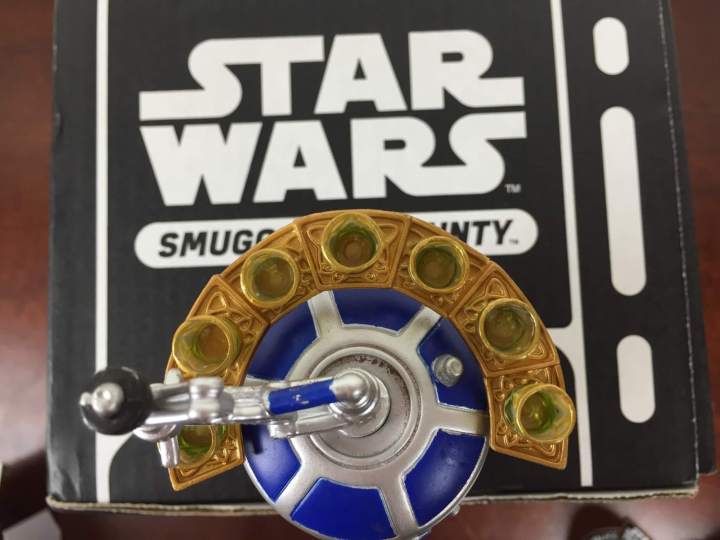 I can't say enough about the detail on this Pop!
This was definitely one of my favorite boxes from this subscription yet! I love my shirts but it's fun to get an occasional "other" wearable (I'd love to see a unisex bag!), LOVE the mug, LOVE the Pop, and I LOVE the non-moping plush (I really get weirded out by the Mopeez eyes sometimes!). I also love the thoughtfulness of curation for long-time subscribers by making a set of mugs for us – I'm thinking of grabbing 3 more Funko Star Wars mugs so my family has a fun set!
Check out the spoilers for the July 2016 Bounty Hunter box!
Visit Smuggler's Bounty to subscribe or find out more!
The Subscription
:
Smuggler's Bounty
The Description
: The only official Star Wars subscription box in the galaxy, this subscription box from Funko is 100% exclusive!  Members will receive a box full of exclusive Star Wars-themed Funko items valued at over $50. Each box will focus on a different part of the Star Wars universe.
The Price
: $31.95 every other month