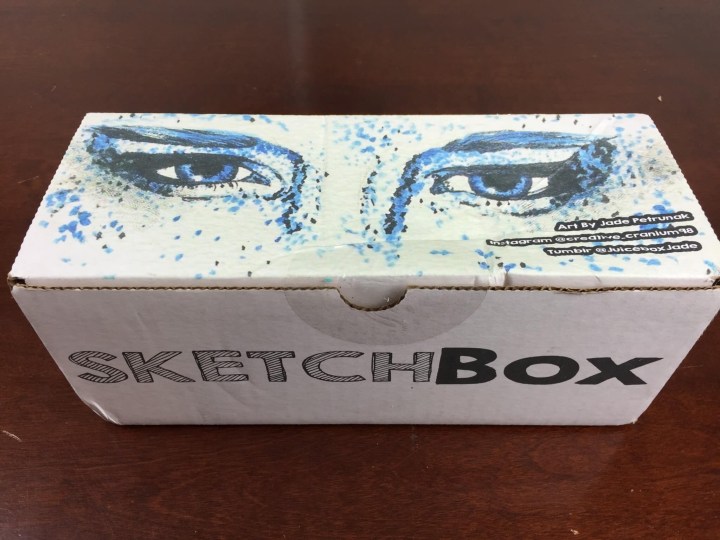 SketchBox is a monthly art supplies subscription box that brings you premium art materials right to your door. The subscription costs $25 per month ($30 for the premium box) + $5 shipping, and you'll get a box full of art supplies curated by artists, which will inspire you to create something amazing.
The infomation card shows a brief description of the items this month. This is the premium box!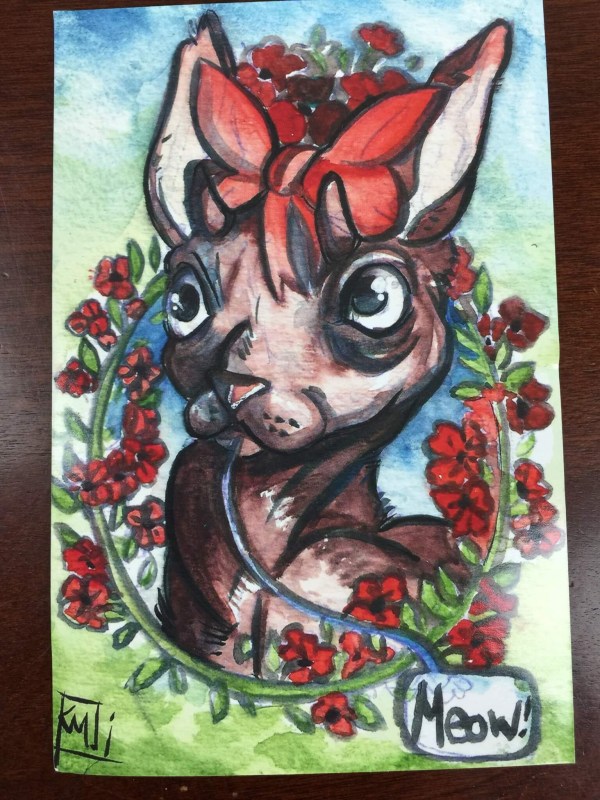 Each month, SketchBox will included an art print from the featured artist of the month.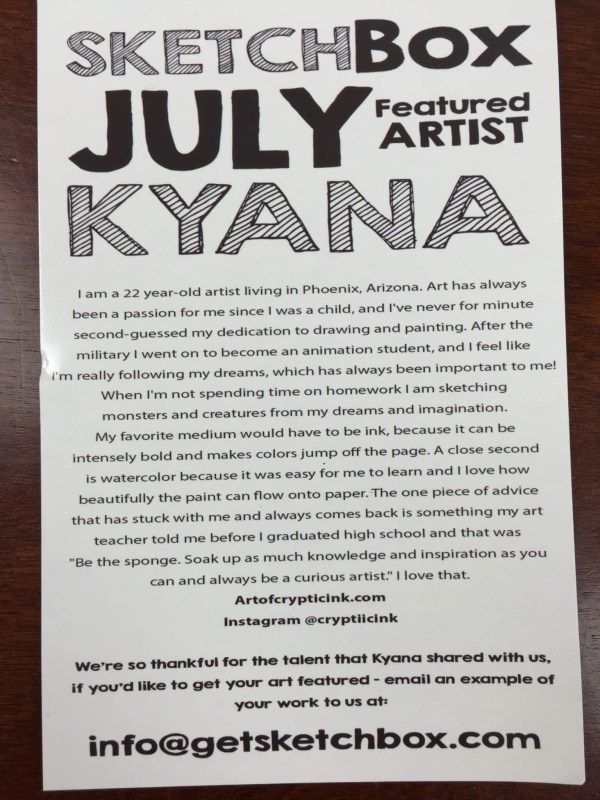 The featured artist of the month is Kyana from Phoenix, Arizona. What better way to promote a box that seeks to spread art is there than to feature the work of an artist!  Sketch box invites subscribers to submit their own work for consideration for being chosen as the featured monthly artist.  The artwork and a brief profile are printed on a high quality card and give subscribers a glimpse into another artist's work, motivation, and life.  This was a very nice touch and was probably one of my favorite features!
Everything in my July SketchBox! Note that prices below are what was on the card – we found prices from standard shops to be higher for many of the items, so we felt the card pricing to be reasonable overall, plus shipping is included with this subscription.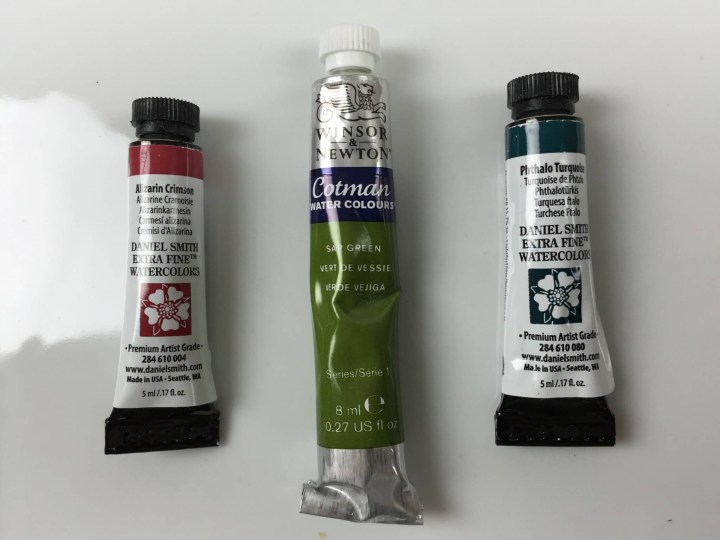 Daniel Smith Extra Fine Watercolor in Alizarin Crimson ($9.15)
Winsor & Newton Cotman Watercolor in Sap Green ($4.49)
Daniel Smith Extra Fine Watercolor in Phthalo Turqoise ($9.15)
When I was starting back into watercolors again and looking for a good set, among those recommended to me were the Daniel Smith paints.  Their nature and vibrant colors were praised to the stars and this box gives you a chance to see why by offering two tubes from their collection.  Out of over 200 colors, our box contained Alizarin Crimson and Phthalo Turquoise.  The paints lived up to their reputation of bold, beautiful colors, and handled very nicely both with a water brush and a standard one.  These paints are more expensive than other introductory watercolors, but keep in mind that these are premium artist grade and in this case, one definitely gets what is paid for!
On the other hand, the student grade of W&N's watercolor line, Cotman offers quality paint at a reasonable price.  These are perfect for the student on a budget, or someone new to watercolors and wanting a quality experience without breaking the budget.  Cotman are what I currently use and happily, I believe that this is a color I didn't already have.  The paints worked well with both brushes and blended nicely.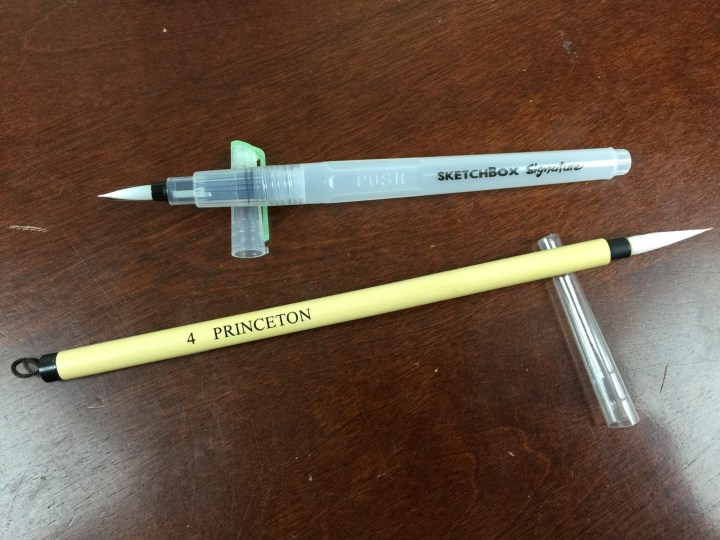 SketchBox Signature Water Brush ($5.50)
Princeton Bamboo Brush Round #4 ($6.15)
Relatively new to the world of watercolors, water brushes are something of an ingenious marvel.   By storing water within its (usually) plastic barrel, artists are able to work their craft on the move.  It supplies a source of water, the flow of which can be increased with a squeeze.  Their convenience cannot be understated!  The brush in the Sketch box is quality made and easy to use.  Screw off the tip section to fill the body with water and give a good squeeze to advance it to the brush.  A dab on fresh or dry paint will quickly produce usable medium.  Having a paper towel handy for dabbing of the nib will prevent you from having too much water when working.
Meanwhile, the Princeton Bamboo Brush finds its home in multiple disciplines including watercolor, calligraphy, sketching, and Sumi painting.   I'm not as familiar with these type of brushes and while reviewing it, wavered between having too much water, or too little.  The brush performed well and was pleasant to hold.  I feel that the bristles hoard water, so testing and drying as necessary is recommended.  I enjoyed it and feel that with more practice, this brush would find a place in my artistic rotation.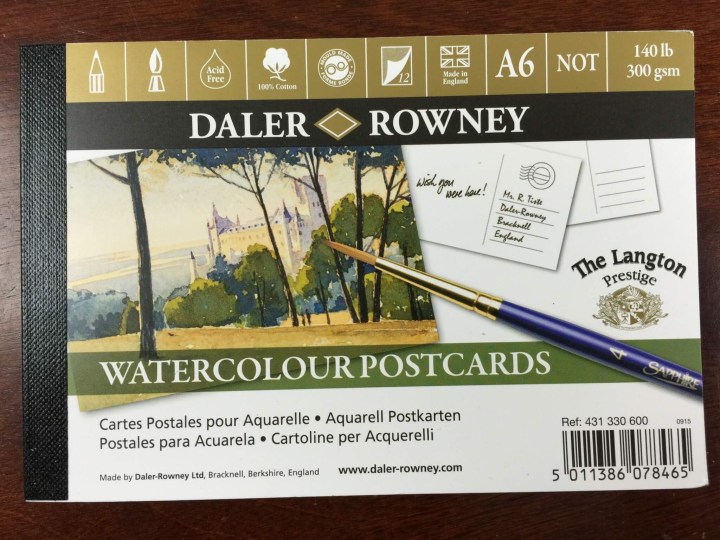 Daler Rowney Watercolor Postcards ($9.59)
Few things are cherished as much as that which is handmade.  This paper block of postcards allows you to create a one of a kind, functional piece of art.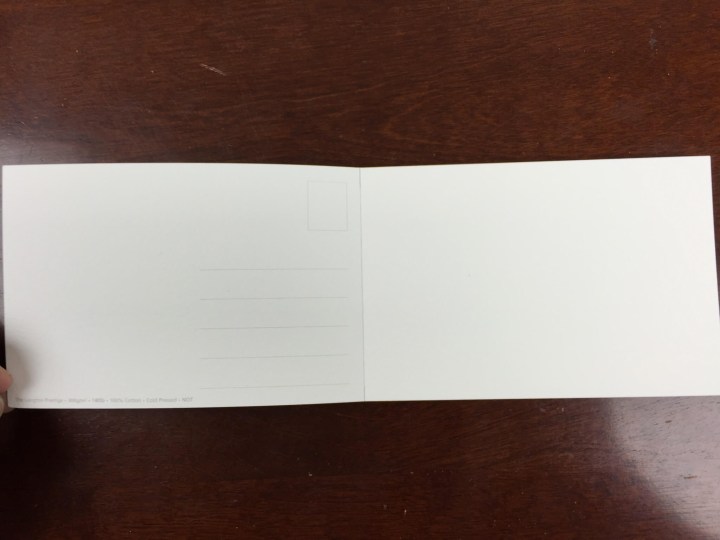 The paper was a dream to work on and beautifully showed the Cotman and Daniel Smith colors. 
The thick paper absorbs paint quickly, leaving the artist reaching for more water sooner.  Not to worry, though, as I found the colors easy to rework with the addition of water.  Individual pieces of paper tear out easily and I noticed no warping whatsoever.  Highly recommended!
Here are a few samples using the paints and the brushes.
What do you think of SketchBox? If you're ready to try it out you can save 5% on any subscription with coupon code HELLOSUB2016.
Visit SketchBox to subscribe or find out more!
The Subscription
:
SketchBox
The Description
: Every month, we deliver 5-6 premium art supplies right to your doorstep along with a unique piece of art. We're artists ourselves and search constantly for the best possible supplies. We feature a new artist every month to help inspire you to create something amazing. What would you make if art supplies were delivered to you every month?
The Price
: $30.00 per month