Runner Crate is a monthly subscription box for…well…runners.  Each month, Runner Crate will send snacks, running gear, and other fun things to "support your runner's high."  Subscriptions start at $35/month, with discounts for pre-purchasing multiple months.  I am a triathlete and a runner, so I was super pumped to get this box.  To start with, what's not to love about a box decorated like a running shoe?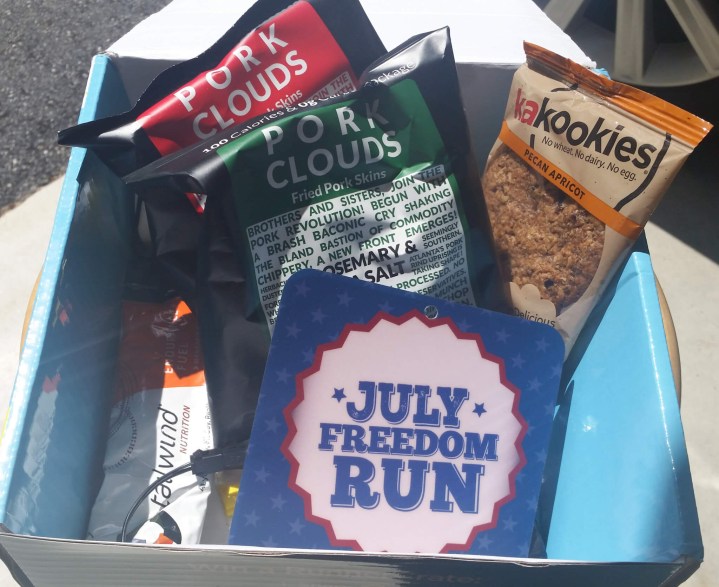 Here's what I saw when I opened the box – fun!  Runner Crate says each box will be filled with "brand name fitness supplement samples, apparel, workout plans, meal recipes, other gym related gear AND bling for the month!"  Each month will include 6-8 items, depending on what is included.  Let's take a closer look at the goodies they sent me.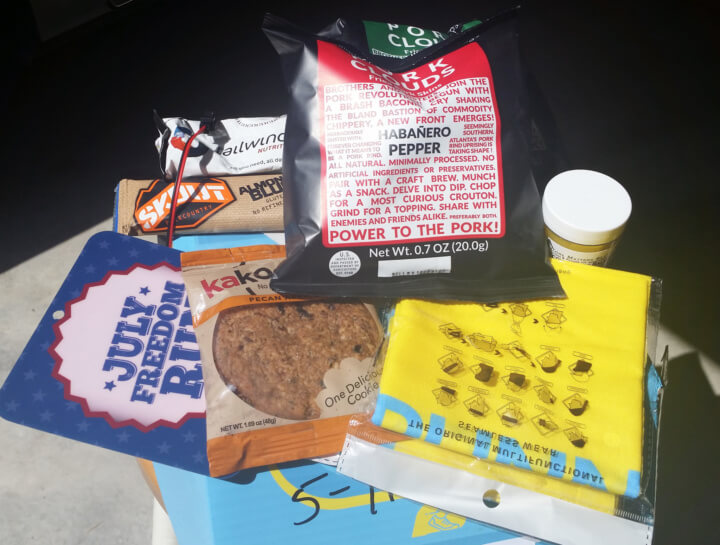 Here's another look at most of the goodies outside of the box.  One thing I found a little curious, based on other boxes I've reviewed, is that there was no information card.  I'm not sure if it was an omission or intentional, and it certainly wasn't necessary – I could figure out what to do with (almost) everything in the box all by myself.  It just seemed different from other boxes – and, as you'll see below, there is one place where I could have used a little more detail.
Pork Clouds:  Despite living in the south, I've never actually eaten pork skins as a snack before.  After trying these, however, I will be changing that.  These Pork Clouds are a nice snack – light but still filling, plus in keeping in line with healthy runner snacks, these are all natural, lightly processed, and really tasty.  (I'm a big fan of the rosemary sea salt variety.)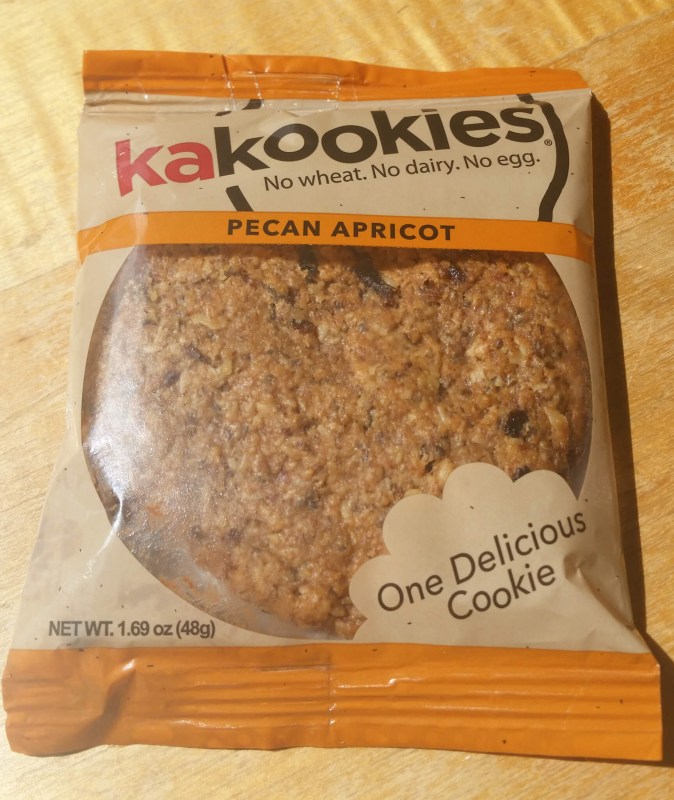 Kakookies cookie:  Another healthy and tasty runner snack.  This cookie is gluten free and full of good, natural stuff.  I thought the flavor (pecan apricot) was very good, and the texture was nicely dense and chewy – just like a homemade cookie.  I could see this making a good post-run treat.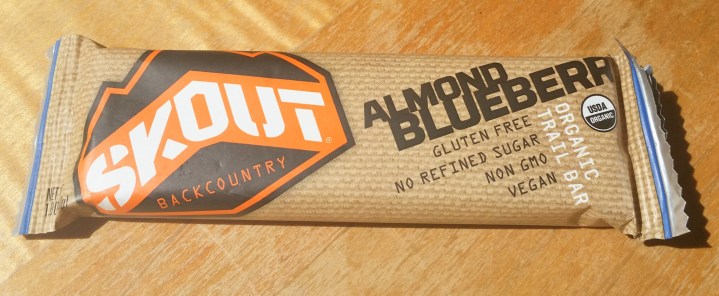 Skout Trail Bar: Another yummy runner snack.  The blueberry flavor in this bar is really good – plus, like the other snacks included, it's gluten free and full of healthy ingredients.  I think the bar is a little too heavy to use during training, but as a pre-run or post-run snack, this bar would be great.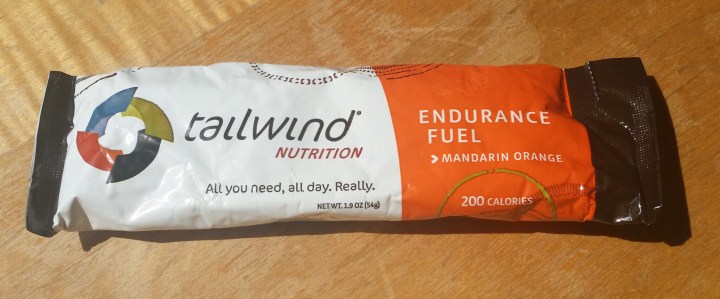 Tailwind Endurance Fuel: I was super excited to see this in the box.  My triathlon and running friends RAVE about Tailwind, but I haven't had an opportunity to try it out yet.  This is definitely something I love about subscription boxes – a chance to try out new products without ending up with a big container of something I don't like or can't use.  Tailwind is fuel to use during a workout, so I'm going to take this out for my next long run to see if I like it.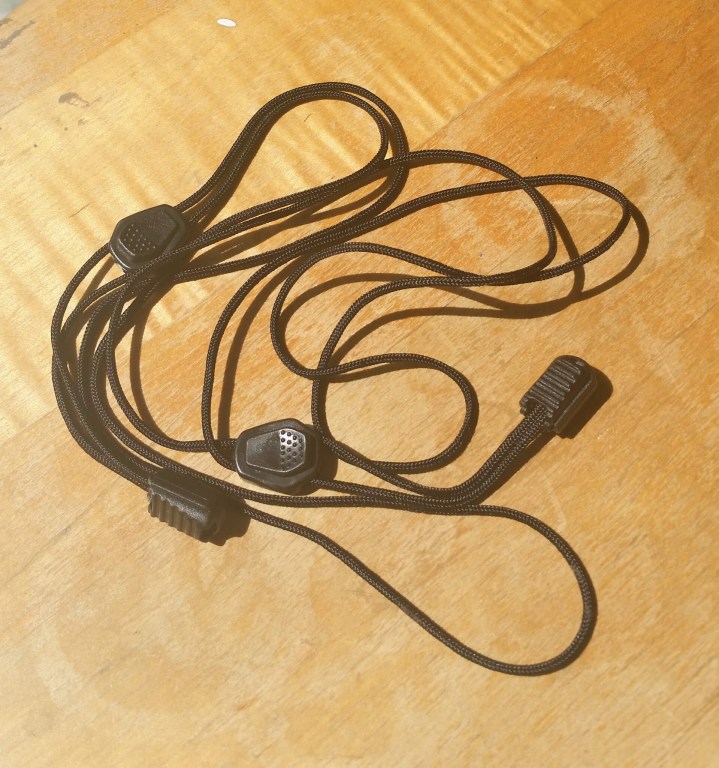 No-tie Shoelaces:  This is where a product card may have come in a little bit of handy, here…I am pretty certain these are no-tie shoe laces.  I have similar laces in every pair of running shoes I own, since I do triathlons.  (And I own a LOT of running shoes…but anyway.)  However, I haven't quite figured out how to use these.  There is no brand name on the product, so I can't look up instructions online…and there is no opening tab on the clip like there is on the brand I currently am using.  Of course, I could be completely wrong and these are something else – I just can't imagine what in a runner's box!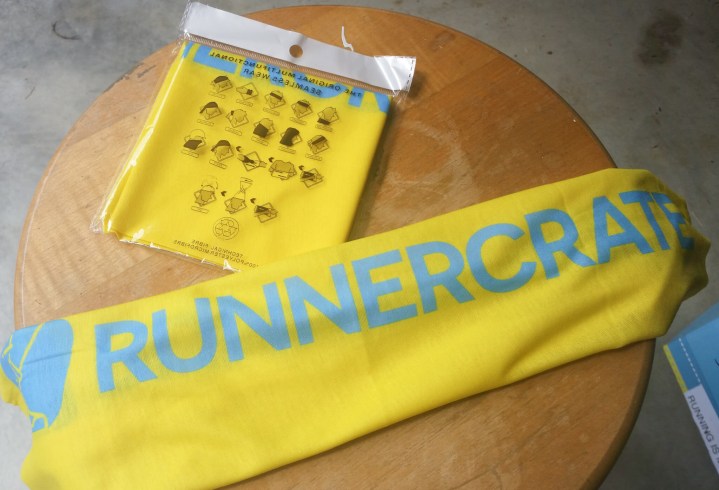 Branded Tube Bandana:  I'm not sure if I got extra lucky, but my box included two of these Runner Crate-branded tube bandanas.  I love these – I use them to cover my throat/mouth/nose for winter running and to catch sweat during summer running.  The packaging for each of these bandanas helpfully illustrates 15-20 ways that you can wear or use these multi-purpose bandanas and I even learned of a few new ways I could use them.  The bright yellow is also a lot of fun.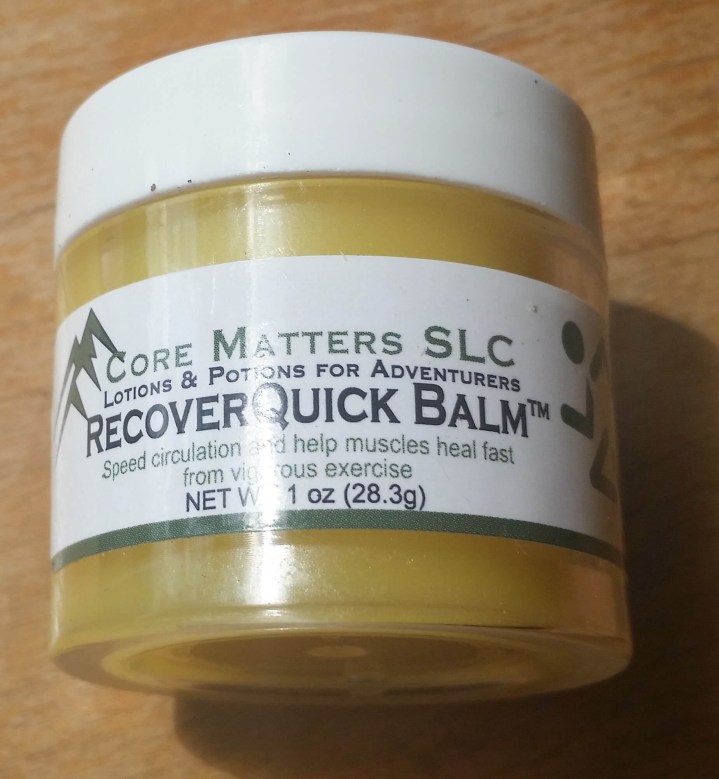 Core Matters SLC Recover Quick Balm:  I love this product – I'm a big fan of essential oils and natural products for recovery and this balm is great.  (I'm lucky – this box came just before I left for a long race, so when I got back, I was ready to test out recovery products!)  The smell is pleasant – way better than IcyHot! and my legs felt relaxed and less sore after using this product.  Plus, I find that natural wax/oil products encourage me to massage the product into my legs more, also aiding healing.
Mile Markings temporary tattoo:  This was a fun item to include – a temporary tattoo that says "You Decide the Finish Line."   Great slogan!  I love motivational sayings and this is a cool product that allows you to customize your own phrase.  I had no idea something like this existed, so I was glad it was included in the box.  Also included is a coupon to use when creating your own personal temporary tattoo!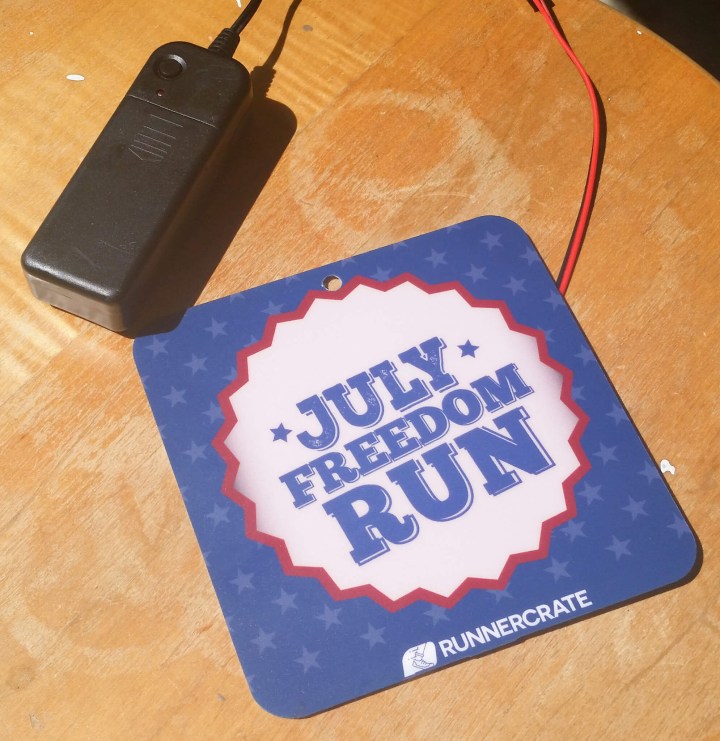 Finally, each Runner Crate includes a bling! item.  This is a light up placard – you pop a couple AA batteries into the controller and the little pad lights up or flashes, depending.  I'm not sure what I would use it for, but it was fun to play with for a while.
This was my first experience with Runner Crate and I was pretty pleased with it.  I thought the included products were generally useful and I was excited to try some new nutrition and recovery products.  I would love if there had been instructions for what I understand to be no-tie laces and maybe some more information just generally.  Otherwise, this was a fun box – great for runners!
Visit Runner Crate to subscribe or find out more! Save 10% with coupon code HELLO.
The Subscription
:
Runner Crate
The Description
: You earn monthly bling with the challenges we send. When you sign up, every month you'll receive healthy snacks and running gear you didn't know about. Each snack is curated with health and clean eating in mind. We send running challenges and you EARN themed bling. Perfect for any runner who liked to try new things.
The Price
: $41.97 per month