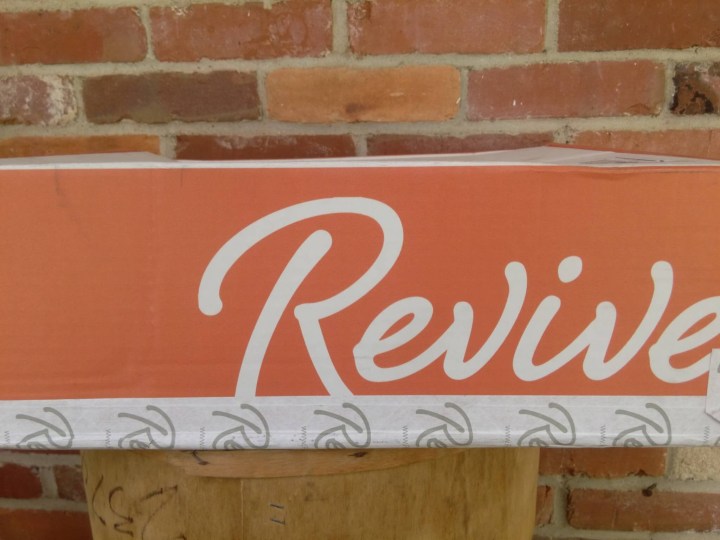 Revive Clothing is a unique monthly subscription service that sends you clothes, shoes and accessories that you choose from their online offerings of gently used items.  Choose from Men's, Women's, and Kid's clothing, shoes, and accessories.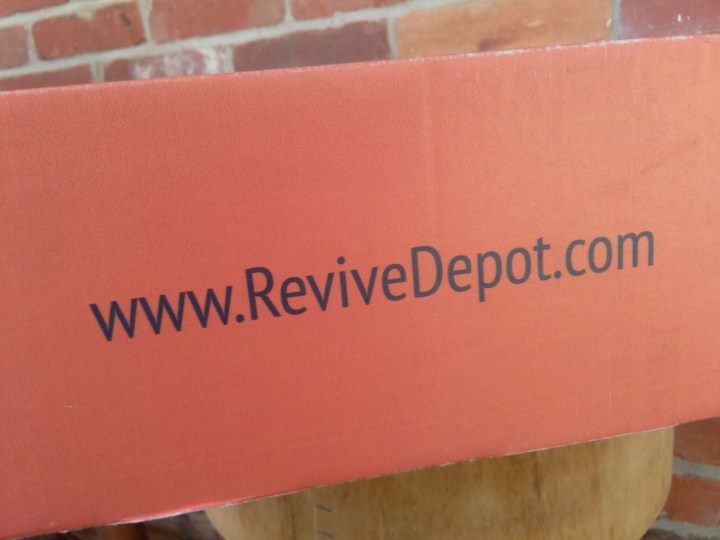 Revive Clothing offers 3 different subscription options.
The first, Revive Pak, lets you choose any 4 items (regardless of price) and may include one pair of shoes and one accessory.  If you choose to pay month to month the cost is $9.99 per month with a minimum 6 month subscription.  If you choose to prepay for the whole six months the price drops to $49.95 ($8.33 per month).  And, if you prepay for one year of Revive Pak the price is $99 (equivalent to $8.25 per month).  Shipping is a low flat rate of $5.00 per month.
The second subscription option is the Revive Bundle.  With the Bundle you get to choose 8 items from their site (again regardless of price) and your choices may include 2 pair of shoes and 2 accessories.  With this option the price is $14.99 for month to month (minimum 6 month subscription), $74.95 when you prepay for the 6 months (equivalent to $12.49 a month), and $149.99 when you prepay for a year (also equivalent to $12.49 a month).  Shipping is a low flat rate of $7.00 per month for this option.
Lastly, the third subscription option is the Revive Crate.  This option allows you to choose 15 items from their site which may include up to 5 pair of shoes and 5 accessories.  This option is $24.99 a month (minimum 6 month subscription), $124.95 when you prepay for 6 months (equivalent to $20.83 a month), and $249.99 when you prepay for one year (equivalent to $20.83 a month).  Shipping is a flat rate of $10 a month for this option.
These are introductory rates.  Prepaying for the full year locks you in at their low introductory rate for a whole year of thrifty awesomeness.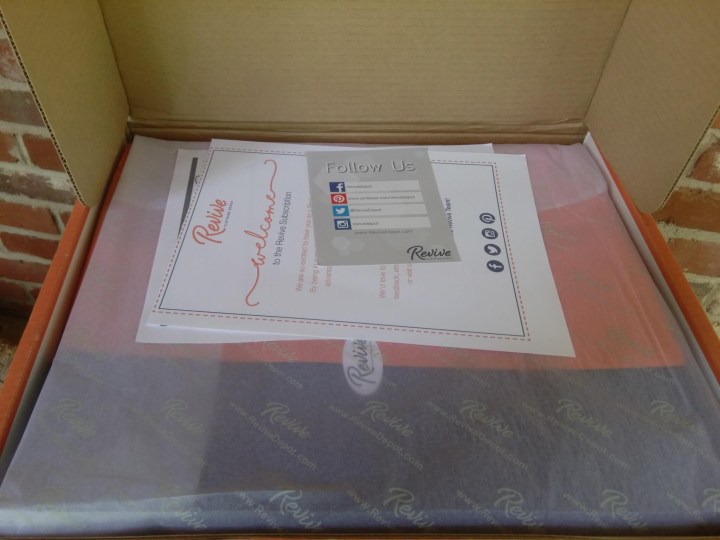 This is the first look in the box.  Everything was very carefully and elegantly packaged in multiple layers of tissue.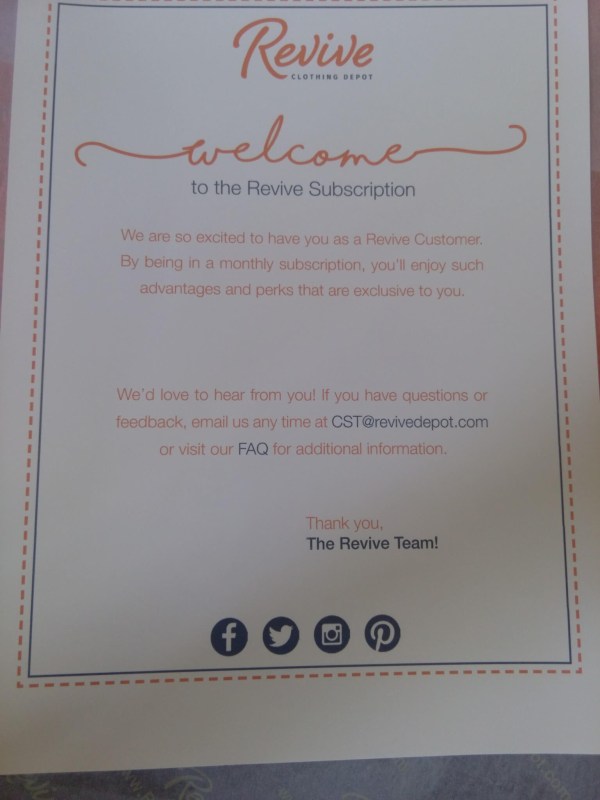 This letter welcomed us to the Revive Depot subscription.  We received the Revive Bundle that included 8 items.
This card invited us to follow Revive on social media.
There was also a packing list in the box, it listed the items in the box and their Revive item numbers (and my address etc, so no picture, sorry).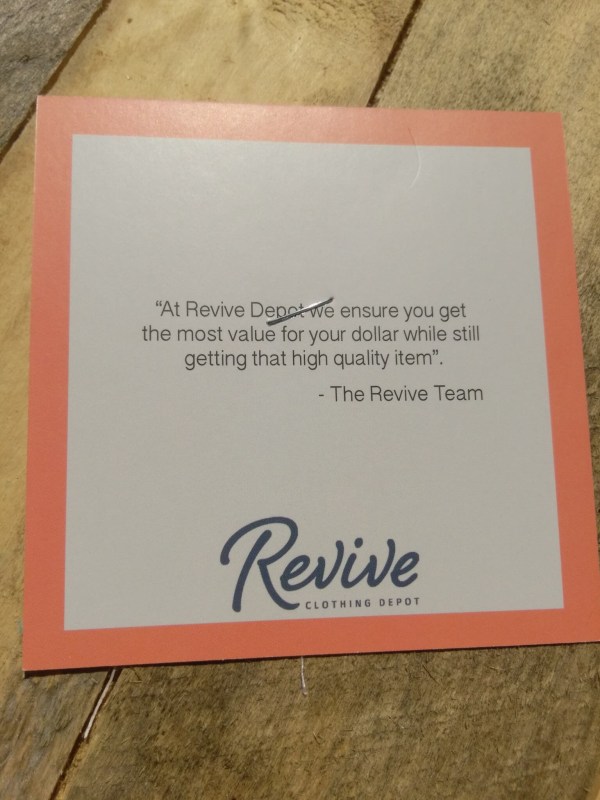 This card was stapled to the packing list.
The back of the card had a coupon code for 15% off of your next purchase.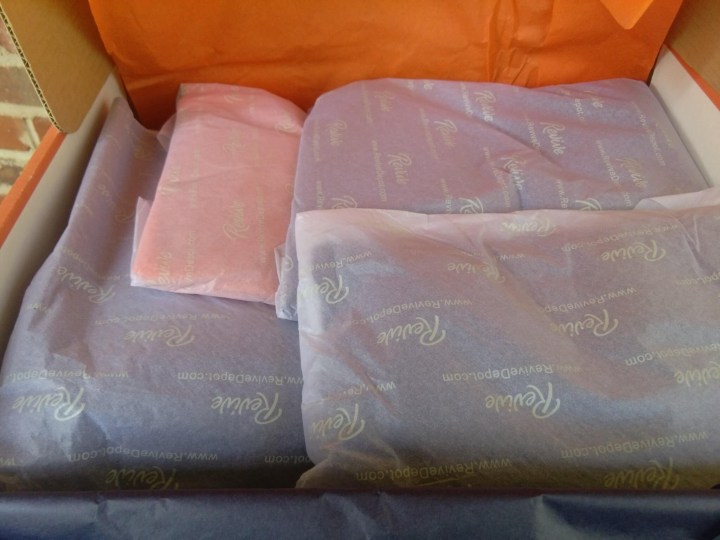 Look at this packaging!!  Every item is neatly wrapped in multiple layers of tissue.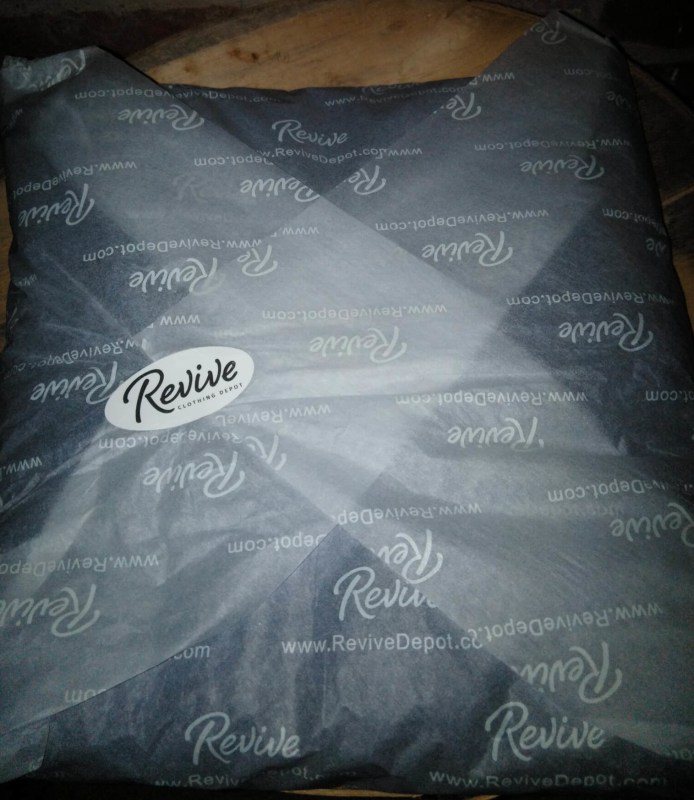 Here's a closer picture of that wrapping.  Every piece was wrapped and neatly sealed with a Revive sticker.
See?  And, there is another layer of tissue paper under that.  I felt like a kid opening packages at Christmas!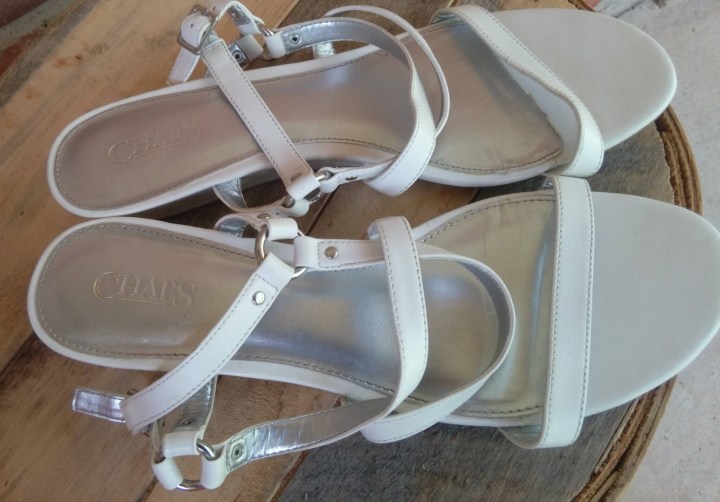 These cute sandals by Chaps were in the box.  I picked them out from the Revive website myself.  I could have picked up to 2 pair of shoes with the Revive Bundle, but I chose to just get one pair this time.  These would have retailed for somewhere around $5.00 at a thrift store in my area.
These Lee Riders capri length shorts were my next choice.  These would be $7.50 at the thrift stores in my area.   They fit great and I love the darker denim.  The length was perfect, just below the knee.  I hate it when they are too long and it just looks like you bought pants that are too short for you.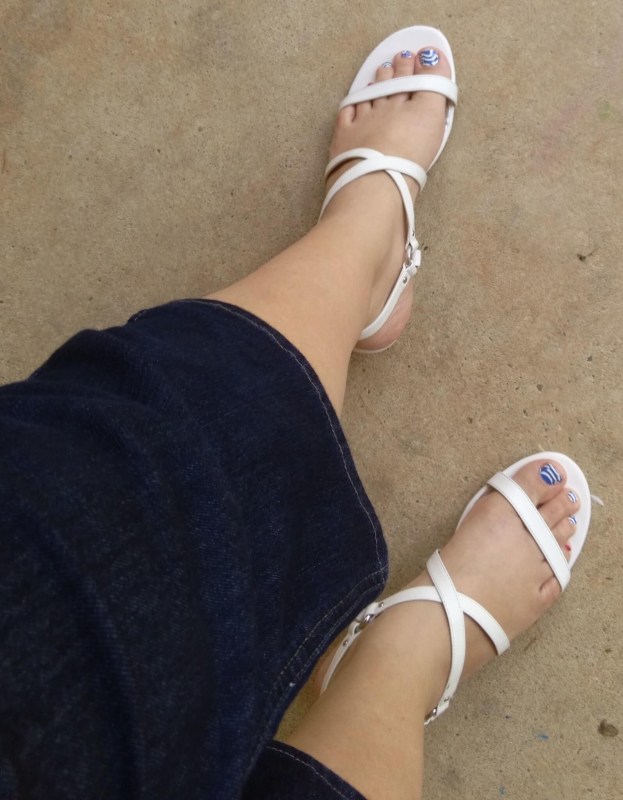 The sandals and shorts fit great.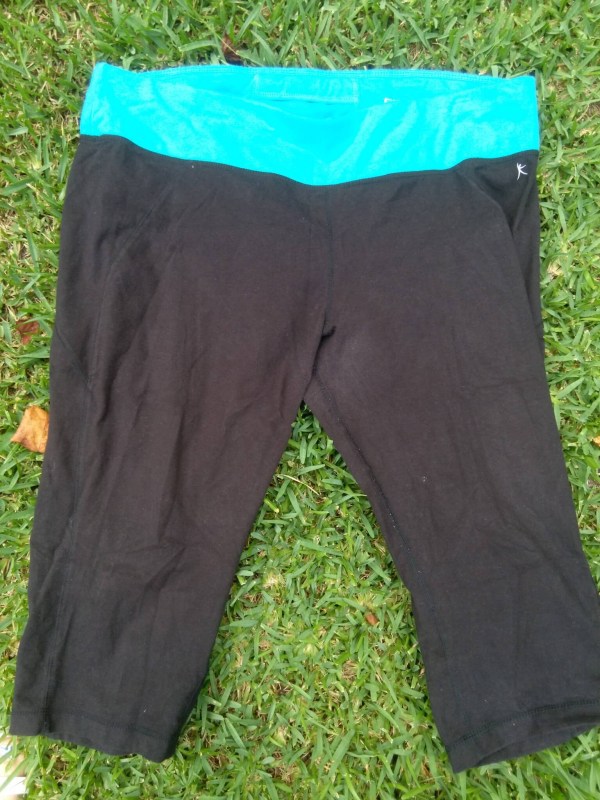 I picked these long Danskin exercise shorts out.  I got these to wear under skirts and to use as pajamas.  (I wear skirts often, but I have toddlers to chase so I need these so modesty is preserved when my 3 year old decides that the best place to hide when they are playing hide and seek is under the back of my skirt.  It happens.)   Plus, I could wear them to exercise in if I ever got a wild hair to do such a thing.  These would be $4.50 at my local thrift stores.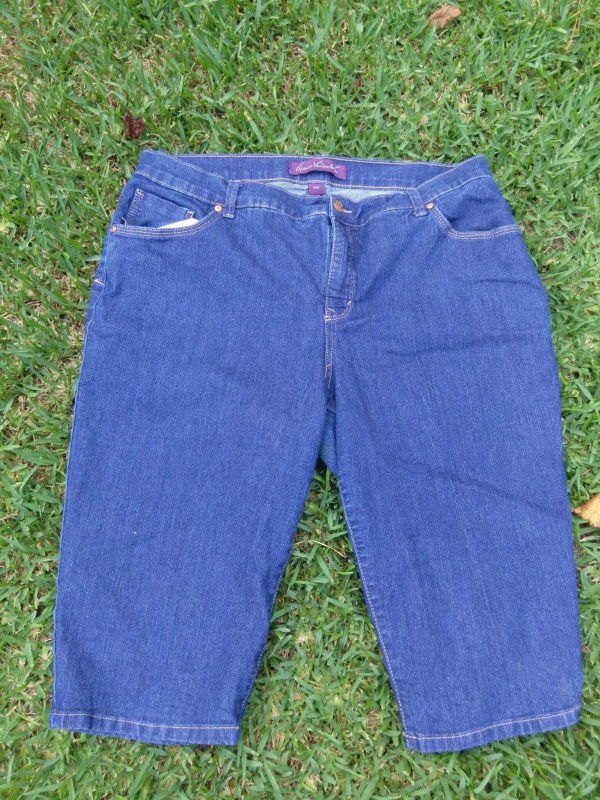 Again, long shorts, but in a brighter blue denim and Gloria Vanderbilt brand this time.  These fit great and would retail for $7.50.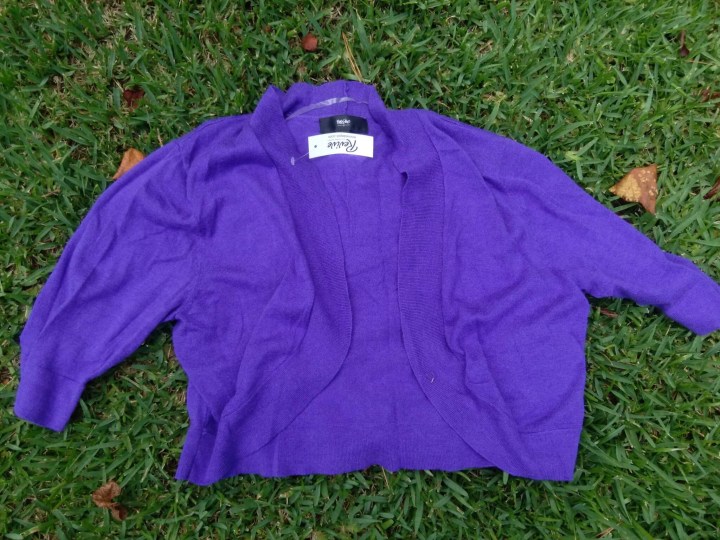 This deep purple shrug is Target's Massimo brand and would retail for around $5.00 in this area.  It is oh so soft and in like new condition.
This khaki colored skirt by Ashley Stewart was my next choice.  I love long skirts and this one has great style with the fitted top and flared bottom.  It would be about $6.00 at my local thrift store.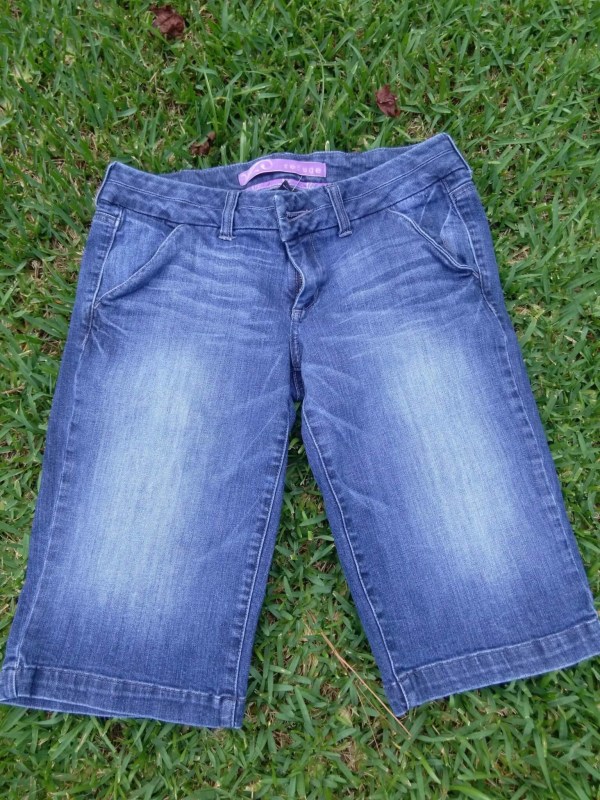 I picked these Refuge denim shorts out for my teenage daughter.  I should have known better, she is a picky butt, just like her daddy, and didn't like the way that they fit.   So, I checked their return policy.  If you are returning a subscription box item you must do so within 15 days for an exchange within the current subscription period.  You just email them at [email protected] and they will send you a return/exchange shipping label and you can drop the item off at any UPS location.  They will process your return within 2 business days and then you can pick out another item.  There is a limit of one prepaid exchange label per subscription period, so you just have to ship back anything you don't want all at the same time.  Sounds easy enough.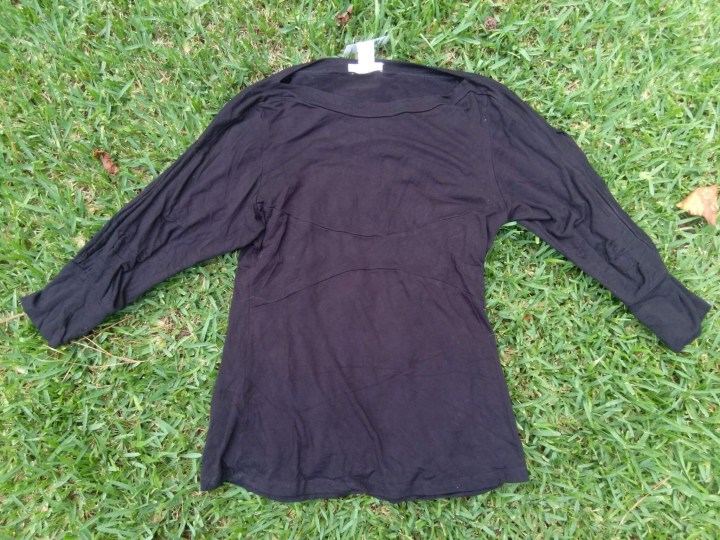 This cute black shirt by Kenar was my last choice.  It is very soft (92% rayon and 8% spandex) and I like the details of the sewn in same color stripes, they pulled in just the right places for a slimming effect.  And, the good Lord knows I need some slimming effect.  It would have retailed for about $5.00 at my local thrift store.
Revive Clothing's subscription box is an intuitive new offering that matches the way society needs to be headed as far as sustainability, recycling and reuse.  I love that these items are finding new homes and that these particular items have found their way to my home.  I am wearing the black shirt, the khaki skirt, and the sandals out tonight.  (With a cute accent necklace for a pop of color.)  And you cannot beat the price!!  My self evaluated total for what these items would have cost me at my local thrift store is $45.00 plus taxes!  If you prepaid for the 6 months of the Revive Bundle you only paid $12.49 plus $7.00 shipping for this box.  That's a huge savings over the already low thrift store prices!!  Check-out the selection at Revive Clothing and tell me what items I need in my next box!!
Get 3 months shipping free with coupon HelloRevive!
Visit Revive Clothing to subscribe or find out more!
The Subscription
:
Revive Clothing
The Description
: Revive is changing the way people view second hand retailing with a fresh new approach to clothing and accessories at a price you can't resist. Each month you can select anywhere from 4 to 15 items that you keep regardless of price. Subscription includes Womens, Mens, Kids, Shoes & Accessories.
The Price
: $9.99 per month