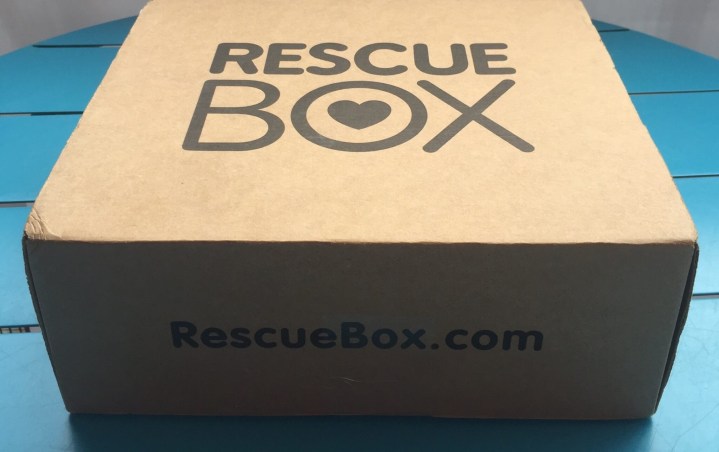 Rescue Box is a monthly subscription of dog toys, treats, chews and other goodies. It allows you to both spoil your pets and help homeless pets in need. Rescuebox donates portions of each purchase to its charity partners Greater Good, A Shot At Life, and Rescue Bank, who donate food and vaccines to animal rescues and shelters. The positive impact a RescueBox subscriber can have on helping homeless pets grows the longer one subscribes. For example, a one month RescueBox subscription helps to vaccinate 2 shelter pets and provide 5 pounds of food. A 12 month subscription, on the other hand, helps vaccinate 120 shelter pets and provide 300 pounds of food.

Subscribers can read about the real impact their purchases have in helping homeless animals. Each RescueBox includes a card containing the photo and story of a shelter dog or cat who was helped by one of the many non-profit animal rescue groups who receive financial donations from RescueBox.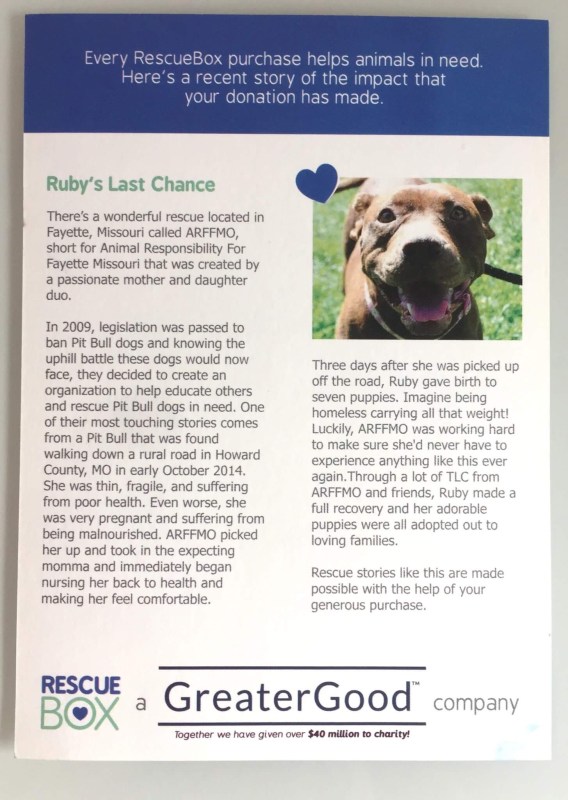 RescueBox costs $29.99 for a 1 month subscription.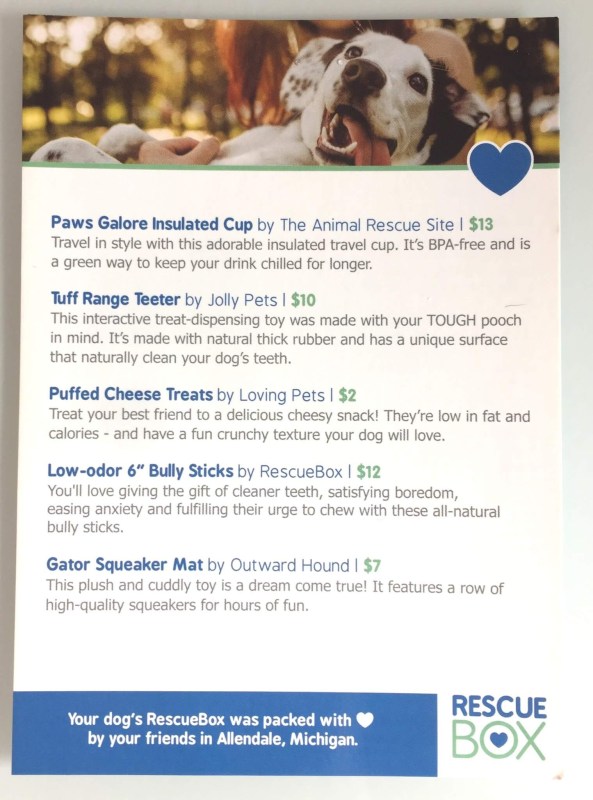 The information card shows a list of the items, a short description, and their retail prices.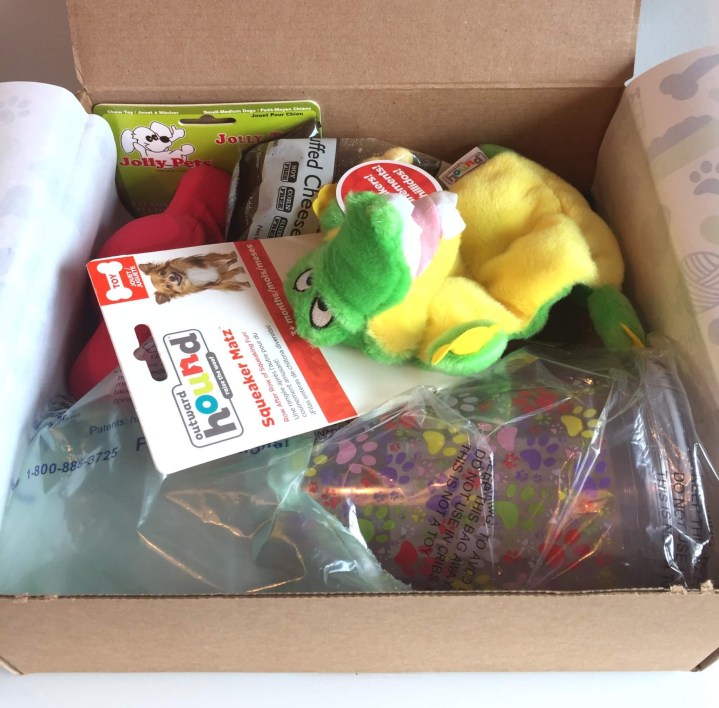 Everything in my July Rescue Box.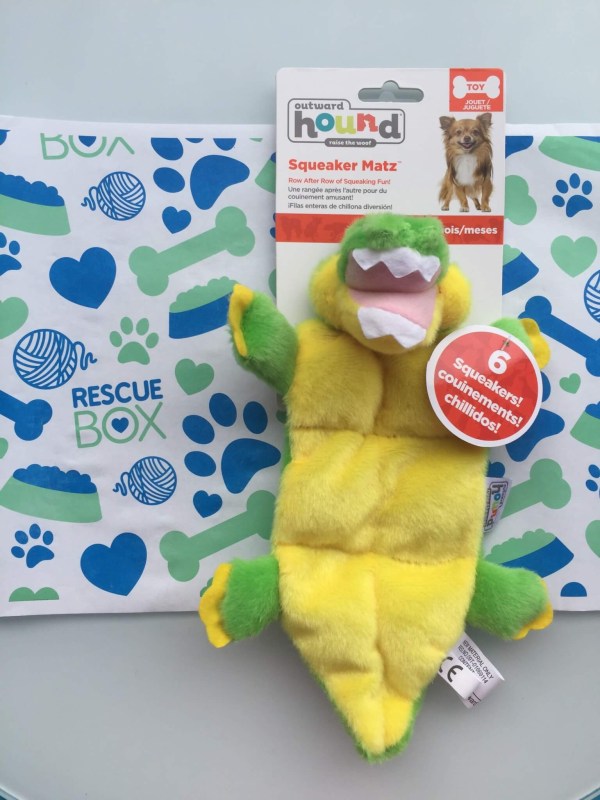 Outward Hound Gator Squeaker Mat Toy ($7). Between my two dogs, they thoroughly tested the items in this box.  My power chewer was immediately obsessed with the . He played with it to the exclusion of his other toys for several days, and still runs to it first a few weeks later.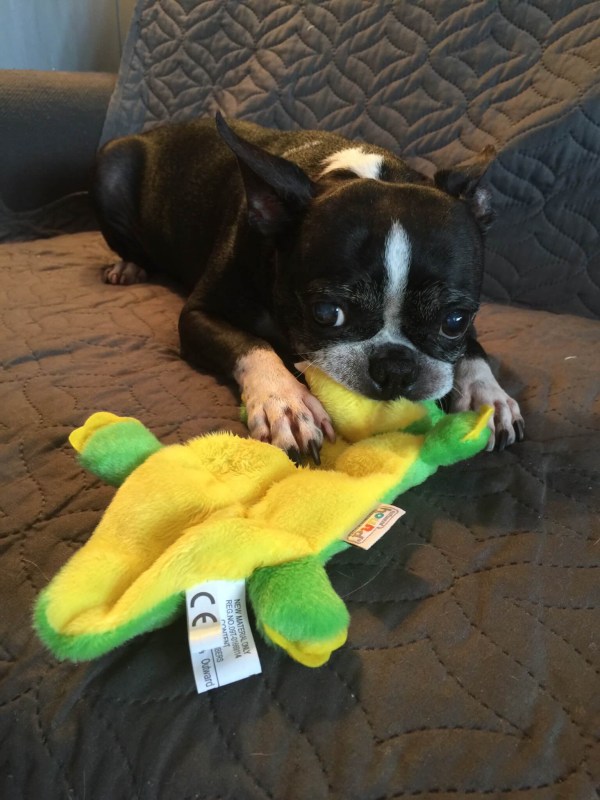 Despite his best efforts, he hasn't removed the squeaker from it yet, which is impressive considering that he usually "kills" squeaker toys in less than an hour.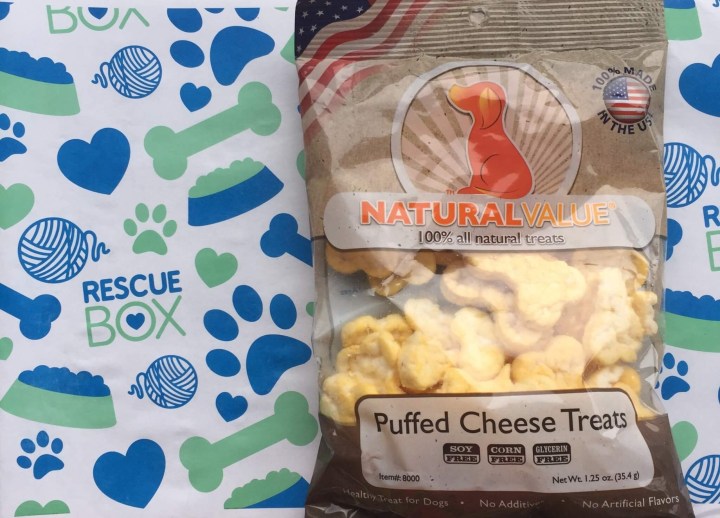 Loving Pets Puffed Cheese Treats ($2). My other dog can't get enough these dog treats. They are similar to rice cakes but thinner, and the perfect size for a small or medium sized dog. The treats are satisfyingly crunchy but also easily crunched into small pieces, which is key for an older dog. They contain White Rice, Rice Bran Oil, and Dried Cheddar Cheese (Pasteurized Milk, Cultures, Salt, Enzymes, Annato Extract)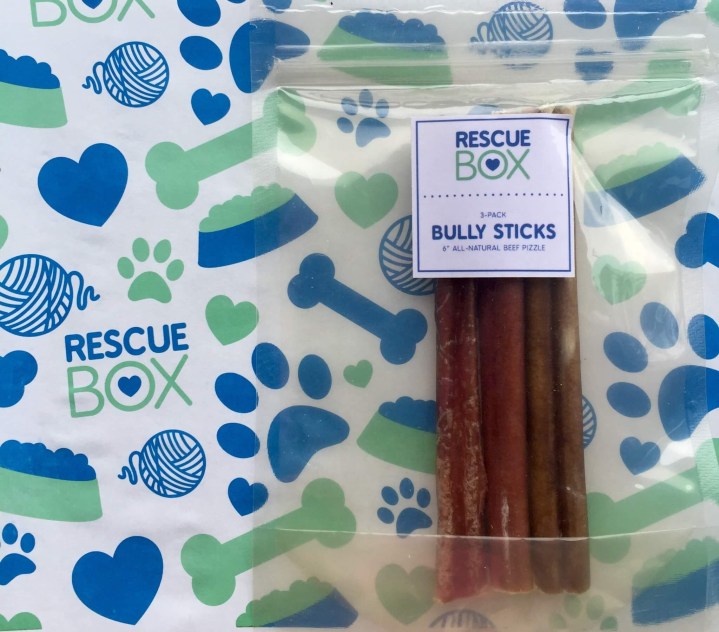 Low-Odor 6″ Bully Sticks ($12). I can really confirm are indeed low-odor. (Thankfully!)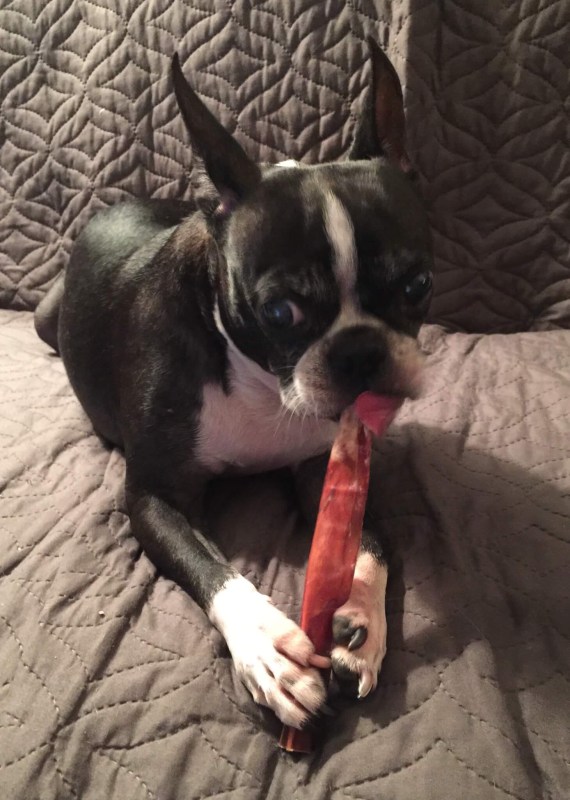 The power chewer is deifinitely enjoying this treat.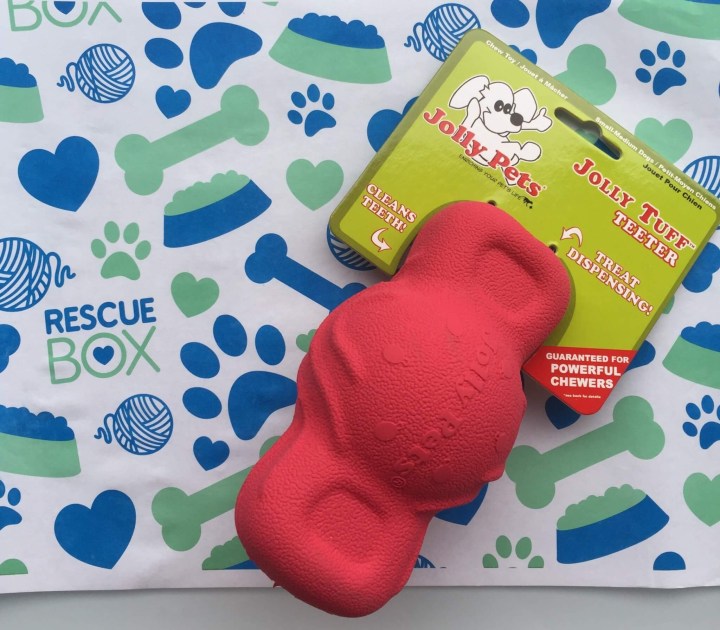 Jolly Pets Tuff Range Teeter ($10). This treat dispensing toy is extremely durable, but it was too large for my dogs to use. It would make a great toy a large dog who is a power chewer.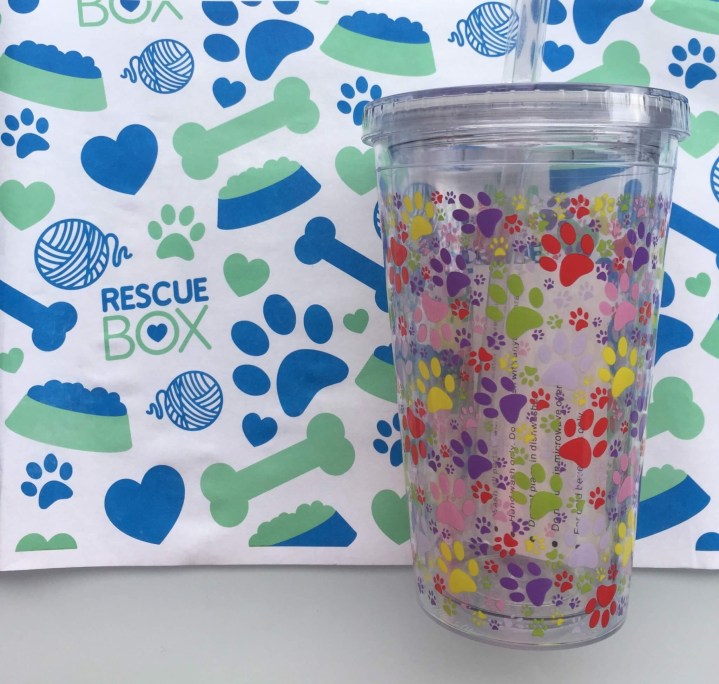 The Animal Rescue Site Paws Galore Insulated Cup ($13). Finally, the travel cup appears to be well made and has a cute paw print design. I would prefer to receive another dog toy or dog treats, but I think RescueBox always includes an item for the dog owner.
Overall, the July RescueBox was a pretty good – but not great – value for the subscription price. I was disappointed that the treat dispensing toy was way too large for my dogs, however, and felt that the plastic travel cup was a filler item that is not very useful to me. But I love knowing that RescueBox donates significant funds to dog rescues to directly help homeless dogs, and my dogs enjoyed the other items.
Visit Rescue Box to subscribe or find out more!
The Subscription
:
Rescue Box
The Description
: RescueBox is a monthly subscription of toys, treats, chews and more, that will make your pet fall head over paws in love with you! From treat lovers, to strong chewers, we hand-pick each box with your pet in mind. We put a great deal of thought into the making of each box and only use the highest quality products! We work with our charitable partners who are on the ground tirelessly helping animals that need your help the most.
The Price
: $29.95 per month