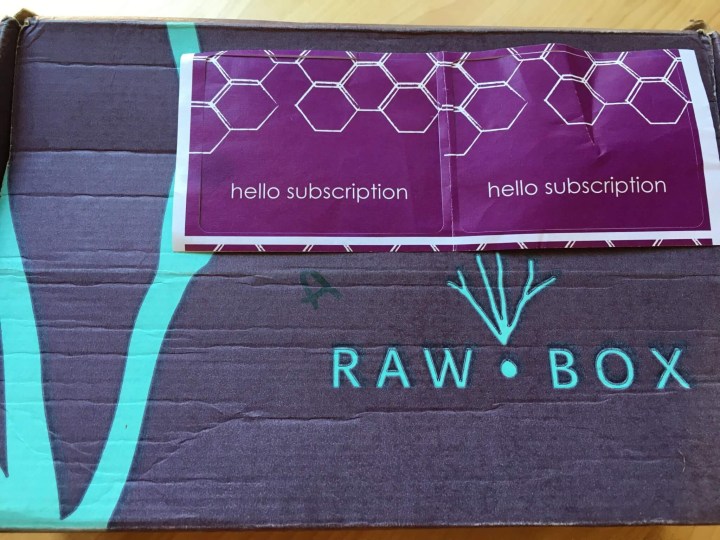 Raw Box is a monthly subscription that sends an array of raw snacks, vegan beauty products and eco-friendly household items to your home. While many of the included snacks are vegan, not all are; one or two each month may contain honey. Their real focus here is on providing items that will help you enjoy a healthy lifestyle.
Each Raw Box arrives chock full of items to enjoy on your journey toward healthy living.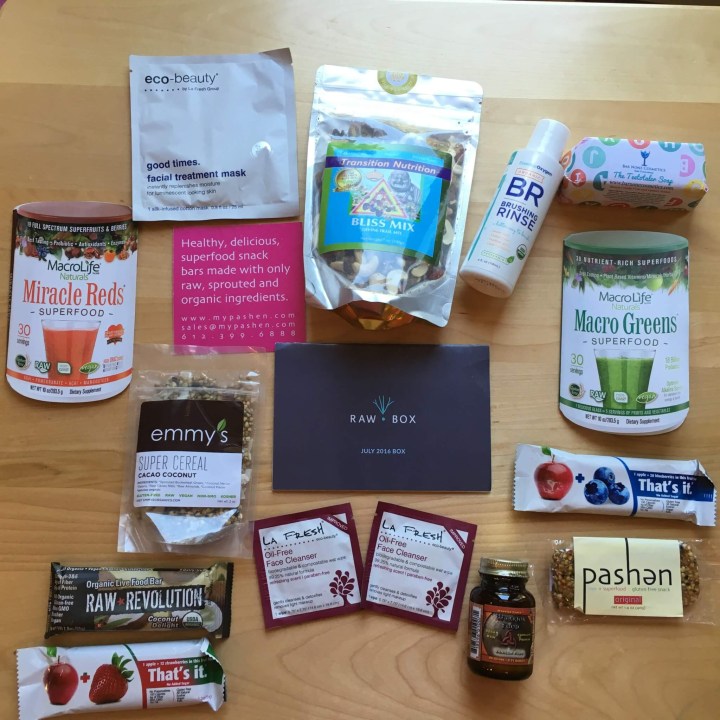 The July 2016 box included: a protein powder, cereal, four raw snack bars, two cleansing wipes, a mask, a bar of soap, brushing rinse, two superfood powders and trail mix.
All of July 2016's products came listed on the enclosed fold out description page.
Health Force's Warrior Food Vanilla ($3.95) is a raw, vegan, complete protein powder.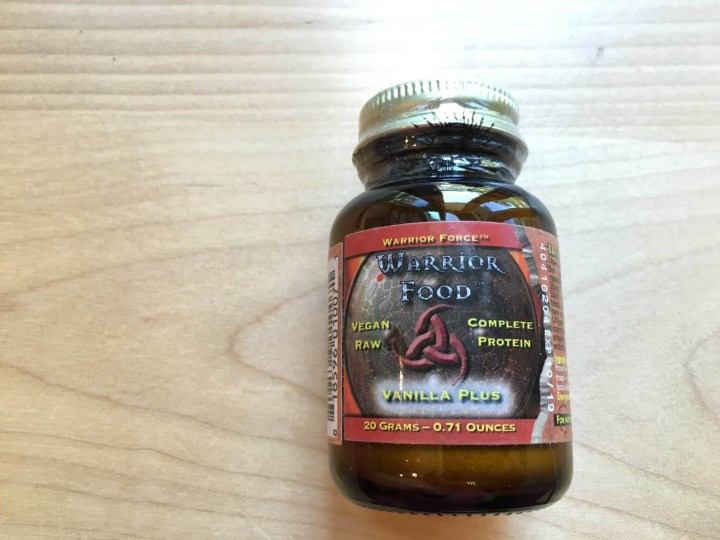 I mixed some of it into a smoothie this morning for breakfast, and it was delicious!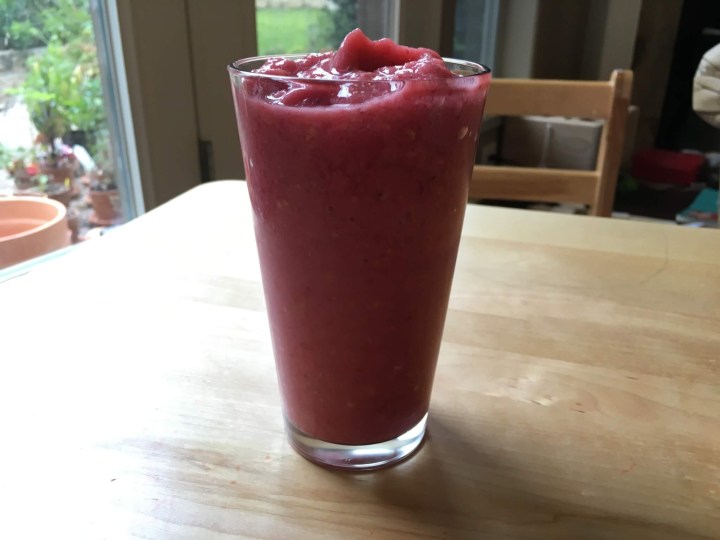 When deciding how much to put in, I looked at the bottle, which didn't mention a serving size. Wanting to err on the side of caution, I only put in 1/4 tsp. Next time, I'll check out Raw Box's notes BEFORE making my smoothie. Oops!
The next set of products included a vegan cereal and a non-vegan raw snack bar.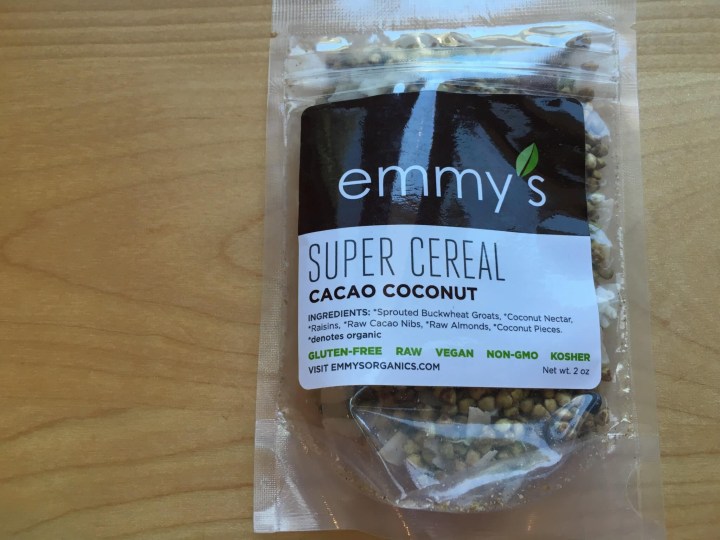 Emmy's Cacao Coconut Super Cereal ($1 based on the cost of 66 ounces) was surprisingly good! After finishing it, I wanted more. It's an organic blend of sprouted buckwheat, raisins, raw cacao nibs, raw almonds and coconut slivers. It's sweetened with coconut. Chock full of antioxidants, this gluten-free, vegan cereal is delicious on its own and would make a great yogurt topper.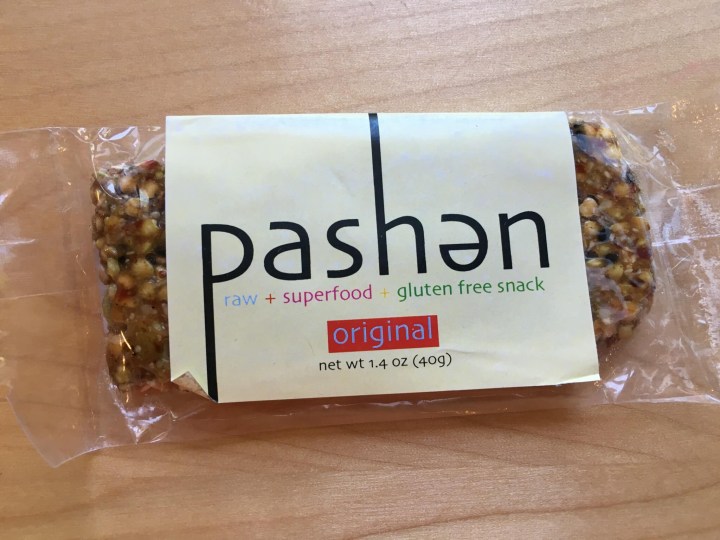 The pashen original bar ($2.99) is delicious! Flavored with honey and cinnamon, it's gooey and sweet. My kids couldn't get enough of it! My toddler begged me for more. Since it's packed with organic sprouted buckwheat and an array of raw organic seeds and berries, clearly I'll need to buy more of these!
This card certainly makes it easy for me to do so! Thanks, Raw Box!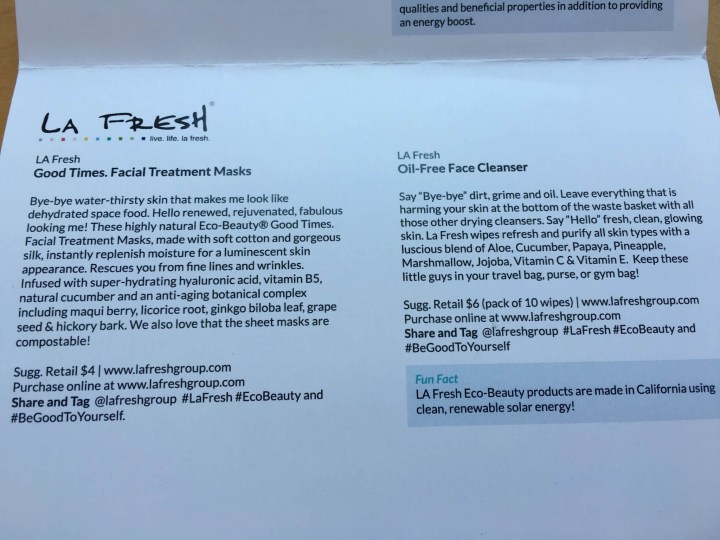 This month, Raw Box included a cleanser and mask from LA Fresh.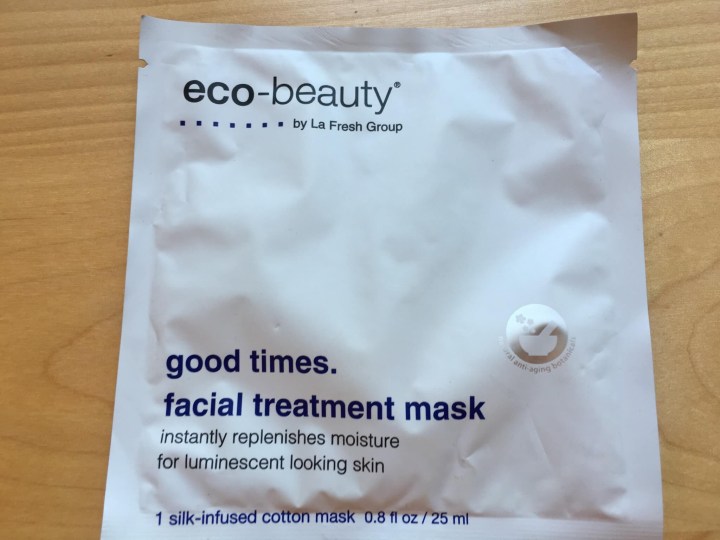 This single use facial treatment mask ($4) is very easy to use. After cleansing your face, put the mask on your face and wait for 10-15 minutes before removing. The mask contains hyaluronic acid, vitamin B5, cucumber and an anti-aging botanical complex.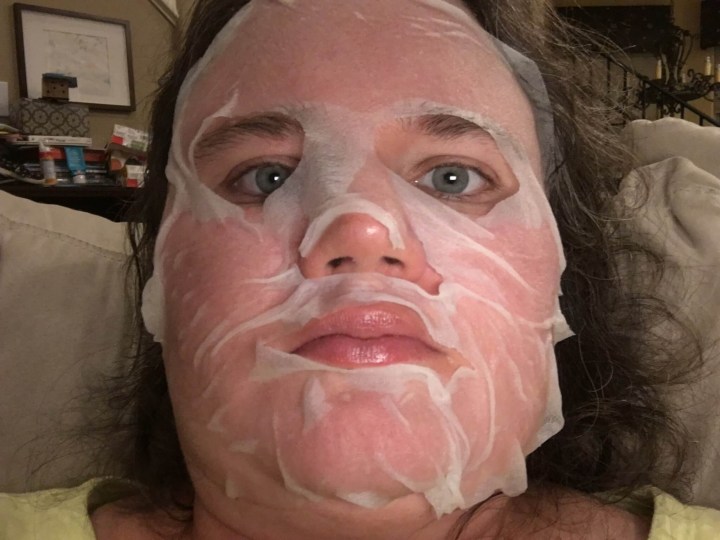 My husband thought I looked funny, but my skin felt better after using it.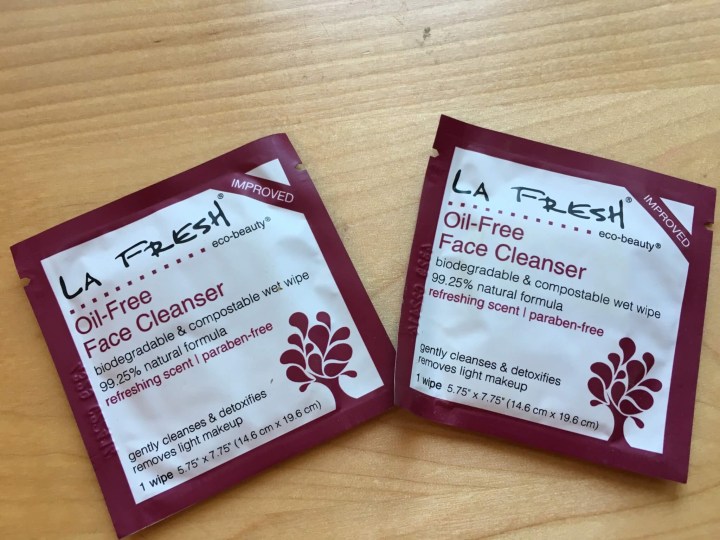 Cleansing is easy with these oil-free face cleanser wipes ($0.95  for 2 based on the cost of 42)! Just open and rub over your face. The scent is lovely. It reminds me of Secret's Refreshing Scent (my favorite!). The cleanser on these wipes is a combination of aloe, cucumber, papaya, pineapple, marshmallow, jojoba, vitamin C and vitamin E.
Next up: soap and a raw snack bar! I like how Raw Box included a coupon to use to obtain discounts on additional soap bars.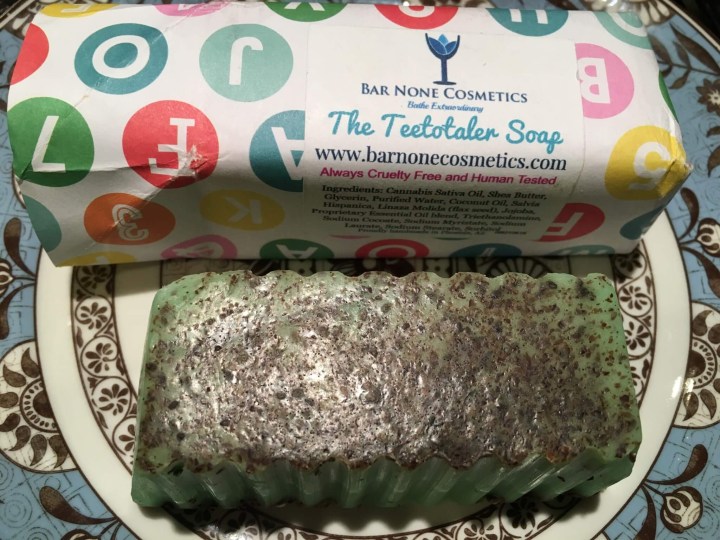 This Teetotaler Soap by Bar None Cosmetics ($11.95) has a pleasant scent. Made from flax, hemp oil, Shea, chia seeds, aloe and vitamin E, I like that either end of it exfoliates well too. My skin felt great after using it.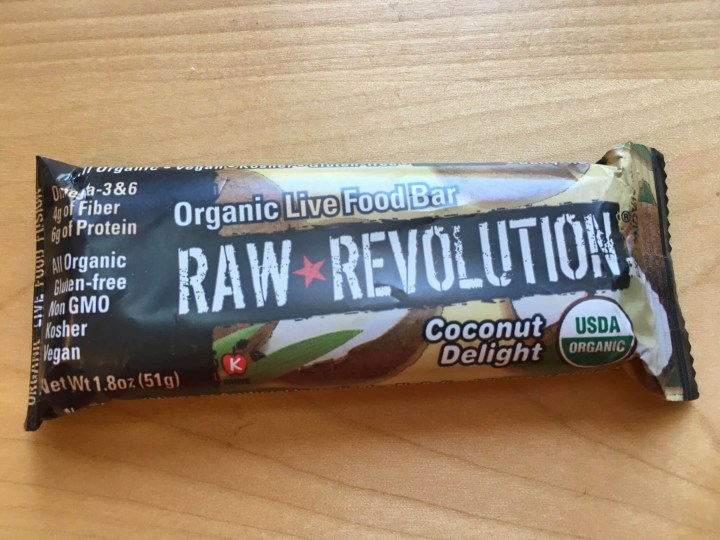 I've had a few bars from Raw Revolution in subscription boxes, and this Coconut Delight Bar ($1.99) my favorite flavor to date. Raw Revolution describes it as "like a homemade macaroon…without the guilt." I don't know that I'd go that far, but I was happy to try this. Like other Raw Revolution offerings, this bar still has the consistency of a power bar, but I enjoyed the light, sweet coconut flavor.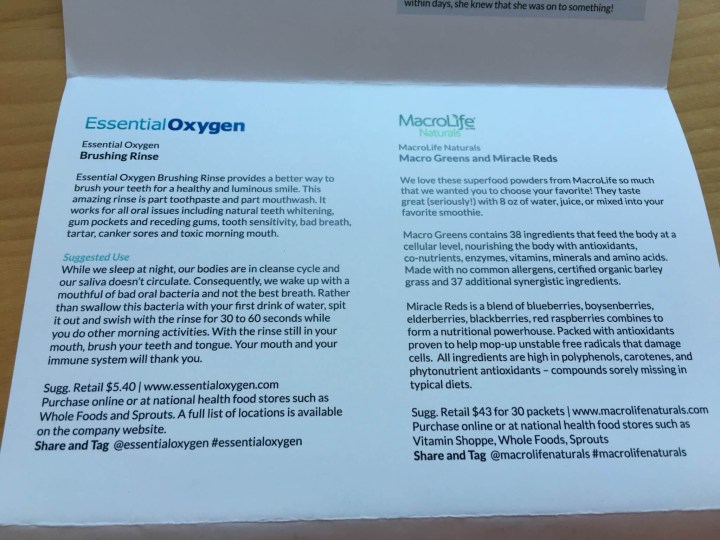 After eating all of the healthy foods in Raw Box, you'll need something to help keep your teeth and gums clean. It's a good thing Raw Box included a brushing rinse!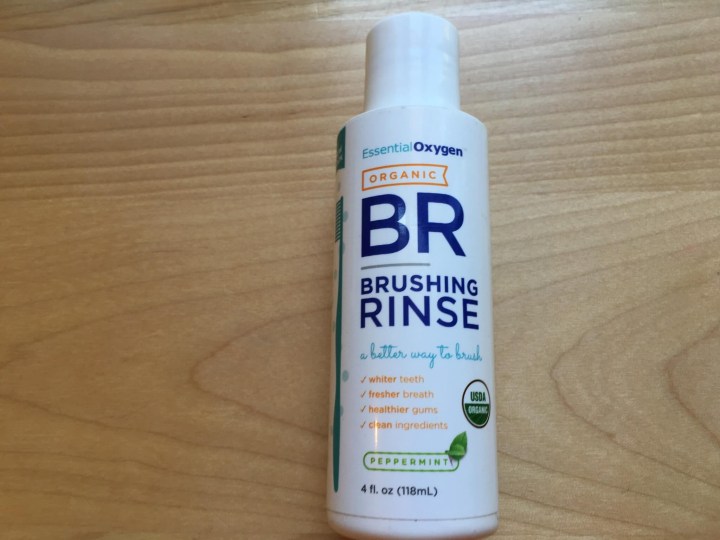 Essential Oxygen's Brushing Rinse ($5.40) can be used in conjunction with your toothpaste or by itself as a mouthwash. I chose the latter. While not as tasty as some mouthwashes, my mouth feels fresher than it usually does. This contains hydrogen peroxide for teeth whitening.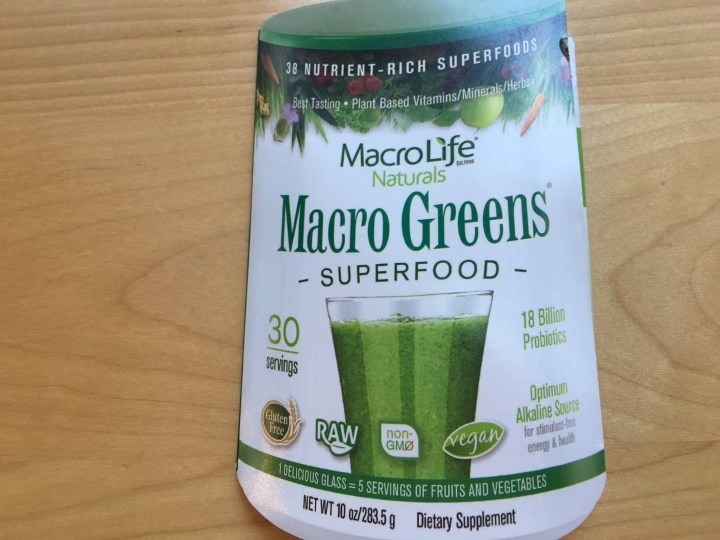 This month's Raw Box also included single serving packets of two different flavors of MacroLife Naturals. Following the directions on the packets themselves, I chose to mix each of my packets with a mix of filtered water and 100% cranberry juice, my favorite non-citrus juice. (Now that I'm reading the website, this was a mistake, as the acid in the juice can kill the friendly bacteria in the supplement. I'll try to remember this the next time I receive a supplement in the mail!)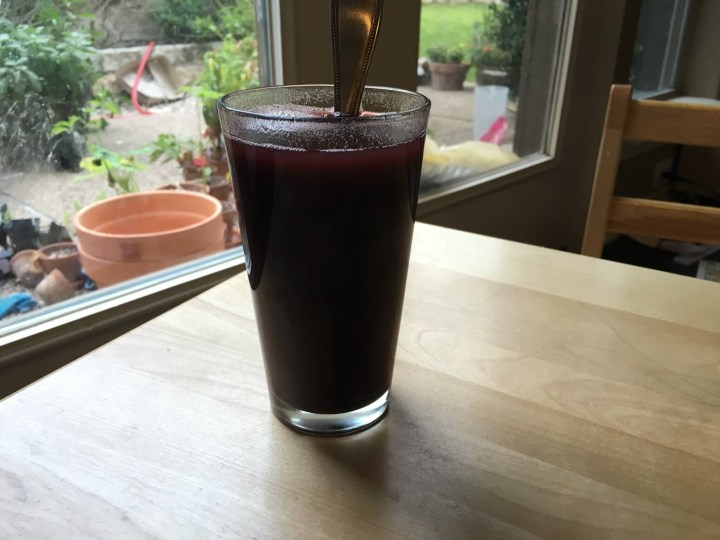 Unfortunately, the Macro Greens Superfood ($1.43 based on the cost of 30 packets) powder was not to my taste. Although I did try it, I was unable to finish it. For those who would like to experience it for themselves, it's an impressive blend of 38 superfoods containing 18 billion probiotics and herbal antioxidants. It helps support weight loss and is non-GMO, vegan and gluten and dairy free.
I had more luck with the red powder. A mix of berries, this supplement is an antioxidant, polyphenol and plant sterol powerhouse!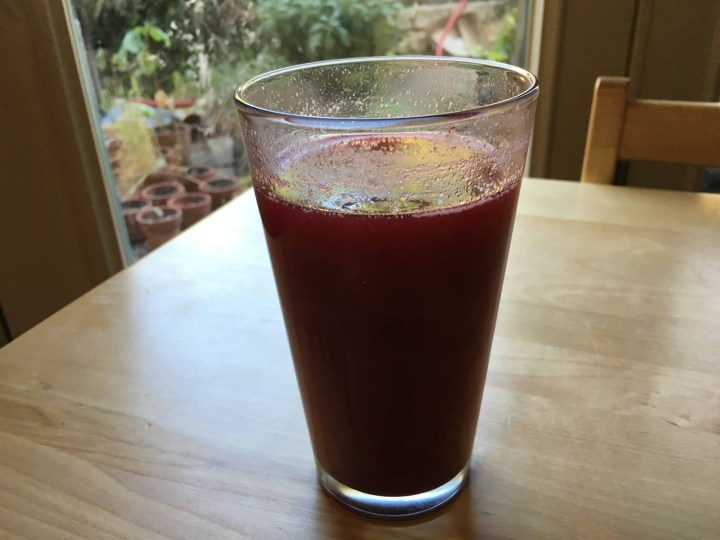 I mixed the Miracle Reds Superfood packet ($1.43 based on the cost of 30 packets) with a large glass full of half water and half unadulterated cranberry juice. The mix added a somewhat sweet, fruity flavor to the glass which was welcome. I only wish I had been able to fully dissolve the mix in the glass with a spoon.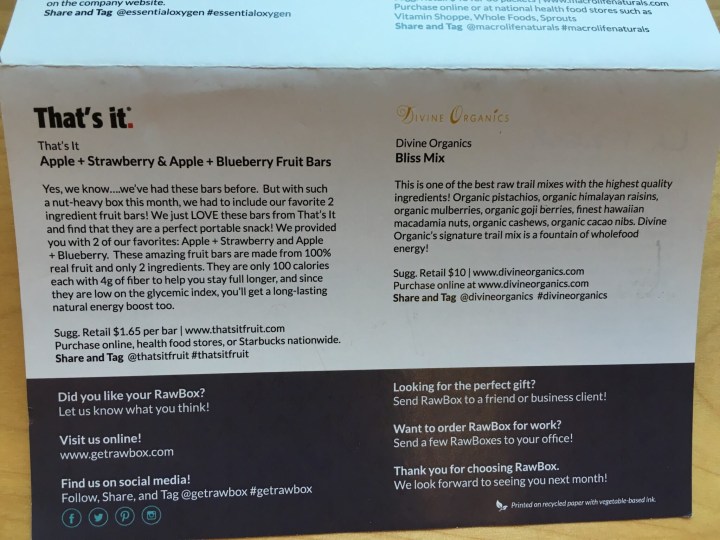 Last but certainly not least, Raw Box included two fruit bars and a trail mix.
Both of the fruit bars were delicious. They had the consistency of a thick, dense fruit leather.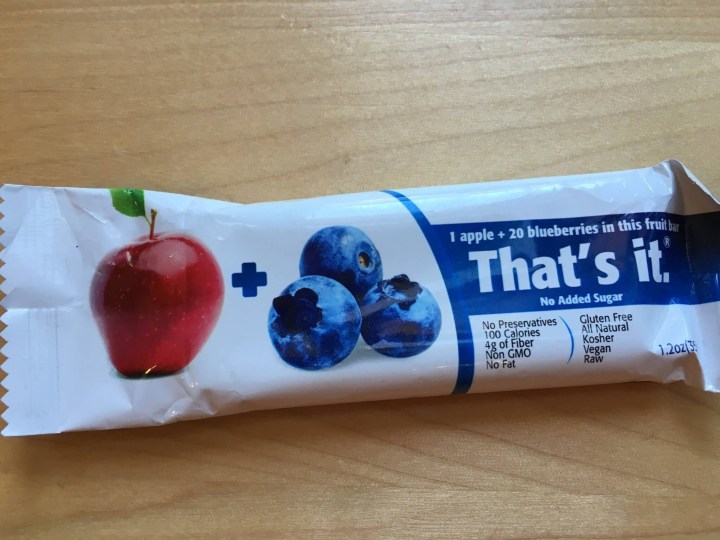 Made with only apples and blueberries, That's It's Apple Blueberry Bar ($1.67 based on the cost of 12) is a great snack for kids or adults alike. My kids loved it!
They loved That's It's Apple Strawberry Bar ($1.67 based on the cost of 12) too. I'll try to get more of both flavors to put in their lunches every day.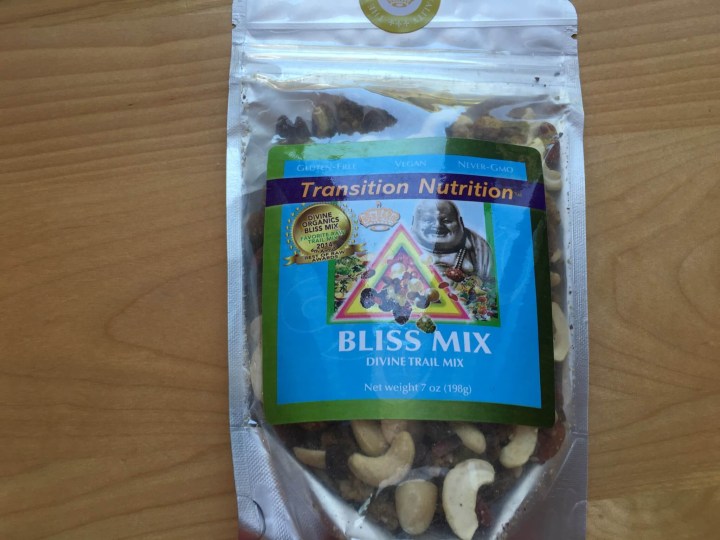 We all enjoyed this Bliss Mix Divine Trail Mix by Divine Organics ($9.99) very much. Containing cashews, macademia nuts and pistachios in addition to raisins, goji berries, mulberries and cacao nibs, this was a real win for us. It was my son's first introduction to macademia nuts, which he then sought out, and while he doesn't typically enjoy either goji berries or mulberries on their own, he ate them happily in this mix.
This was my first time trying Raw Box, and I enjoyed it very much! My kids and I devoured the healthy snacks, and I was delighted with the enclosed beauty products. I can't wait to see what they send out next month!
Have you tried out Raw Box? What do you think of their products? Save 15% on your first subscription! Use coupon code WELCOME15OFF.
Visit RawBox to subscribe or find out more!
The Subscription
:
RawBox
The Description
: RawBox is the first subscription box that may be safely enjoyed by Raw Foodists, Vegans, Vegetarians, Celiacs, Paleoists, Athletes, Dieters, and more. Each box has only raw, plant-based snacks and lifestyle products from the healthiest brands on the planet. 10-12 products; a total value of $60 or more. Totally raw, plant-based, gluten-free, wheat-free, soy-free, dairy-free, GMO-free, MSG-free, sulfite free, and more. All lifestyle products are free from parabens, polypropylene and polyethylene glycols, sodium lauryl and laureth sulfates.
The Price
: $39.95 per month