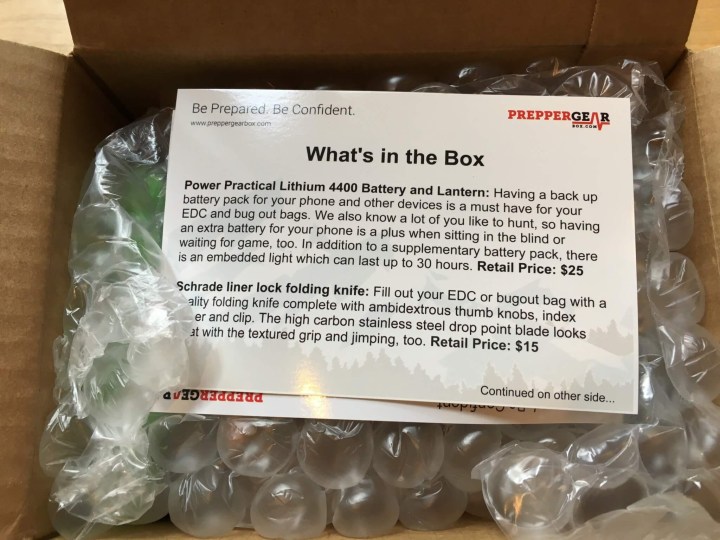 Prepper Gear Box is a subscription box that delivers, on average, 2-3 items of practical survival gear plus an information card to help you learn and practice new survival-related skills each month. Prepper Gear Box wants its subscribers to be prepared for any situation or emergency that may arise. As such, it's an ideal subscription for outdoor enthusiasts, hunters, hikers, campers, backpackers and survivalists. As a company, they try not to waste money on fancy packaging so that your money goes as far as it can into what matters most: gear and information.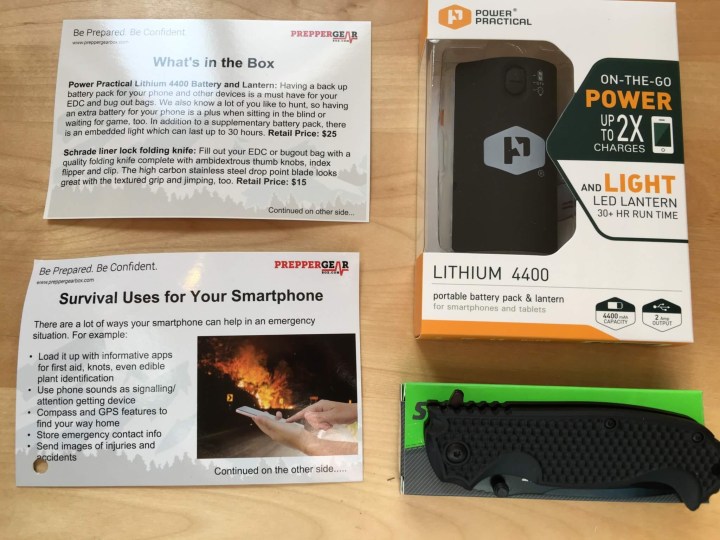 This month's box contained a knife, a battery pack and lantern and tips for using your cell phone in emergency situations.
I love how the curators include notes as to the importance of each item in the box and why the item was included in this month's shipment.
Power Practical Lithium 4400 Portable Battery Pack and Lantern ($29.99). This is small and lightweight, yet can charge your cell phone for days. As a bonus, it includes a bright 4 LED lantern that can shine for up to 30 hours. I'm definitely taking this with me on my next extended overnight camping trip to Santa Fe National Forest! Thanks, Prepper Gear Box!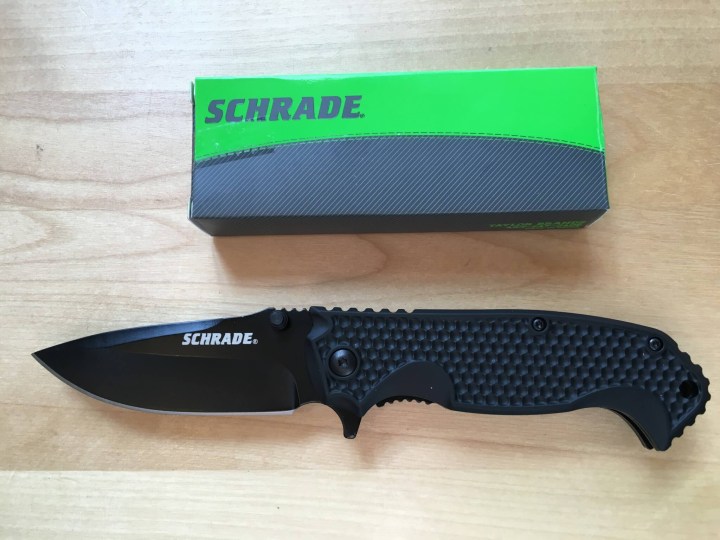 Schrade SCHoo1 ($12.95). This features a 3.3″ high carbon stainless steel blade. It includes a pocket clip and lanyard hole for easy carrying. Again, I look forward to carrying this with me into Santa Fe National Forest later this summer.
I really appreciated this month's survival tips, especially those that related to using the smartphone for its parts. I never would have thought of most of these ingenious uses for the parts of a cell phone. It's true that if you were to use your cell phone for improvising a compass or fishing lures, it would probably be unsalvageable, but then again, if you're in a dire situation, future usability of your cell phone is the least of your concern. As always, thanks for the insights, Prepper Gear Box!
This month's Prepper Gear Box included helpful tips and a couple pieces of cool gear at a value that's significantly higher than the cost of the box. I can't wait to see what they send out next month!
What do you think of this month's Prepper Gear Box? Save 10% on your first box with coupon code CRATE10
Visit Prepper Gear Box to subscribe or find out more!
The Subscription
:
Prepper Gear Box
The Description
: A new monthly subscription box service for those who like survival gear and
education.Every
Prepper Gear Box contains 2-3 (or one very cool) carefully selected, high quality survival gear and preparedness items. Plus each box will have helpful tips, instructions and challenges to grow your survival skills and confidence in any situation.
The Price
: $25.00 per month